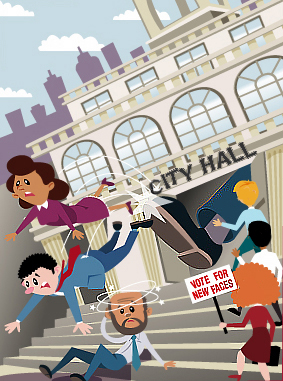 Illustration (c) Gotham Gazette
Councilmember Oliver Koppell, a career politician who has gone from state attorney general to a member of the Bronx delegation in City Hall, needs a new job.
Term limited out of his seat next year, the councilmember told Gotham Gazette in March he would not seek higher office in 2009. His plan was to leave public life behind after 38 years.
Well, maybe his plans have changed.
Just after Labor Day, Koppell said he would ask the council staff to draft a bill that could allow him, 34 other council members, four borough presidents and the mayor -- all of whom face being term limited out of office at the end of 2009 -- another four years in their posts. It would extend the city's term limit from two terms to three, from 8 years to 12. Councilmember David Weprin, followed by Tony Avella, plans to introduce competing legislation requiring a referendum on any extension of term limits.
Though Koppell says he has not decided whether he would seek a third term if the legislation passes, the councilmember argues that allowing his colleagues the opportunity to win one more term would boost the power of the people.
"The people should have a right to vote (for or against incumbent council members)," said Koppell. "There are outstanding members of the council who would run."
That is, if they can get the necessary bill or referendum passed first.
Since Mayor Michael Bloomberg first floated the possibility of extending term limits, pundits, pollsters and politicians have mulled how city officials would go about doing it.
Would – or, more importantly, could -- the City Council pass legislation? Would it send the question to voters before 2009? Would any movement be able to withstand the all but certain lawsuit? And when would the council need to act?
None of these questions have sure answers.
Capping Terms
Twice – in 1993 and 1996 -- voters in New York City approved a two-term cap on how long members of the City Council, borough presidents, the public advocate, comptroller and mayor could serve. They hoped that the limits would infuse City Hall with new blood. Many new politicians entering office in 2002 expressed support for the measure.
"There's no company that I know of that doesn't benefit when they have changes in management once in a while," Bloomberg told the New York Post in 2005 after winning his second – maybe his final – term.
The majority of the city's veteran politicians had to leave office in 2001, and next year, City Hall will face a similar change: two thirds of the 51 members of the City Council are in their second term.
When the issue of extending term limits came up as council members vied to become speaker in 2005 (the previous speaker, Gifford Miller, had to leave because of term limits), current Speaker Christine Quinn promised to take up the issue "immediately" if elected speaker. Despite that, the subject basically has been off the table since then.
In the meantime, many council members have already declared candidacies for other office – from mayor to borough president to the state legislature – and have started fundraising campaigns to match their ambitions.
Then a few weeks ago, the landscape shifted.
Bloomberg -- in what could be an attempt to keep City Hall observers on their toes, a grab for power or publicity, or an effort to stave off lame-duck status -- met with the publishers of three major newspapers, seeking their opinion on extending term limits. He then flirted with the idea at press conferences, punting the term-limit question back to the council, saying he would have to think "long and hard" if a bill upping the term-limit cap to three crossed his desk.
As the term-limit debate revs up again – commercials are hitting television screens urging the City Council to abandon the issue – some observers are not only wondering if, but how it could be done.
Term Limit Options: A Referendum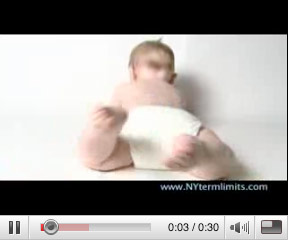 Regardless of what one thinks of term limits, New York has them because voters wanted them. More than a million New Yorkers voted for term limits in two elections, according to New Yorkers for Term Limits – a lobbying group that opposes an extension. That group is funded by billionaire cosmetics heir Ronald S. Lauder, who funded the original campaign for term limits.
The voters could have another opportunity to weigh in on the issue.
Under state law, a legislature, such as the City Council, can put a question on the ballot if it collects 30,000 signatures. Ordinary citizens, though, need to collect 45,000 signatures to get a referendum on the ballot.
Good government groups in the city, including Citizens Union, whose sister organization publishes Gotham Gazette, and the New York Public Interest Research Group, support a referendum, allowing the voters to decide, if the city chooses to look into extending term limits.
A Referendum, But When?
It is too late to get this on the ballot for November. So, if term limits were to be extended in time to save the jobs of Bloomberg, Quinn, Koppell and so on, a special election would have to be held. The council has not called a special election – that power is usually reserved for the mayor – and it is unclear whether the council can call one on its own.
If a legislature approves a bill changing a public office's power, state law requires a referendum be held. Some interpretations of the law, according to a memo from Citizens Union, say it may be possible for the council to call a special election on term limits for this reason. Whether term limits falls into this "power" category is unclear. Given the historically low turnout for special elections, some fear an election could be timed to place incumbents at an advantage.
Bloomberg could also place a term limits question on the ballot via the City Charter Revision Commission. In his State of the City address earlier this year, the mayor said he would set up a committee to examine the City Charter. The scope of that committee has not yet been announced. If it eventually gets off of the ground, it could look at term limits and then put a referendum to the voters in the 2009 general election.
The mayor's office declined to comment on whether the commission would be looking into this issue.
To ensure the council would allow voters to determine the fate of term limits, Weprin asked the council's legal arm -- one day after Koppell made his legislative request -- to draft legislation that would explicitly require a referendum for term limit revisions.
At a press conference on Sunday, Weprin and council members Bill de Blasio and Eric Gioia stood on the City Hall steps in the sweltering heat, vowing to vote against any bill that extends term limits without a referendum.The members called Koppell's bill "corrosive" and said it undermined the public interest.
In the Chamber
Some interpretations of the law suggest that the council does have the authority to expand term limits without putting the question to voters – as in Koppell's proposal. If vetoed by the mayor, the council could override it with a three-fourths majority.
This scenario, by far, has sparked the most criticism.
"I don't know why these people think they have the ability or the authority to make a decision that the voters already said they shouldn't do," said Hank Sheinkopf, a consultant who works on many local campaigns.
The council's power to extend term limits legislatively hinges on a 2003 state appellate court opinion. The council had redefined term limits to mean two consecutive full four-year terms, as opposed to just two terms. This meant that some members, elected mid-term in a special election or during redistricting years, could actually serve 10 years, say, instead of the usual eight. Some potential City Council candidates challenged the 2002 law. The state courts, though, ruled in the council's favor.
Several council members said their legal staff interprets the court's finding as a green light for additional term-limit changes. Other advocates say the latest proposal is different, because it is not clearing up ambiguity in the law, but fundamentally changing it. For that reason, it could be susceptible to a legal challenge.
"I ultimately believes this goes to court," said Councilmember Vincent Ignizio, who is not term limited and says any bill the council considers needs to be for the next class of legislators.
The question is whether allowing additional terms amounts to an extension of the council's power, thus triggering a referendum, or whether it is revising the current law.
Koppell, citing his experience as a former state attorney general, insists that the proposal could survive a legal challenge.
Others, not surprisingly, disagree.
"Do they have the power? The power is from the people and the people have already voted on it," said Kenneth Moltner, a spokesman for New Yorkers For Term Limits. "There is absolutely nothing the City Council should be doing."
Council members say a majority of members would approve a bill to extend term limits. If the mayor vetoed it, most members believe the council would not have enough votes to override that veto.
The city's Law Department declined to comment on the legality of Koppell's approach.
A Constituent Backlash?
So, let's say the council can revise the term-limit law legislatively and give members the opportunity to snag four more years. But, should it?
Many advocates and consultants say no, arguing the council would be acting primarily in its own self interest (Even Koppell said half of the support for the bill is motivated by self interest – the other half being a policy-based decision).
"This is not a good way to be having a debate," said David Birdsell, the dean of the School of Public Affairs at Baruch College. "It should not be a debate about individuals. It should be about structure of choice."
For that reason, some members argue any change should be done prospectively for the next class of council members. The council, as a legislative body, could get all the benefits of a longer term (including, the enhanced ability to stand up to the all-powerful executive branch, experience to get larger policy initiatives passed, less reliance on staff members, etc.) without the political ramifications.
If they made any change take effect immediately -- benefiting themselves -- political consultants say the council might see a backlash from the electorate, who could vote them out of office anyway.
"There is a danger that the voters may revolt and might go in and elect (challengers)," said Shienkopf.
On the other hand, the incumbents' popularity, particularly the mayor's, is precisely what's fueling the debate. More than 70 percent of voters approve of Bloomberg, according to a poll this summer by Quinnipiac University, but 56 percent don't want to see a change in term limit law.
That said, some New Yorkers would like to see him stick around anyway. "Michael Bloomberg runs a quality mayoralty. New York City could do worse than to have him around for another four years," read one editorialin the New York Post this June."And it probably will do worse - thanks (or no thanks) to term limits."
Campaign Confusion
To add to the confusion over legislative power, at least 24 term-limited officeholders are fundraising for another office. If some of them decided to run for a third term instead, they may have to return donations.
A candidate for City Council can accept contributions of $2,750 each, while a candidate for a citywide office can accept $4,950.
In addition, spending limits vary by office. Council candidates, if they participate in the public financing program, can spend $161,000 on a primary and the same amount on a general election. A mayoral candidate can spend about $6.2 million, while an aspirant for borough president can spend $1.4 million.
De Blasio, who is running for Brooklyn borough president, said, "We cannot change the game in the 11th hour." He would not say on Sunday whether he would consider running for a third term if the voters approved an extension.
Campaign Finance Board Press Secretary Eric Friedman said the board is already considering how to react if incumbents change their '09 plans. Office space in Manhattan, would not help a candidate if he or she decided to skip the citywide races and instead run for a third term in a council seat in Queens. Should spending in Manhattan count in a Queens race?
Already, candidates who could potentially run for a third term if term limits were extended, like council members Melinda Katz and Weprin, have far exceeded the spending limit for council races.
"You think of a monopoly board and someone walks by and flips it upside down," said Friedman. "You have to put the pieces back together."
A Extension Deadline
Because the city could hold a special election to determine term limits and the City Council could pass legislation anytime, term limits are very much in limbo.
Friedman said candidates have until June 2009 to decide whether they would enter the campaign finance program. Realistically, candidates need to know the term limits situation if they are to direct fundraising and outreach far sooner than that date.
The speaker's office will have until November to comply with both Koppell's and Weprin's legislative requests. Before that though, we will need to get direction from Quinn on whether either bill will get a hearing. In almost all cases, legislation does not move unless the speaker wants it to.
But insiders say it's really Bloomberg who will determine how, if and when any referendum or legislation moves forward. For now, both Quinn and Bloomberg aren't answering any questions.
"I'm very confident, if (the mayor) decides to move a piece of legislation on term limits, or anything else, he will call me, we will talk," said Quinn at a recent press conference. "If that happens, then there will be more to say. But there is nothing to say right now on term limits."