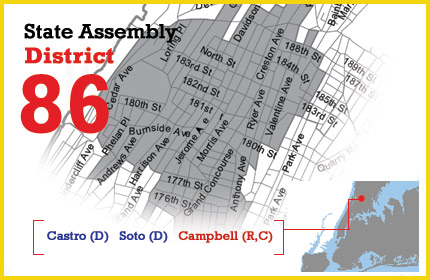 Update: In this contest for an open seat, Castro defeated Soto in the Democratic primary and will face Campbell on the Conservative and Republican lines on Tuesday.
Only days after Luis Diaz filed his petitions to run for re-election to the State Assembly, Gov. David Paterson named him as his downstate government and community affairs person. The party organization then selected a successor to run or the post: Nelson Castro, a former chief of staff to Assemblymember Adriano Espaillat.

Back to the
Last Minute Voter Guide
In the primary, Castro faces Mike Soto, brother of Richard Soto, who is running for State Senate in the 33rd district. But according to the City Room blog, " Soto has campaigned little if at all."
Soto did try to get Castro knocked off the ballot, questioning his residence: It seems Castro and his girlfriend -- and nine other adults -- all list the same one bedroom apartment as their address. Even though a Board of Election referee found Castro "less than credible," he got to stay on the ballot.
Lisa Marie Campbell plans to run in November on the Republican, Independence and Conservative lines.