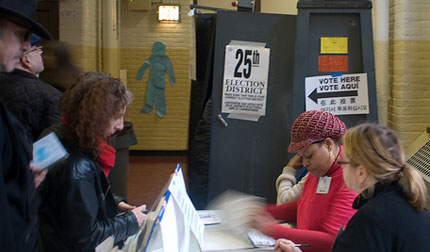 To find out who won and who lost, go to Gotham Gazette's election results page.
Barack Obama just spelled out his vision of America before a packed football stadium in Denver. John McCain and Sarah Palin prepare to make their case to the American people. And in Flatbush, voters are deluged by campaign flyers singing the praises (and sins) of Simcha Felder and Kevin Powell.
As most of America focuses on the presidential election, New Yorkers have a local primary to think about. People in other states can mull who would be better able revitalize a shaky economy and cope with chaos in Pakistan, while New Yorkers get to consider whether the Rainbow Rebellion deserves more power in the Bronx and rivalries in the Chinese community in Flushing.
As in every even-numbered year, the entire State Senate and State Assembly, as well as all members of Congress, and a number of judges and party functionaries must face the voters. Because Democrats greatly outnumber Republicans in many city districts, the key contests for a number of positions could come in the Sept. 9 primary and not in the Nov. 4 general election.
Despite that, many voters will be shut out of the action on Sept. 9 Only voters registered with a party having a primary can vote on Tuesday. And even their choices are limited.
As usual, most incumbents do not face serious challenges. For example, only two of the city's 13 congressional districts offer primaries, and no legislative seats from Staten Island even appear on the ballot. Unless they live on Staten Island or in a sliver of Brooklyn, Republicans have nothing to vote for.
That said, the ballot this month does offer some important contests. The Bronx features a number of races, individual battles in the wider fight for control of the county party organization. Voters from both parties will select nominees to run in November for what has been the city's only Republican congressional seat. And a handful of competitive State Senate races will set the stage for the showdown in November -- when Democrats will try to wrest the state Senate from Republican control.
Gotham Gazette offers a complete guide to the primary. For links to our articles on every competitive race for Congress, State Senate and State Assembly from New York City, see the box. For a guide to other races and for voter information, see below
Manhattan Surrogate's Court:
Three Democrats are facing off for a 14-year term at the Manhattan Surrogate Court, which oversees wills, adoptions and estates.
The candidates all have close ties to estate law in the city. Nora Anderson had been the chief clerk at the court for three years. For more than a decade, John Reddy has served as counsel to the department of the Manhattan public administrator's office, which oversees the distribution of estates without wills. Manhattan Justice Milton Tingling oversees some guardianship cases.
The candidates are looking to replace Renee R. Roth, who has reached the mandatory retirement age of 70. Manhattan has two surrogate court judges, the other being Kristin Booth Glen.
The Surrogate's Court has faced repeated allegations of cronyism, because its judges appoint attorneys to oversee the distribution of estates, allowing the attorneys to benefit financially. The court then can become a venue for doling out political favors. All three candidates have reportedly emphasized the need to do away with this public perception.
The party organization has backed Tingling, while Anderson received the endorsement of the New York Times.
In the latest campaign-finance filing period, Anderson received $21,185 in contributions, Reddy received $36,795 and Tingling garnered $9,400.
Civil Court Judge, The Bronx
Three candidates are competing in a hotly contested race to fill a vacancy on Civil Court in the Bronx. Like many of the other primary contests in the borough this year, this judicial race is being viewed as a proxy fight in the larger battle between the party organization and a group dubbed the Rainbow Rebellion. The dispute also has its racial dimensions. The organization's candidate, Maria Matos, is Puerto Rican; the rebellion's Elizabeth Taylor, is black.
Matos currently serves as a court attorney in Bronx Civil Court, according to her Web site, while Taylor is principal law clerk for the Bronx County Supreme Court. Verena Powell, a former assistant district attorney, is in private practice and the candidate of the Rising Voice coalition. Some see her candidacy as a boost for Matos since she is black and could split that vote.
By many accounts, the race is not only emblematic of the rift in the Bronx but has also deepened it. Members of the Rainbow group are reportedly angry that Assemblymember Jose Rivera, the leader of the Bronx Democratic organization, opted to back Matos instead of Taylor. The New York Times has "enthusiastically" endorsed Taylor.
Whoever wins will face Republican/Conservative Marcos A. Pagan III in November.
Civil Court Judge, Manhattan
Voters must decide between Nancy M. Bannon and Michael L. Katz, who both currently serve as clerks on the state Supreme Court. The seat became vacant in mid May, near the filing deadline, when Judge Shirley Kornreich was promoted to an interim seat on the state Supreme Court.
Katz has reportedly raised far more money than Bannon. Some people in legal circles have questioned whether Bannon tried to conceal a $13,000 loan she gave to her campaign. She claims any mistake was a result of bad advice from the state Board of Elections and that the dispute is " wasting everybody's time."
Bannon received the endorsement of the New York Times, which described both candidates as "able and committed to making the legal system more accessible for less-wealthy litigants," but said that "Bannon's thoughtful manner and depth of legal experience give her the edge." Bannon also received an endorsement from the Uniformed Fire Officers Association, while the Gay and Lesbian Independent Democrats endorsed Katz.
Civil Court, 1st Municipal Court District, Brooklyn
Lawyers Roger B. Adler and Devin P. Cohen are facing off in a Brooklyn Civil Court primary, which covers Brooklyn Heights, Cobble Hill, Carroll Gardens and parts of Park Slope. Both candidates are attempting to distance themselves from the Brooklyn party machine, which has had a longstanding reputation for corruption.
Adler is the former attorney for the former Brooklyn Democratic party boss, Clarence Norman, who has since been found guilty for embezzling campaign funds. Although he has won the backing of Brooklyn Party Boss Vito Lopez, Adler is reportedly boasting that a lack of endorsements testifies to his distance from the party machine.
Cohen, a member of Community Board 6, has received backing from local politicians, including City Council members Letitia James, Bill de Blasio and David Yassky. He has also won over the Independent Neighborhood Democrats and Central Brooklyn Independent Democrats.
State Party Committee
State committees are the official party organizations. Most Assembly districts get two members -- one male and one female -- elected by party members in that district. Often these elections, little noticed by many voters, involve larger battles for party control between two or more factions.
This year, there are contests for the Democratic State Committee from Assembly districts 69 and 72 in Manhattan; 78, 79, 80, 83, 85 and 86 in the Bronx; 40 and 55 in Brooklyn; and 22 in Queens;
The Independence Party State Committee will elect members from district 68 in Manhattan, district 54 in Brooklyn; districts 24, 26 and 27 in Queens; and 60, 61 and 62 on Staten Island.
None of the other parties are having contests for state committee posts.
District Leaders
District leaders are intermediaries between the major political parties and the community in which they are elected. Together they form the governing bodies of the Democratic and Republican parties within their respective counties. The position is often seen as a stepping-stone to higher office, and many times is held by members of the State Assembly or City Council. Former New York City Mayor Ed Koch started his political career as a district leader.
Each district elects a male and female representative. District leaders serve four-year terms, are not paid and work within the political parties. "The way to think of them is not as a 'block captain,' but as a 'neighborhood captain,'" according to Alex Carabelli, deputy director of Grassroots Initiative, a non-profit organization that helps community members get elected to local office. "They help coordinate petitioning and local campaigns, and anything else the parties are doing in the community."
District leaders select poll inspectors, clerks, supervisors and translators to fill the various poll worker positions on Election Day. They also serve as ex-officio members of the County Committee Executive Board.
Contested elections for district leader often reflect wider battles for party control, which could explain why so many district leader positions from the Bronx will be on the Democratic Party ballot this year. At least two factions -- the party organization of Assemblymember Jose Rivera and a group calling itself the Rainbow Rebellion, are seeking control of the Bronx party. There will be contests in the borough's 76th, 79th, 80th, 82nd -- Part A, 83rd and 85th districts.
In Queens, Democrats in district 22 -- Part A, district 22 -- part B and 32 part A will select district leaders. The party in the 22nd is split between activists aligned with City Councilmember John Liu and supporters of former Assemblymember Jimmy Meng and his daughter -- and Assembly candidate -- Grace Meng.
Judicial Convention Delegates
A number of candidates on Tuesday are seeking election to posts that some New Yorkers want to eliminate. They hope to be delegates or alternative delegates to state judicial conventions. Those elected attend a meeting to vote on their party's candidates for state Supreme Court - New York's main trial court. Their action at these meetings tend to be "a formality because the bosses have usually picked the nominees beforehand," Carol DeMare has written in the Albany Times Union.
In the meantime, though, the positions exist, and a lot of people run for them. In Manhattan's 72nd Assembly district, 26 people are vying for seven delegate posts, while 22 people want to be alternate delegates. There are also Democratic contests in Manhattan's 75th Assembly district; the 76th, 78th, 79th, 80th, 82nd, 83rd, 85th, 86th districts in the Bronx; the 40th district in Brooklyn; and the 22nd district in Queens.
The Independence Party has a contested race for delegate to the Judicial Convention from the 61st district on Staten Island.
Where and How to Vote
The election will be Tuesday, Sept. 9, with polls open from 6 a.m. to 9 p.m. Only registered voters who have registered in a party at least 25 days before the election can vote. If you have moved within your election district, you can still vote. But if you moved to another election district you must have notified the Board of Elections of your new residence - unless you moved within 20 days of the election. Then you can still vote in your old district.
In primary elections in New York people can vote only in the party in which they are registered.
You should have received a notice in the mail telling you where to vote, or you can go to the Board of Election's poll site locator or call 1 866.VOTE-NYC. This number can provide you with other information as well, such as registration deadlines.
On its Web site, the Board of Elections also has instructions for how to work the voting machine.
If you cannot get to the polls, you can vote by absentee ballot.
Absentee ballot applications can be obtained calling the Board of Elections at 1-866-VOTE-NYC, e-mailing a request to This email address is being protected from spambots. You need JavaScript enabled to view it., or downloading one from the board's Web site.
To cast your vote, you can deliver the ballot to the board's office in your borough or mail it to the borough office. To be counted, an absentee ballot must be postmarked by the day before Election Day -- in this case Sept. 8 -- and must reach the Board of Elections no more than seven days after the election.
If the deadline for requesting an absentee ballot by mail has passed and you cannot appear at the polls on Election Day because of an accident or sudden illness, you may send a representative with an authorized letter to receive an absentee ballot application and absentee ballot and return both to the Board of Elections by 9 p.m. on Election Day at your borough office.
Ballot Marking Devices
This year, voters will see a new addition to their poll site on Election Day. The Board of Elections will put a ballot marking device -- or BMD -- in place at every polling location to allow disabled voters to cast their ballots independently and privately at their own poll site for the first time here. The devices are part of the New York State Board of Election's plan to bring the entire state into compliance with the Help America Vote Act by the 2009 elections.
This first phase of the plan means that all voters -- disabled or not -- can cast their ballots with the assistance of what might be described as an electronic pencil. Voters put a paper ballot into the BMD and then select from a number of different formats for casting their vote. The machine can read the ballot to you with the audio function, it can display enlarged text for those with vision problems, it can accommodate two switch paddles and sip and puff devices, and it can do so in English, Spanish, Chinese and Korean.
For detailed information about the BMDs and instructional pictures the Board of Elections has information here. You can also find frequently asked questions and videos there.
First-Time Voters
New Yorkers who registered to vote for the first time via mail may be asked to provide identification, such as a driver's license, when they arrive at the polls.
Voters without a driver's license can also offer a copy of one of the following:
valid photo ID
current utility bill
bank statement
government check or other government document that shows the voter's name and address.
Those who do not have any form of identification or decline to supply one will be allowed to vote by paper ballot, not in the machines, according to the Board of Elections. Those votes will be counted only if they are verified to match registration forms.
The new rules are part of the federal Help America Vote Act, which Congress passed after the turmoil in Florida during the 2000 presidential election.
What If You Encounter Problems at the Polls?
If a poll worker says you are not on the list, ask an inspector to verify that you are at the correct election and assembly district for your address. If you believe that you are eligible to vote, you can ask for a paper or affidavit ballot. After the election, the Board of Elections will check its records and your vote will be counted if you are deemed eligible to vote and were at the correct polling site.
Â