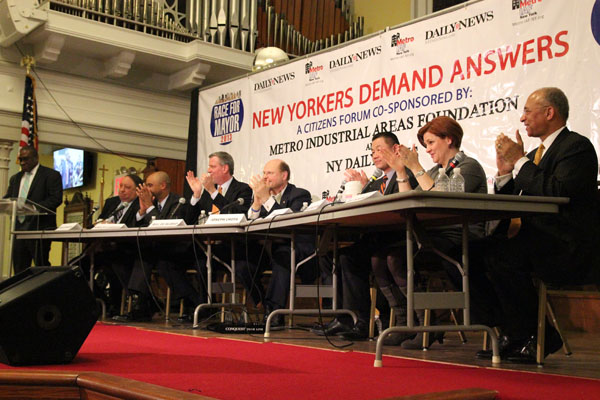 NEW YORK — Whoever takes the reins from Mayor Michael Bloomberg will have to reconcile the city's historically low crime rates under Police Commissioner Raymond Kelly and his department's aggressive, often divisive tactics.

At a mayoral forum on public safety in Queens last night, seven candidates wrestled with the legacy of Kelly's department, answering questions from the public about stop-and-frisk tactics, the surveillance of Muslims and the creation of an inspector general to independently monitor the police.

City Council Speaker Christine Quinn was the only candidate to raise her hand when the moderator, Errrol Louis of NY1, asked if anyone would keep Kelly in his job.

"I have often said Ray Kelly has been an outstanding police commissioner. He's taken crimes to lower rates than we ever imagined possible," she explained as the crowd booed her. She later added: "I don't think for people to work together you have to agree on everything."
Quinn said that she supported legislation before the City Council to create an inspector general who would monitor the NYPD and have subpoena power — a proposal that the police have flatly rejected as unnecessary because of various levels of oversight already in place.
She said she is confident the Council will approve the measure, co-sponsored by Councilmen Jumaane Williams and Brad Lander of Brooklyn, next month.
"You can have a lot of entities, and if they're not getting it done, then we need more agencies," she said, emphasizing that "systemic change" at the NYPD is necessary.

Rival candidates Bill De Blasio, a Democrat, and Joe Lhota, a Republican, disagreed that the solution to policy challenges at the NYPD, particularly stop-and-frisk, was the creation of a new office.
"I think building another bureaucracy on top of this problem of stop-and-frisk is not the right answer," said Lhota, a former deputy mayor under Rudy Giuliani who quit as chief of the Metropolitan Transportation Authority to run for office.
De Blasio said that stop-and-frisk could be reformed and that police shouldn't be making stops based on a quota system, which has been one allegation surrounding the policy.
"We need to send a message to every young man of color that they are beloved, they are valuable, they are our future," he said. "You can't do that if you're constantly treating people as suspects."
The crowd at First Presbyterian Church in Jamaica, Queens, seemed to cheer loudest when candidate John Liu, the city's comptroller, spoke out against the practice.
"This is the largest system of racial profiling going on anywhere in America," said Liu, the most recent Democrat to officially announce he's running. He was the only candidate to say he would abolish stop-and-frisk if he were elected.
NYPD data shows that nine out of 10 people stopped in 2012 were black or Hispanic men, and that the vast majority — 89 percent — were innocent. A federal judge began hearing a case Monday that could lead to the reform of the NYPD's stop-and-frisk policy and the appointment of a monitor to oversee changes. The NYPD has argued that the strategy saves lives and reduces crime.
Last night's forum was the last of three mayoral forums hosted by the New York Daily News and Metro Industrial Areas Foundation, a network of religious institutions, schools, senior centers and homeowners assocations.
Voters asked tough questions and said they would hold the eventual mayor accountable.

Moderators selected eight local voters to ask the candidates about their thoughts on crime and safety.

Brandon Gibson, 27, a leader with the Hope Christian Center of Brooklyn , claimed he had been stopped and frisked by police more than 20 times and asked the candidates if they had ever been stopped-and-frisked. The answer was a unanimous no.
Bill Thompson, the city's former comptroller and one of the four Democratic candidates for mayor, told a story of how he explained stop-and-frisk to his 15-year-old son, but when Liu asked Thompson to join him in calling for an end to the practice, Thompson grew animated and pounded his fists on the table.
Thompson said he would be the one to worry about parenting his son.
Republican hopeful John Catsimatidis, a billionaire supermarket magnate, said he would keep stop-and-frisk as is, though the crowd snickered as he floundered on the topic. After the debate, he said an imaging device would help police tell if a person is carrying a gun, and stop-and-frisk will eventually be unnecessary.
Most of the candidates discussed a proactive strategy that changes the relationship between the police and the community.
"We need to restore a community policing model that gets police officers out of the SWAT cars and walking the residential streets in our city," said Adolfo Carrion, the Independent Party candidate and former Bronx borough president. "That requires more police officers."
Thompson suggested the city would be able to afford to hire more police officers if the NYPD would staff precinct desks with civilians.
Maribel Baez, a tenant of Melrose Houses in the Bronx, said she wanted more security in New York City Housing Authority buildings.
"These days, crime is often indoors," Baez said. "I'm tired of risking my safety and life when I go home."
Baez explained that elevators, lobbies and dark stairwells are common places for crimes now. The candidates said improving safety at public housing would need to be a priority of the next mayor.
"When something is broken and not working, like our education system, you need to turn it upside down and fix it," Carrion said. "The New York City Housing Authority needs a makeover and I intend to do it."
Quinn also promised a shakeup in the leadership of NYCHA.
Kadeem Mullings, a sophomore at Andrew Jackson High School, said he was mugged recently on his walk home from school. He asked if candidates had plans to increase safety along the routes kids walk to and from schools.
The candidates were short on specific tactics, but said again that they would hire more police officers. De Blasio said children should have access to safe after-school programs.
"We should tax the wealthiest New Yorkers so we can have after-school programs for every middle school student who needs it," he said.
While the candidates disagreed on policy, they were unanimous in their commitment to reducing citywide crime.
"We can and must continue to drive crime down," de Blasio said. "As we've gotten safer and safer, no one in this room, no one in the media, can pretend that that was evenly distributed."
___
Image of candidates at debate by Emily Field/CUNY.