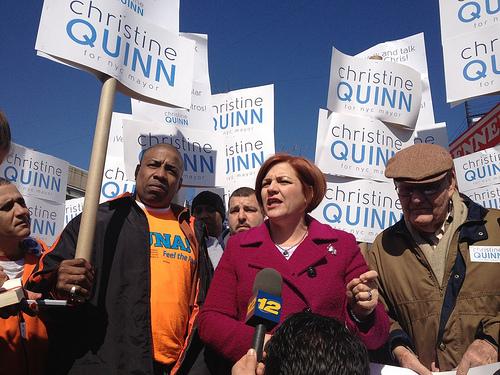 "Talk is cheap," Democratic mayoral candidate Christine Quinn said today during what was billed as a major speech. "Voters will decide based on actions. The greatest indication of what someone will be able to achieve can be found in what they've already accomplished. The record speaks for itself."
The speech, delivered at the East Harlem Center for Asthma, was noteworthy for Quinn's attacks on rivals and her emphatic support of the nearby East 91st Street waste transfer station.
In an attempt to create contrasts between her and the other Democrats up to replace Mayor Michael Bloomberg, Quinn said she was the only candidate with a record on the city budget as well as on the issues that New Yorkers need to grapple with the most: affordable housing, education reform, unemployment and income inequality.
"A record of results, and a vision for the future — that's what I've been out here talking about for the last six months, and it's what I'll be talking about all the way to November," Quinn said. "That's what we need from the next mayor. Not just empty promises, silly press stunts, or nonstop criticism, but a real plan on how to deliver for New Yorkers."
Quinn rarely mentioned public safety — which months ago seemed to be the dividing line between candidates — nor did she mention the paid sick leave legislation she allowed to a vote this spring after years of holding it back.
She was artfully vague in her attacks against her rivals, but managed to use choice words against them.
She said she offers comprehensive solutions to lead, not "4-year-old position papers dusted off for a comeback attempt," an assumed jab at former Congressman Anthony Weiner, but applicable to most of the primary's headliners.
While not known for being coy, Quinn launched her primary attack on former comptroller and 2009 Democratic candidate Bill Thompson without invoking his name but rather the issue of the East 91st Street marine transfer station.
Quinn hailed the site as the cornerstone of the city's waste management plan, which was introduced in 2006. The 91st Street site was developed as a means to reduce pollution and traffic in neighborhoods already home to any of the 58 transfer sites, all but one in the outer boroughs.
"Some of my opponents in this race continue to pander to residents of the Upper East Side — or side with their lobbyist donors," Quinn said in a thinly veiled reference to Thompson. "Some say they would take 91st Street out of the plan altogether, even though doing so would require opening up the entire plan, subjecting it to community and environmental review, requiring approval from the Council and from Albany all over again."
After Quinn's speech today, Thompson's campaign responded in equal measure.
"Speaker Quinn has sided with rich Manhattan interests at the expense of the working people of the city," the statement said. "But her attacks today won't solve the challenges facing working New Yorkers."
Like Quinn, Public Advocate and Democratic rival Bill de Blasio has come out in favor of the transfer site. That, however, didn't stop de Blasio's campaign manager Bill Hyers from laying out a less favorable record for Quinn.
"Speaker Quinn's accomplishments include giving Mayor Bloomberg a third term, proposing to shower big developers with a billion dollar giveaway and blocking key progressive legislation for years to placate big business," Hyers wrote. "This election is not a contrast in getting things done — it's about who you are fighting for."
Even former Councilman Sal Albanese went after Quinn's record, which he called "nothing to write home about" and that her campaign has accepted more than $1.5 million from real estate developers.
"We've seen Christine Quinn's New York: term limits overturned, hospitals and schools closed, and legislation watered down," he wrote. "As the city grew more unaffordable for regular New Yorkers, she rolled out the red carpet for plutocrats. Now, they are repaying her loyalty."
Quinn tried to preemptively fight back against criticism in her speech.
"I don't worry about labels," she said. "I don't worry about fitting into a narrative. I'm not concerned with making it easy to describe me in 140 characters or less."
Instead, Quinn used a long, non-tweet-length comparison to describe herself and her possible four-year stint as the city's next mayor.
"You know, my wife Kim and I are huge Bruce Springsteen fans," Quinn said. "And I think about something Jon Stewart said while honoring Bruce at the Kennedy Center last year. He said, 'Whenever I see Bruce Springsteen do anything, he empties his tank every time.'
"And if I'm lucky enough to become our next mayor, that's how I'll spend every day: Delivering results for New Yorkers. Holding nothing back. Emptying my tank."