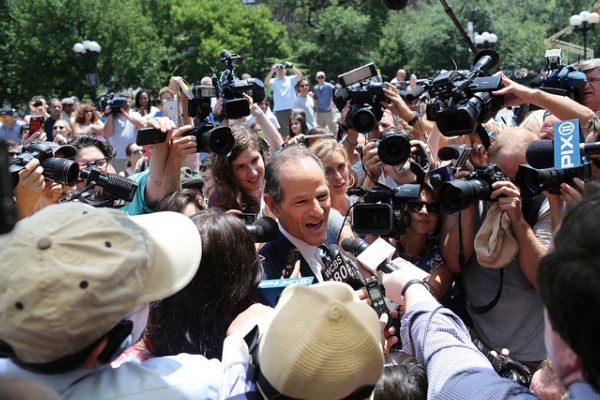 ALBANY, N.Y. — Eliot Spitzer thrived as attorney general. He investigated Wall Street and took down white-collar crooks with such zeal and willfulness he was called "The Sheriff of Wall Street."
As governor, Spitzer used the same brazen — some would say bullying — tactics against obstinate legislators. Unwilling to compromise or negotiate, he found his efforts frustrated until he had squandered his immense political capital and resigned amid a prostitution scandal in 2008.
After a five-year hiatus from the political scene, Spitzer re-emerged this week to announce a run for the comptroller's office.
While it's impossible to forecast how Spitzer would act as comptroller, this much is clear: Spitzer in that office could prove especially troublesome for the next mayor. The comptroller's office is tasked with monitoring city spending and analyzing contracts, and its work often rubs up against the mayor's initiatives.
"I pity whoever is the next mayor because, with the powers of comptroller, this guy is going to be on the mayor's case on a daily basis," Baruch College political science professor Doug Muzzio said in an interview this week. "This office is a stepping stone and he's gotta step on the mayor."
Spitzer said on the Charlie Rose Show earlier today that he had changed. "I hope that I have become a bit more accepting of alternative views, desires to listen," he said to guest host Mark Halperin. "A bit more reflective and empathetic."
A look back at Spitzer's record in Albany as both attorney general and governor shows that while he was able to build on his resume and attract attention, he also thrived on conflict and was unwilling or unable to compromise.
Those characteristics proved valuable when he was an attorney general and the goal was to prosecute cases; they became a liability when he was governor and when working with the Legislature required a more subtle form of negotiation.
Spitzer's short tenure in the governor's mansion from January 2007 to March 17, 2008, was typified by setbacks, personal conflict with legislators and an insistence that he get exactly what he wanted, when he wanted it. Threats were Spitzer's favorite legislative tool.
Spitzer notoriously told Assemblyman Jim Tedisco after the lawmaker resisted his call to support him at a press conference on an ethics deal: "I'm a f---- steamroller and I will roll over you and anyone else! I've done more in three weeks than any governor in the history of the state."
Spitzer's failure to use the governor's office was a surprise to many who saw Spitzer's use of the attorney general's office as masterful.
"During his time as AG he almost created a new paradigm for the attorney general's office and for use of Martin Act," Muzzio said, referring to the law that dates back to the 1920s and gives the attorney general expansive powers to investigate financial fraud — more power than almost any other public officer in the country.
Using the powers under the Act, Attorney General Spitzer battled securities fraud, brought cases against a myriad of investment banks like Bear Stearns and Goldman Sachs, and charged Richard Grasso the chair of the NY Stock Exchange with violating his position as head of the then nonprofit by taking too large of a salary.
Those cases generated splashy headlines and earned Spitzer a reputation as a no-nonsense prosecutor in the people's interest. He made sure the media had the pictures of alleged bad actors to splash all over front pages and evening news. That made Spitzer more than his share of enemies in the business world, but they were in no position to block his agenda. That situation changed when he became governor.
Spitzer only spent a year in office running the state. While he rammed through some reforms, he soon found himself repeatedly stymied by the leadership of powerful Republican state Senate Majority Leader Joe Bruno.
Bruno blocked a number of issues that were important to Democrats, including Spitzer, for years on issues like same-sex marriage, Rockefeller Drug Law reform, and rent law reform. Bruno was all-powerful as head of the Senate and controlled his conference with great precision.
Spitzer and Bruno also battled over Spitzer's budget, especially Spitzer's plan to reduce healthcare spending. Bruno also steadfastly opposed Spitzer's evangelical push for campaign finance reform.
In response, Spitzer poured hundreds of thousands of dollars into a special election for a Republican-held senate seat through the state Democratic Party. The effort proved successful, and Spitzer began the trend that saw Democrats take the majority in the Senate in 2008. But Spitzer was not in power to reap the rewards.
Eventually, the Spitzer administration was caught using state police resources to try to track Bruno's use of state aircraft for political ends. "Troopergate," as the scandal came to be known, and the investigations that followed, bogged Spitzer down in a grueling battle with the Legislature and the press — until The New York Times reported that Spitzer had frequented high-priced prostitutes in other states and structured payments to avoid detection. Spitzer called a press conference in the city and, with his wife by his side, he resigned.
It was an especially shocking denouement given that Spitzer's run for governor was less a political campaign and more a coronation. News outlets from around the world reported breathlessly about how the Sheriff of Wall Street would soon take to the governor's mansion.
"He came in with such fanfare and hope that it made the plummet that much greater," said Russ Haven of the New York Public Interest Research Group.
Haven said he saw Spitzer as being genuine in his push for real reform in Albany. Spitzer did launch a successful push for ethics reform and he noted that Spitzer's ethics body — the Commission on Public Integrity — was a precursor to Gov. Andrew Cuomo's ethics panel.
But Haven said when the Troopergate scandal hit there were leaks from the CPI to the Spitzer administration. Those leaks and Spitzer's insistence that he appoint the majority of members to the CPI have weighed heavy on legislators who are reluctant to allow anyone to police them. Spitzer's meddling in ethics reform may have soured legislators on future proposals.
David Grandeau, who was ousted from his position as head of the state's lobbying commission when Spitzer pushed through the new CPI, said that he feels Spitzer came to Albany with a "holier than thou attitude" and wanted Albany to do as he said, not do as he did.
He said Spitzer should not have the chance to return to politics. "I'm old fashioned," Grandeau said. "Once you have squandered your public service you should go away. You have destroyed your honor and privilege."
Grandeau also said he still thinks there are outstanding issues with Spitzer's time in office that need to be dealt with, including whether the former governor violated the public officers law by using a state plane to travel to Washington, D.C., where he had arranged a meet-up at a hotel with a prostitute. "Let's deal with that before he returns to public office," he said.
So what about the comptroller's office? Is it a good fit for Spitzer? Muzzio thinks so. "It suits his abilities like the attorney general's office does," he said. "The powers are delimited but it is an extremely powerful office."
In other words, Spitzer would be his own boss again, would have subpoena power and have clear foils — Wall Street and the next mayor of New York City.
But he said that New Yorkers should get ready for war and gridlock between Spitzer and Weiner if both men are elected. "There is a potential thrilla in Manilla situation with Tyson biting off ears type of stuff," he said, referring to the much-hyped third boxing match between Muhammad Ali and Joe Frazier and the boxing bout between Mike Tyson and Evander Holyfield where Tyson bit off a bit of Holyfield's ear.
"The reporters will love it, but for the rest of us it will mean gridlock," Muzzio said.