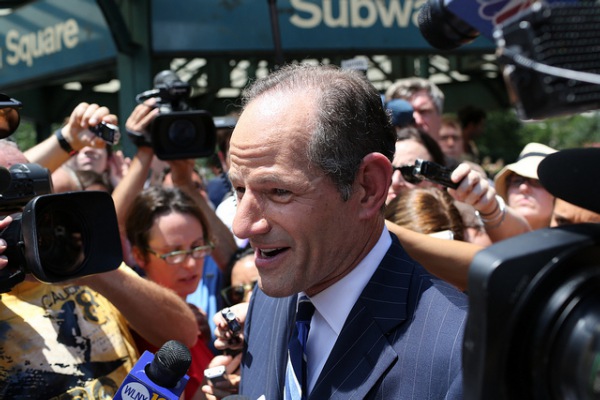 NEW YORK — Eliot Spitzer has said that if he is elected comptroller he will use the powers of the office aggressively, bringing the same brand of prosecutorial zeal to the job that made him feared on Wall Street.
The comptroller's office, he has said in interview after interview, does more than just count how many paper clips were bought and delivered. The office has untapped political power to shape urban policy.
New York City voters have heard similar sentiments in the past.
At his 2010 inauguration, current Comptroller John Liu said he would leverage the powers of the office "in the most robust manner for the city" and would "maximize" its potential. Liu's predecessor was more explicit four years earlier. "I entered office determined to be an activist comptroller," said a victorious Bill Thompson during his second inauguration in 2006, "by aggressively using the powers of my office to find new, creative ways to save the taxpayers money and to put our resources to work for all New Yorkers."
Spitzer's take on the powers of the city's chief financial officer immediately grabbed headlines. Spectators argued that if anybody could grow the role of the comptroller's office, the steamroller could. But those arguments discounted the fact that the comptroller's office has long enjoyed a strong role in policymaking, and that the degree and intensity with which it drives policy depends on who is at the wheel.
"You can't always separate finances from policy," said Liz Holtzman, a former comptroller and congresswoman. "It's not anything new. The question is the comptroller's priority and vision."
And while past comptrollers have long championed policy causes, they have also couched their successes on their ability to build consensus — a trait that has never been seen as one of Spitzer's strongest.
One of only three citywide elected seats in New York City, the comptroller is in charge of making sure that the city is in good financial health. He or she looks at the city budget every year, advising both the mayor and the City Council.
Lacking the singular power of the mayor or the ambiguity of the public advocate, a comptroller's success can actually be quantified: He or she is tasked with overseeing and maximizing $139.2 billion in pension funds for retired teachers, police officers, firefighters and other municipal workers. The office does give comptrollers latitude with investment and divestment power, which can be used to pressure or reward companies on issues relevant to their industries.
In May, Liu, who is running for mayor, announced that at least one of the city's pension funds had fully divested its stock holdings of publicly traded gun and ammunition manufacturers after the mass shooting at an elementary school in Sandy Hook, Conn. The fund withdrew its money from five companies at a combined value of more than $16 million.
But influence over the pensions is merely one tool that comptrollers wield. They are also responsible for auditing city agencies and for making sure that contracts that the city enters into are fiscally solvent and responsible. While comptrollers can't be entirely selective about what or who they audit, they are given some leeway.
While Spitzer's campaign did not reply to multiple inquiries from Gotham Gazette, recent interviews with former comptrollers and advocates provided a view into one of the least well known elected offices in the city and how it can be used as a tool.
The most successful comptrollers use their auditing powers to help recoup funds for the city, argued Maria Doulis of the Citizens Budget Committee, as well as how the office issues bonds to refinance the city's debt.
"Comptrollers have a lot of responsibility," Doulis said. "It's just that it's not in the limelight."
That may not be the case if Spitzer wins the Democratic primary. Still, Spitzer has yet to define exactly what policy realms he would weigh in on as comptroller other than his stock in trade on corporate oversight and public education.
During his time as governor-elect, Spitzer celebrated a 2006 court decision that promised billions in required funding for New York City schools.
"As I said at the time, and I believe just as deeply now, spending the money is the easy part," Spitzer said during an interview last week with WNYC's Brian Lehrer, during which the former governor repeated his promise to look at education spending. "Making sure you're doing wisely is the much more difficult part."
During the same interview, however, Spitzer belied his own headline-making claims and admitted that there's been a long tradition of comptrollers active in social policy. In fact, he said, the power is already enshrined in the city's governing document. "The courts have interpreted the audit power of the comptroller to extend to that type of substantive conversation," he said.
Whatever Spitzer may have in store for the comptroller's seat, he's not the only one with a policy record hoping to take the seat.
Previously the leading and lone Democrat in the race, Manhattan Borough President Scott Stringer said that nothing that Spitzer has proposed is groundbreaking.
"That's an obligation — that's a great tradition — of this job," Stringer told the Gotham Gazette, explaining that the city has helped shape corporate and social justice reform, including in the 1980s when the city used its pension to companies against selling products to South Africa during apartheid.
"I've been doing these proposals and this work for many years," said Stringer, a former assemblyman and a sitting trustee on the New York City Employees' Retirement System. "But I welcome my opponent, who is new to this."
Either Stringer or Spitzer would face Wall Street executive-turned-Republican candidate John Burnett and Kristin Davis, the "Manhattan Madam" currently running on the Libertarian ticket.
At least one former comptroller agrees with Stringer that the office is already a strong platform for advocacy.
"There's a lot of power in the office to begin with," said mayoral candidate Bill Thompson at a press event last week. "There's a lot of power in the office right now that can harnessed on behalf of the people of the city of New York by whoever the next comptroller is."
Some question if Thompson himself exerted his fullest potential as comptroller during his two terms. After Thompson lost his 2009 mayoral bid to Michael Bloomberg, City Limits revealed that the comptroller's office under his watch had filed 626 audits since taking office in 2002.
Most of those, however, took place at the beginning of his term, and average about 80 audits a year between 2005 and 2008. Comparatively, that's still more than his replacement and mayoral rival, John Liu, who has fluctuated between 60 and 80 audits a year since taking office in 2009.
Even so, one of Liu's audits was also one of the city's most damning in recent history. His 2011 audit of the Bloomberg administration's automated payroll system known as CityTime revealed that what started out as a $70 million contract exploded to more than $700 million. The city eventually managed to recoup $500 million.
Liu also hasn't shied away from being a counterweight to the mayor's office or Wall Street, especially on social policy issues.
In addition to helping pave the way for the divestment from gun manufacturers earlier this year, Liu has sharply criticized American companies that employ labor in unsafe Bangladeshi factories.
And the comptroller helped lead the (so far unsuccessful) charge against JPMorgan Chase — with which the city has $500 million invested — to wrestle away at least one job title from the bank's Chief Executive and Chairman Jamie Dimon in the wake of its $6 billion in losses over the so-called London Whale trading scandal.
He's even managed to turn the financial impact of misconduct complaints against the New York Police Department into a solid platform against the city's controversial stop-and-frisk policy. Liu is the singular mayoral candidate in 2013 promising to eradicate the policy — which has brought him in conflict with Police Commissioner Ray Kelly and Bloomberg.
"The goal is not to be at odds with the mayor's office, although at times it may be," said Deputy Comptroller Ari Hoffnung, who has worked under Liu since he took over the office.
The political reality is that while the city charter doesn't explicitly enumerate policy powers, it's unavoidable that the person heading the city' purse strings would have some say on how that money is spent.
"The office forces you to be a critical player in a number of issues," said Holtzman, who many political observers celebrate as a proactive and independent comptroller.
She was no stranger to the policy debate. Serving between 1990 and 1993, Holtzman came into the office after serving eight years in the House of Representatives and another eight as Brooklyn district attorney.
By 1992, that policy acumen helped her stall plans to build a new garbage incinerator, which would have cost the city a $1 billion contract and countless health issues for New Yorkers.
"We issued those reports — they undergirded those efforts," she told the Gazette, recalling the letter she wrote to then-Mayor David Dinkins and the City Council that listed violations of environmental and corruption laws by the company that was hoping to build to incinerator.
"We did very important policy work on some big-ticket items," Holtzman added. "The office has the capability of doing that."
She also recognized that her office had more power back before her; Holtzman came into office right after the city revised its charter to eliminate the Board of Estimate.
In 1989, the U.S. Supreme Court found that the eight-member panel — on which the comptroller sat in along with the mayor, the Council leader and five borough presidents — violated the Constitution's equal protection clause.
That didn't stop Holtzman from figuring out how to best influence urban policy.
Before she lobbied against the incinerator, she also helped steer the national conversation on environmentalism. Barely three months into her term as comptroller, she used joined other comptrollers from major cities to pressure the Exxon oil company to address concerns after the Exxon-Valdez spill.
She even laid the groundwork for a bill to make gun manufacturers and dealers liable for harm or death caused in the course of a criminal act. Drafting the bill in 1995, Mayor Bloomberg signed the bill 10 years later.
While the comptroller's office still holds considerable power and influence on how the city administers much of its money and, as a result, general urban policy, cooperation and the ability to compromise is also key to the job.
"You're a steward, a custodian, in a lot of key areas," said Gerrard Patrick Bushell, a former director of intergovernmental relations for state Comptroller H. Carl McCall.
Bushell, a board member of Gotham Gazette's sister organization Citizens Union, described how a comptroller needs to bring about consensus amongst a large group of strong-willed individuals.
A comptroller is only one voice of many on the pension boards; has to work with scores of agency heads to properly conduct audits; and submits recommendations to a budget handled by countless City Hall staffers and leaders.
"The comptroller doesn't exist outside of other players in the city," he said, especially in a city with strong mayoral influence.
For Scott Stringer, it means that being the sheriff might be somewhat overrated.
"This is a job where you can't be a lone ranger," Stringer said. "You have to be someone who can be collaborative."
Stringer can already count on that spirit of collaboration with at least three Democratic mayoral hopefuls. Besides Thompson, Public Advocate Bill de Blasio and City Council Speaker Christine Quinn have rallied behind the outgoing borough president.
(Liu, while not publicly endorsing Stringer, recently said that he's "incensed for the sheer disrespect" that Spitzer's bid for comptroller and former Congressman Anthony Weiner's mayoral run show towards New York City women. Quinn has made similar statements of her own.)
It remains to be seen just how well Spitzer can play with others as comptroller. His record certainly shows a streak of independence and willingness to take on the political establishment.
The question is whether he can reconcile that with his appetite for conflict and uncompromising passion for winning — an image that he's tried to shed in recent days with a more humbled tone.
Regardless of who becomes the city's next comptroller, Holtzman suggested that the office requires that delicate balance between independence and cooperation with other agencies and leadership for the city's overall benefit.
"You can't just be out there and spit at the mayor," she said. "It's not going to work."