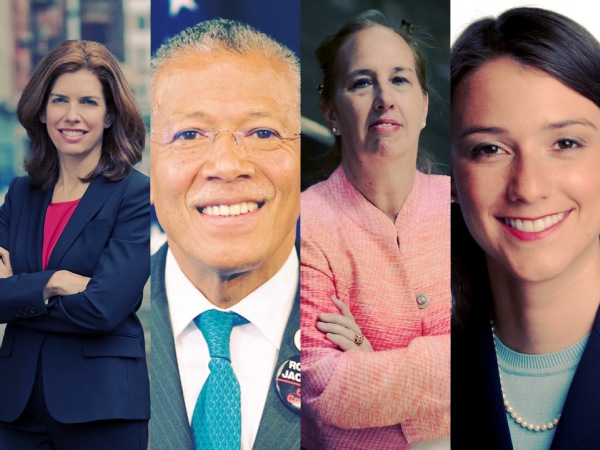 NEW YORK — It is a familiar refrain by now: in a field stacked with Democratic candidates, it's still too difficult to draw policy lines among the candidates for Manhattan borough president.
That's even harder to do when you have two candidates who have served three terms on City Council, another finishing her second and a fourth who has never held elected office. Case in point: At a debate last night, all four candidates seemed to agree on almost everything — even listing the same priorities in the exact same order.
All of them think Mayor Michael Bloomberg's Midtown East rezoning plan is moving much too fast. All of them concede they are willing to revisit the City Charter to improve land use procedures. They all want to diversify their appointments. And they want to connect the limited powers of the office they are seeking to a wider breadth of pressing issues.
Washington Heights Councilman Robert Jackson and Upper East Side Councilwoman Jessica Lappin said that they would focus on housing affordability, supporting public education and incentivizing job creation. Upper West Side Councilwoman Gale Brewer, meanwhile, listed affordability, jobs, library and school funding before adding a fourth priority: quality of life.
Only the one downtowner focused her message on one of the few powers that borough presidents still wield. Former Community Board 1 chairwoman Julie Menin, who is probably best known for leading the fight to keep the Sept. 11 terror trials out of Lower Manhattan, called for a comprehensive development plan, proactive community boards and participatory budgeting.
"We have to, in my opinion, completely change the direction we're going in terms of our land use system," said Julie Menin at the forum hosted by Gotham Gazette sister organization Citizens Union and NYC Community Media. "It's the primary reason why I'm running, and I have a very clear vision on how to change it."
Menin, previously a board member of Citizens Union, spent the evening asking for a master development plan for the borough, and argued that many of the city' ills — unaffordable housing, overcrowded classrooms and poor quality of life — could be traced to how the city willfully approves large scale developments "without a nexus to what it's doing to our communities."
But no one was asked about or brought up two of the borough's most difficult land use items: their positions on the recent 10-year permit limit on Madison Square Garden and the 91st Street marine transfer station. After all, zonings are one of the few things that borough president can actually weigh in on since the City Charter was revised in 1990.
Since then, borough presidents have been effectively limited to offering input on development plans, capital pending and various appointment powers, including to the city's many community boards.
Menin was also the only candidate to reject the idea of City Council discretionary funds as a means to fund capital projects, instead opting for a participatory budgeting system. The three other candidates said that they too would consider expanding participatory budgeting, but celebrated the money that they've been able to direct to local projects as Council members.
Lappin, ending her second term on the legislative body, was the only one to praise the sitting and outgoing borough president, Scott Stringer — not once, but three times. She said she would incorporate and expand some of Stringer's plans, including his Manhattan Community Grants Program panels that she said she has sat in on. The one change she'd make, ironically, is eliminate elected politicians from participating in the panels.
Otherwise, Lappin said she too was concerned about reforming the city' land use process, but sees the expansion of community based planning as the answer.
"One of the ways that I would tackle all of these issues is by using the mechanism that exist," she said. "The 197a process to make sure that communities are doing bottom-up — not top-down — bottom-up planning looking at affordability. Looking at school seats, senior services, homeless shelters, day care centers. And making sure that we're planning not just one, two years out, but 10, 15 years down the road."
Lappin took painstaking steps to position herself as the education candidate, often reminding the audience of her own public education roots and experiences as a parent of public schools children. But she wasn't the only one to do so. Previously serving as a community school board president, Jackson said that he's carried his focus on education into his career on the Council.
"When the mayor said he was going to lay off 6,000 teachers, I signed a pledge — along with Gail and Jessica — to say we would not vote on a city budget unless the money was restored back to education," Jackson said, adding that he spoke up again in the Council and bucked City Council Speaker Christine Quinn to get action on school funding.
But while Jackson has been able to help lead discussions on some of the issues most important to his constituency, his legislative record pales in contrast to some in the race. By no means the least productive member in the Council, Jackson's three terms translated to 11 enacted laws, almost half of which were passed in 2004, and dealt with contracts and bid procedures.
By comparison, the other three-term Council member in the race made sure to tout her legislative record on some of the biggest laws over recent years. Brewer called upon her landmark bill to open up city agency data troves for public use, as well as three years of advocacy for her paid sick leave law, despite years of resistance from the city's business community, the Bloomberg administration and fellow Council members.
Often a foe of major development plans, especially those that put small businesses and historic sites at risk, Brewer was the first among the candidates to speak out against the Midtown East rezoning process. She listed a series of question still unanswered: the affordability of housing proposed in the new plan; infrastructure and transit challenges; and air rights over the neighborhood.
"I could go through 10 more questions," Brewer said. "With any proposal there are some good ideas but they always need a lot of time. Hudson Yards on the West Side was five or six years in terms of planning. That's the kind of planning you need in order to do a proposal correctly."
While the candidates seemed to agree on many of the issues discussed, there were some small moments of contention. The candidates were allowed to ask each other questions, which, even when asked respectfully and politely, elicited reactions from the crowd.
Menin began by asking Jackson about his vote in support of giving Mayor Michael Bloomberg a third term, which also gave Jackson himself a term limit extension beyond the usual two terms. Jackson in turn said that he was never in favor of term limits.
"If you go back and look at the record on the initial vote for term limits in Manhattan, the majority of the people said no to term limits," he said. "The other four boroughs, the majority said yes. So Manhattanites, those that voted, said no. I didn't cut the deal — the people of New York voted. One point five million voted out of four million plus. Those people that did not vote gave Mayor Bloomberg another term. Not me."
Lappin proceeded to asked Menin why she switched political parties three times within 17 months in 2002, including why she turned Republican during former President George W. Bush's first term.
"After 9/11 we were going through a devastating time," Menin said as some in the audience murmured, explaining that she switched parties at a time when she was trying to represent her community's needs. "I'm very proud that I've been a progressive my whole life; I've been a registered Democrat for over 25 years of my life."
At the end of the day, many of these candidates will still need to convince voters that their vision for the city isn't trumped by the actual limited scope of influence that borough presidents have on local policy. To that end, the candidates were each asked if they would support the idea of a charter revision, especially to revisit the Uniform Land Use Review Procedure that all borough presidents play a vital role in.
Menin, Lappin and Brewer all suggested that they would be willing to engage in discussions and to pursue charter reform. Only Jackson qualified his response. The councilman supports pursuing revisions that communities are behind but said that, ultimately, the mayor controls the City Charter and can unilaterally knock down any proposed changes.
"The bottom line is that this is what we have and you have to follow the law," Jackson said. "And within a certain period of time, you must act. If you fail to act, then the recommendations of the City Planning Commission goes forward. People are not going to sit still and wait for a comprehensive plan; people are going to act."