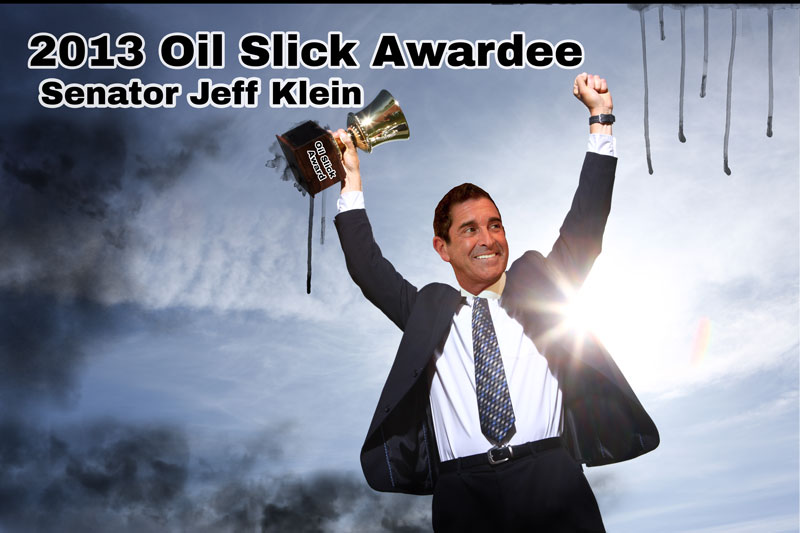 Bronx State Sen. Jeff Klein got an award today that he probably doesn't want — the "Oil Slick Award" from EPL/Environmental Advocates.
The organization says they have bestowed the award on Klein for failing to act on environmentally friendly legislation. Klein earned only 42 points out of the 100 the group awards to legislators for acting on the initiatives that EPL/Environmental Advocates support. Here is waht the group had to say about Klein's score, via their press release:
In addition to earning just 42 points out of a possible 100, Senator Klein earned this dubious distinction in 2013 by:
· Refusing to use his veto power to prevent bad bills from coming to a vote.
· Voting for three bills that would have significant and lasting detrimental impacts on our environment.
· Letting the 2013 legislative session come to a close without allowing votes on two bills that had 34 and 37 Senate sponsors, when only 32 votes are needed for passage.
· Leaving Albany without sending a single bill to Governor Cuomo that, in the wake of Hurricane Sandy, would fight climate change or modernize our infrastructure with clean, renewable power.
Eric Soufer, Klein's spokesman, blasted the report: "Environmental Advocates is about as credible on climate policy as the Koch Brothers are on tax policy. Today's event was just another cheap gimmick brought to you by the tea party of the left. But we expect nothing less from a group run by expendable ex-staffers from the Senate Democrats' failed tenure in power. Senator Klein not only opposes hydrofracking outright, but has been endorsed by nearly every environmental group in every election he has ever run. We will let those facts speak for themselves."
Focusing the disappointment of one session on one legislator may seem a bit much but EPL points out that Klein put himself in a very powerful position by making a deal with Senate Republicans. "We had high hopes leading in to 2013 that bipartisan leadership would break the legislative logjam that has stalled so many environmental initiatives in the State Senate," said Dave Gahl, executive director of EPL/Environmental Advocates. "But during 2013, Senator Klein led the State Senate in the wrong direction while becoming a new obstacle to environmental progress. We hope that receiving the Oil Slick award will be the wakeup call that Senator Klein needs to be the leader he promised."
The group also issued its scorecard for the rest of the Legislature. Republican Sens. Dean Skelos, and Mark Grisanti also scored 42 points. Assemblyman Robert Sweeney earned an "Honorable Mention" for being a strong leader on environmental bills with the caveat that no legislator received the 2013 legislator of the year award.