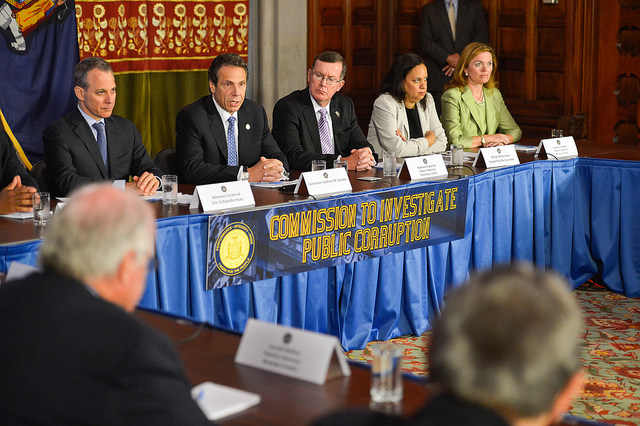 Robert Brehm, Todd Valentine and William McCann might want to invest in sheep costumes for Halloween. Representing the State Board of Elections, they will be the first group to testify in front of Gov. Andrew Cuomo's Moreland Commission this evening at the Jacob Javitz Center.
All indications are that the Moreland Commission are looking to show they still have teeth and the State Board of Elections might be just the right group for them to eviscerate. Since the start of public hearings, the commission has heard about the BOE's lax enforcement, rulings that allow legisaltors to spend campaign cash on just about anything and the loopholes they have allowed to persist that let corporations dump tons of cash into party housekeeping accounts. Good government groups who were scheduled to testify today were reportedly bumped to allow the commission more time to grill the BOE.
The BOE is putting on a happy face and throwing in a few excuses. Board spokesman John Conklin issued this statement in a press release this morning:
We are excited about the opportunity to testify. We have marshalled our evidence and our answers. We would hope that the commission will agree that our agency is understaffed and underfunded and has been for a long while. We've had flat budgets for years. Our technology is outdated. We've been given new tasks repeatedly without the necessary increase in resources that it would take to effectively carry out those new responsibilities.

We have some suggestions on how to improve the workings of the agency, but we are hopeful that the commission will recognize our dire needs and include in its recommendations a plea that we are allocated additional means to carry out our mission."
Bill Mahoney of the New York Public Interest Group has already been asked questions about BOE's budget in front of the commission and he pointed to an appropriation Gov. Eliot Sptizer set aside for the BOE to enhance staffing and enforcement that was not used. Eventually the money was reappropriated into the budget under Gov. David Paterson during the fiscal crisis. "Looking at their testimony, it looks like they will be making the same illogical argument they have made before. That that they have done a great job enforcing the law and that they don't have enough funding to properly enforce the law," said Mahoney.
Mahoney added that the BOE is "probably the most dysfunctional" peice of state government the Commission will examine.
Commission members have already asked other groups how they might go about overruling decisions made by the board or go around it to create a better enforcement mechanism.
Other testimony will come from members of New York City's Campaign Finance Board and City Council.
This morning Common Cause released a new installment of its "Moreland Monday" analysis, examining the influence of the pharmaceutical company on the campaign finance system and state legislators. The report finds that pharmaceutical companies paid out over $5 million to legislators since 2005.
The hearing will start tonight at 5 p.m. and will be streamed online here.