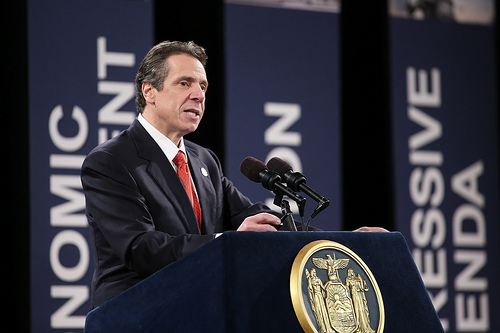 Letizia Tagliafierro has been named executive director of the Joint Commission on Public Ethics after a lengthy closed-door meeting. Tagliafierro is a former aide of Gov. Andrew Cuomo and previously worked as JCOPE's director of investigations and enforcement. The position of executive director has been vacant since May when Ellen Biben, Cuomo's former inspector general, stepped down.
Biben's resignation followed the resignation of original JCOPE chair Wetchester District Attorney Janet DiFiore. Cuomo replaced DiFiore with Daniel Horowitz, a Cuomo apointee to JCOPE. The state ethics panel has come under major criticism for being controlled by Cuomo and legislative heads. Cuomo has faced similar criticism over his handling of the Moreland Commission on Public Corruption.
Tagliafierro worked as a prosecutor, acted as a special counsel to the Division of Criminal Justice Services in 2007 and 2008 and spent time in the attorney general's office. She also worked as a legisaltive aide for Sen. Serphin Maltese.
Commission Chair Daniel J. Horwitz issued this statement:
Letizia will be an outstanding executive director. Her leadership skills, integrity, commitment to public service and her diverse background in government made her a terrific choice for Executive Director. The Commission is looking forward to continuing its important role of working to restore trust in our State government. Through increased transparency, compliance training and enforcement, our public officials and those hoping to influence government decisions will be held accountable.