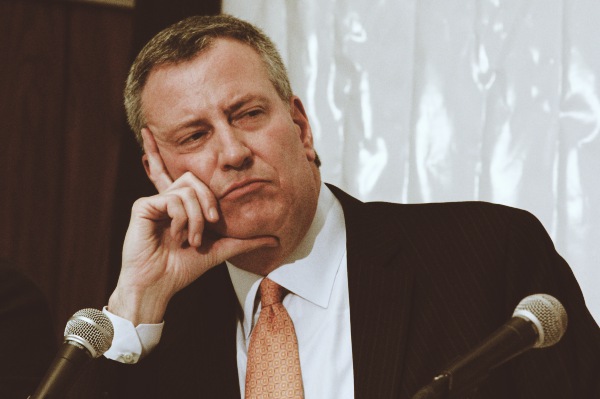 A poll out this weekend found that nearly two-thirds of likely voters say they will back Democrat Bill de Blasio for mayor, meaning a possible rout of his Republican rival. De Blasio also appears to be winning across demographics, according to the Wall Street Journal-NBC 4 New York-Marist poll. Election Day is on Tuesday. Polls open from 6 a.m. to 9 p.m.
NEW IN THE GOTHAM GAZETTE: De Blasio Pins Affordable Housing Hopes On Mandatory Inclusionary Zoning by Sophia Rosenbaum READ MORE
Gotham Gazette's Guide For The Last-Minute Voter General Election 2013: Your vote will help determine the shape of city government for the next four years. Here's our guide to the candidates, issues and races you need to know about before you head to the polls next Tuesday, Nov. 5. READ MORE
Find out more about the historic 2013 election at GothamVotes.
Today's Policy Agenda: The New York Immigration Coalition releases a "top 10 wish list" for the next mayor; 11 a.m., City Hall steps.
---
Other Stories We're Following
At De Blasio Event, Belafonte Calls Kochs 'White Supremacists' (Capital)
Small Towns Bet On Casino Proposal (NY Times)
Key State Senator Say's He'd Back De Blasio's Pre-K Plan (Daily News)
De Blasio Accused Of Coordinating With PAC (NY Post)
3 Judges Plan To Serve Past 70 If Referendum Is Approved (Daily News)
Nation's 1st Statewide School-To-Career Program Begins (Associated Press)
Sharpton To Meet With Macy's CEO After Arrest Of Black Actor (Daily News)
Daily News Endorses De Blasio -- But Worries (Daily News)
Sources: De Blasio Pushing East Harlem Councilwoman For Speaker (NY Post)
Schumer Endorses Clinton For 2016 (Capital)
Poll: Majority of Likely Voters Support De Blasio (Wall Street Journal)
Bronx 'Slow Zone' Saves Lives (Crain's)