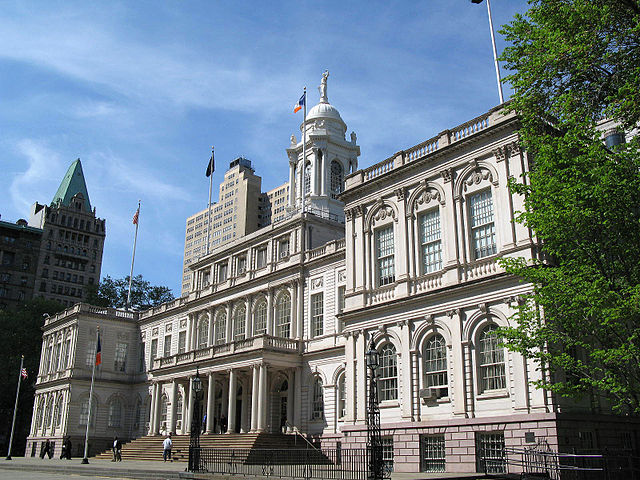 New York City Hall
---
What to watch for this week in New York politics:
It appears to be a fairly quiet week, as it can be this time of year with schools on vacation and the City Council following suit, and the state Legislature adjourned until April 21 in its post-budget, pre-legislative session hibernation. It's promising to be a very busy legislative session as so many key policy issues were not a part of the budget deal and will be taken back up. There will, of course, be news and there are a few things pre-scheduled. Council Speaker Melissa Mark-Viverito will speak at New York Law School on Friday and this weekend will see the beginning of voting in the many city council districts where participatory budgeting is happening, for example. See below for our day-by-day rundown.
In the meantime, both Mayor Bill de Blasio and Governor Andrew Cuomo start the week wrapping up long weekends in the Caribbean. It does not appear that they were traveling together (the mayor said that he and his wife were heading to Puerto Rico, the governor's office was not as specific about the destination for him and his family), but it is fun to imagine the two laughing it up under the sun about their perfectly orchestrated budget dance and ongoing faux conflict.
The mayor will return to New York City and his team will continue to work on their Executive Budget, due later this month, highly informed by the state budget deal reached by Cuomo et. al. this past week. The City Council will soon be delivering its formal response to the mayor's preliminary budget, which he will also take into account in preparing his next iteration - which the Council will then evaluate during a set of May hearings. A city budget deal is due by July 1. As we continue to sift through the new FY2016 state budget, there are sure to be other stories coming this week on aspects of that deal and what they mean for the state and the city.
The race in New York's 11th Congressional District is heating up, though it is unclear if the Democratic candidate has much of a chance. Vinny Gentile, the Democrat, and Dan Donovan, the Republican, met at a debate this past week in Bay Ridge (they were also joined by Green Party candidate James Lane). The two will meet again in a debate on Staten Island to be televised on NY1, but not until April 14.
See below for more...
***Do you have events or topics for us to include in an upcoming Week Ahead in New York Politics?
E-mail Gotham Gazette editor Ben Max: This email address is being protected from spambots. You need JavaScript enabled to view it.***
The run of the week in detail:
Monday
On Monday morning, Attorney General Eric Schneiderman will be a guest on the Brian Lehrer Show on WNYC.
At 11:15 Monday morning, "Justice League NYC will officially announce the April 13th March2Justice at a press conference with the march's Honorary Chairs Harry Belafonte and 1199SEIU President George Gresham at 1199 Offices - 330 W 42nd Street, Penthouse, between 8th & 9th Ave. March2Justice will begin in New York City on Monday, April 13 and will span 5 states and 250 miles to end in Washington, DC on Tuesday, April 21." The press conference will be led by Tamika D. Mallory & Linda Sarsour, March2Justice Co-chairs and feature New York State Senators Gustavo Rivera and Ruth Hassell-Thompson, New York State Assemblyman Michael Blake, City Councilwoman & Chair of Public Safety, Vanessa Gibson, and others.
Monday evening, Effective NY, led by Bill Samuels and Morgan Pehme, will host: "Bill Samuels and Michael Shnayerson Debate Cuomo's Political Future," asking, "Is Governor Andrew Cuomo still a contender for the presidency?" More: "Michael Shnayerson's new book, The Contender, concludes that even a flawed Andrew Cuomo still has a shot at the presidency. But Democratic activist Bill Samuels and others think Cuomo has sabotaged his chances, after a series of damaging events and missteps in recent years. At this lively event, Shnayerson and Samuels will debate Andrew Cuomo's political future, and dissect his career as Governor, focusing on the psychology and motivations behind his actions."
Also Monday evening, "Lesbian and Gay Democratic Club of Queens President Michael Mallon and club co-founder and New York City Councilman Daniel Dromm host forum on Rikers Island" in Jackson Heights, according to City & State NY.
Tuesday
Tuesday evening, Bronx City Council Member Andy King will host a constituent services night at a NYCHA development in his district: "I believe it's important to meet with NYCHA residents in their developments because it gives me the opportunity to see things up close and first hand, as well as show my constituents that their representative in city government cares about their community and will bring their concerns to management." Services covered will include resources and solutions for housing, food stamps, immigration, Access-A-Ride and basic services.
Also Tuesday evening, at 7 p.m., "Join fellow technologists for an evening of live demos from companies developing great technology in New York" for the April New York Tech Meetup.
And, Governor Cuomo is having a campaign fundraiser Tuesday evening in Manhattan, according to Capital New York.
[Read the latest original reporting from Gotham Gazette]
Wednesday
PSA: Wednesday is one week till tax day.
"Big Money and Politics: Can Your Voice Count?" will be Wednesday evening in Brooklyn, hosted by Brooklyn Independent Media, with a panel discussion featuring Public Advocate Letitia James; former Democratic gubernatorial candidate Zephyr Teachout; Executive Director of Citizens Union Dick Dadey; former Assemblymember and Councilmember Al Vann; economic journalist Doug Henwood and comedian/activist Ted Alexandro. Brooklyn Independent Media's Brian Vines will moderate. "This town hall will take a look at the inequality created when wealth holds the power to make policies that affect us all. From Sheldon Silver to Michael Grimm, political corruption is becoming so commonplace that it's hard for voters to feel they have a voice. A ballot is cast and the elected official goes to work, but the system in place can make your vote seems like pennies compared to funding from big donors and corporations. Is there a way for the average citizen to have a say in a pay to play system? How do we approach changing the policies that pit community voice against big money?"
Wednesday evening, the Digital NYC Five Borough Tour will hit Staten Island. Panelists will include John Salis, CEO at SIABC, Aileen Gemma Smith, CEO at Vizalytics, and Kevin Lawrie, Co-Founder and CTO at INBOX25.
Wednesday evening, Manhattan Borough President Gale Brewer "hosts and delivers remarks at reception celebrating the 50th anniversary of New York City's Landmarks Law, Alexander Hamilton U.S. Custom House Rotunda."
Thursday
Thurday evening, the governor's office, in collaboration with a variety of Queens lawmakers, will host a citizens preparedness training: the event in Queens is in cooperation with Congress Member Gregory Meeks, Senator Leroy Comrie, Assembly Member William Scarborough, Queens Borough President Melinda Katz, Council Member Daneek Miller and Alpha Kappa Alpha Sorority Inc.
Friday and the weekend
Friday morning, New York Law School will host another in its CityLaw Breakfast Series, featuring City Council Speaker Melissa Mark-Viverito.
Friday and Saturday is Organizing 2.0, the annual conference for progressive activists and advocates. Hosted at the Murphy Institute at CUNY this year, "The 2015 Organizing 2.0 conference will bring leaders, organizers, fundraisers, techies and activists together for workshops, trainings, discussions, consulting, networking, visionary speakers, and thoughtful debates about movement building strategies and practices." More: "What is special about this conference is our focus on the needs of people working at labor unions, community based organizations, local campaigns and small organizations that are often short on resources. Our trainings help you work smarter and better. You will grow your skills no matter what level of expertise you have from total beginner to experienced online organizer." Sample Sessions include "Facebook and Twitter for campaigning" and "Online advertising on a budget." Guests and trainers will include "Mark Winston Griffith - Brooklyn Movement Center. Paul Baker & Andrew Angelos - lead digital organizers for the Chuy Garcia campaign in Chicago. Beth Becker - Becker Digital Strategies. Colin Delaney - ePolitics.com. Libero Della Piana - Alliance for a Just Society. Asher Huey - AFT. Jennifer Edwards - Purpose. Elizabeth McKenna - New York District Council of Carpenters. Kevin Eitzmann - NY AFL-CIO. Ben Kallos - NYC Councilmember. Dara Silverman - Standing Up for Racial Justice. Joe Dinkin - Working Families Party. And many more!"
On Saturday, "400 New Yorkers will get hands-on tips and training for improving their neighborhood parks—including Fundraising 101— at an upcoming parks equity conference hosted by City Parks Foundation and the NYC Parks." The conference is being put on with "Hundreds of NYC Parks Volunteers," City Parks Commissioner Mitchell Silver, City Parks Foundation Executive Director Heather Lubov, and City Council Parks and Recreation Committee Chair Mark Levine - 10:15 am – 12:35 pm at New York University School of Law.
Saturday marks the start of the community voting week of the participatory budgeting cycle, taking place in over 20 city council districts around the city.
Saturday evening, "Ready for Hillary, the pro-Clinton super PAC, will host a fundraiser at South West New York in Battery Park City." Communications strategist Jodi Ochstein, Manhattan district leader Jenifer Rajkumar and event planner Ny Whitaker are hosting the event.
On Sunday at 12 p.m., the Mayor's Office of Immigrant Affairs and NYCImmigrants will co-host an executive action legal screening for immigrant New Yorkers who might be eligible for the DACA/DAPA programs. "Get the latest updates on executive action. Find out if you might be eligible for deferred action through DACA or DAPA. Learn how to prepare to apply."
Also Sunday, at 2 p.m., Council Member Carlos Menchaca will deliver his state of the district address at Sunset Park High School.
[Read the latest original reporting from Gotham Gazette]
***
Have events or topics for us to include in an upcoming Week Ahead in New York Politics? E-mail Gotham Gazette executive editor Ben Max any time: This email address is being protected from spambots. You need JavaScript enabled to view it. (please use "For Week Ahead" as email subject).
***
by Rati Mukhuradze, Marco Poggio, and Ben Max
@GothamGazette