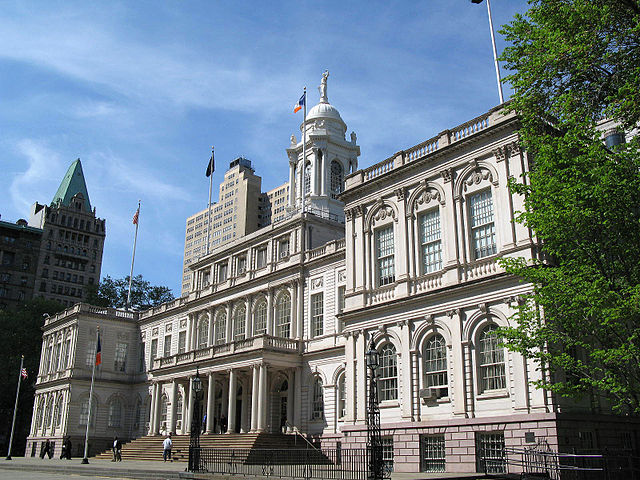 New York City Hall
---
What to watch for this week in New York politics:
Hillary Clinton is running for President. You probably heard. The former New York Senator has her campaign headquarters in Brooklyn and will be looking for a strong boost from her New York base of supporters, including her 2000 senate campaign manager New York City Mayor Bill de Blasio. De Blasio was on Meet the Press Sunday morning and said that he is eagerly waiting to see a progressive vision from Clinton. Since Clinton had not officially declared her candidacy (she did so in the afternoon), de Blasio remained especially cautious in his remarks, but repeated his general mantra that all 2016 candidates - for President and other offices - should be directly talking about economic inequality and offering solutions for how to reduce it. He faced some criticism for not quickly endorsing his former boss. Clinton is on her way to campaign in Iowa, and de Blasio is set to head there soon himself to talk fighting inequality. New York Senators Chuck Schumer and Kirsten Gillibrand are all-in behind Clinton, as is Governor Andrew Cuomo.
As the week begins, there's a whole lot of Hillary buzz, of course, and other presidential candidates, mostly on the Republican side of things, continue to jump into the race, with new announcements expected at the start of the week. Meanwhile, New York State and City politics kicks back into gear after a slow week last week, brought on by post-budget recess in Albany and school vacation in the city. Advocates, activists, and legislators will be gearing up this week for the Albany legislative session set to begin next week, on April 21. The lobbying will be fierce and furious through mid-June, when the session will likely end in a "big ugly" agreement on several policies among Gov. Cuomo, Senate Republicans, and Assembly Democrats. One key issue to watch is criminal justice reform, which was among the several major issues pushed from the budget to session and may very well see increased urgency given new examples of police killing unarmed black men.
In the city, City Council Speaker Melissa Mark-Viverito and colleagues are moving forward with efforts to reform both the criminal and civil justice systems. A large contingent of activists will depart on their eight-day "March to Justice" on Monday, leaving from New York City and heading to Washington, D.C. The march will start with a rally and departure from Staten Island.
The City Council gets going again with a very busy week of hearings, including one on a bill to create an Office of Civil Justice Coordinator. These sessions come as the Council prepares to release its response to de Blasio's preliminary budget, due out Tuesday and to include a renewed call for adding 1,000 new officers to the NYPD force. See below for full details of the Council schedule. While the Council is between a March full of preliminary budget hearings and a May full of executive budget hearings, for the rest of this month it mostly returns to looking at bills on the docket. De Blasio will receive the Council preliminary budget response, then release his executive budget toward the end of the month (or in early May as he did last year).
The mayor begins his week with one public event: "Mayor de Blasio will attend opening ceremonies for the New York Mets' home opener at Citi Field. The Mayor will join members of the NYPD and family members of Detective Wenjian Liu and Detective Rafael Ramos for the ceremonial first pitch." The ceremony is slated for about 12:45 p.m., just before game time a little after 1.
This week is also the big one for participatory budgeting voting in the 24 city council districts where council members have opted to implement the program. Voting kicked off this weekend.
The increasingly controversial New York State tests for third-through-eigth graders in math and English language arts are this week. The still-new common core-aligned tests have become more and more political, watch for further push by many to discredit the tests and for students to opt out of taking them. There will also continue to be efforts to defend the tests and the common core standards, and to convince parents of the importance of their children taking the exams.
And we're just a few weeks from the May 5 special elections in New York's 11th Congressional District and 43rd Assembly District, so keep an eye on those races - there will be an Errol Louis-moderated NY1-televised debate in NY11 on Tuesday evening. Details below.
As always, there's a great deal happening all over the city, with many events to be aware of; see our day-by-day rundown below...(oh, and make sure you file your taxes by the end of the day on Wednesday)
***Do you have events or topics for us to include in an upcoming Week Ahead in New York Politics?
E-mail Gotham Gazette editor Ben Max: This email address is being protected from spambots. You need JavaScript enabled to view it.***
The run of the week in detail:
Monday
Monday morning, ABNY will host a breakfast event with "His Eminence, Timothy Cardinal Dolan, Archbishop, New York" at Mandarin Oriental. Cardinal Dolan will present "The Archdiocese of New York: Not a Business, But Still Having a Vision and Projects."
Also Monday morning, Assembly Members Jeffrey Dinowitz and Richard Gottfried will hold a public hearing on a bill "which would require warning labels on sugar-sweetened beverages sold in New York State"; 10:30 a.m. at 250 Broadway..."Rates of obesity have increased dramatically in New York State and across the country over the past 30 years, adding an estimated $147 billion to our country's annual health care costs...Extensive research links rising rates of obesity, as well as diabetes, tooth decay, and other ailments, with the consumption of sugar-sweetened beverages such as soft drinks, energy drinks, sweet teas, and sports drinks. Evidence suggests that warning labels can increase consumer awareness of health risks of harmful products such as sugar-sweetened beverages."
On Monday at 11 a.m. at City Hall, Council Speaker Mark-Viverito and Council Members Brad Lander, Ben Kallos, James Vacca, and Vanessa Gibson will unveil the "New York City Council Public Technology Plan."
At 3 p.m. Monday, Mark-Viverito will participate in "Public Service is Worth It" Google Hangout moderated by Political Parity.
Monday's City Council schedule will include a meeting of the Subcommittee on Zoning and Franchises to review the land use calendar; a meeting of the Committee on Finance to review land use applications; and an off-site meeting of the Committee on Juvenile Justice for a tour of Horizon Juvenile Center.
As mentioned, Mayor de Blasio begins his week at Citi Field for ceremonial first pitch duties just before the Mets home opener around 1 p.m. There will be a press conference on Monday at 11 a.m. at Harlem hospital with several de Blasio administration officals outlining guidelines around "infant safe sleep," so that parents and caregivers do not accidentally suffocate young children while sleeping. The mayor penned a Sunday Daily News op-ed on the subject, but he is not scheduled to attend the press conference: "Deputy Mayor Barrios Paoli, ACS Commissioner Carrion, DOHMH Commissioner Bassett, DHS Commissioner Gilbert Taylor, and HHC CEO and President Dr. Raju will launch tomorrow a comprehensive infant Safe Sleep campaign to increase awareness among parents and other caregivers about the potentially fatal risks of sharing a bed with an infant, and how to prevent injuries and deaths associated with other unsafe sleep practices, such as excessive bedding, bumpers and toys in cribs. There are nearly 50 preventable safe sleep deaths every year."
Monday afternoon, Borough President Melinda Katz will hold a Queens Borough Board Meeting.
Monday evening, Brooklyn Borough President Eric Adams and Norman Siegel, former director of the New York Civil Liberties Union, will host a town hall to discuss improving community-police relations: "We only survive and prosper as Brooklynites if we engage with one another in a calm and civil conversation. I invite you to come let your voice be heard at our upcoming town hall about improving police-community relations."
Also Monday evening, Neighbors Allied for Good Growth in collaboration with El Puente, UPROSE, Riders Alliance, and StreetsPAC, will host a Move NY North Brooklyn Town Hall: "Learn and talk about reducing congestion in North Brooklyn, modernizing and expanding the transit system, and fixing our roads and bridges."
And, schools Chancellor Carmen Fariña will attend a "town Hall meeting of District 31's Community Education Council" on Staten Island.
Tuesday
Tuesday morning, Borough President Melinda Katz will hold a Queens Borough Cabinet Meeting.
Also Tuesday morning, City Council Members Elizabeth Crowley, Darlene Mealy, and Laurie Cumbo, and others will hold a Rally For Stronger Equal Pay Laws on the steps of City Hall.
Tuesday's City Council schedule includes a meeting of the Subcommittee on Non-Public Schools, jointly with the Committee on Public Safety, and the Committee on Education, discussing school discipline codes and the assignment of safety agents to schools; a meeting of the Committee on Governmental Operations jointly with the Committee on Consumer Affairs and the Committee on Small Business concerning various items; and a meeting of the Committee on Economic Development jointly with the Committee on Community Development for an oversight hearing regarding the economic impact of the city's foreclosure crisis.
The Council is set to unveil its preliminary budget response to Mayor de Blasio's FY16 spending plan on Tuesday.
Tuesday evening at 6 p.m., Assemblymember Rodneyse Bichotte and the Shirley Chisholm Democratic Club will present Honoring Women in Politics: A Mix & Mingle Fundraiser. Honorees will include State Senator Valmanette Montgomery and Council Member Laurie Cumbo. Public Advocate Letitia James - the first woman of color elected to city-wide office in New York - will make a guest appearance.
Also Tuesday evening, the Staten Island Advance and NY1 will co-host the only live televised debate between Staten Island District Attorney Daniel Donovan (R) and City Council Member Vincent Gentile (D) in their race for Congress: "The Republican Donovan and the Democratic Gentile will face off at the hour-long live event. NY1 political anchor Errol Louis will moderate the debate, with questions coming from three panelists: Staten Island Advance senior opinion writer Tom Wrobleski, political reporter Rachel Shapiro and NY1 political reporter Courtney Gross."
Tuesday evening, Pratt Area Community Council, CAMBA and other organizations will host Brooklyn Town Hall on the right to counsel in eviction proceedings at Brooklyn Borough Hall: "Did you know that approximately 300,000 New Yorkers are taken to housing court to fight eviction every year? Did you know that while 90 percent of landlords have attorneys representing them about 90 percent of tenants do not? Join the Right to Counsel Campaign and learn about legislation that will give New Yorkers the right to legal representation in NYC's Housing Courts!" [Read our in-depth look at the proposed right to counsel legislation]
Wednesday
Wednesday, April 15, is tax day.
On Wednesday activists will be moving around the minimum wage. This will include students from 170 colleges, including University of Albany, taking part in a fast-food worker strike: "The Fight for $15 labor movement is planning an ambitious expansion on April 15, coordinating a series of global labor strikes with protests on college campuses. The tax-day strike will include rallies and marches on 170 university campuses, including Columbia University and University of Southern California, the organizers said."
Wednesday morning, Crain's will host its 'Business of' Series at John Jay College of Criminal Justice: "Join Crain's as we examine one of New York's fastest growing industries. Our expert panelists will discuss how life sciences is creating economic diversification, stimulating job growth and tapping into the vibrant young talent from top universities and leveraging New York's access to capital."
Wednesday's City Council schedule includes a meeting of the Committee on Transportation to discuss various bicycle safety topics as well as establishing civil penalties for theft of a bicycle or motor vehicle; a meeting of the Committee on Aging concerning development of a guide for building owners regarding aging in place and the elimination of the sunset provisions related to income threshold increases for the SCRIE and DRIE programs; a meeting of the Committee on Land Use to discuss items reported out of the subcommittees; a meeting of the Committee on Recovery and Resiliency to discuss the Federal Emergency Management Agency's re-examination of National Flood Insurance Program insurance claim payouts related to Hurricane Sandy for possible underpayment; a meeting of the Committee on Courts and Legal Services around a law to amend the New York City Charter in relation to creating an Office of Civil Justice Coordinator. [Read our look at reforms being pushed by Council Speaker Mark-Viverito and others to reform the city's criminal and civil justice systems]
Wednesday evening at 7 p.m., State Senator Jesse Hamilton, Assembly Member Jo Anne Simon, and City Council Member Brad Lander will host a School-to-School Dialogue on High Stakes Testing at Old First Reformed Church, in Brooklyn.
Also Wednesday evening, Assembly Member Jeffrey Dinowitz will hold a town hall meeting at the Kingsbridge Public Library "to discuss and hear feedback on New York's tenant protection laws, which are due to expire in June. Joining Assemblyman Dinowitz to speak will be Delsenia Glover, Campaign Manager for the Alliance for Tenant Power, and Judith Goldiner, Attorney-in-Charge at the Legal Aid Society."
On Wednesday afternoon and Thursday morning, NYCVotes, the voter engagement arm of the City Campaign Finance Board, "is having a #VoteBetterNYC Advocacy Day training session for partners...acquainting them with the policy agenda...social media strategy and general day of logistics, ahead of the event" set to take place on April 22. The trainings will take place Wednesday at 5:30 p.m. and Thursday at 10:00 a.m. at 100 Church Street.
[Read the latest original reporting from Gotham Gazette]
Thursday
On Thursday morning, Borough President Melinda Katz will hold a land use hearing at the Queens Borough Hall.
On Thursday morning, at 11 a.m. at Brooklyn Borough Hall, it's a "Rally for Family Friendly Brooklyn" hosted by BP Adams: "We want Brooklyn to be THE place to raise healthy children and families! Join me Thursday, April 16th at 11:00 AM on the steps of Brooklyn Borough Hall as we rally for Family Friendly Brooklyn, a new initiative where I am calling for: Statewide Paid Family Leave; Breast Feeding Empowerment Zone Expansion; Support for Post-Partum Depression Screening...We will be making some exciting announcements about my administration's plans to advance Brooklyn's families, so please come out and add your support!" [Read our recent story on the push behind passing paid family leave legislation in New York]
Thursday's City Council schedule includes a meeting of the Committee on Finance discussing the senior citizen rent increase exemption program and the disability rent increase exemption program; and a City Council full-body stated meeting at 1 p.m.
On Thursday evening in Queens, the borough's Republican Party head Bob Turner and City Council Member Eric Ulrich are hosting a fundraiser for Staten Island District Attorney and NY11 congressional candidate Dan Donovan; 6:30 p.m. at Russo's on the Bay.
Friday and the weekend
On Saturday, de Blasio administration members and their allies will participate in a Pre-K Day of Action, working to spread the word about the availability of universal pre-K, for which enrollment is open: "New York City is about to take a historic step: This fall, the City will provide free, full-day, high-quality pre-K to all 4-year-olds in the five boroughs."
[Read the latest original reporting from Gotham Gazette]
***
Have events or topics for us to include in an upcoming Week Ahead in New York Politics? E-mail Gotham Gazette executive editor Ben Max any time: This email address is being protected from spambots. You need JavaScript enabled to view it. (please use "For Week Ahead" as email subject).
***
by Rati Mukhuradze, Marco Poggio, and Ben Max
@GothamGazette