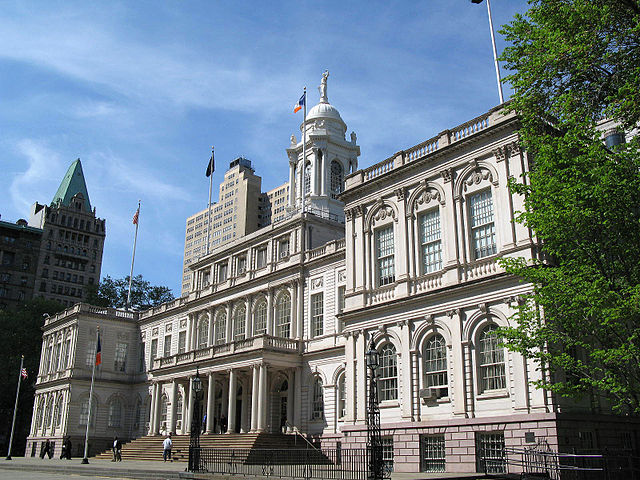 New York City Hall
---
What to watch for this week in New York politics:
EMAIL SUMMIT ANYONE? The much-anticipated, long-awaited e-mail deletion policy summit organized by the Cuomo administration is set for Friday in Albany - will it happen? Will anyone go?
WAGE BOARD: Happening on a much faster timeline is Cuomo's new Department of Labor fast-food worker wage board - the first meeting is set for Wednesday. There are high hopes that this will soon lead to a higher minimum wage for all New Yorkers, not just fast-food workers, but it is unclear exactly where the panel's work is heading, other than that it is very likely there will be executive action on fast-food worker wages. There could, of course, be a new minimum wage deal before legislative session ends...
SESSION DWINDLING: Governor Cuomo spent a large portion of his Sunday speaking at five Brooklyn events to promote the Education Income Tax Credit - four stops were churches, the fifth a Yeshiva. The EITC is one of many issues on the negotiating table in Albany as time is running low in legislative session. Legislators are due in the capital Monday through Wednesday for session (then off until Wednesday May 27 and in session for just Wednesday and Thursday next week after the Memorial Day holiday). Session is scheduled through June 17.
There are big public pushes being made around rent regulations and lots of discussion about mayoral control of schools, among other key issues. With little time left in session, lots of recent upheaval, and many issues on the table, who knows what will wind up being dealt with. There could easily be fairly basic extenders of items due to soon expire, such as the rent regs and mayoral control, but there is also likely to be some sort of big end-of-session deal that includes legislation on a whole host of topics all tied together. This is often referred to as a "big ugly."
CITY BUDGET: In New York City, City Council Executive Budget hearings are set to begin this week. The hearings, at which council members ask questions of mayoral administration officials about the spending plans for the coming fiscal year, will last for several weeks. A budget deal is due by June 30, with fiscal year 2016 set to begin July 1. Looking for more discussion about whether the city should hire more police officers? See Thursday morning.
Meanwhile, two city council members announced last week that they will be resigning (and the fate of a third, indicted CM Ruben Wills, is still TBD). CMs Mark Weprin and Vincent Ignizio are both leaving the Council: Weprin to serve in the Cuomo administration, Ignizio to run Catholic Charities of Staten Island. Neither has set an official date to step down, but we outline the next steps here.
May 18-21 is Internet Week New York: "Where business, technology, & culture meet." Via Digital.NYC (a de Blasio administration initiative): "Internet Week NY returns May 18-21 with 250+ events celebrating the entrepreneurial spirit and global impact of technology on business, entertainment and culture. Speakers from NYC include Minerva Tantoco (CTO, City of NY), Reshma Saujani (Founder, Girls Who Code), Paul Berry (CEO, RebelMouse), Milena Berry (CEO, PowerToFly), Sarah Chipps (Founder, Jewelbots), Jonathan Jaglom (CEO, Makerbot) and Mark O'Neill (CTO, Thrillist) and Nate Silver (Statistician, 538) and many more."
As always, there's a great deal happening all over the city, with many events to be aware of - read our day-by-day rundown below.
***Do you have events or topics for us to include in an upcoming Week Ahead in New York Politics?
E-mail Gotham Gazette editor Ben Max: This email address is being protected from spambots. You need JavaScript enabled to view it.***
The run of the week in detail:
Monday
According to WNYC education editor Beth Fertig, the New York Board of Regents will present its teacher evaluation plan on Monday.
At 9 a.m., elected officials including New York City Councilman Brad Lander will hold a rally against the Department of Health's failure to protect seniors at Prospect Park Residence, at Brooklyn Supreme Court, according to City & State NY. Public Advocate Letitia James is expected to participate. And in the evening, James will speak at "at Tenants' Rally for Safe and Habitable Living Conditions," 482 Nostrand Avenue, Brooklyn.
The Bronx GOP is having its annual golf outing on Monday "In Support of The Bronx Republican Party, The Bronx Veterans Welfare Fund and The Bi-Centennial Veterans Memorial Park" at St. Andrews Golf Club.
On Monday at 11 a.m., "Comptroller Scott M. Stringer will be joined by affected workers, as well as labor and immigrant rights advocates to announce a settlement with a former city subcontractor who cheated immigrant workers out of nearly $1 million dollars in prevailing wages. The Comptroller will also present checks to some of the workers."
Also Monday at 11 a.m., in the Bronx, City Council Members Andrew Cohen and Ritchie Torres "will hold a press conference at a yeshiva to advocate for the passage of Introduction 65. The legislation, introduced by Council Member David Greenfield, would require the NYPD to assign a school safety agent to any public or private school that requests one. School safety agents are unarmed, and are trained by and work for the NYPD. The legislation addresses the most basic need for all students attending school in New York City: a safe learning environment." The council members expect to be joined by "principals, teachers, concerned parents and students."
Monday's City Council schedule: the Committee on Finance meets at 10 a.m. for the initial executive budget hearing.
The state Senate is in session on Monday. From 12 to 1 p.m. the labor committee will have a meeting to discuss various amendments to labor laws, state finance laws, worker compensation laws. From 12:30 to 1:30 p.m. the insurance committee will meet to discuss amending various aspects of insurance law. The committee on children and families will meet from 1 to 2 p.m. to discuss amendments to various child protection laws regarding social service operations in relation to illegally operating day-cay providers, as well as a number of other issues regarding domestic abuse and custody in guardianship matters. From 1:30 to 2:30 p.m. the committee on civil service and pensions will meet on a variety of matters. The Senate will then be in session from 3-5 PM.
The Assembly is also in session Monday.
At noon on Monday at City Hall, "Council Members, Advocacy Groups & Business Leaders Will Urge Mayor de Blasio to Address NYC's Mounting Infrastructure Needs & Identify New Ways of Funding Critical Infrastructure Projects...Mayor's 10-Year Capital Plan is an Important Step Forward, but Greater Investment is Needed." Participants are said to include City Council Members, and reps from New York Building Congress; New Yorkers for Parks; General Contractors Association of New York; Association for a Better New York; Regional Plan Association; Natural Resource Defense Council; Center for an Urban Future; Riders Alliance; Tri-State Transportation Campaign; Transportation Alternatives; AAA; Global Gateway Alliance; New York League of Conservation Voters; American Society of Civil Engineers (ASCE) Metropolitan Section.
At 2:30 p.m. Monday, Manhattan Borough President Gale Brewer and City Council Member Ben Kallos will speak on an Internet Week civic tech panel.
At 3 p.m., Mayor de Blasio will hold a bill-signing ceremony at City Hall: he'll sign "Intro. 419-A, in relation to a comprehensive cultural plan; Intro. 178-A, in relation to price displays for second-hand automobiles; Intro. 51-B, in relation to requiring the Department of Health and Mental Hygiene to issue an annual report regarding hepatitis B and hepatitis C; and Intro. 181-A, in relation to notice requirements for hotel development plans."
From 4-8 p.m. "On Monday, Manhattan Borough President Gale A. Brewer will host an open house and grand opening event for her new Northern Manhattan Office. The 125th Street location will be the first street-level storefront office operated by a Manhattan Borough President, and reflects Brewer's commitment to make the resources of her office accessible to all residents across the borough of Manhattan."
At 5:30 p.m., the city DOE holds a public meeting of the PEP contracts committee, at Tweed; and at 7 p.m. New York City School Chancellor Carmen Farina speaks at a schools forum hosted by the Daily News and Metro Industrial Areas Foundation, at Town and Village Synagogue in Manhattan - according to City & State NY.
"A Celebration of the Life of Herman Badillo" on Monday at 6 p.m. at Hunter College. Mayor de Blasio is scheduled to deliver remarks, plus "New York Secretary of State Cesar A. Perales, New York City Comptroller Scott M. Stringer, Gail Badillo, Geraldo Rivera, CUNYBoard Vice Chairperson Philip Alfonso Berry, Hunter College President Jennifer J. Raab, City College of New York President Lisa S. Coico and other selected speakers join The City University of New York in "A Celebration of the Life of Herman Badillo."" Badillo was "America's first Puerto Rican-born congressman and leader in a New York City politics for four decades."
From Council Member Jumaane Williams: "I invite you to attend my fifth annual Haitian Flag Day celebration, co-hosted by Regine M. Roumain, taking place this Monday, May 18th from 6:00 PM to 8:30 PM at Brooklyn Borough Hall."
At 6:30 p.m. Monday at Mitchell Square Park, "The Uptown Community Democrats announces its official launch...UCD, is a new political club focused on serving our uptown community and inspiring voters to participate in our democratic process. Speakers will include "Johanna Garcia, Leonel de Jesus, Dana Hockenbury, Cheryl Pahaham, Robert Jackson and Frances Escano."
Monday at 7 p.m., City Council Member Laurie Cumbo invites you to "Attend an info session on how to preserve Prospect Heights."
"NYLCV's Annual Spring Gala will take place Monday, May 18th...the Honorable Andrew M. Cuomo, Governor of the State of New York will deliver our keynote address. He has exhibited true leadership in preparing our state for the next big storm, while also making investments in clean energy that will reduce greenhouse gas emissions." Honorees include "Citi, our 2015 Corporate Honoree...David Kenny, CEO and Chairman of the Weather Company, will receive our 2015 Environmental Leader Award...acclaimed landscape architect Michael Van Valkenburgh will be honored by our Education Fund."
Tuesday
At 10:30 a.m. on Tuesday, "The Commission on Public Information and Communication (COPIC), Chaired by Public Advocate James will hold a hearing on focused on the City's compliance with Local Law 103 of 2013, which requires the webcasting of public meetings," at Borough of Manhattan Community College.
Tuesday's City Council schedule includes the executive budget hearing for the committee on general welfare, the committee on juvenile justice and the committee on women's issues, beginning at 10 a.m. At 1:00 PM, the subcommittee on planning, dispositions and concessions will meet to discuss an urban development action plan for properties located in Brooklyn's Community Board 13 and Council District 47.
There will be a "public forum on New York State's efforts to combat climate change" led by State Senator Brad Hoylman on Tuesday morning in Albany. "Forum comes as members of Senate Republican Conference openly deny the existence of man-made climate change...The forum will feature scientific experts, environmental advocates, and New York residents and business owners impacted by climate change and determine what steps need to be taken to make New York a global leader in reducing greenhouse gas emissions...Dr. Radley Horton of Columbia University; Executive Director of Environmental Advocates of New York Peter Iwanowicz; Richard Schrader of the Natural Resources Defense Council; Jessica Ottney Mahar of The Nature Conservancy; other scientific experts, environmental advocates, New York residents and business owners."
Along with Sen. Hoylman's climate change forum the state Senate's Tuesday includes a 10:00 a.m. meeting of the committee on aging to discuss various issues and laws, including a campaign to raise awareness of elder abuse; a 10:30 a.m. meeting of the committee on transportation to discuss various amendments to traffic, vehicle, and highway laws; an 11 a.m. meeting of the finance committee to consider amending various laws; a noon meeting of the health committee to discuss amending various public health laws in relation to establishing some banned substances, setting nutrition standards, and more; a 12:30 p.m. meeting of the committee on investigations and government operations; a 12:30 p.m. meeting of the senate committee on cities to discuss administrative code including an act to direct New York City to conduct a storm water analysis in southeast queens, and an act that requires passengers use seatbelts in taxi-cabs, and that a sign is prominently displayed informing passengers do so; and a 1 p.m. meeting of the committee on local government. And, Senate session at 3 p.m.
The Assembly is also in session on Tuesday.
On Tuesday evening, City Council Member Andy King and his staff will be hosting another in its series of constituent services nights in different NYCHA housing developments in his district: "6:30 -8:30 p.m. at the Baychester Houses Community Center...Services will include resources and solutions for housing, food stamps, immigration, Access-A-Ride and basic services."
Tuesday evening will see Capital New York TAMI Talks: The Millennial Workplace, "an in-depth look at how the TAMI sector is creating a workplace that appeals to a growing generation of Millennials who are taking over the workforce. The event will discuss how Millennials and digital disruption are creating new workflows, redrawing org charts, changing the nature of work, and driving change in the commercial real estate landscape of New York City." Welcome from Josh Benson, Co-founder, Capital New York, Sponsor One-on-One with Josh Kuriloff, Executive Vice Chairman, Cushman & Wakefield and panel conversation with Nick Denton, CEO, Gawker Media; Maria Gallione, SVP, Account Management Development Director, Grey; Tracy Kim, Chief of Staff, Shutterstock; Miguel McKelvey, Co-founder, WeWork; Amanda Ramos, Director of Innovation, Gensler.
Wednesday
On Wednesday, The Atlantic's fourth annual "New York Ideas" - "an event dedicated to bringing to together today and tomorrow's top leaders" - is taking place in Manhattan and will feature Success Academy CEO Eva Moskowitz, NYPD Commissioner Bill Bratton, and others. Moskowitz is due to speak around 9:15 a.m., Bratton at about 2:15 p.m., according to event organizers.
Wednesday at 8 a.m. at New York Law School: "The Conflicts of Interest Board and the Center for New York City Law at New York Law School are pleased to announce the 21st Annual Citywide Seminar on Ethics in City Government."
On Wednesday morning in Albany, City & State will host "High Anxiety: Gen X and Boomers Struggle with Stress, Savings & Security" - "AARP will release its groundbreaking statewide survey on the financial security of the Gen X and Baby Boom generations. Specifically, we will discuss retirement readiness, access to retirement savings vehicles, loans and debt, and support for a state-facilitated retirement savings option." New York State Budget Director Mary Beth Labate will keynote. "Labate is newly appointed by Governor Andrew Cuomo to oversee the state's billion dollar budgetary process and replaces former director Robert Megna." A panel discussion will include Thomas Nitido, deputy comptroller to Tom DiNapoli, and Assembly Member Rodneyse Bichotte.
Governor Cuomo's office announced that its Department of Labor Fast Food Wage Board will hold its initial meeting on Wednesday "at 11 a.m. at 75 Varick Street, 7th floor, New York City and connected by videoconference to 290 Main Street, Buffalo, Regional Office Conference Room. The purpose of the meeting is for Wage Board members to hear the Commissioner's Charge and to finalize a calendar of public hearings. The meeting is open to members of the public; however, no public testimony will be taken at this meeting.More information about the Fast Food Wage Board, including meeting documents and videos of the meetings after they occur, is available at www.labor.ny.gov/fastfoodwageboard."
Council Members Margaret Chin and Corey Johnson will lead a town hall meeting to figure out ways to make an "age-friendly" community in New York City, 10 a.m. Wednesday: "The New York Academy of Medicine, Community Boards 1, 2, & 3, and the Age-Friendly Neighborhood Initiative will host a town hall meeting to hear about what matters most to older adults in the Lower Manhattan and Lower West Side communities."
Wednesday's City Council schedule includes the committee on mental health, developmental disability, alcoholism, substance abuse and disability service will look at two resolutions that propose increases in income thresholds for the senior citizen homeowner's exemption program at 9:30 a.m. and at 10:00 a.m. the same committee, as well as the committees on health and finance will hold an executive budget hearing; and at 1:30 PM the committee on economic development and the committee on small business will meet for an executive budget hearing.
The state Senate is in session on Wednesday at 11 a.m. Before that, at 9:30 a.m., the committee on cultural affairs, tourism, and parks and recreation will have a meeting; at 10 a.m. there will a public hearing led by both houses of the Legislature to address New York State's cyber security infrastructure, including the challenges, risks and protocols used to protect state information, hardware, software and systems; at noon there will be a public hearing by both houses for an update on the Energy Highway and Reform of the Energy Vision Initiatives; and at 1:30 p.m. the Senate will have its annual meeting of the legislative commission on rural resources.
The Assembly is also in session on Wednesday. And, at 11 a.m., the Assembly Standing Committee on Correction will meet "To examine the efficacy of sex offender residency restrictions and identify best practices to promote public safety and prevent recidivism of sex offenders."
The New York City Panel for Educational Policy meeting on Wednesday at 6 p.m. at Prospect Heights Educational Campus in Brooklyn.
From "NYC Let Em Play" about the PEP meeting: "Please come testify about the state of high school sports at your high school. Chancellor Farina has put this on the agenda for this month's Panel for Educational Policy. This is rare opportunity for students, staff, and parents to let the Chancellor know if the Public Schools Athletic League is doing a good job meeting the sports needs of your school."
On Wednesday, Council Speaker Melissa Mark-Viverito will host "a Neighborhood Planning & Rezoning Forum in East Harlem."
Thursday
Thursday will see a de Blasio administration "day of action" led by the Department of Consumer Affairs and seeking "to educate New Yorkers about their rights and responsibilities" regarding the nail salon industry. This comes as part of the response to the damning New York Times investigative report on the nail salon industry, which is state-regulated (Gov. Cuomo announced his administration's response last week as well).
Thursday morning: Crain's Business Breakfast Forum: Merryl H. Tisch, Chancellor New York Board of Regents, 8 a.m. at The Yale Club of New York City: Tisch will discus "standardized testing, teacher evaluations and charter schools. She will also address mayoral control of city schools and the state of education in New York" with moderator Erik Engquist, Assistant Managing Editor, Crain's New York Business.
There will be a Manhattan Borough Board Meeting led by BP Brewer on Thursday morning.
On Thursday at the City Council, the committee on public safety and the committee on finance will meet at 10:00 a.m. for an executive budget hearing. There will also be a land use committee hearing on Thursday.
And, the Assembly will hold a 10 a.m. public hearing regarding fishery management which will discuss the effects that fisheries have on the local/state economies, and to solicit comments regarding fishery management as a whole.
Thursday evening, the Four Freedoms Democratic Club is hosting "Is Albany About to Raise Your Rent?" Featuring: Assembly Member Keith Wright, Housing Committee Chair; Ilana Maier, Metropolitan Council on Housing; and Delsenia Glover, Tenants and Neighbors. "Learn about the fight to save rent regulation in our city, and how you can help. We'll have a panel of distinguished guests, as well as several attorneys who will be able to answer any specific housing questions you might have."
Friday and the weekend
Albany e-mail summit, anyone? Anyone?
*Have a good Memorial Day weekend! We'll be back with a new Week Ahead on the night of Monday, May 25 (probably). Send us things to include - whether it's issues to keep an eye on or specific events. And please do tweet and share the Week Ahead! We're @GothamGazette*
***
Have events or topics for us to include in an upcoming Week Ahead in New York Politics? E-mail Gotham Gazette executive editor Ben Max any time: This email address is being protected from spambots. You need JavaScript enabled to view it. (please use "For Week Ahead" as email subject).
***
by Bernard Agrest and Ben Max
@GothamGazette