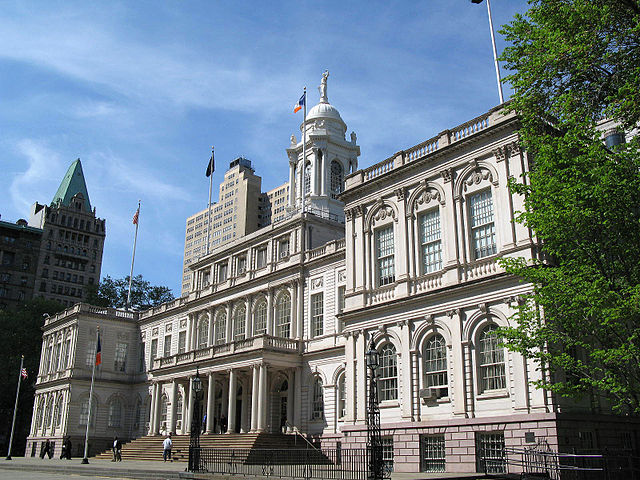 New York City Hall
---
What to watch for this week in New York politics:
EYES ON ALBANY: It's crunch time in Albany - and one big sign of how important a week it is: the state Legislature is in session FOUR days this week, as opposed to the three that has most often been the case in the post-budget legislative session that began in early April and is due to end on June 17 (a week from Wednesday). There are seven days of session left on the calendar between this week and next. Are we headed for a "big ugly" end of session deal on a bunch of policies? Or, might it just be a few agreements on extensions of key items - like mayoral control of New York City schools, rent regulations, and the 421-a real estate development tax abatement - with minimal or no tweaks?
Gov. Andrew Cuomo has recently reiterated his desire to see mayoral control of schools extended for three years; he also wrote a Daily News op-ed on Saturday outlining his thoughts on rent regulations (he wants them extended and wants vacancy decontrol strengthened), in which he reiterated his threat to call the Legislature into special session on days after June 17 if no deal is reached to extend rent regs. Cuomo and New York City Mayor Bill de Blasio have come into conflict over what a 421-a compromise should look like, though both want to see it extended. Cuomo is also pushing for the education investment tax credit, raising the age of criminal responsibility from 16 to 18, lifting of the charter school cap, and some kind of minimum wage hike - though he's also moving to ensure a minimum wage increase through executive action (his fast food wage board meets again this week). What will get done?
Note: thousands of New York City tenant activists and advocates, including City Council members, are expected in Albany on Tuesday to push for an extension of rent regulations - and a strengthening of them.
*side note: Tuesday night in Albany is the 155th Annual LCA Show
POLICING NYC: The annual NYPD "Summer All Out" crime-fighting program is set to begin this week. On Tuesday of last week, Mayor de Blasio addressed a recent uptick in shootings and murders, saying, "the Summer All Out program...was extraordinarily successful last year. Summer All Out begins next week. We will move 330 officers to high-crime locations. We saw last year what a profound impact that had. We know it will have the same profound impact this year."
BUDGETING 2016: The New York City Council concludes its executive budget hearings this week. A final deal between the Council and the de Blasio administration is due by the end of June. Issues still being debated include funding for 1,000 additional NYPD officers, libraries, senior citizen services, and more.
Speaking of Mayor de Blasio: he spent his Sunday making a pre-taped appearance on CBS's Face the Nation; speaking at First Corinthian Baptist Church in Harlem, where he "announced the creation of the Mayor's Clergy Advisory Council – comprised of local faith leaders from across the five boroughs – to open a direct line of communication between religious leaders and City Hall," which is still in formation and will be chaired by Rev. Michael Walron, pastor at First Corinthian; and speaking at and marching, as grand marshal, in the Queens Pride Parade. This was after the mayor spoke at a housing rally in Harlem on Saturday, which was organized by Assembly Member and housing committee Chair Keith Wright (who is also running for Congress in 2016) and focused on Albany and the expiring rent regulations.
This week, de Blasio and the city host The World Cities Summit Mayors Forum: "80 Mayors and leaders from around the world as part of the World Cities Summit Mayors Forum from June 8-10, 2015. As winner of the second Lee Kuan Yew World City Prize, New York City will host this year's Forum titled "Innovative Cities of Opportunity," a discussion of best practices in urban policy innovation and collaboration among city leaders. Mayors from six continents will be present to discuss issues relating to housing and economic development, transportation and mobility, sustainability and resiliency, and education and competitiveness." De Blasio will address the forum on Monday evening with opening remarks and will deliver a larger speech on Tuesday afternoon at 1:30 at the Grand Hyatt in Manhattan.
Earlier Monday, at 2 p.m., de Blasio "will host a press conference to make an announcement with Schools Chancellor Carmen Fariña and Deputy Mayor Richard Buery at P.S. 5 Ellen Lurie in Manhattan."
As always, there's a great deal happening all over the city, with many events to be aware of - read our day-by-day rundown below.
***Do you have events or topics for us to include in an upcoming Week Ahead in New York Politics?
E-mail Gotham Gazette editor Ben Max: This email address is being protected from spambots. You need JavaScript enabled to view it.***
The run of the week in detail:
Monday
Governor Cuomo was set to make several TV appearances on Monday morning to update the public on the two inmates who escaped a New York prison over the weekend.
On Monday in Manhattan, Governor Cuomo's new Fast Food Worker Wage Board is set to hold a public hearing. "Under New York State law, a Wage Board can suggest changes to the minimum wage in a specific industry or job classification if it finds that wages are insufficient to provide for the life and health of workers within that industry or classification... Those planning to attend a public hearing will be requested to preregister once the dates and locations are finalized."
At 11 a.m. Monday, City Council Speaker Melissa Mark-Viverito will host a press conference to open the "East Harlem IDNYC Enrollment Center."
On Monday at 11 a.m., "Brooklyn Borough President Eric L. Adams and civil rights attorney Norman Siegel will announce a series of upcoming town halls to investigate cases of tenant harassment throughout Brooklyn. The aim of these town halls will be to determine the potential for lawsuits against particularly harmful landlords whose actions have put the health and safety of Brooklynites at risk. Borough President Adams and others will discuss this proactive outreach effort to impacted Brooklynites and the affordable housing crisis that has led to it."
And at noon, Adams "will host the LGBTQ flag raising ceremony for the 19th annual celebration of Brooklyn Pride."
Monday's City Council schedule includes a 10 a.m. executive budget hearing of the Committee on Cultural Affairs, Libraries and International Intergroup Relations and the Subcommittee on Libraries; a 1 p.m. executive budget hearing for the Committee on Public Housing; and a 1 p.m. meeting of the Committee on Small Business to discuss the creation of "small business advocates" within SBS (the city's Small Business Services department) dedicated to helping business owners obtain appropriate services from government agencies, and to discuss a bill sponsored by Speaker Mark-Viverito that would create "protocols for inspector interactions with non-English speaking business owners during agency inspections."
The State Senate and Assembly will be in session on Monday in Albany. Also: At 12:30 p.m. the Senate Standing Committee on Insurance will meet to discuss a number of amendments to insurance law. And, the Assembly Committees on Codes, Governmental Operations, Judiciary, and Ways and Means will be in session.
On Monday afternoon in Manhattan, the New York City Rent Guidelines Board will meet and hear public testimony, 2-6 p.m. at the CUNY Graduate Center. This is one of several upcoming meetings leading up to an end-of-June vote. Manhattan Borough President Gale Brewer is among those who will testify.
At 5 p.m. on Monday in Albany, Governor Cuomo will host a screening of 'The Hunting Ground' at the Clark Auditorium at the New York State Museum, Cultural Education Center, Empire State Plaza.
Meanwhile, at the Rent Guidelines Board meeting, "The Rent Justice Coalition, including rent regulated tenants and elected officials, will testify and demand a rent rollback at the first Rent Guidelines Board hearing. For too long, the RGB pushed tenants out of their communities with unnecessary rent increases. Now, the Rent Justice Coalition is fighting to save New York and keep over 1 million rent regulated families in their homes."
Monday evening in Brooklyn, the NYPD hosts a Community Crime Forum, covering topics from crime prevention to social media to body cameras. Q&A session to follow.
On Monday evening in Manhattan, "The Contracts Committee of the Panel for Educational Policy meets prior to the Panel for Educational Policy meeting [which will be Wednesday] to discuss and review specific contract items that are presented for review and approval."
Monday in East Harlem, Manhattan Borough President Gale Brewer hosts a forum on improving community-police relations. During the forum, "representatives from youth, civic, faith-based, non-profit, business and law enforcement sectors will join together to engage in structured, small-group discussions on how to improve police-community relations."
Tuesday
As mentioned earlier, Mayor de Blasio will address The World Cities Summit Mayors Forum at 1:30 p.m. on Tuesday. Also Tuesday afternoon, Alicia Glen, New York City's Deputy Mayor for Housing and Economic Development, will give the keynote at the World Cities Summit Mayors Forum. Glen will discuss how "to support the integration of affordable housing, revitalise neighborhoods, improve quality of life and diversify local economies in the context of globalisation."
As part of the "Food Policy for Breakfast" series, the NYC Food Policy Center "will bring together representatives of community organizations, local government, philanthropy and academia to explore the opportunities and challenges associated with the multiple new initiatives related to food and food policy in New York City" at the CUNY Graduate Center on Tuesday at 9 a.m.
Tuesday, buses of rent regulation activists head to Albany from New York City "to rally and lobby for stable rents and your home. Rent regulations need to be strengthened, not just renewed. The laws expire on June 15. Join thousands of tenants from across the city to let the NYS government know that we demand stronger rent laws."
According to New York City First Lady Chirlan McCray, Tuesday will be the fist "feedback session...with all types of providers – social workers, psychiatrists, teachers, business leaders" regarding mental health issues and services. On Sunday in Harlem, she said there will be "borough-wide feedback sessions that we're holding, beginning June 9. The first one's going to be in the Bronx on June 9, hosted by Bronx Borough President Ruben Diaz." (She also said there'll be "one in Manhattan, which will be on June 30, in the Municipal Building on 1 Centre Street" and that info will be posted to the city Department of Health website.
Tuesday's City Council schedule includes:
the final executive budget hearing, held by the Committee on Finance at 10 a.m.
a 10 a.m. meeting of the Committee on Civil Service and Labor to discuss a bill regarding car washes, and "the Committee will meet to discuss a resolution calling upon the New York State Legislature to pass and the Governor to sign A.4762 and S.1291, which would extend labor protections to farm workers."
at 10:30 a.m., the Committee on Consumer Affairs will meet to discuss a bill that would "require the Department of Consumer Affairs to issue an annual report analyzing the violations dismissed by its tribunal and to discuss a change to the administrative code that would require the Department of Consumer Affairs to hold multiple business education events each year throughout the five boroughs.
at 1:00 p.m. the Committee on Governmental Operations will meet to discuss incorporating feedback from businesses into agency inspection customer service training and requiring an annual analysis of and recommendations based on OATH tribunal dismissals.
at 2:30 p.m. the Committee on Civil Rights will meet to discuss prohibiting discrimination on the basis of one's arrest and criminal conviction record.
In Albany, the Senate and Assembly will be in session on Tuesday. Also: the Senate Standing Committees on Racing, Gaming and Wagering; Judiciary; Transportation; Finance; Local Government; and Cities will meet. Assembly Committees on Agriculture and Health will be in session.
Tuesday night at 5:30 p.m., Brooklyn Borough President Eric Adams hosts an "Access-Friendly NYC Public Hearing" to discuss ways to make the city "more accessible to seniors and people with disabilities."
At 6 p.m. Tuesday at Brooklyn Borough Hall, Bertha Lewis; Borough President Eric Adams; Council Member Laurie Cumbo; and others will hold a Brooklyn Town Hall to push for M/WBE reform.
Tuesday evening in Albany, it's the 155th Annual LCA Show: with new Assembly Speaker Carl Heastie delivering the Democratic "rebuttal" to the incisive, hilarious press corps, and much more. Check out @TheLCAShow
Wednesday
On Wednesday at the City Council: the Committee on Finance meets, followed by a full-budy Council Stated Meeting, prefaced as always by a pre-stated press conference hosted by Speaker Mark-Viverito.
On Wednesday at 1 p.m. at the closing of The World Cities Summit, "First Deputy Mayor Tony Shorris and Singapore's Senior Minister of State Lee Yi Shyan will present a declaration committing to share experiences, challenges and best practices in order to build international standards for making Cities more inclusive and equitable for all residents."
LiveOn NY hosts its fifth annual World Elder Abuse Awareness Day Press Conference on the steps of City Hall on Wednesday at 10 a.m., where advocates will "work with New York City Council to restore $1 Million in funding. We also urge the Administration to baseline $2 million for vital programs that provide services to elder abuse victims as well as prevent and address elder abuse. Together, we can bring this hidden crisis into the public light and advocate for thousands of victims suffering in silence."
The Senate and Assembly will be in session on Wednesday in Albany. Also: Assembly Committees on Governmental Employees and Real Property Taxation will be in session.
Wednesday night in the state capital, City & State NY hosts its 40-Under-40 Albany event.
In honor of Caribbean Heritage Month, the Tenement Museum "invite[s] political scientist Christina Greer, author of Black Ethnics, [to share] her work on Caribbean immigrant political identities. Greer is joined in discussion by Council Member Jumaane Williams, who represents Brooklyn's vibrant West Indian Flatbush neighborhood, [and] CUNY Grad Center sociologist Phil Kasinitz."
Wednesday night will see the latest public meeting of the New York City Panel on Education Policy.
Thursday
"The next public meeting of the New York City Campaign Finance Board will be held on Thursday, June 11 at 10:00 AM...A detailed agenda will be made available the day before the meeting and posted to the @NYCCFB Twitter feed."
There is nothing scheduled at the City Council on Thursday.
The Senate and Assembly are both due in session on Thursday in Albany.
On Thursday, the Mayor's Office Community Affairs and other city agencies will host a Town Hall for Small Business Owners in Manhattan, with information "about City programs and services to help small businesses start, operate, and grow and do business with the City of New York." Speakers will include City Council Member Ydanis Rodriguez, Department of Consumer Affairs Commissioner Julie Menin, Small Business Services Commissioner Maria Torres-Springer, and others.
Thursday is due to see Mayor de Blasio's Jewish Heritage Month celebration.
On Thursday from 5-8 p.m., the New York City Rent Guidelines Board will meet and hear public testimony at the Bronx Museum of Art.
On Thursday, Bronx Borough President Ruben Diaz Jr. hosts the "Bronx Tech Summit" at 4 p.m. at Hostos Community College and featuring discussions on "the Bronx's tech eco-system" with City Council Committee on Technology Chair James Vacca, NYC Chief Technology Officer Minerva Tantoco, and others.
Thursday night, City Council Speaker Melissa Mark-Viverito will give the keynote address at the Ippies, "the only journalism awards in New York City to honor reporting in English and other languages by the ethnic and community press. The Ippies are considered a benchmark of journalistic excellence and are a coveted prize for the publishers, editors, and reporters in their media sector. They are sponsored by the Center for Community and Ethnic Media at the CUNY Graduate School of Journalism."
Friday and the weekend
Friday morning, Campaign 4 NY/NY Housing will rally at Governor Cuomo's New York City office in Manhattan, where "housing advocates and those who are homeless" will speak "about the importance of creating a new City-State housing agreement." [Read our recent story on the New York/New York supportive housing program]
There is nothing scheduled at the City Council on Friday.
On Saturday on Roosevelt Island, Hillary Clinton officially launches her 2016 presidential campaign.
***
Have events or topics for us to include in an upcoming Week Ahead in New York Politics? E-mail Gotham Gazette executive editor Ben Max any time: This email address is being protected from spambots. You need JavaScript enabled to view it. (please use "For Week Ahead" as email subject).
***
by Bernard Agrest, Ben Max, and Carla Sinclair
@GothamGazette