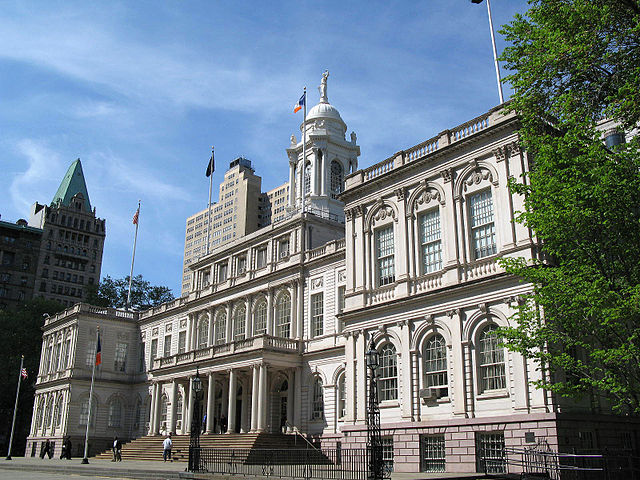 New York City Hall
---
What to watch for this week in New York politics:
LEGIONNAIRES' DISEASE in the BRONX: the city continues to monitor and combat an outbreak of legionnaires' disease in the Bronx, where 65 are reported to have contracted the disease as of Saturday, according to the New York Times, with 55 hospitalized and four dead. The mayor's office and Bronx elected officials are holding a town hall on the subject Monday evening, details below.
SUMMER CRIME: There were several shootings over the weekend, including four separate incidents Saturday night, according to Public Advocate Letitia James, who issued a Sunday statement saying, "These senseless acts of violences took two lives and left fourteen people injured. My thoughts and prayers go out to the victims and their families. As a City and as a country, we must do more to take guns off our streets and end the madness that continues to bring us death and destruction."
On Monday, Brooklyn Borough President Eric Adams, a former police officer, will launch a new gun violence prevention initiative - details below. The annual National Night Out Against Crime is Tuesday - NYPD officers and officials team with community groups and electeds to promote safety and anti-crime initiatives.
TRACKING DE BLASIO: Mayor Bill de Blasio on Sunday delivered remarks at the Ecuadorian Parade Breakfast and marched in the parade; then delivered remarks at the Pakistan 86th Independence Day Celebration in Queens. To start the week, the mayor has no public events scheduled on Monday.
As of our publication, there are no hearings scheduled for the City Council this week. The Council's lone full-body Stated Meeting of the month is scheduled for Thursday, August 13.
It's a quiet week, but a few events to be aware of - read our day-by-day rundown below.
***Do you have events or topics for us to include in an upcoming Week Ahead in New York Politics?
E-mail Gotham Gazette editor Ben Max: This email address is being protected from spambots. You need JavaScript enabled to view it.***
The run of the week in detail:
Monday
At 10 a.m. the Mayor's Office of Contract Services and the Department of Youth and Community Development and HHS Accelerator are holding a "Community Development Workshop Series" for nonprofits to learn about funding and City contracting services.
At 11 a.m. Monday in Brooklyn, City Council Speaker Melissa Mark-Viverito will - along with Council members, day laborers, and advocates - host "a press conference to celebrate $500,000 in City Council funding to support day laborers" at Bay Parkway Community Job Center.
Also at 11 a.m. Monday, outside Brooklyn Borough Hall, Borough President Eric Adams "will launch a weeklong gun violence awareness campaign by staging an open casket with provocative imagery outside Brooklyn Borough Hall for five straight days and promoting a "Take Five to Stay Alive" plan of action for New Yorkers to help reduce the impact of gun violence in their community. The effort is intended to engage Brooklynites in serious conversations about gun violence following a recent spate of bloodshed in the borough, including nine people shot at a party in East New York earlier today and a fatal shooting early Saturday in Canarsie. Borough President Adams and gun violence advocates will speak about the ongoing violence and the need to take action."
At 1 p.m. Monday in Manhattan, "Attorney General Eric T. Schneiderman will make a major announcement regarding the sale of toy guns in New York." He is expected to announce a deal with retailers to stop selling many real-looking toy guns. Schneiderman will be joined by City Councilmember Jumaane Williams, Co-Chair of the NYC Task Force on Gun Violence; Leah Gunn-Barrett, Executive Director of New Yorkers Against Gun Violence; Jackie Rowe Adams, Founder of Harlem Mothers Save; Rev. Dr. Gawain F de Leeuw, Westchester United; Adam Barbanell-Fried, Lead Organizer for Westchester United; June Rubin, Marie Delus and Natasha Christopher, Members of Moms Demand Action.
On Monday evening in the Bronx, the Mayor's Office and Bronx elected officials including Borough President Ruben Diaz Jr. and Assembly Speaker Carl Heastie are holding a "Town Hall on The Facts About Legionnaires' Disease" at 6 p.m. at the Bronx Museum of the Arts. According to the Mayor's Office, as of Sunday evening 71 people had been infected with the disease, including four who have died. Public Advocate Letitia James is set to speak.
Tuesday
Tuesday various NYPD precincts will participate in the annual "National Night Out," sponsored by the National Association of Town Watches. There will be anti-crime rallies with local business and civic organizations and many elected officials will participate. Most events will take place in the afternoon and evening. Public Advocate James will speak at a 1 p.m. press conference against gun violence in advance of National Night Out, at Brooklyn Borough Hall. In the evening, James will attend National Night Out events with the 105, 109, 107, 111, and 17 precincts. Speaker Mark-Viverito will attend events with the 88 and 25 precincts.
At 9:30 a.m. Tuesday the Landmarks Preservation Commission will hold a public hearing and meeting to follow.
At 10:45 a.m. Tuesday, Governor Cuomo will make an announcement at Kirkwood Industrial Park West in Binghamton. At 1 p.m. Cuomo will participate in "Topping Off Ceremony at RiverBend" in Buffalo.
At noon Tuesday the NYC Department of Cultural Affairs is hosting an information session on the borough-specific processes of applying for and securing City funding for arts and cultural nonprofits in Brooklyn and Queens.
At 1 p.m. in Washington Heights, "New York City Housing Authority (NYCHA) Chair and CEO Shola Olatoye, New York City Council Speaker Melissa Mark-Viverito, and other elected officials will announce the construction and installation of enhanced lighting at Polo Grounds Towers. The Polo Grounds Towers is part of the Mayor's Action Plan (MAP) for Neighborhood Safety, an initiative to reduce crime at 15 NYCHA development sites. NYCHA is installing new and improved lighting at MAP sites as part of a comprehensive effort to reduce crime thanks to a total of nearly $80 million in funding--$40.5 million from the City Council, $25 million from the Mayor's Office and $13 million from the Manhattan District Attorney's Office."
At 2 p.m. Tuesday the New York City Department of Small Business Services is hosting a Minority and Women-owned Business Enterprise (MWBE) certification workshop.
Also at 2 p.m., Comptroller Scott Stringer will attend the New York Financial Control Board meeting.
Also at 2 p.m. Tuesday, Manhattan Borough President Gale Brewer will speak at Harlem Week 2015 Senior Citizens Day "Demystifying Technology" conference, Adam Clayton Powell Jr. State Office Building.
Wednesday
At 11:30 a.m. Wednesday in Brooklyn, "Brooklyn elected officials [led by Council Members Brad Lander and Stephen Levin] will distribute free reusable bags (courtesy of the Citizens Committee for New York City) at Sahadi's, a locally owned Middle Eastern grocery store that's been serving Brooklynites from its location on Atlantic Avenue since 1948...The event also marks a recent endorsement from the Atlantic Ave BID (Business Improvement District) for City Council bill (Int. 209) that would encourage reusable bag use by charging customers 10 cents for single use plastic or paper bags."
At 6 p.m. the Center for Constitutional Rights will update attendees on their stop-and-frisk case Floyd v. City of New York during its "First Wednesdays Discussion."
At 7 p.m. BetaNYC will host its weekly hacknight, this time at Civic Hall and in partnership with the City Council Speaker's Office to discuss the 2015 NYC BigApps competition.
Thursday
Thursday evening will be the much-discussed first Republican presidential primary debate, with a pre-debate forum for the candidates who did not poll well enough to make it into the primetime debate featuring ten candidates.
Thursday evening is Mayor de Blasio's Dominican Heritage reception, at New York County Supreme Courthouse. Manhattan BP Brewer is among those who will attend.
At 7 p.m. the Mayor's Community Affairs Unit presents a "West Bronx Town Hall for Small Businesses." Department of Consumer Affairs Commissioner Julie Menin and General Counsel to the Mayor's Office of Immigrant Affairs Sonia Lin, among others, will attend.
Friday and the weekend
Nothing on our radar as of now, but stay tuned as things pop up once the week gets going.
***
Have events or topics for us to include in an upcoming Week Ahead in New York Politics? E-mail Gotham Gazette executive editor Ben Max any time: This email address is being protected from spambots. You need JavaScript enabled to view it. (please use "For Week Ahead" as email subject).
***
by Erika Wang and Ben Max
@GothamGazette