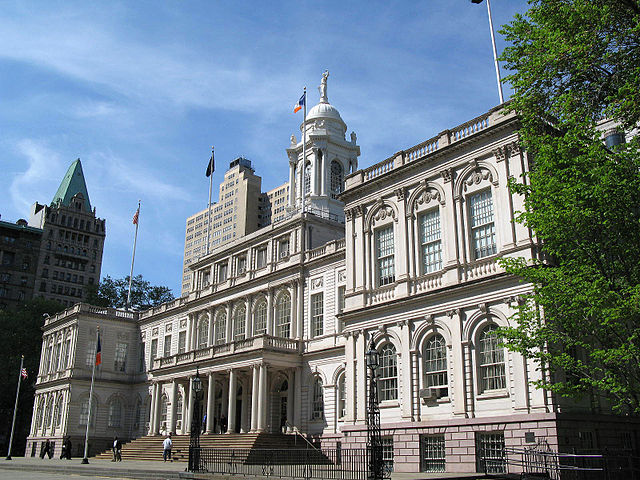 New York City Hall
---
What to watch for this week in New York politics:
Where will the heated discussion over MTA funding go?
What's next in the James Blake-NYPD saga?
Is there any sense that Mayor de Blasio and Governor Cuomo may figure out a truce and work together instead of being antagonists?
What bills will be introduced and passed at the City Council's first (of two) full-body Stated Meeting of the month, set for Thursday?
These are a few of the questions we're asking as a new week in New York politics dawns. Sunday saw plenty of politial action as Mayor Bill de Blasio and other elected officials held a ribbon cutting for the new 7-train extension to the far west side of Manhattan.
The event saw de Blasio and others praise former Mayor Michael Bloomberg for the project's vision (and funding), though Bloomberg was not in attendance. It also was the latest theater for the ongoing conflict over the MTA capital plan and whether the state can secure more funding from the city. De Blasio insists that the city is paying its fair share, while the MTA and Governor Cuomo continue to say the city must put billions more into the plan. The 7-extension opening comes just a couple of days after a G-train derailment, which brough the system's need for repair into stark relief yet again. What's next?
On Saturday, de Blasio, Cuomo, and most other major New York political figures marched in the Central Labor Council's 2015 New York City Labor Day Parade. Cuomo and de Blasio did not appear together, though they did speak in person on Friday at a September 11th commemoration.
On Monday, at 12:30 p.m., de Blasio will take part in a multi-agency preparedness excercise for the papal visit. One Police Plaza will host a 3 p.m. press conference on the papal visit featuring de Blasio, Bratton and members of the Secret Service and FBI.
Cuomo has no events announced as of yet.
As tense as this week may or may not be, there will be some levity in city politics Thursday night at the annual de Blasio administration-City Council softball game.
In terms of hearings and events, it's a slow start to the week, but then things get quite busy - read our day-by-day rundown below.
***Do you have events or topics for us to include in an upcoming Week Ahead in New York Politics?
E-mail Gotham Gazette editor Ben Max: This email address is being protected from spambots. You need JavaScript enabled to view it.***
The run of the week in detail:
Monday
Monday will likely be a fairly quiet day in New York City as Rosh Hashanah is observed.
City Council member Participatory Budgeting meeting to be held on Monday:
7 p.m., Elizabeth Crowley (District 30, Queens)
[Read our recent report on one Council member, Brad Lander, who has launched a project tracker so that constituents can better see how money is getting spent and whether projects are progressing - and it is an interactive mapping project that Lander hopes will be a model for the city]
Tuesday
At 8:30 a.m. Tuesday, the Joseph S. Murphy Institute/CUNY will hold "Unions, Workers and the Democratic Party," a panel exploring how to most effectively influence political candidates with financial contributions from labor organizations. Participants will include Basil Smikle, Executive Director of the New York State Democratic Party; Juan Gonzalez, columnist for Daily News and co-host of Democracy Now!; Larry Cohen, former President of Communications Workers of America; and Randy Weingarten of President of the American Federation of Teachers.
At Civic Hall Tuesday night, "Attorney General Eric T. Schneiderman will make remarks at an event, hosted by NY Tech Meetup, entitled "Tech and Government Featuring NY Attorney General Eric Schneiderman"...The Attorney General's remarks will be followed by a panel of representatives from his office, moderated by Andrew Rasiej, Chairman of NY Tech Meetup. The panel will include: Lacey Keller, Director of Research and Analytics; Eric Stock, Chief of the Antitrust Bureau; Kathleen McGee, Chief of the Internet Bureau; and Tim Wu, Senior Enforcement Counsel and Special Advisor."
Wednesday
The Board of Regents will meet Wednesday to discuss a number of issues, including the recently reported 20% state standardized test opt-out movement and teacher evaluations.
At 10:30 a.m. at The Sagamore Resort on "scenic Lake George" the Business Council of New York State will commence its 2015 Annual Meeting. The conference will run through Friday and include "engaging speakers" and "incomparable access to business leaders and politicians." Notable speakers include Emmy Award winning journalist Campbell Brown (keynote); former Governor David Paterson; Bob Duffy, the President and CEO of the Rochester Business Alliance; former Assemblymember Michael Benjamin; and policy experts from the U.S. Chamber of Commerce, the Cuomo administration, and the state Legislature. The governor has been invited to speak, but had not confirmed as of last week.
At the New York City Council on Wednesday:
10 a.m., The Committee on Housing and Buildings will meet to discuss four bills. The first two mandate a stricter filing system for the Department of Buildings when dealing with restrictive covenants and applications for the construction of new buildings or the alteration of existing ones. The latter two bills alter the rate of interest applied "by the Department of Finance to unpaid charges owed by landlords to the City for emergency repair work conducted by the Department of Housing Preservation and Development" and the filing fees for new buildings or alterations.
10 a.m., The Committee on Sanitation and Solid Waste Management will meet to discuss legislation dealing with waste disposal policy. More specifically, the proposed bills would increase fines for littering and depositing residential or commercial waste into public receptacles, require "food and beverage establishments" to clean up any liquid waste their trash left on the sidewalk, and order special trashcans for rodent infested buildings.
11 a.m., The Committee on Environmental Protection will continue discussion from last week concerning a bill that would prohibit stores from propping their door(s) open when the air conditioning is on.
1 p.m., the Committee on Cultural Affairs, Libraries and International Intergroup Relations will meet to pass a resolution praising Pope Francis and "his lifelong pursuit of peace among all peoples" during his upcoming visit to NYC (which is set for the end of next week).
2 p.m., the Committee on Fire and Criminal Justice Services will assemble to make decisions on bills directing the Department of Correction to provide a list of all inmates waitlisted for placement or transfer to alternative housing, to expand its report on "enhanced supervision housing," to publish "their rules and regulations regarding the use of force by staff on inmates," to post quarterly reports detailing the visitation of incarcerated individuals, the department's grievance system, and the demographic of incarcerated individuals in city jails, and to create "an inmate bill of rights." Proposed legislation also requires "the office of criminal justice to post an annual report on bail and the criminal justice system."
City Council Participatory Budgeting meetings to be held on Wednesday:
2:30 p.m. Laurie Cumbo (District 35, Brooklyn)
6:30 p.m. Elizabeth Crowley (District 30, Queens)
7 p.m. Andrew Cohen (District 11, Bronx)
7 p.m. Costa Constantinides (District 22, Queens)
At 6 p.m. Wednesday, "Hear from the NYPD executives, ask questions and get involved" at a Staten Island Community Forum on public safety. The event will be held at Ralph R. McKee Career & Technical Education High School.
At 6:30 p.m. Wednesday, the Brooklyn Historical Society kicks off its fall public programming with the event "Why New York? Our Segregated Schools Epidemic." WNYC education reporter Beth Fertig will moderate a discussion about school segregatin and integration in New York. Participants will include Norm Fruchter, writer, scholar and Principal Associate of the Annenberg Institute for School Reform; Nikole Hannah-Jones, investigative reporter with The New York Times Magazine; Clara Hemphill, founder of insideschools.org; and Craig Gurian, Executive Director of the Anti-Discrimination Center.
Thursday
At 8 a.m. Thursday, New York State Assembly Speaker, Carl Heastie "will present his priorities for New York State and reflect on his first session as speaker" at a breakfast hosted by the Association for a Better New York.
At 10 a.m. Thursday, Manhattan Borough President Gale Brewer will hold a "public hearing on Manhattan traffic congestion" to gain a full perspective on "all sources of traffic increases."
At The City Council on Thursday:
10 a.m., the Committee on Finance will meet to consider a land use application for the Tremont Renaissance in the Bronx, and a resolution regarding the allocation of funding from the Expense Budget to "certain organizations."
10:30 a.m. the Committee on Rules, Privileges and Elections will submits the names of three people to the City Council: Shampa Chanda, a resident of Queens, for appointment as a member of the New York City Board of Standards and Appeals, Helen Arteaga as a Council candidate for designation and subsequent appointment by the Mayor to the New York City Health and Hospitals Corporation Board of Directors, and Arva R. Rice, candidate for re-appointment by the Council to the New York City Equal Employment Practices Commission.
1:30 p.m., the City Council will have a full-body Stated Meeting, its first of two this month (the other is scheduled for 9/30). As always, this will be pre-faced by a pre-stated press conference led by Council Speaker Melissa Mark-Viverito, scheduled for 12:30 p.m. at City Hall.
City Council Participatory Budgeting meetings to be held on Thursday:
(time TBD) Donovan Richards (District 31, Queens)
4 p.m., Mark Levine (District 7, Manhattan)
6 p.m., Jimmy van Bramer (District 26, Queens)
6:30 p.m., Steven Levine (District 33, Brooklyn)
6:30 p.m., Carlos Menchaca (District 39, Brooklyn)
7 p.m., Costa Constantinides (District 22, Queens)
At noon Thursday, Crain's New York Business is hosting its "50 Most Powerful Women in New York Celebratory Luncheon." The event will feature a panel discussion with Candace Beinecke, chair of Hughes Hubbard & Reed LLP; Katherine Farley, Senior Managing Director of Brazil and China and Global Corporate Marketing for Tishman Speyer; Alicia Glen, the Deputy Mayor for Housing and Economic Development for City of New York; and Liz Rodbell, the president of Hudson's Bay Company. Several elected and appointed officials including Glen, who is number one, are on the Crain's list.
At 5:30 p.m. the Museum of the City of New York will host a symposium, "Affordable Housing: What about the Future?" Susan Henshaw Jones, the Ronay Menschel Director of the Museum of the City of New York, and Alicia Glen, Deputy Mayor for Housing and Economic Development, will give opening remarks. Barney Frank, former Massachusetts Congressman, will follow with the keynote address. The last segment of the event will feature a discussion panel featuring John Banks, President, The Real Estate Board of New York , Rafael E. Cestero, President and Chief Executive Officer of The Community Preservation Corporation, Ron Moelis, CEO and Chairman of L+M Development Partners Inc. , Richard Roberts, Managing Director of Acquisitions of Red Stone Equity Partners LLC, Ismene Speliotis, Executive Director of Mutual Housing Association of New York (MHANY) and Saky Yakas, Partner at SLCE Architects. Sam Roberts, New York Times Urban Affairs Correspondent, will be the moderator.
The Contracts Committee of the Panel for Educational Policy will meet at 5:30 p.m. Thursday at Tweed Courthouse.
At 6 p.m. the CUNY School of Law Democrats will welcome New York City Public Advocate Letitia James as part of their "Ignite Justice! Speaker Series awards event." James will give a talk about her role in city government and how she uses the law as a vehicle for social justice and change. Take a look at our recent coverage of PA James and her approach to her position: Suing the Hand That Feeds You.
At 6:30 p.m. the Brooklyn Historical Society will host "How Brooklyn Works: Trash Pick-Up" with "Famed TED Talk presenter, author of Picking Up, and the New York City Department of Sanitation's anthropologist-in-residence, Robin Nagle." Nagle will present a brief overview of the history and structure of the DSNY and lead a discussion with a panel of DSNY sanitation workers.
At 7 p.m. former NYPD Commissioner Ray Kelly, the longest serving police commissioner in New York City history, will hold a book signing on Staten Island. In his new memoir Vigilance: My Life Serving America Protecting its Empire City Former NYPD Commissioner Kelly gives an account of his nearly 50 years in law enforcement.
In the evening the City Council will square off with and the de Blasio administration a softball game at Richmond County Bank Ballpark. De Blasio and his crew will be looking for revenge after a 17-13 loss last year.
Friday and the weekend
On Friday at noon, the Manhattan Institute will host former NYPD Commissioner Ray Kelly for a book luncheon highlighting "Vigilance: My Life Serving America and Protecting its Empire City."
At the City Council on Friday:
10 a.m., the Committee on Women's Issues will meet with the Committee on Courts and Legal Services to hold an oversight hearing on the effectiveness of human trafficking intervention courts.
12:30 the Committee on Waterfronts will meet for a tour of the Saw Mill Creek Mitigation Banks.
1 p.m the Committee on Community Advancement will meet (agenda TBA)
1 p.m. the Committee on Veterans will meet to consider a bill creating a taskforce to study veterans in the Criminal Justice System
Weekend City Council Participatory Budgeting meetings:
Friday at 6 p.m. by Ydanis Rodriguez (District 10, Manhattan)
Saturday at 10 a.m. by Robert Cornegy (District 36, Brooklyn)
Saturday at 6:30 p.m. by Ben Kallos (District 5, Manhattan)
On Sunday at 1 p.m. outside Gov. Cuomo's Manhattan office, Riders Alliance says: "We're heading to Governor Cuomo's NYC office to tell him to fix the subways--and we want you to join us! As you know, we've been calling for Gov. Cuomo to fix our trains and buses by funding the MTA Capital Plan. Our message is definitely getting across: after your "Subway Horror Stories," our #RideCuomoRide petition, and the Cardboard Cuomo subway tour, the Governor finally responded by pledging $7.3 billion toward the capital plan's budget gap."
[Read the latest in-depth reporting from Gotham Gazette]
***
Have events or topics for us to include in an upcoming Week Ahead in New York Politics? E-mail Gotham Gazette executive editor Ben Max any time: This email address is being protected from spambots. You need JavaScript enabled to view it. (please use "For Week Ahead" as email subject).
***
by Colin O'Connor, Konstantine Beridze, and Ben Max
@GothamGazette