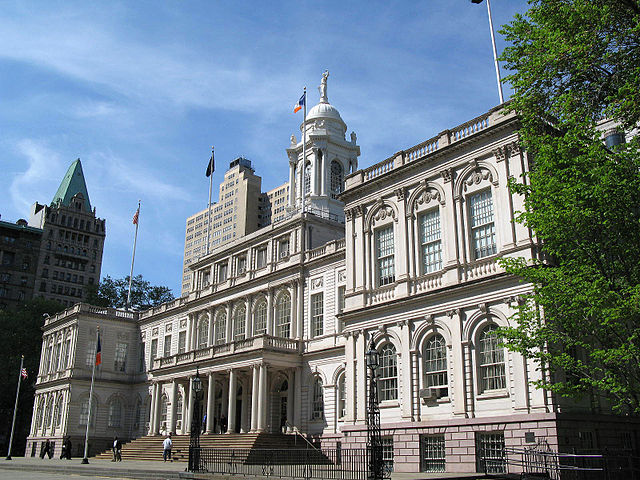 New York City Hall
---
What to watch for this week in New York politics:
In its post-Pope Francis world, will New York politics take heed of the pontiff's words and be a place of more cooperation, compassion, and grace?
The best place to look, of course, will be the relationship between Mayor Bill de Blasio and Governor Andrew Cuomo. The two powerful New York Democrats embraced and chatted face-to-face while awaiting Pope Francis on Thursday of last week. Perhaps being in the pope's presence will move the two to put aside old differences and work together for the good of the people of New York. Case in point: MTA funding, where, quite seriously, lives are at stake as subways run overcrowded and needed repairs go untended to.
Speaking of the governor, Cuomo gave a stirring euology at the Saturday funeral of his former aide, Carey Gabay, who was killed by gunfire in Brooklyn. Cuomo included a call for federal gun regulations in his speech and said that Democrats must approach the issue like those on the right approach their agenda.
Cuomo's public schedule lists no events for Monday as of Sunday evening. Mayor de Blasio was in Connecticut Saturday to Sunday, presumably visiting his son Dante, who is a freshman at Yale. After a week in which de Blasio was very focused on Pope Francis' visit and tying his own agenda to the pope's messages on inequality, de Blasio starts his week making another announcement regarding his battle against homelessness. The mayor will hold a 2:30 p.m. press conference to make an announcement about "homelessness prevention," according to his public schedule. On Friday, the mayor is expected to speak at an event in Washington, D.C. - see below for details.
It is a slow week at the City Council this week in terms of committee hearings, though there is a full-body Stated Meeting on Thursday afternoon, at which new bills will be introduced and some previously-heard bills passed through and sent to the mayor's desk. [Read our report on a new bill, the Grocery Worker Retention Act, which is controversial and just had its first committee hearing]
And, President Obama starts the week in New York City, along with many other world leaders - Obama spoke at the United Nations on Sunday; on Monday he will again speak to representatives of many other countries and hold private meetings.
As always, there's a great deal happening all over the city, with many events to be aware of - read our day-by-day rundown below.
***Do you have events or topics for us to include in an upcoming Week Ahead in New York Politics?
E-mail Gotham Gazette editor Ben Max: This email address is being protected from spambots. You need JavaScript enabled to view it.***
The run of the week in detail:
Monday
At 9 a.m. Monday on the steps of City Hall, there will be a press conference in support of Planned Parenthood funding, featuring several elected officials and advocates such as "Assemblyman Keith Wright, Congressman Charles Rangel, NYC Public Advocate Letitia James, Manhattan Borough President Gale Brewer, Queens Borough President Melinda Katz, Zenaida Mendez, Now-NYS, Sharon Nelson, President of National Political Women's Caucus, NYC Chapter," and "Stakeholders and Concerned Citizens" - according to AM Wright's office.
Monday at 11 a.m., members of the New York City Council and other elected officials, including Manhattan Borough President Gale Brewer, will issue a public proclamation on the steps of City Hall, honoring Ethel Rosenberg on what would have been her 100th birthday.
Also at 11 a.m. Monday, schools Chancellor Carmen Fariña hosts a roundtable for "ethnic and community media" at Tweed.
At 11:30 a.m. Monday, City Council Speaker Melissa Mark-Viverito, former Environmental Committee Chair Donovan Richards, and other Council members will gather at Green City Force in Brooklyn for a press conference to announce a "new funding initiative for Greener NYC."
On Monday in the State Legislature:
At 11 a.m. the Assembly Standing Committee on Environmental Conservation will hold a public hearing to "examine what steps can be taken to preserve Plum Island as an open space in light of the pending sale."
At 6 p.m. the Senate Standing Committee on Mental Health and Developmental Disabilities will hold a public hearing regarding "The future of sheltered workshops in New York State for families and individuals with developmental and intellectual disabilities."
Monday at noon, Comptroller Scott Stringer will appear on BK Live, via BRIC TV.
Also at noon at Brooklyn Borough Hall, BP Eric Adams "will practice yoga with students from PS 196 Ten Eyck in East Williamsburg as part of his second annual celebration of National Yoga Month, a daylong gathering in Brooklyn Borough Hall featuring classes and demonstrations of yoga and related holistic living disciplines, such as meditation and tai chi. Prior to the yoga demonstration, Borough President Adams will join local practitioners to speak about the importance of inner wellness to the health of Brooklynites."
Monday afternoon in the Bronx: "South Bronx Rising Together, Bronx Borough President Ruben Diaz, Jr. and dozens of school and community stakeholders" will mark Attendance Awareness Month and commit to ending chronic student absence in the heart of the South Bronx.
At 5:30 p.m. City Council Speaker Melissa Mark-Viverito, Council Members Julissa Ferreras-Copeland and Carlos Menchaca, the New York City Council Black, Latino, and Asian Caucus, and the New York City Council will host a New York City Celebration of 194 years of Mexican Independence.
At 7 p.m. Citizen Preparedness Corps Training Program, which trains citizens to be ready to react in case of natural disasters, will be held in Queens, sponsored by the governor's office, Congressional Rep. Grace Meng; Borough President Melinda Katz; State Senator Toby Ann Stavisky; Assemblymember Andrew Hevesi and City Council Member Karen Koslowitz.
On Monday evening, it's Community Voices Heard's 20th Annual Honorable Shirley Chisholm Lights of Freedom Awards Celebration. Public Advocate James and other elected officials are expected.
Monday's City Council Participatory Budgeting events:
CM Ritchie Torres (District 15, Bronx) time TBA
CM Elizabeth Crowley (District 30, Queens), 6:30 p.m.
CM Mathieu Eugene (District 40, Brooklyn), 6:30 p.m.
CM Julissa Ferreras-Copeland (District 21, Queens), 6:30 p.m.
CM Antonio Reynoso (District 34, Brooklyn/Queens), 6:30p.m.
Tuesday
Tuesday Mayor de Blasio and Fred Wilson, Founder and Chairman of CSNYC, will appear live on CNBC's Squawk Box at 6:50 a.m. to discuss Computer Science for All. After, at about 10 a.m., the mayor will testify at Chief Judge Jonathan Lippman's public hearing on civil legal services.
Tuesday starting at 8 a.m., City & State NY is hosting "Housing Health Equity," presented by NYC Smoke Free at New York Law School. The forum will "discuss strategies to address NYC's tobacco-related health disparities as well as efforts to house health equity with smoke-free housing." Keynote remarks will be made by Assemblymember Felix Ortiz; the event will feature an interview with city Health Commissioner Dr. Mary Bassett and a panel discussion including City Council Member Donovan Richards.
At 8:15 a.m. the Manhattan Institute will host the fifth annual Proxy Monitor event, which will feature an interview of city Comptroller Scott Stringer, followed by a panel discussion.
At 8:30 a.m. "join the Municipal Art Society of New York and the NYC Mayor's Office of Recovery and Resiliency for a comprehensive discussion about ongoing and upcoming efforts to build resilience in New York City!" The event will feature conversation about the City's Phase 2 application for the National Disaster Resilience Competition. The event will include several speakers, such as Amy Chester of Rebuild by Design; Kate Dineen of the Governor's Office of Storm Recovery; Rob Freudenberg from the Regional Plan Association; Lisa Bova Hiatt from the Governor's Office of Storm Recovery; Mary Rowe of Municipal Art Society; and Daniel A. Zarrilli of the NYC Office of Recovery and Resiliency.
At 10:30 a.m. Tuesday, Speaker Mark-Viverito will be at the Apollo Theater for Glamour Magazine's "A Global Conversation on the Power of Educating Adolescent Girls" on a panel with First Lady Michelle Obama, former Australian Prime Minister Julia Gillard, and actress Charlize Theron.
At noon at Foley Square, Mark-Viverito will participate in "Planned Parenthood's Pink Out Day Rally to support reproductive health access for all New Yorkers." Many other elected officials and advocates are expected.
At noon as well, at City Hall, "City Council Members Vanessa L. Gibson and Corey Johnson will join community groups, education activists, and fellow Council Members to call for passage of vital amendments to the Student Safety Act. The updated Act will strengthen transparency and data collection on school discipline issues, including incidents between students and police. A vote on the Act is scheduled to take place on Wednesday, September 30th. These much needed amendments will increase transparency and strengthen data collection to help the City further advance an approach to school discipline that is grounded in creating safe and supportive schools, while respecting the dignity of all students, and keeping students in school."
Also Tuesday at noon at the Manhattan Borough President's office, a press conference at which "Brooklyn Borough President Eric L. Adams, Manhattan Borough President Gale A. Brewer, and civil rights attorney Norman Siegel will unveil a new report with recommendations for improving police-community relations in New York City...The report's findings are based on feedback gathered from over a thousand New Yorkers at a series of town halls and digital dialogues in Brooklyn and Manhattan. The announcement, which will highlight key proposals outlined in the report, comes following a number of recent headlines addressing public safety and proper policing practices citywide."
At 6 p.m. Tuesday: WE ACT's 2015 gala will honor Luis Acosta, Founder and President of El Puente; Tom Goldtooth, Executive Director of Indigenous Environmental Network; James S. Hoyte, Counsel of ADS Ventures; Sarah Martin, WE ACT and a NYC recycling activist; Denise Scott, Executive VP for Programs at LISC; and Edison Severino, Business Manager of LIUNA Local 78; for their achievements in engaging a larger demographic with environmental problems on the rise in New York and the world.
Also at 6 p.m. Tuesday, the city's Panel for Educational Policy will meet on Staten Island.
Also at 6 p.m. Tuesday, City Council Member Laurie Cumbo is hosting a community presentation from the Department of City Planning on two rezoning proposals: "Zoning for Quality and Affordability" and "Mandatory Inclusionary Housing."
At 7 p.m. Manhattan Borough President Gale Brewer will hold a small business roundtable discussion, where East Village small business owners can speak about challenges they face, informing elected officials, city, state & federal agencies, and small business stakeholders.
Tuesday's City Council Participatory Budgeting events:
CM Andrew Cohen (District 11, Bronx), 7 p.m.
CM Julissa Ferreras-Copeland (District 21, Queens), 7p.m.
CM Mark Levine (District 7, Manhattan), 6 p.m.
CM Jimmy Van Bramer (District 26, Queens), 6p.m.
Wednesday
Wednesday morning, Crain's New York Business will hold a forum with Republican Senator Majority Leader John Flanagan. Flanagan will discuss the Senate majority's top priorities and the de Blasio administration's Albany agenda.
At 8:30 a.m. Wednesday, the Manhattan Institute hosts "Data and Education: Can new tools empower parents and improve schools?" The event will begin with a panel and Q&A moderated by Naomi Nix, Senior Reporter, The Seventy Four. SchoolGrades.org will give a presentation at the end of the conference.
On Wednesday, Families for Excellent Schools is planning a morning rally at Cadman Plaza, march across the Brooklyn Bridge, and 12:30 p.m. press conference at City Hall "to demand equal opportunity in our schools." The pro-charter school organization is expected to demand "bold" action from Mayor de Blasio.
At the City Council on Wednesday:
10 a.m. Committee on Finance will meet to discuss several changes that would allow certain organizations to receive funding in the Expense Budget.
1:30 p.m. The City Council Stated Meeting, as always, prefaced by the pre-stated press conference led by Speaker Melissa Mark-Viverito at 12:30.
At 12 p.m. The Center for NYC Neighborhoods will hold a discussion regarding "The Future of Affordable Homeownership in NYC" at New York Law School, with "specialists in the fields of housing, finance, academia, government, and more to talk about what challenges New York City homeowners are facing and hear about new and innovative ways we can help keep working families in New York."
At 6 p.m., VOCAL New York and the recently launched SIF NYC campaign will hold a town hall on rising homelessness and the problem of drug abuse, proposing an alternative to Public Injection, and supporting Supervised Injection Facilities.
At 7 p.m. Take Back NYC will host a small business forum, advocating for legislation that would stop unreasonable rent increases and unfair leases to small businesses by landlords. City Council Member Annabel Palma will deliver opening remarks.
Also at 7 p.m., BetaNYC will hold a "Civic Hack Night" at Civic Hall - a weekly initiative that allows technologists, designers, developers, data scientists, map makers, and activists to gather and to work on "civic technologies" to improve the city together.
On Wednesday evening, Comptroller Stringer hosts a Hispanic Heritage Month celebration.
Wednesday's City Council Participatory Budgeting events:
CM Costa Constantinides (District 22, Queens), 7 p.m.
CM Robert Cornegy (District 36, Brooklyn), 7 p.m.
CM Elizabeth Crowley (District 30, Queens), 6:30 p.m.,
CM Corey Johnson (District 3, Manhattan), 6:30 p.m.
CM Brad Lander (District 39, Brooklyn), 6:30 p.m.
CM Melissa Mark-Viverito (District 8, Manhattan/Bronx), 4p.m.
CM I. Daneek Miller (District 27, Queens), 6:30 p.m.
CM Antonio Reynoso (District 34, Brooklyn/Queens), 6:30p.m.
CM Ydanis Rodriguez (District 10, Manhattan), 6 p.m.
Thursday
On Thursday, starting at 9 a.m., the fifth annual "New York State Minority and Women-owned Business Enterprise Forum: The State of Business Opportunities" will commence in Albany, as announced by Governor Cuomo. Offering participation in Workshops, Seminars, Exhibitions and opportunities to meet New York's top public and private sector leaders and procurement decision makers, the event will last until Friday 3 p.m.
At 10:30 a.m. Thursday Queens Borough President Melinda Katz will hold a public land use hearing.
At 6:30 p.m. Thursday at the Museum of the City of New York: Kendall Fells, Organizing Director of Fight for $15, will join Sarah Maslin Nir, New York Times reporter; Jessamyn Rodriguez, Founder and CEO of Hot Bread Kitchen; Dorian Warren, political analyst and MSNBC host for a discussion titled "The New New York Activists: Living City, Living Wage." Georgia Levenson Keohane, Senior Fellow at New America, will moderate.
Thursday's City Council Participatory Budgeting events:
CM Corey Johnson (District 3, Manhattan), 6:30 p.m.
CM Karen Koslowitz (District 29, Queens), 7 p.m.
CM Donovan Richards (District 31, Queens) time TBA
CM Ydanis Rodriguez (District 10, Manhattan), 6 p.m.
CM Helen Rosenthal (District 6, Manhattan), 6 p.m.
CM Jimmy Van Bramer (District 26, Queens), 6 p.m.
CM Jumaane D. Williams (District 45, Brooklyn), 6:30p.m.
Friday and the weekend
The governor's "Minority and Women-owned Business Enterprise Forum" continues in Albany on Friday.
"On Friday, October 2, 2015 American Family Voices will bring together representatives of the business community and leaders in the national progressive movement. Sessions of the conference will explore shared policy priorities and how we may work together to collaborate on a legislative agenda, support businesses with progressive values, and build state level infrastructure. NYC Mayor Bill de Blasio will address the conference during the morning session."
On Saturday at 10 a.m. as part of the New Yorker Festival, Brooklyn District Attorney Ken Thompson; Shawn Armbrust, executive director of Mid-Atlantic Innocence Project; Patrick Quinn, the Forty First Governor of Illinois; and Tyrone Hood, a citizen who spent twenty one years in prison for a wrongful conviction, will speak on a panel: "Justice Delayed: Guilty Until Proven Innocent." Nicholas Schmidle, New Yorker staff writer, will moderate the discussion.
And a participatory budgeting event on Saturday is being held by CM Antonio Reynoso, at 1 p.m.
***
Have events or topics for us to include in an upcoming Week Ahead in New York Politics? E-mail Gotham Gazette executive editor Ben Max any time: This email address is being protected from spambots. You need JavaScript enabled to view it. (please use "For Week Ahead" as email subject).
***
by Colin O'Connor, Konstantine Beridze, and Ben Max
@GothamGazette