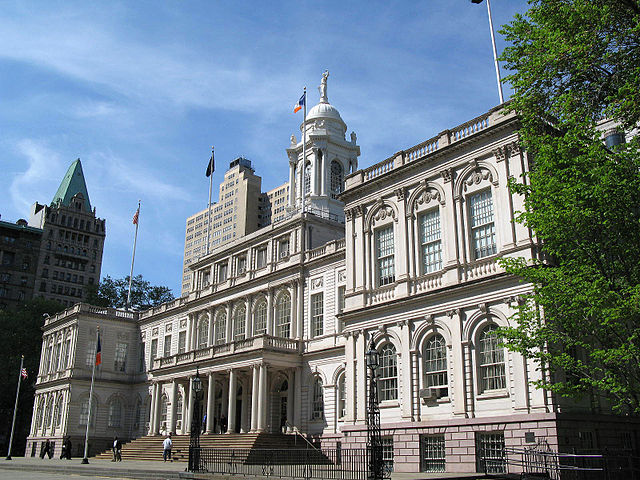 New York City Hall
---
Happy New Year!
So far, New York politics in 2016 looks a lot like 2015. On Sunday, Gov. Andrew Cuomo announced a new Executive Order related to homelessness that appears to be the opening salvo in his plan to take aim at the issue, most pressingly in New York City, where he's criticized Mayor Bill de Blasio's handling of the crisis that includes about 60,000 homeless people. Cuomo's order notes that homelessness is a problem around the state and says that when temperatures are below freezing, municipalities must provide shelter to homeless individuals, move homeless people to shelter, extend shelter hours, and maintain quality shelter conditions that meet state and local laws and regulations.
The move gets at the rivalry between the governor and the mayor, which shows little sign of abating, despite the fact that there are real policy issues - and lives - at stake. De Blasio has battled a persistent homeless census, issues with the conditions of homeless shelters, and a good deal of criticism from the governor and others, which has all led to a shake-up in his administration. To fight homelessness, de Blasio has enacted a good deal of new policy and drastically increased funding toward a variety of programs, but he has only just recently been able to level off a growing number of people without consistent housing.
On Sunday, the de Blasio administration was quick to point out that the governor's executive order does little, if anything, to change things in the city, which already has a must-shelter law and where the city recently announced new protocols for shelter hours and services. There is one main point of contention, though, which is the order's provision that homeless individuals must be moved to shelter - something the de Blasio administration says can only be mandated through state law.
De Blasio is sure to get questions about these issues when he holds a press conference centered around another topic Monday morning in Brooklyn - see below for details.
Cuomo, meanwhile, is gearing up for his January 13 State of the State and budget address, which is likely to include other policies aimed at homelessness. Cuomo is set to make an announcement on Monday in Manhattan - see below for details.
The state Legislature returns to Albany for its first session day of 2016 on Wednesday of this week. There are legislative hearings on the minimum wage and the failed Health Republic insurance exchange this week - see below for details.
Later this week, de Blasio is likely to hold a ceremony to sign his own recent Executive Order, the one mandating paid parental leave for about 20,000 nonunion city employees. De Blasio announced the policy in late December and promised to reopen collective bargaining with city unions in order to make the benefit part of their contracts. He's also looking to the state and federal governments to act on paid family leave so that all New Yorkers (and Americans) can take time off to care for a new child or a sick or elderly relative (de Blasio's initial policy is only for new parents, it does not cover care for sick or elderly relatives, but most paid family leave bill proposals do). [Read: De Blasio Moves on Paid Parental Leave]
As always, there's a great deal happening all over the city, with many events to be aware of - read our day-by-day rundown below.
***Do you have events or topics for us to include in an upcoming Week Ahead in New York Politics?
E-mail Gotham Gazette editor Ben Max: This email address is being protected from spambots. You need JavaScript enabled to view it.***
The run of the week in detail:
Monday
On Monday at 7:15 a.m. outside Barclays Center in Brooklyn, "Mayor de Blasio, Senator Charles Schumer, elected officials and senior Administration leadership will meet morning commuters...to pass out flyers on the City's new commuter benefits law. Tomorrow is the first work day after the law went into effect on January 1." Read about the new transit benefit laws here: New Transit Program Called 'Win-Win' for Many Commuters and Employers.
At about 7:30 a.m. inside Barclays Center, "the Mayor will hold a press conference to discuss commuter benefits." Then, at 1:30 p.m. Monday at One Police Plaza, de Blasio and NYPD Commissioner Bratton "will hold a press conference to discuss historically low crime numbers in New York City."
At 11 a.m. Monday at 1199 SEIU headquarters in Manhattan, Gov. Cuomo will make an announcement, kicking off "The Mario Cuomo Campaign for Economic Justice." City officials, including Comptroller Scott Stringer, will attend.
Tuesday
At 6:30 p.m. Tuesday, City Council Members Dan Garodnick and Rosie Mendez will co-host a community town hall focused on "Homelessness on the East Side" at the Parish Hall of the Church of the Epiphany. A variety of other Manhattan elected officials are also co-sponsoring and will either attend or send representatives.
Wednesday
The New York State Legislature holds its first day of 2016 legislative session in Albany on Wednesday.
At 9 a.m. on Wednesday in Albany, the Senate Standing Committees on Health and Insurance will hold a public meeting about "The demise of Health Republic and preparing for the future."
At the City Council on Wednesday:
At 9:30 a.m., the Committee on Housing and Buildings will meet about a resolution calling on the city and state to sign a fourth New York-New York supportive housing plan.
At 10 a.m., the Committee on Finance will meet to discuss a budget extender and two items related to Business Improvement Districts
At noon, the Council will hold the year's first Stated Meeting. As always, this is expected to be prefaced by the Council Speaker's pre-stated press conference.
Thursday
At 8:30 a.m., Senator Charles Schumer "will discuss Congress' year-end budget and how it impacts New York" at an Association for a Better New York breakfast event.
At the City Council at 10 a.m. Thursday, the Committee on Aging will meet for an oversight hearing about social adult day care.
At the state Legislature on Thursday: an 11 a.m. public hearing in Albany held by the Senate Standing Committee on Labor to analyze "the overall impact increasing the statewide minimum wage to $15/hour would have on workers, employers, and the state as a whole."
Friday and the weekend
Nothing on our radar right now, but that can easily change as events are announced once the week gets going. Stay tuned for updates here and elsewhere.
Read more recent highlights from Gotham Gazette:
***
Have events or topics for us to include in an upcoming Week Ahead in New York Politics? E-mail Gotham Gazette executive editor Ben Max any time: This email address is being protected from spambots. You need JavaScript enabled to view it. (please use "For Week Ahead" as email subject).
***
by Ryan Brady and Ben Max
@GothamGazette