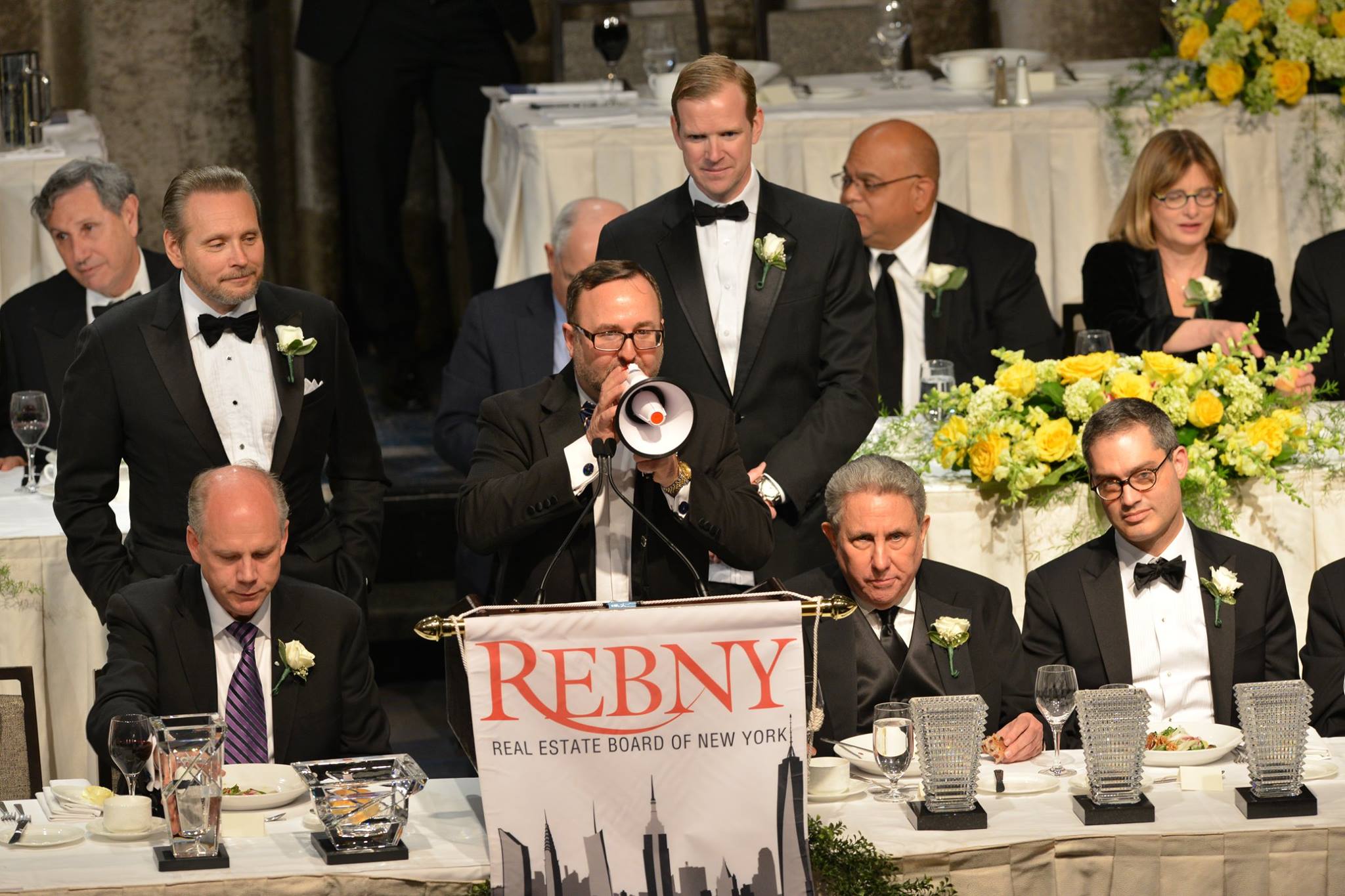 The REBNY gala (photo via REBNY on Facebook)
---
Earlier this year developers and labor unions failed to reach a deal to renew the controversial 421-a tax abatement program that is designed to entice the development of affordable housing. Gov. Andrew Cuomo and legislators agreed to extend the program early last year while putting the longterm future of the program in the hands of the special interests that benefit from it--an unprecedented move that was met with loud criticism.
With negotiations failed and the program expired, it appears that real estate groups are looking to Cuomo and state legislators to figure out new life for the program. Without it, the future of rental housing, including affordable units, in New York City is in question. Expressing serious concern, Mayor Bill de Blasio has called on Albany leaders to make the situation right.
Asked about how he would like to see the 42-1 issue resolved, Republican Senate Majority Leader John Flanagan said, "I believe that it should be people of good faith sitting in a room working - I'm not kidding - working on a compromise. The housing question in the City of New York is unbelievably important." Flanagan was speaking to reporters after giving a speech to the Association for a Better New York on Jan. 28.
Tenant advocates also want to get key players in a room to hash out a solution, but they want those meetings open to the public and including all stakeholders, not just the ones that make large campaign contributions.
Left out of the last round of discussions, advocates insist that any discussion of renewing the program should be held in full view. They want the housing committees of the legislature to hold hearings to consider alternatives to 421-a. "Everything in Albany is done in secret," said Michael McKee, treasurer of Tenants PAC. "You would expect the housing committees to hold public hearings on this, but that is just not convenient."
"I would like to see more of a public discussion so that maybe REBNY will come and tell us what happened in negotiations," said Thomas Waters of the Community Service Society, referring to the Real Estate Board of New York, the major association of developers and one of the two main parties left to negotiate an extension of 421-a.
"No other interest gets this kind of special treatment," Waters said, referring to real estate. REBNY and individual developers are known to be among the most prolific campaign donors and spenders throughout New York.
Dan MacEntee, spokesperson for state Senator Betty Little, who chairs the Senate committee on housing, said that there had yet to be any discussions on hearings. "The Senator does recognize the impact of the program and would like to see it continue," MacEntee told Gotham Gazette of 421-a. Little, a Republican, represents several upstate towns.
A spokesperson for Assembly Member Keith Wright, a Harlem Democrat who chairs the Assembly housing committee, said that Wright was not available for comment.
Senator Liz Krueger, a Democratic member of the Senate housing committee, believes that there should be a joint hearing of the legislature's housing and finance committees before anything on 421-a is decided, given that the program deals with housing and taxes. Krueger told Gotham Gazette last year that she would like to see 421-a replaced with a more efficient program.
However, many legislators and advocates say that REBNY is pushing Cuomo and legislators to move quickly on a basic renewal, and one that either does away with Cuomo's insistence last year that prevailing wages for labor are included, or sets a lower increase than the building trades council sought during private meetings.
REBNY President John Banks recently wrote in Real Estate Weekly that he is committed to working with stakeholders to "address the need for more rental housing" while pushing back against calls from labor and Cuomo to include a prevailing wage requirement.
"Given the high cost of property taxes, land costs and construction costs, most owners will opt to do something else rather than build multi-family rental housing with a substantial below market component unless there is a tax benefit program like 421a in place," wrote Banks.
"For example, in the absence of a tax benefit program like 421-a, in many areas of the City, owners will build market rate condominiums where sales prices can offset the high cost of new development (e.g., property taxes, construction, land)."
Advocates say the city simply isn't getting the return on its investment through 421-a and that if the creation of affordable housing is what is motivating public officials then finding a more efficient alternative is paramount.
"The first step is to let 421-a die and spend the money on other housing programs," Waters told Gotham Gazette. "Rather than a program that provides the right to a tax break I'd like to see something like the federal low-income tax credit and have developers apply and have the credit go to those who provide the most affordability."
Tenant advocates have long decried the 421-a program as terribly inefficient.
Waters research has shown that 421-a has only produced one affordable apartment for every $833,000 in tax breaks. "Before the state acted to renew 421-a last June, New York City was foregoing $1.1 billion in revenue each year for a program that led to no more than 1,275 apartments per year," Waters recently wrote in NY Slant.
Meanwhile, advocates point out that provisions in the state's rent laws allow landlords to deregulate 20,000 affordable apartments a year, with landlords voluntarily reporting the deregulation of around 6,000 affordable apartments each year.
"As far as I'm concerned the lapse of 421-a can only be a good thing," said McKee of Tenants PAC. "It is an absurdly inefficient way to get affordable housing. Even if you deliberately tried to create an inefficient program it would be hard to end up with something as absurd as 421-a. I could design a better program than 421-a in my sleep."
A number of observers see the failure to renegotiate 421-a as just another example of how the feud between Mayor Bill de Blasio and Gov. Cuomo has impacted public policy. Last year de Blasio announced a deal with developers to renew 421-a - the mayor was anxious to renew the program that is a key piece of his promise to build 80,000 units of affordable housing over ten years.
Cuomo countered, saying de Blasio had a reached a sweetheart deal with developers and blamed the plan for disrupting the legislature's negotiations. In the end, Cuomo and legislators reached a deal that included much of de Blasio's plan. It mandated that 25 to 30 percent of projects be set aside for affordable housing, banned most coops and condos from receiving abatements, and increased the length of the abatement from 25 to 35 years. All of that came with the caveat that real estate and labor had to come to a deal on wages.
Now many doubt de Blasio will have much of a say at all on the program as legislative leaders and the governor negotiate behind closed doors. Gov. Cuomo has spoken to the importance of reestablishing an affordable housing program at the state level. The de Blasio administration has lamented the loss of 421-a while simultaneously downplaying its importance.
"Having every single set of a tools at our disposal is optimal," Deputy Mayor Alicia Glen told Gotham Gazette when asked about the uncertainty around the 421-a program. Glen noted that the city has several programs at its disposal to encourage the construction of affordable housing but each one is important. "Not one of these individual levers not being available will undermine our efforts or significantly impact our plan, but not having something, a tax incentive...like 421a, you know, does hinder our ability to do what's really important...which is to make sure that there is affordable housing in every corner of the city."