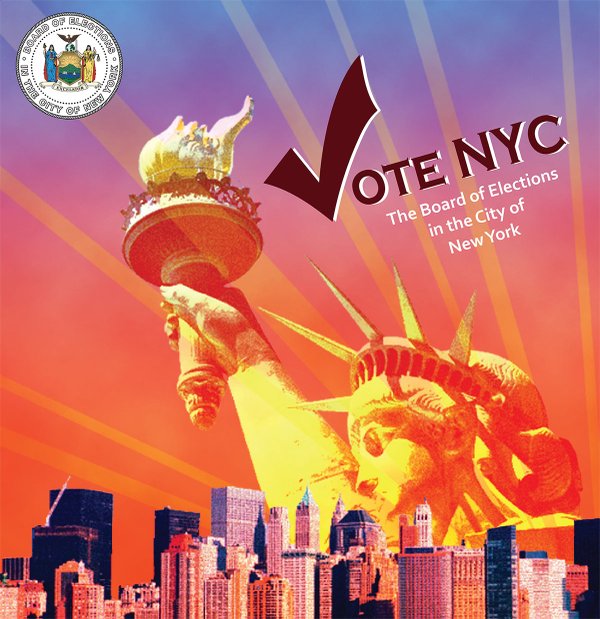 image via NYC Board of Elections
---
On Tuesday, Bernie Sanders and Donald Trump won their respective Democratic and Republican New Hampshire primaries by wide margins. This, after Sanders lost narrowly to Hillary Clinton and Trump lost to Ted Cruz in Iowa. On the Democratic side, there are only two candidates - Hillary Clinton came in second to Sanders in New Hampshire. For the Republicans, John Kasich came in second, adding a sense of momentum to his campaign.
Now, there are 48 more states and the District of Columbia to vote before the primary season is over. New York will be the 37th state to hold a vote when April 19 comes around.
It is unclear whether there will still be a race on either side of the aisle when voting comes to New York. The Republican field has a lot of winnowing to do and the two remaining Democrats could be in for a long slog - but, April 19 is a long way away.
Next up, South Carolina and Nevada take center stage. More debates are on the horizon, too, of course. The Democrats are set to debate on Feb. 11, March 6, and March 9. They're also scheduled to debate once in April and once in May, with dates and locations to be determined.
On the Republican side, there are debates set for Feb. 13 and 26; as well as for March 10. There could always be others added, of course.
As for the votes to take place leading up to New York, 34 states will have held either caucus or primary votes for both major parties, while two states - North Dakota and Kentucky - will have only held their Republican vote, with their Democratic vote coming later in the spring. The calendar is below.
Keep in mind that there are actually four election days in New York this year: presidential primary on April 19, followed by congressional primaries in June, state-level primaries in September, and the November Election Day.
The presidential primary calendar (if no party is noted, both major party votes will occur the same day):
Feb. 20
Nevada caucus (D)
South Carolina (R)
Washington caucus (R)
Feb. 23
Nevada caucus (R)
Feb. 27
South Carolina (D)
March 1
Alabama
Alaska caucus (R)
Arkansas
Colorado caucus
Georgia
Massachusetts
Minnesota caucus
North Dakota caucus (R)
Oklahoma
Tennessee
Texas
Vermont
Virginia
Wyoming caucus (R)
March 5
Kansas caucus
Kentucky caucus (R)
Louisiana
Maine caucus (R)
Nebraska caucus (D)
March 6
Maine caucus (D)
March 8
Hawaii caucus (R)
Idaho (R)
Michigan
Mississippi
March 15
Florida
Illinois
Missouri
North Carolina
Ohio
March 22
Arizona
Idaho caucus (D)
Utah
March 26
Alaska caucus (D)
Hawaii caucus (D)
Washington caucus (D)
April 5
Wisconsin
April 9
Wyoming caucus (D)
April 19
New York
April 26
Connecticut
Delaware
Maryland
Pennsylvania
Rhode Island
May 3
Indiana
May 10
Nebraska (R)
West Virginia
May 17
Kentucky (D)
Oregon
May 24
Washington (R)
June 7
California
Montana
New Jersey
New Mexico
North Dakota caucus (D)
South Dakota
June 14
District of Columbia