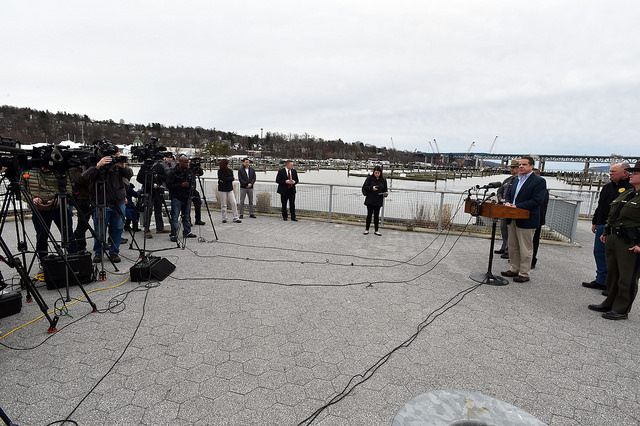 Cuomo gives a press briefing in Tarrytown (Kevin P. Coughlin/Governor's Office)
---
Earlier this month, Gov. Andrew Cuomo was facing pressure from the press, local officials, and the public to make his first appearance in Hoosick Falls, a small town near the Vermont border. Residents of the town were told in December that their drinking water was unsafe for consumption due to contamination from a toxic chemical that may lead to cancer. Cuomo, whose administration has been accused of mishandling reports about water contamination in the town since 2014, had been conspicuously absent.
On Sunday, March 13 at about 7:30 a.m. reporters received an updated public schedule for Cuomo announcing that at 10:15 a.m the governor would give a press briefing in Hoosick Falls. Assembly Member Steve McLaughlin, a Republican who represents the area and has been a consistent critic of the Democratic governor, said he learned of the visit from members of the press who contacted him to see if he planned to attend. McLaughlin was not contacted by the Cuomo administration, he said, nor were a host of other elected officials from the area. Some local reporters had been told specifically the governor would not be visiting the town that weekend.
"I had been there a day before for the St. Patrick's Day Parade and I said then, 'Leaders lead, they show up when people are hurting, they don't show up for a photo op,'" McLaughlin told Gotham Gazette. "I will contend the reason [Cuomo] didn't show up for 109 days is because this situation is politically damaging to him - it isn't a situation where he's hooking up and towing someone and taking a picture; people are hurting here."
The situation was typical of how the administration often handles Cuomo's public schedules - most days, no matter what the governor might actually be doing, his public schedules, emailed to the press the night before, put him in Albany, New York City, or the New York City area, with no additional information.
Occasionally the administration will issue an update about an appearance or an event with varying amounts of lead time. Sometimes a few hours, often less. Events the governor attends are regularly ones that appear unlikely to be last-minute decision. One such update was issued on January 21 at 5:29 p.m. to announce Cuomo was attending a 6 p.m. gala held by the Real Estate Board of New York, whose members include large Cuomo donors.
Other events Cuomo attends, such as fundraisers or gatherings with legislators at the Executive Mansion, are left off his schedule. Some of these events, for candidate campaigns, should be left off of the governor's official government schedule. Yet, strangely, on March 9, Cuomo held a ceremony to honor former New York Mets catcher Mike Piazza and no notice was given, though the administration later gave members of the press an account of the proceedings.
Administration officials paint last-minute updates and omissions as the result of minding the schedule of a very busy governor, but the pattern has rankled the press, annoyed legislators who feel the governor should notify them when he visits their districts, and stymied issue advocates and protesters. It has a growing number of critics saying that the administration shares little with the press and the public as a political strategy to protect Cuomo from unwanted coverage.
Cuomo's schedules also come in stark contrast of those of other major New York elected officials - senators, members of Congress, Mayor Bill de Blasio, and others mostly issue detailed daily schedules full of events, whether the press is invited or not. They also often send their schedules earlier than the governor's office does. Case in point: on Monday evening, de Blasio's Tuesday schedule, with two public events, was sent to members of the media at about 5:30 p.m.; Gov. Cuomo's, also with two public events, was emailed at a little after 10 p.m.
"It is highly unusual for officials to play this kind of game," said Douglas Muzzio professor of political science at Baruch. "The governor is truly unique in this regard compared to other electeds. It throws everyone off, prevents people from covering things, seeing him, meeting him. It keeps everybody on edge."
The Cuomo administration flatly denied that the governor's schedules are designed to reduce interaction with the press or voters. "People have all kinds of opinions, it's just not true," Cuomo spokesperson Rich Azzopardi told Gotham Gazette.
"There is a clear difference in style and substance between this governor and people who are willing to go into the lion's den and deal with it and take not only the accolades, but the criticism head on," said Assembly Member McLaughlin. Cuomo has made a habit of "ducking, covering, and avoiding and misdirecting," McLaughlin added, saying that Cuomo has had "the hypocrisy" of saying he would run the most transparent administration in history. "People are waking up to it," he said, "The answer to it is to stop doing what you're doing, but his answer will be to double down and do more of what got him in trouble to begin with."
The situation is particularly pointed this year as budget negotiations again play out almost entirely behind closed doors. Unlike his two immediate predecessors, Cuomo has not held public leaders meetings to discuss budget priorities.
Meanwhile, Cuomo hasn't held a traditional media availability on the second floor of the Capitol since June of last year. While the governor has taken press questions after events at a variety of locations around the state, he has eschewed a traditional Albany press conference for well over 200 days.
A recent Freedom of Information Law request for any email communications sent by Cuomo, filed by Gannett's John Campbell, resulted in no information. An administration official told Campbell that Cuomo has no state-issued email account or Blackberry device.
"Do you get the impression this governor doesn't want coverage, doesn't want to answer any questions?" asked Barbara Bartoletti of The League of Women Voters. "Wasn't this the governor who said he would have the most transparent administration in history? Well it hasn't turned out that way. He doesn't seem to let people know he is going to be somewhere unless he is handing out money or responding to a disaster."
John Kaehny, of Reinvent Albany, said that from his perspective the governor's office has been ahead of the game on releasing the governor's schedules when compared to other elected officials, albeit months after the fact. Kaehny points to the administration's information portal that is updated every few months with the governor's past schedules, including the names of groups and people he meets with. "We're happy to have more complete schedules later, rather than faster, less specific schedules right now," said Kaehny, who acknowledged it might be different for the press.
"The state website allows searches by name so you can see what meetings they've had with the governor," explained Kaehny. "That isn't comparable to anything [Mayor de Blasio] has at the moment. It's extremely useful."
Azzopardi touted Cuomo's transparency website in a statement to Gotham Gazette: "This administration has proactively made more documents and data publicly available than any other in recent memory. The governor's final schedules are publicly posted on CitizenConnects and have been since the beginning of this administration."
Cuomo's schedules have been shown to have at least a hole or two. In 2012 The Wall Street Journal reported that Cuomo's schedules did not show an October fundraiser where the Governor was pitched on a massive casino project by Genting, a group that had given millions to a lobbying group created at the governor's behest. Administration officials said the omission was a mistake.
Blair Horner, of the New York Public Interest Research Group, noted that compared to Albany standards where the leaders rarely announce their plans to the public, Cuomo's scheduling isn't particularly concerning.
For others however, it is concerning that the governor who pledged utmost transparency appears to only be interested in interacting with the public of his choosing and has limited his press interaction.
"Is he afraid of the press or does he think New Yorkers aren't interested in what their governor is doing?" asked Bartoletti. "I don't know why he wouldn't want to be more visible."