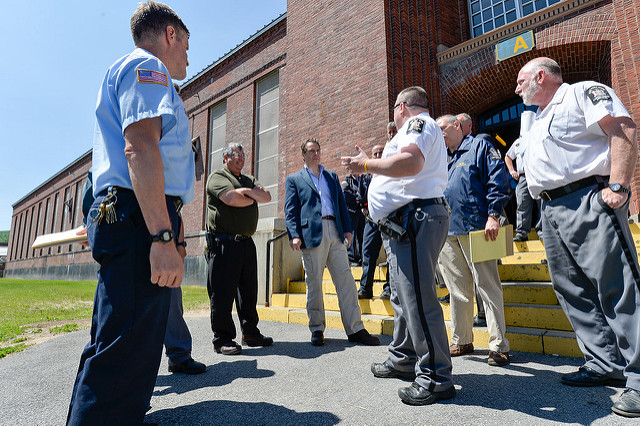 Gov. Cuomo in Dannemora (photo via The Governor's Office)
---
As Gov. Andrew Cuomo and legislative leaders rush to deliver an on-time budget, criminal justice reform advocates aren't holding out hope that any of their major legislative priorities will be included in the final document. Advocates are resigned that many of their priorities, which are backed by Cuomo and included in his executive budget, will be pushed to the post-budget legislative session.
A budget is due by midnight Thursday, with the new fiscal year beginning on Friday, April 1, but a deal must be in place sooner so that bills can be drafted and voted on. The legislative session then extends into June. Cuomo and legislative leaders said Tuesday that they were getting close to settling the major funding and policy differences that would be included in the budget, with no mention of criminal justice issues.
For some advocates it is no surprise given the complexities of their issues, like the push to raise the age of adult criminal responsibility in New York and legislation to amend state law to create a special prosecutor to preside over investigations of police killings of civilians.
To others, it isn't surprising for an entirely different reason: they are used to seeing Cuomo pitch major criminal justice reforms during his State of the State address only to abandon them during budget negotiations due to push back from Senate Republicans.
"For years we've seen this pattern where the governor comes out with big bold ideas in January but he doesn't follow through," said Alyssa Aguilera, co-executive director of VOCAL-NY, a community organizing and reform group. "We know the governor is very powerful and can move things when he wants to. He should be acting on these issues that really impact the low-income communities of color who are really his base."
The Cuomo administration did not return request for comment.
Legislators who support criminal justice reforms say they've been focused on the budget and won't likely return to other legislative issues until next week.
Aguilera noted that Cuomo has previously pitched decriminalizing small amounts of marijuana only to abandon the issue. Last year Cuomo dropped "Raise the Age" and legislation to create a special prosecutor to investigate police killings of civilians during budget negotiations. He has also previously abandoned a push to provide inmates with a college education.
However, last year while facing pressure to act from family members of the deceased, advocates, and legislators, Cuomo issued an executive order giving Attorney General Eric Schneiderman the ability to investigate police killings of civilians under certain circumstances. The order allows the Attorney General to investigate any case involving a police killing of a civilian and to take over a case from a local District Attorney.
The bill Cuomo is backing this year would allow an independent monitor to look into cases if a grand jury decided to not move forward against an officer or if a District Attorney did not put the case before a grand jury in a "reasonable" time. The monitor could then make a recommendation to the Governor. The Attorney General would no longer have a role.
Advocates see the proposal, which is not garnering momentum, as a substantial weakening of Cuomo's executive order. Aguilera said she is concerned the current environment might not be ideal for getting the special prosecutor bill her group supports. "Our biggest fear really is seeing a rolling back of our victory. We fought for the executive order which was a very good, solid executive order. We are realistic that the current leadership in the state Senate means it might not be the right time for a stronger bill. We need to protect the current executive order. We don't want to see a watering down of what we already have," she said.
Supporters of the plan to raise the age of criminal responsibility in New York are more optimistic about their chances. New York is currently one of just two states, with North Carolina, to try 16- and 17-year-olds as adults.
"I think it's going to be a priority for the governor once other priorities are taken care of," said Paige Pierce, CEO of Families Together New York State. "We aren't surprised or unhappy it is being dealt with outside of the budget. We want the attention paid to it that it deserves."
The issue of how to treat 16- and 17-year-olds in the state's criminal justice system is complicated. Senate Republicans don't want to be soft on crime, or give the appearance of being so, while Assembly Democrats want to provide a host of alternatives to criminal court.
Lawmakers and advocates say that last year they came close to compromise legislation. "We got so close last session, we just ran out of time," said Stephanie Gendell, associate executive director for policy and government relations at Citizen's Committee for Children of New York.
Gendell said that legislators from both sides of the aisle were motivated to deliver on legislation when they heard details of how 16- and 17-year-olds were treated. "Certain pieces of Raise the Age just aren't controversial to anyone. That's why we got so close," said Gendell. "Legislators were surprised to hear that a 16-year-old arrested can be held all night without parental notification, without anyone knowing. The more people learn the more they are motivated to act."
Cuomo did push last year to leave funding in the budget to enact Raise the Age reforms were a deal reached, and that money was there, but no deal occurred. The governor included similar language in this year's executive budget. Advocates are anxious to see if the language makes the final budget bills, setting the stage for an agreement in the months ahead. Cuomo also has bail reform on his agenda for the legislative session ahead.
The governor, Democratic Assembly Speaker Carl Heastie, and Republican Senate Majority Leader John Flanagan continue to negotiate the budget framework.
With no legislative deal reached last year Cuomo took executive action, placing all 16- and 17-year-old inmates in an alternative facility. He followed up by pushing the issue again in this year's State of the State address. The Assembly put forward its own version of the bill in its one-house budget. Senate Republicans have indicated some interest in compromising on reform legislation.
"Part of why this doesn't get passed in the budget is that it is a very comprehensive piece of legislation," said Gendell. "Out bill is very long and there is a lot to it. When we get to legislative session we can talk more about the details. Senator Flanagan said he didn't want to deal with Raise the Age in the budget, he didn't say he didn't want it to happen at all."
[Related: Cuomo's Executive Action on Raise the Age Prompts Questions]