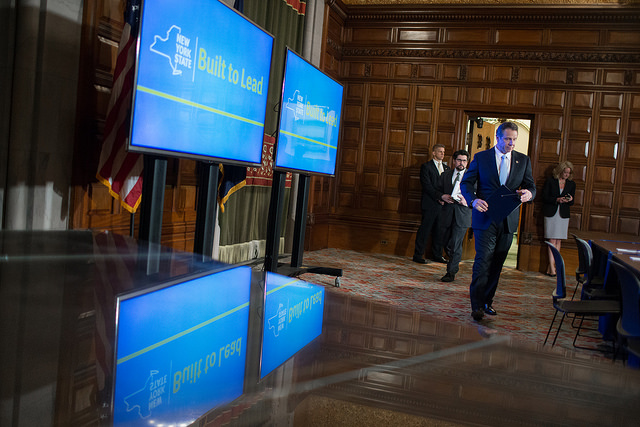 Gov. Cuomo arrives to outline the budget agreement (photo via The Governor's Office)
---
Gov. Andrew Cuomo proposed a sweeping $20 billion plan to build and preserve affordable housing and fight homelessness during his State of the State speech earlier this year. The plan, to be implemented over five years, is expected to create 100,000 new units of affordable housing and 6,000 supportive housing beds for the homeless. The policy book accompanying Cuomo's speech and executive budget outlines several general housing categories and promised more detail "in the coming weeks."
Last week, Cuomo and legislators agreed on a new $147 billion state budget for fiscal year 2017 that includes nearly $2 billion for affordable housing, but it offers no details on where the housing will be built, who will build it, or when the state will start looking for projects to fund.
In the place of specifics is a notice that the plan is to be worked out in a memorandum of understanding (MOU) between Cuomo and legislative leaders. In other words, Assembly Speaker Carl Heastie, Senate Majority Leader John Flanagan, and Cuomo will be allowed to decide behind closed doors, through a negotiated legal document, how to spend the initial $2 billion intended for affordable housing projects. It is unlikely to face scrutiny from the public or rank-and-file legislators.
"The debate over supportive and affordable housing was pushed off because all the oxygen in the room was sucked up by the minimum wage debate," said Assembly Member Andrew Hevesi, a Queens Democrat who has sparred with the Cuomo administration in the past over the governor's funding of supportive housing, of budget negotiations.
Senator Liz Krueger, a Manhattan Democrat, said she believes that Cuomo and legislative leaders will have to spell out what they plan to do with the $2 billion of budget money lined out for housing programs in a resolution later this year and put it to a vote in both houses. "I believe each house will have to vote on a resolution lining out specifically how it's going to be spent," Krueger told Gotham Gazette. "I don't know what they believe, however," she said referring to legislative leaders and the Cuomo administration. "We are a little loosey-goosey with the law around here, it's just the Capitol."
Hevesi said he believes that the same budget negotiating teams that negotiated human services and housing issues from both legislative houses and the Cuomo administration will reconvene to hash out the details later this session. He does not expect a public vote. He said he expects the Assembly, which is dominated by New York City Democrats including Heastie, to work as an advocate for the city and its specific housing needs during negotiations.
During a Tuesday press conference at the Capitol, Assembly housing committee Chair Keith Wright said that housing is still "an open question in the budget" that will be worked out by "MOU."
"This has never been done before," said Krueger. "You are not supposed to have lump sum appropriations decided without the vote of the Legislature. We are talking about a hypothetical plan to spend $20 billion on housing, there should be a robust discussion on how it's being spent, where it's being spent, and the plusses and minuses of any particular approach."
David Friedfel of the Citizens Budget Commission said that while it isn't "uncommon" for MOUs to be used in the budget, it is new to see one used in a program related to housing. "It's not uncommon but it's not something we support," Friedfel told Gotham Gazette. "We've seen these MOUs used to create the pots of money that got Sheldon Silver and Dean Skelos into trouble."
In fact, MOUs are used throughout this year's budget, especially in language funding the governor's major infrastructure projects.
This year's budget also includes more of what good government groups have come to call "slush funds" created for use by the Governor and Legislature.
Cuomo administration officials did not respond to requests for comment about the housing MOU or about when to expect more details about the governor's affordable housing and homelessness plans.
In January, Cuomo outlined some overarching goals for his housing plan. His policy book released for his State of the State and budget address says the intention of his $10 billion housing plan is: "To add critical supply to the state's stock of affordable housing."
It says the plan "will create and preserve 100,000 units across the state. This historic investment offers a transformational blueprint to address the diversity of housing need across the state, strengthen protections for tenants, and create new opportunities for low-to moderate income households. The Plan —which boosts state spending on housing programs by nearly $5 billion—will build and preserve affordable units and individual homes; make homeownership affordable for first-time buyers; increase investments in the revitalization of our communities; promote housing choice opportunities for all New Yorkers; revamp services in ways that better serve clients including New Yorkers seeking affordable housing..."
The policy book is short on other specifics, but promised, "The comprehensive House NY 2020 Plan will be released in the coming weeks." Almost three months later and with the new budget passed, there still aren't many specifics.
The Capital Budget shows a $1,973,475,000 allocation for a "Housing Program" under the Division of Housing and Community Renewal. Nearly $600,000,000 of that goes to the creation of an "Infrastructure Investment Account." The language for the program states:
"In support of a comprehensive, statewide multi-year housing program in accordance with a plan approved in a memorandum of understanding executed by the director of budget, the speaker of the assembly and the temporary president of the senate."
Any of the cash appropriated to the account can be "suballocated to any state department, agency, or public authority for the purposes stated herein, only in accordance with a plan approved in a memorandum of understanding executed by the director of the budget, the speaker of the assembly, and the temporary president of the senate, who shall file such approval with the department of audit and control and copies thereof with the chair of the senate finance committee and the chair of the assembly ways and means committee."
The budget language further stipulates that the cash for the fund be doled out over a five-year period.
The budget also contains a $57.5 million line for the creation of supportive housing, which is long-term housing with social services, and $5 million for emergency and transitional housing for people with AIDS.
"It's concerning that we have a verbal commitment of $20 billion but here we have a $2 billion commitment meant to be spent over five years," said Sen. Krueger, who said it could be worrisome for those interested in building affordable housing. She noted that the nature of construction dictates that all the money wouldn't need to be spent up front, but having it lined out in budget documents would be helpful to those interested in utilizing state cash to subsidize affordable housing.
Mayor Bill de Blasio appears to be one of the many New Yorkers interested in having more details on the state's affordable housing agenda. De Blasio has an ongoing ten-year, 200,000 unit affordable housing plan, as well as several programs aimed at combatting homelessness. "We look forward to seeing further action on increased State support for homelessness and housing as the session continues, and ensuring those priorities receive the scrutiny they merit," de Blasio said in a statement reacting to the passage of the state budget.
The mayor had a similar reaction after Cuomo's State of the State address in January. "You know, it's an initial idea," de Blasio told reporters at the time of the $20 billion, five-year plan announced that day. "We have to see the specifics about timelines and how it's going to play out, but look, it can only be for the good of New York City if the state is making an additional commitment to New York City on affordable housing on top of the 200,000 units we're already committed to."
A representative of the city's Department of Housing Preservation and Development (HPD) had the same message this week. "We are looking forward to hearing more about the State's plans for additional resources for the construction and preservation of affordable housing in New York City," a spokesperson said in a statement emailed to Gotham Gazette.
Cuomo's plan follows de Blasio's, outlined in 2014, to create 80,000 units of affordable housing and preserve another 120,000 units (preservation of units includes extending rent regulations through benefit-agreements with landlords). De Blasio also pledged to create 15,000 supportive housing units over the next 15 years, announcing in December a new supportive plan after negotiations with the state on a new joint program did not yield results (there have been three such programs in the past, stretching back several mayors and governors). Going back to last year, the governor has been a regular critic of de Blasio's management of the city's homelessness crisis. When announcing his supportive housing plan, de Blasio challenged the state to act. It appeared Cuomo was doing so as he delivered his State of the State.
Now, advocates are concerned there may not be all that much new money in the budget. Cuomo administration sources have indicated the $20 billion figure includes "on and off budget resources" including tax credits and funding for housing-related departments such as the Department of Homes and Community Renewal.
Friedfel of CBC said that the use of MOUs makes it harder to follow how money is being spent, but that it also has advantages for those spending it. "It does make it more difficult to track than a more generic appropriation," said Friedfel. "It also gives them more freedom about how to spend it."