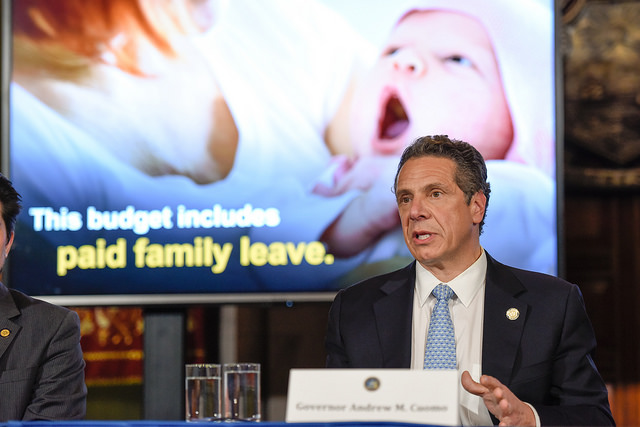 Gov. Cuomo announces the budget deal (photo via The Governor's Office)
---
Governor Andrew Cuomo dismissed the idea of extending state government's legislative session this year to tackle ethics reform during an appearance in Binghamton on Wednesday. "We have a relatively light agenda because we did so much work in the budget," the governor said. "We passed the minimum wage increase, we passed paid family leave, we passed a great package for the middle class, we passed a great package for upstate New York, more education funding than ever before."
It's a concerning statement for some advocates and elected officials who see the session full of unresolved issues - including, but beyond ethics - especially ones that impact New York City, issues that the governor himself tackled during his January State of the State speech or has since brought to the table. Some advocates take the governor's statement as an acknowledgement that he traded away issues Senate Republicans oppose to get a minimum wage increase, and not only in the budget, but for the rest of the legislative session that has just begun and is scheduled to end in June.
All-important control of the State Senate will be up for grabs again in November, but a key battle in the overall war will be decided on April 19 in the contest to fill the seat vacated by former Senate Majority Leader Dean Skelos, recently convicted on federal corruption charges. The April special and impending November elections mean legislators are anxious to get back to their districts while avoiding political landmines.
Ethics reforms are one of the many issues jettisoned from budget talks that lawmakers say were dominated by minimum wage negotiations. Major issues of particular importance to New York City yet to be addressed this year include mayoral control of schools; a multitude of criminal justice reforms, some of which were introduced by Cuomo; housing programs, including a replacement for the 421-a property tax credit aimed at spurring affordable housing development; and two education matters that have been linked in the past: The DREAM Act and the education investment tax credit.
Mayoral Control
Senate Majority Leader John Flanagan and his conference have used Mayor Bill de Blasio as a progressive boogieman since the mayor tried to help Democrats win control of the chamber in 2014. Last year Flanagan successfully beat back the mayor's push for a seven-year extension of mayoral control, getting his negotiating partners to settle on one year. He again maneuvered discussion of renewal out of this year's budget discussions and before a spending deal was even announced, he scheduled hearings on mayoral control for May 4 in Albany and May 19 in New York City. Mayoral control is due to sunset on June 30.
Many Democrats expect Senate Republicans to delay actually acting on mayoral control until as late as possible in order to keep de Blasio "in check." With no other sensible alternative, de Blasio has been gracious about the situation so far, saying he plans to attend the hearings "personally" and welcomes the chance for "dialogue" on the issue.
Criminal Justice Reforms
Gov. Cuomo has supported three major criminal justice reforms over the last two years: Raise the Age, an effort to end New York's practice of treating 16- and 17-year-olds as adults in the criminal justice system; an effort to create independent review of police killings of civilians; and a program to increase data reporting of the race and ethnicity of individuals involved in police interactions. Unable to deliver on the first two last year, Cuomo took executive action. He moved 16- and 17-year-olds out of adult prisons and gave Attorney General Eric Schneiderman's office the discretion to look into police killings of civilians. Advocates were pleased, but acknowledged both issues still needed to be addressed in law.
This year Cuomo has proposed a bill that would give his office the ability to convene an investigation into police killings of civilians but only if certain criteria is met. He has continued to push for Raise the Age but not with the urgency supporters would like. They point out that even being held in separate facilities from older inmates, 16- and 17-year-olds are still treated as adults when arrested and tried, which make negative outcomes and criminal records more likely.
On Tuesday, supporters of a bill that would mandate the state collect data on police interactions with the public gathered in Albany to push Senate Republicans and Cuomo to act on an issue they call "common sense."
The bill, sponsored by Assembly Member Joseph Lentol and state Senator Daniel Squadron, both Brooklyn Democrats, would require the state to collect and report data on the number of tickets and misdemeanor arrests across the state; the number of civilian deaths in police custody or during an arrest; the race, ethnicity, and sex of those charged with misdemeanors and violations; and the geographic location of enforcement-related activity and arrest-related deaths. Lentol said the bill is not "anti-police" but a "transparency" and "open government" tool to improve relations between police and communities across the state. Lentol prodded Gov. Cuomo to act, noting that Cuomo has a similar bill that has failed to garner support.
"Yet again, communities of color were left behind in New York State budget negotiations, with no meaningful advancement of any criminal justice reforms," said Alyssa Aguilera, co-executive director of VOCAL-NY. "Passing the STAT Act this legislative session provides an opportunity for Governor Cuomo and the New York State Legislature to show they value the safety and dignity of all New Yorkers."
Squadron told Gotham Gazette that the bill is one that Senate Republicans "put in a black box, a dark room," never to be seen again. "This isn't something we have debated. We haven't heard their argument against it, it just disappears." Lentol, however, said that he believes police unions are using their influence to block the bill.
Assembly Member Jeffrion Aubry, Democrat of Queens, supports Lentol's bill and said that he feels his constituents and advocates are growing frustrated that the Senate fails to vote on criminal justice reforms year after year. "I think the governor is really going to have to move on some of these bills and not just wave his hands in the air and say 'It's the Republicans'" Aubry said. "We know he can get what he wants. He has an election coming up and he's got to deliver for these communities."
A spokesperson for the governor, Dani Lever, said in a statement that "The governor has and continues to push for comprehensive criminal justice reform to address the treatment of juveniles in the system and the prosecution of fatality cases involving law enforcement. Despite the legislature's failure to agree on these reforms, the governor has taken bold action and issued executive orders appointing a special prosecutor in police cases (the first of its kind in the country) and removing juveniles from adult state prisons. Until the legislature passes real reforms, the governor's executive orders will remain in effect."
Housing
Last year in an unprecedented move, Cuomo put the fate of the 421-a tax abatement program in the hands of the two stakeholder industries - real estate developers and construction unions. Whatever deal they reached on wages in new housing developments utilizing 421-a was to be enacted into law with other reforms to the program, but if they failed, 421-a would sunset. Negotiations floundered and 421-a is dead.
The program is thought to be essential to affordable housing production in New York City, making it profitable for developers to build new rental housing with some affordable units included. When Cuomo rejected compromise legislation crafted by de Blasio last June, it was one of the final straws to break de Blasio's back (along with the mayoral control compromise and more), leading to his now-infamous tirade against the governor on June 30. De Blasio's affordable housing goals rely on 421-a-related production.
On Monday, Cuomo told NY1's Errol Louis that he is looking for a replacement. "You can have a fair program that pays a fair rate to the unions and also a fair rate of profit to the developers," Cuomo said. "I believe there is that balance to be struck. But they have to strike that balance. We're still trying, but the Legislature is not going to approve a plan that kicks the labor unions out of the affordable housing business."
Bill Murrow, the governor's top aide, followed up those comments on Tuesday during a Crain's New York Business breakfast event, indicating that labor and real estate are indeed negotiating again. "The developers, REBNY, and the construction trades...they'll find some common ground. I am hopeful that sometime between now and June that something will actually happen," Mulrow said.
On Tuesday, tenant advocates gathered in Albany to demand that negotiations on 421-a or something like must also include strengthening rent regulations. Delsenia Glover, campaign manager for the Alliance for Tenant Power opened the press conference by condemning the deal that renewed the rent laws last year. "We pretty much got nothing," she said. "At the time Governor Cuomo said they were the 'strongest rent laws in history.' It's not true, we got nothing." Members of the crowd shouted "He lied!"
Glover said she has been disturbed to hear "lamentations" that 421-a is dead, saying she was glad a "giveaway to luxury developers" and "$1.1 billion tax suck" was dead and that assertions that developers won't be able to build affordable housing without it is patently false.
"Our demand," said Glover, "is this: If 421-a or anything that looks like 421-a is revived or created then the rent laws must be reopened, we get rid of vacancy bonus, fix preferential rents, and then maybe we can have a conversation."
A number of legislators who spoke after Glover pushed against the idea of any 421-a renewal. Assembly Member Walter Mosley of Brooklyn said he doesn't use the term '421-a' because "We don't want nothin' like 421-a to resurface, but ultimately we understand if anything like 421-a comes to the floor then we reopen the rent laws. Without that we have no discussion."
Assembly Housing Chair Keith Wright, who introduced a plan of something of a 421-a alternative earlier this year to a tepid response, brought up his proposal in front of the audience that was openly hostile to any replacement. Wright's plan would utilize the state's abandoned property fund to give a subsidy of $100,000 per affordable unit at a cost of about $200 million per year, compared to 421-a's 25-year property tax break and $1 billion annual tax revenue price tag.
"The plan was not...people were intrigued by the idea," Wright told the crowd, seeming to catch himself in an effort to promote the measure, "but listen anything in Albany takes a minute to work up to, but we are still pushing that plan, but we are still under siege."
Wright is a close ally of Cuomo and many expect that his plan was the first shot fired in an effort to restore a 421-a plan. The fact that Cuomo and Wright are openly pushing a replacement and that Senate Republicans are likely to want to deliver for real estate developers makes many advocates think it is a question of "when" not "if" a 421-a replacement comes to the floor of both houses. They hope to keep up public pressure to win some sort of concessions when it takes place.
Other Education Issues
Last year Cuomo tried to connect the DREAM Act that would allow the undocumented access to college tuition assistance and the education tax credit that would give benefits to those who donate to private schools. The DREAM Act has massive support in the Assembly, which has passed the measure repeatedly over the last few years and the education tax credit is a favorite of Senate Republicans. Cuomo's bid at linkage failed last year (he did not attempt to link them again this year, but did include both in his executive budget), but both issues remain on the table and the fact that they were left out of the budget has rankled a number of lawmakers.
Sen. Simcha Felder, a Democrat from Brooklyn who caucuses with Republicans, was said to be so upset that Republicans didn't demand the education tax credit be part of the budget that he didn't conference with them during budget negotiations (he was then the lone Senate "no" vote on the minimum wage and education budget bill). Meanwhile, DREAM supporters like Sen. Jose Peralta, a Democrat from Queens, railed against its exclusion during the late-night budget debate.
For supporters of each measure the problem seems to be that opposition to the other measure has become a litmus test for some in their party's base. Senate Republicans have included language touting the disinclusion of the DREAM Act in the budget on the Senate website, listing it as an accomplishment:
"Rejecting the Use of Taxpayer Dollars to Fund College Tuition for Illegal Immigrants:
"The final budget rejects an Executive Budget proposal that would have cost state taxpayers $27 million and reward people who are here illegally by giving them free college tuition. The measure would have extended all other criteria, exemptions or opportunities found within the education law - including all scholarship and tuition assistance programs funded with state tax dollars - to illegal immigrants while hardworking middle-class families are already being forced to take out massive college loans to pay for higher education."
Meanwhile, public school advocates are entrenched against the education tax credit, saying that it is a taxpayer giveaway to millionaires who will flood their favored schools with donations using up the credit before average families can utilize it. The Alliance for Quality Education, a teachers union-aligned group, has held press conferences and briefings against the policy this year.
Albany Tradition
If the past is indeed prologue than it is a safe bet that many of these issues will not come to a vote in both houses this year. With an important special election, a presidential race, and the entire Legislature up for (re)election, leaders will likely be looking to rest on the work they did in the budget and get back to their districts. While there will be a lot of noise made by the media and good government groups around ethics reform, no one who knows Albany is holding their breath.
Mayoral control of city schools is the only key policy related to New York City facing an expiration date and all-but-sure to see action. The questions are what Senate Republicans demand in exchange for extension, how long it is extended for, and how much they make de Blasio sweat in the process.
Including Wednesday, April 6, there are currently 25 session days remaining until its scheduled end on June 16.