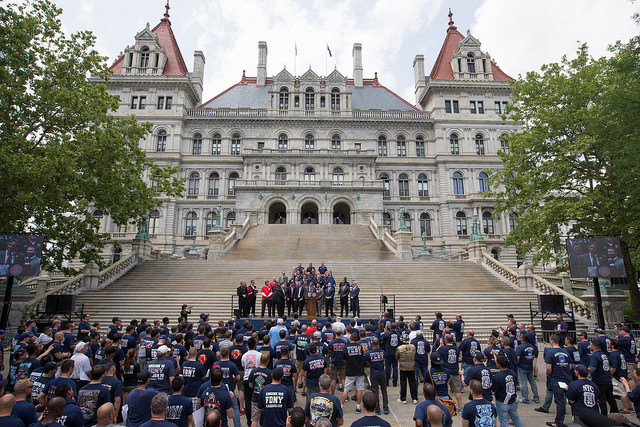 Rally in the capital
---
For the past two weeks state legislators have been preoccupied by the New York presidential primary. They've been charmed by candidates like Hillary Clinton and John Kasich who've come to the capital to pitch their campaigns and ask for support; and by Donald Trump and Ted Cruz who've invited them to attend large rallies.
Legislators have been so distracted that the first two weeks of post-budget session have slipped by without much real legislative action, despite the fact that there is a long list of high-profile issues unsettled in the budget. The point was driven home on Tuesday when both the Senate and Assembly agreed to cancel session scheduled for Wednesday, leaving only 21 meeting days until the session's calendared end in June.
Not only is New York at the center of contested presidential primaries on both sides of the aisle, but there are impending special elections resulting from the convictions of two legislative leaders - and one of those races could help decide which party controls the Senate next year. Legislative staffers are expected to swarm Long Island ahead of the April 19 special election between Republican Christopher McGrath and Democrat Todd Kaminsky, a sitting Assembly member, to fill the seat vacated by former Republican Senate Majority Leader Dean Skelos' conviction. That race has so far been dominated by a debate over ethics.
As session days quickly dwindle, advocates on various issues are concerned that the Legislature has no intention of taking up more controversial topics or cutting any deals, especially on ethics reforms. On Tuesday, the Senate dealt with no legislation during its session. The Assembly passed some resolutions, honored a few guests and voted on a number of bills in honor of "National Crime Victim's Rights Week." Several have no companion bill in the Senate, or do not enjoy any Republican backing.
Last Wednesday, Gov. Andrew Cuomo told reporters in Binghamton: "We have a relatively light agenda because we did so much work in the budget." With major wins on the minimum wage and paid family leave, Cuomo is in a celebratory mood, it seems, and appears little concerned with getting more done at this time.
When asked for his priorities for the remainder of the session during a lunch event hosted by the Association for a Better New York on Tuesday in Manhattan, Cuomo responded jokingly, "No, I'm done...I think I'm good." He went on to list ethics reform, heroin abuse, cancer screening, and the 421-a property tax break program meant to spur affordable housing as his major priorities.
While the magnitude of the recently passed budget and the presidential primary may seem like valid excuses for a light session, the truth is that the state Legislature has a history of taking little action in the post-budget session until the last few weeks in June. Last year the Legislature cancelled session days following the arrests of both former Democratic Assembly Speaker Sheldon Silver and Skelos. This year the lack of session days is particularly concerning to reform advocates worried that ethics is being ignored.
"It's disappointing. There is so much we could be doing like passing real ethics reforms. But unfortunately the Senate GOP have decided to take an extended vacation," said Mike Murphy, spokesperson for Senate Democrats, of the decision to cancel session on Wednesday. Neither the Assembly Majority Democrats nor the Senate Majority Republicans responded when asked for a reason for the cancellation.
Blair Horner of the New York Public Interest Group said he is concerned that while Gov. Cuomo continues to list "ethics" as a top priority he hears the governor speaking more about two particular ethics reforms - pension forfeiture for convicted public servants and the closure of the LLC loophole - rather than the entire legislative package contained in his executive budget proposal. "That's moving the goal post closer to the kicker and not addressing what got Sheldon Silver and Dean Skelos in trouble," said Horner.
Cuomo's ethics package includes limiting legislators' outside income to 15 percent of their salary; the creation of a voluntary public campaign finance system; the closure of the LLC loophole; stricter fundraising disclosure; requiring bundlers to disclose their identities; putting a $25,000 limit on donations to party housekeeping accounts; strengthening the Joint Commission on Public Ethics; pension forfeiture; and increasing the scope of the state's freedom of information laws.
Meanwhile, as session days slip by the convictions of Skelos and Silver drift further from public memory. Government ethics reform polls well with voters, but it isn't clear how long that will remain true. Advocates worry that legislators are simply trying to run out the clock to make it back to their districts for reelection this fall, betting that their incumbency will protect them from public dissatisfaction. Polls do show that while about 9 in 10 New Yorkers believe state government corruption is a serious problem, many do hold favorable views of their local representatives sent to Albany.
"So they're losing April," said Horner of lawmakers and session, "but what worries me is, what is the governor going to do with the time he has left on ethics? We know when he goes from rhetorical support to real support he can move mountains. What is he defining as success? It doesn't sound like it is the same as what was in the budget. How does he visualize victory?"
A Cuomo administration official said the governor is interested in passing the ethics measures contained in his budget proposal. Many are waiting for Cuomo to give ethics reform a full-throttled effort, as he did with the minimum wage leading up to a budget agreement. Neither Senate Majority Leader John Flanagan nor Assembly Speaker Carl Heastie appears to have a sense of urgency around ethics reform - Flanagan has said he doesn't see the need for much, if any, such legislation.
"There's no question we've made significant progress on reform over the past ten years," said Dick Dadey, executive director of Citizens Union, a government reform group. "But the time has past for incremental reforms. We need a comprehensive solution to deal with legislators who enrich themselves at the cost of the public good and that solution must include [increasing] legislative compensation and [limiting] outside income."
Note: Gotham Gazette is published by Citizens Union Foundation, sister organization of Citizens Union.