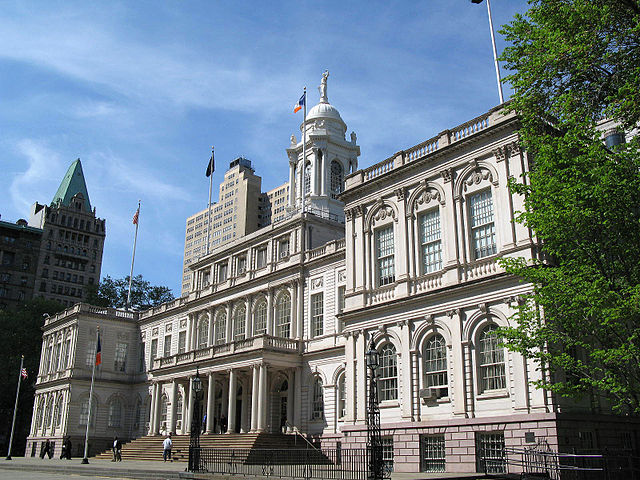 New York City Hall
---
What to watch for this week in New York politics:
This week will be a fun one as New York votes in consequential presidential primaries on Tuesday. Expect a whole lot of last-minute campaigning and getting out the vote. All five major party presidential candidates are focused on New York, with Tuesday's results sure to have a significant impact on the races thereafter. Also Tuesday, several special elections for vacant seats in the state Legislature. Most importantly, the Long Island state Senate race to replace Dean Skelos, which will significantly affect control of the chamber now held by Republicans. There are also three New York City-based vacancies in the Assembly being filled, including Sheldon Silver's old seat.
Polls are open in New York City 6 a.m. to 9 p.m. on Tuesday. You can look up your voter registration status and poll site here.
This week we're also watching for Mayor Bill de Blasio's first Staten Island town hall, set for Wednesday evening. And, any new information that may surface around the issues that have been dogging de Blasio and his administration of late: investigations into the handling of a deed restriction removal on a Lower East Side property; bribery of NYPD officials; and the mayor's fundraising.
And, it's Earth Week, leading up to Friday's Earth Day, watch for a variety of environment-related events and announcements.
As always, there's a great deal happening at the City Council and all over the city, with many events to be aware of. See below for our day-by-day rundown.
***Do you have events or topics for us to include in an upcoming Week Ahead in New York Politics?
Email Gotham Gazette editor Ben Max: This email address is being protected from spambots. You need JavaScript enabled to view it.***
The run of the week in detail:
Monday
On Monday, Mayor de Blasio will appear on Hot 97's Ebro in the Morning to discuss the presidential primary at 9:30 a.m. At 1:30 p.m. "the Mayor will host a press conference related to the mosquito season and Zika preparedness...Prior to the press conference, the Mayor will tour a mosquito lab at the Public Health Lab." And at 5 p.m. the Mayor will appear on PIX 11 News to discuss the presidential primary.

On Monday, Gov. Andrew Cuomo will appear at two phone-bank kick-off rallies in support of Hillary Clinton for President. At both events, one in Buffalo and one in Rochester, Cuomo will join former President Bill Clinton.
City Council Speaker Melissa Mark-Viverito will attend an 11 a.m. Verizon workers strike march and rally, 230 West 36th Street. At noon, Mark-Viverito will present an award at a Girl Be Heard luncheon at One Time Warner Center.
At the City Council on Monday:
9:30 a.m., the Subcommittee on Zoning and and Franchises will meet to address two land use applications.
10 a.m., the Committee on Transportation will meet to examine the City's actions taken toward reducing vehicle emissions, to consider a bill requiring that the Department of Transportation establish a pilot program for street parking electric vehicle charging stations, and to vote on a (non-binding) resolution to make Earth Day 2016 car-free for private and all non-essential city vehicles.
10 a.m., the Committee on Housing and Buildings will meet to consider seven bills, including a bill to alter permit filing fees for new buildings and alterations, a bill to create a real-time enforcement unit in the Department of Buildings responsible for enforcing construction codes, a bill imposing additional penalties for performing construction work without a permit, and others.
11 a.m., the Committee on Rules, Privileges and Elections will meet to receive several communications from the Mayor regarding the appointment of individuals to the Taxi and Limousine Commission, the Landmarks Preservation Commission, the Art Commission, and the Civilian Complaint Review Board.
1 p.m., the Committee on Civil Rights will meet to vote on a resolution recognizing March 5 as the official annual "Three-Fifths Clause Awareness Day" and a resolution calling upon Congress to amend Article 1, Section two, Paragraph 3 of the Constitution of the United States, known as the "three-fifths clause."
1 p.m., the Subcommittee on Planning, Dispositions and Concessions will meet to address several land use applications.
At 8 a.m. Monday, "Brooklyn Borough President Eric L. Adams will lead local leaders and dozens of Brooklynites on his second annual Bike-to-Work ride, as he kicks off Earth Week celebrations in and around the borough. The event will highlight the positive impact that New Yorkers can have on their local environment by using pedal power to get around the city."
At noon, Borough President Adams "will cut the ribbon on a free legal services clinic operated in collaboration with the Brooklyn Bar Association Volunteer Lawyer's Project, Brooklyn Legal Services, the Veteran Advocacy Project and the Domestic Violence Project of the Urban Justice Center, and Legal Information for Families Today (LIFT) at Brooklyn Borough Hall."
At noon on the steps of City Hall, City Council Member Andy King will lead a rally calling on the City Council to pass the aforementioned resolution calling on the federal government to add an amendment to the U.S. Constitution negating the Three-Fifths Compromise. Participating organizations will include the NAACP, the National Action Network, the Justice League, The Black Institute, and others.
On Monday at 1 p.m., schools Chancellor Carmen Fariña will visit a literacy pilot program for students with print-based disabilities at PS 57 on Staten Island. At 6:15 p.m., Fariña will deliver brief remarks at AP Para Todos family event at George Washington Educational Campus in Manhattan.
Also at 1 p.m. Monday, Comptroller Scott Stringer will deliver remarks at Communications Workers of America Verizon strike rally and march, at Verizon Wireless, 125 West 42nd Street.
At 5:30 p.m. Monday, the Queens Borough Board, chaired by Borough President Melinda Katz, will review details and vote on whether to recommend approval of the creation of the JFK Industrial Business Improvement District, which would support the many air cargo and service-related business near John F. Kennedy International Airport. Also present at the event will be Kris Goddard, executive director of the Neighborhood Development Division at the Department of Small Business Services, Barbara Cohen, consultant to the JFK IBID, and Dennis Walcott, president and CEO of the Queens Library.
At 6:00 p.m., City & State will be recognizing 50 of New York's most prominent leaders in government, business, and media over the age of 50 during a reception and dinner at Federal Hall. The ceremony will be moderated by Betsy Gotbaum, former Public Advocate.
At 6 p.m., Council Member Helen Rosenthal will hold her third annual Town Hall, featuring representatives from over a dozen city agencies who will be available to answer questions from the public. Council Member Rosenthal will also announce the year's winning Participatory Budget project at this event.
At 6:30 p.m. Monday, Fordham University will host "What Is Happening? Part II: A Discussion of the 2016 Primaries" with Alexis Grenell, political strategist and City and State columnist, Jessica Proud, Republican strategist and partner at the November Team, and Dr. Christina Greer, political science professor at Fordham, who is organizing and moderating the discussion.
Tuesday
Tuesday is presidential primary day in New York. Registered Democratic and Republican votes, who registered by certain deadlines, are able to vote in their party primary.
Also, Tuesday will see several special elections - open general election votes for registered voters in the relevant districts - in the races to replace both former Assembly Speaker Sheldon Silver (downtown Manhattan) and former Senate Majority Leader Dean Skelos (Long Island) will take place on Tuesday. There are also two other New York City-based special elections for vacant Assembly seats.
At the City Council on Tuesday:
10 a.m., the Committee on Health will meet on a bill requiring the City to provide defibrillators at youth-league baseball fields on City-owned land at no cost.
10 a.m., the Committee on Youth Services will hold an oversight meeting for elementary and middle school summer programs.
11 a.m., the Committee on Civil Service and Labor will meet on a bill amending the 2002 Displaced Building Services Worker Protection Act, so that it includes a broader set of employees protected under the law. The law requires that employers evaluate and retain eligible employees of a building that has just been sold.
11 a.m., the Committee on land use will meet.
1 p.m., the Committee on Consumer Affairs will meet on three bills requiring that the Department of Consumer Affairs provide outreach and education on consumer protection issues for women, seniors, and immigrants.
1 p.m., the Committee on Mental Health, Developmental Disability, Alcoholism, Substance Abuse and Disability Services will meet jointly with the Committee on Education to conduct an oversight meeting addressing the needs of students with dyslexia and related learning disabilities, to vote on a resolution requiring the Department of Education to include climate change lessons in K-12 schools' curriculum, and to vote on a resolution requiring the certification of teachers, administrators, and instructors in the area of dyslexia and related disorders.
1 p.m., the Committee on Sanitation and Solid Waste Management will hold an oversight hearing addressing the reduction of food waste in New York City.
At 9 a.m. Tuesday, NYC Human Resources Administration Chief of Staff Jennifer Yeaw will host a panel of community respondents to discuss HRA's efforts to improve ease of access for the Supplemental Nutrition Assistance Program (SNAP) during one in a series of CUNY Urban Food Policy Institute spring 2016 forums. Speakers include Brady Koch, COO of the Food Bank for New York City, and Maureen Lane, co-director of the Welfare Rights Initiative at Hunter College; the moderator will be Jan Poppendieck, Professor Emerita of Sociology, Hunter College and Senior Faculty Fellow, CUNY Urban Food Policy Institute.
At 1:30 p.m. Tuesday, the Urban Democracy Lab will host an event, "Insights into Housing New York: A Five-Borough, Ten-Year Plan" with Daniel Hernandez, Deputy Commissioner for Neighborhood Strategies at the Department of Housing, Preservation, and Development. The event will discuss Mayor de Blasio's housing plan, and Hernandez will be joined by Michael Ralph, Director of Metropolitan Studies at NYU.
At 6:30 p.m. Tuesday, Jarrett Murphy, Executive Editor of City Limits, will be moderating a Brooklyn Historical Society panel of experts on "The Changing Face of Brooklyn's Latino Community," featuring Nisha Agarwal, Commissioner of the Mayor's Office of Immigrant Affairs; Laird Bergad, Executive Director of CUNY's Center for Latin American, Caribbean and Latino Studies; and Javiér Valdes, Co-Executive Director of Make the Road NY.
Wednesday
At the City Council on Wednesday:
10 a.m., the Committee on Finance will vote on a resolution approving designation changes of certain organizations to receive funding in the Expense Budget.
1:30 p.m., the City Council will meet for a full-body Stated Meeting, which, as usual, will be prefaced by Speaker Mark-Viverito's pre-stated press conference.
Starting at 8:30 a.m. Wednesday, City and State NY, Albany Law School, and Rockefeller College host a one-day government ethics conference and training seminar. The event will give executive training for professionals and government officials on the theory and practice of ethics in state government, and will feature Richard Ravitch, former Lieutenant Governor of New York; Alphonso David, counsel to the governor; Eleanor Randolph, veteran New York Times editorial writer; Frederick A.O. Schwarz Jr.; Blair Horner, New York Public Interest Research Group; and others.
At 6 p.m. Wednesday, the Department of Education will host a public meeting for the Panel for Educational Policy.
At 6:30 p.m. Wednesday, Fordham University will host a discussion, "Should there be Quotas for Female Representation," featuring Mary Wilson, founder and president of Ms. Foundation for Women and The White House Project; Zenaida Mendez, director of the MNN El Barrio Firehouse Community Media Center; Alexis Grenell, political strategist and City and State columnist; and Dr. Christina Greer, Fordham political science professor and organizer and moderator of the event.
At 7 p.m. Wednesday, Mayor Bill de Blasio will be holding a town hall on Staten Island, at PS 48 in Concord. It will be a "Working for Our Neighborhoods" town hall, open to all local concerns.
Thursday
On Thursday morning, "New York City Sanitation Commissioner Kathryn Garcia will address a breakfast meeting of Trustees of the Citizens Budget Commission" (CBC). "She will discuss her priorities for the Department of Sanitation, including improving waste management, recycling, and environmental impact."
At the City Council on Thursday:
9:30 a.m., the Committee on General Welfare will hold an oversight hearing on the Department of Homeless Services's 90-day review.
10 a.m., the Committee on Higher Education, jointly with the Committee on Health, will hold an oversight hearing to review the status of nursing programs at the City University of New York (CUNY).
1 p.m., the Committee on Public Housing, jointly with the Committee on Environmental Protection, will hold an oversight hearing examining NYCHA's record in removing mold from public housing, and on a bill establishing a local licensing requirement for workers who do work on mold removal.
1 p.m., the Committee on Veterans will vote on a resolution calling on Congress to pass, and the President to sign into law, the Toxic Exposure Research Act, which would establish in the Department of Veterans Affairs a national center for research on the diagnosis and treatment of health conditions of the descendants of veterans exposed to toxic substances during their service in the Armed Forces.
1 p.m., the Committee on Economic Development will hold an oversight hearing evaluating opportunities for women entrepreneurs in New York City.
At noon, the New York Civil Liberties Union and other civil rights groups will rally at City Hall in support of the Right to Know Act, which would require NYPD officers to identify themselves and would aim to protect New Yorkers against unconstitutional searches.
Friday and the weekend
Friday is Earth Day, and includes the Car Free Day initiative led by City Council Transportation Committee Chair Ydanis Rodriguez.
At 8 a.m. Friday, NACOLE and John Jay College will host "Building Public Trust: Generating Evidence to Enhance Police Accountability and Legitimacy", which will feature research in the area of civilian-led law enforcement accountability, place scholars in conversation with practitioners and funders, and begin a conversation about the use of law enforcement data now becoming publicly available. NYPD Inspector General Philip Eure will be offering commentary on the civilian-led accountability field, among others speaking.
At 8 a.m. Friday, U.S. Senator Charles Schumer will be speaking at the Innovation Breakfast Series, hosted by Civic Hall and NY Tech Meetup. The series offers prominent New Yorkers working in technology, civic and social innovation an opportunity to hear from leaders in government and industry.
***
Have events or topics for us to include in an upcoming Week Ahead in New York Politics? Email Gotham Gazette executive editor Ben Max any time: This email address is being protected from spambots. You need JavaScript enabled to view it. (please use "For Week Ahead" as email subject).
***
by Kelly Fan and Ben Max
@GothamGazette