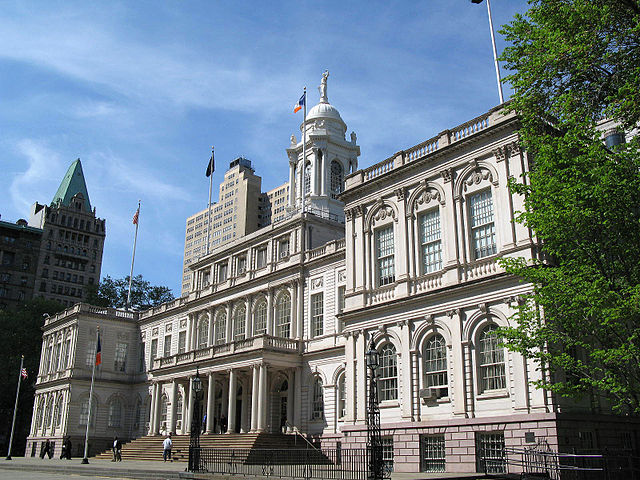 New York City Hall
---
What to watch for this week in New York politics:
The week starts with controversy swirling around Mayor Bill de Blasio and allegations that he and his team may have broken state campaign finance laws during 2014 attempts to flip the state Senate to Democrats. There has been a steady stream of recent news about several investigations related to both de Blasio's administration and campaigning, the removal of deed restrictions on a Manhattan property, bribery of NYPD officials, and the relationship between donations to a de Blasio-attached nonprofit and city action.
On Friday, The Daily News broke the news that the special counsel at the state Board of Elections had referred a criminal probe to the Manhattan District Attorney's office around the 2014 state Senate fundraising that de Blasio and his team spearheaded, possibly breaking laws by funneling donor money through Democratic county committees to individual candidates in order to skirt donation limits. On Sunday, a lawyer for de Blasio and his allies released a letter to the BOE counsel, Risa Sugarman, refuting her allegations and criticizing her behavior (including the possibility that she leaked her referral to the Daily News). De Blasio will hold a press conference on another matter Monday, but is due to take questions from the press - see below for details. The mayor has not been charged with a crime and has maintained that both he and his team have acted legally.
Meanwhile, de Blasio will present his fiscal year 2017 Executive Budget on Tuesday. In January, the mayor presented his preliminary budget, which outlined $82 billion in spending, which then led to a month of City Council hearings, and the Council's formal budget response. Essential in the meantime was a fiscal 2017 state budget agreement, which was reached in principle on March 31. De Blasio will release his executive budget, which will kick off another round of Council hearings and behind-the-scenes negotiations leading to a deal by June 30.
In other news, there is a great deal of attention being paid to the New York City Board of Elections and New York voting-related rules, including party registration deadlines, early voting, and more. The New York presidential primaries that took place last week shined a bright light on New York's antiquated voting laws and long-standing city BOE dysfunction. There will be multiple press conferences on these subjects Monday at City Hall - see below for details. Gotham Gazette has learned that the City Council plans to hold an oversight hearing, and, for yet more information, read our new rundown of the many voting-related proposals that New York could adopt in efforts to increase election access and participation.
As always, there's a great deal happening all over the city this week - see our day-by-day rundown below - though do note that there are no City Council hearings scheduled this week.
***Do you have events or topics for us to include in an upcoming Week Ahead in New York Politics?
E-mail Gotham Gazette editor Ben Max: This email address is being protected from spambots. You need JavaScript enabled to view it.***
The run of the week in detail:
Monday
On Monday at 9 a.m. "First Lady Chirlane McCray will deliver remarks regarding the mental health workforce at the NYU Silver School of Social Work and the Latino Social Workers Organization's "Sí Se Puede: Social Workers United for Latino Advancement" Conference."
On Monday at 10 a.m., "In the wake of the powerful earthquake that recently devastated Ecuador, with a death toll of over 600 victims and still rising; Bronx Borough President Ruben Diaz Jr.; New York State Assembly Member Marcos Crespo and members of the Ecuadorian community will host a "Day of Solidarity" press conference to highlight ways to provide aid to Ecuador."
On Monday at 11 a.m. at City Hall, "social justice advocates, immigrants' rights advocates, community-based organizations, organizing groups, and good government organizations will hold a press conference...to call for improved voting systems and a more transparent Board of Elections, in light of the massive, inexcusable voter roll purges that affected the Presidential primary elections this past Tuesday, as well as several special local elections."
At noon, the Campaign for Children will rally on the steps of City Hall with Council Member Mathieu Eugene, elected officials including Manhattan Borough President Gale Brewer, parents, teachers and students to save summer camp programs for children throughout New York City, and call for salary parity for child care workers. The rally will advocate for the restoration of summer camp funding, which was not included in Mayor Bill de Blasio's preliminary budget.
Also at noon Monday, city Comptroller Scott Stringer will attend the New York Daily News / CUNY, Citizenship NOW call in center, at Guttman Community College in Manhattan.
At 1 p.m. Monday in Brooklyn, "Mayor de Blasio will host a press conference to make an announcement on utilities," according to his public schedule.
Also at 1 p.m. Monday at City Hall, "Assembly Member Sepúlveda and Senator Diaz to hold a news conference to announce they will introduce legislation to make it a felony for boards of elections to dump or archive voters from registration rolls, requiring that such removals only be made upon confirmation either of the death of a voter or the out-of-state relocation of a voter, and to require boards of elections to notify voters by email, whenever possible, of changes in polling sites. Sepúlveda and Diaz will also announce their support of legislation to provide for automatic registration of voters when they apply for or renew their driver's license or non-driver ID (with the option for persons to opt out of becoming registered) and to allow voters to change party registration as easily and under the identical criteria applicable for new voter registration."
At 2 p.m. Monday at NYPD headquarters, Manhattan District Attorney Cy Vance, NYPD Commissioner Bill Bratton and other officials will announced charges in an interstate gun trafficking case.
The Times Square Alliance annual meeting will be Monday at 4 p.m. Manhattan Borough President Gale Brewer is among those who will speak. The Alliance will surely discuss (and celebrate) recently enacted laws to change how pedestrian plazas are governed in New York City, which will give Times Square new commerce and flow zones to create more order.
At 6 p.m., City Council Member Laurie Cumbo will present her "Vision for the 35th District."
Tuesday
At 8 a.m. Tuesday, City Council Member Dan Garodnick will host a panel discussion on family leave in light of the recent passage of the New York State budget, which includes a policy that will eventually call for 12 weeks of paid family leave to be available to most workers. At "Fathers and Family Leave: Making it Work," speakers will include Garodnick; Dr. Kenneth Matos, of the Families and Work Institute; Christopher Persley, of the Center for Parental Leave Leadership; Anil Dash, entrepreneur and activist; Simon Isaacs, Co-Founder of Fatherly.com; Professor Michael Kimmel, Director of the Center for Studies of Men and Masculinities at Stony Brook University; and Michael Neuwirth, Senior Director of Public Relations at Dannon North America.
On Tuesday at 10 a.m. at City Hall, City Council Member Mathieu Eugene, chair of the Youth Services Committee, "will rally with Campaign for Children and other youth advocates to urge Mayor Bill de Blasio to expand the funding for the Summer Youth Employment Program (SYEP) and to add more job opportunities for disconnected youth."
At 2:30 p.m. Tuesday, Mayor de Blasio will present his Executive Budget for Fiscal Year 2017. [Read our preview here.]
Wednesday
At noon Wednesday, the Manhattan Institute's The Beat will host "Getting From Here to There: Unclogging NYC's Transportation," featuring Pat Foye, executive director of the Port Authority of NY and NJ; David Weprin, Assembly member from Queens; Sam Schwartz, founder and president of Sam Schwartz Engineering; and Nicole Gelinas, senior fellow at the Manhattan Institute.
Also at noon Wednesday, the Assembly Standing Committee, the Assembly Subcommittee on Workplace Safety, and the Assembly Commission on Skills Development and Career Education will hold a public hearing in Manhattan to examine best practices for workplace safety programs and evaluate additional opportunities for worker training.
Thursday
At 8 a.m. Thursday, Community Voices Heard Power will host a panel, featuring elected officials who have been endorsed by CVH Power in the past, to discuss democracy, civic engagement, advocacy, community building, and providing resources to those in need. The panel will include New York State Senator Gustavo Rivera, New York State Assemblymember Michael Blake, New York City Council Members Carlos Menchaca and Ritchie Torres, Yonkers City Council Member Christopher Johnson, and Newburgh City Council Member Karen Meijia, and will be moderated by Christina Greer, associate professor of political science at Fordham University.
At 6 p.m. Thursday, WE ACT for Environmental Justice will host a candidate forum in the race to replace Rep. Charles Rangel to discuss a variety of issues facing residents that impact their health and the environment, and give voters the opportunity to ask District 13 congressional candidates about their stances on environmental policy.
Friday and the weekend
At 8:15 a.m. Friday, Robert L. Capers, U.S. Attorney for the Eastern District, will speak at a CityLaw breakfast event, sponsored by the Center for New York City Law at New York Law School.
***
Have events or topics for us to include in an upcoming Week Ahead in New York Politics? E-mail Gotham Gazette executive editor Ben Max any time: This email address is being protected from spambots. You need JavaScript enabled to view it. (please use "For Week Ahead" as email subject).
***
by Kelly Fan and Ben Max
@GothamGazette