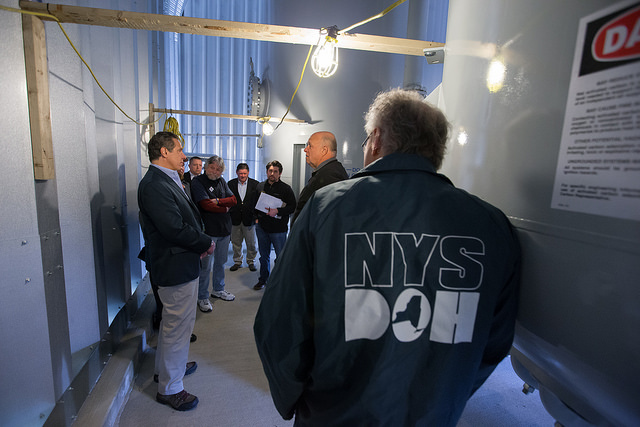 Cuomo tours a water filtration area in Hoosick Falls (photo: Governor's Office)
---
A number of state legislators once eager to hold hearings into drinking water contamination by a cancer-causing chemical in the small town of Hoosick Falls now seem loathe to even discuss the matter. The change in tune by some seeking to hold the Cuomo administration accountable and ensure a public discussion of the issue appears to have accompanied the passage of the new state budget.
The Assembly, which is controlled by Democrats, announced in February that hearings would be held into the matter in April. Assemblymember Richard Gottfried of Manhattan, chair of the health committee, and Assemblymember Steve Englebright of Long Island, environment committee chair, were set to oversee them.
Several lawmakers stressed the importance of using the hearings to discuss the state's decaying water infrastructure and dealing with and preventing the kind of contamination found in Hoosick Falls, a village in Rensselaer County not far from the Vermont border. Others were interested in examining why it took the state a year to warn residents about the safety of their water after being contacted by concerned residents and the federal Environmental Protection Agency. The topic of drinking water protection and infrastructure was put forward by some Assembly Democrats and their allies as one of the issues that needed more funding and could be provided for by the millionaire's tax being proposed by Assembly Speaker Carl Heastie.
With the budget resolved at the end of March and April nearing an end, hearings have not been scheduled and lawmakers who were supposed to be involved don't want to discuss them. The offices of Gottfried and Englebright failed to return inquiries into the status of the hearings. Neither did the offices of Senate health committee Chair Sen. Kamp Hannon of Long Island nor Sen. Kathy Marchione, who represents Hoosick Falls.
A number of legislators and advocates are concerned the hearings were traded away in a budget deal, a concession won by the Cuomo administration. The Hoosick incident has proven embarrassing for Gov. Andrew Cuomo and his team - the administration was slow to respond and has sought to downplay criticism of how it handled the matter. The Cuomo administration did not respond when Gotham Gazette asked if the governor supports hearings.
Assemblymember Steve McLaughlin, a Republican who represents Hoosick Falls and surrounding areas, originally pressed for hearings and said he is concerned the hearings and, in turn, his constituents were used during budget negotiations. "I told them in February: 'Don't use my constituents as leverage,' and it looks like that is exactly what happened." McLaughlin said he wouldn't be surprised to see federal hearings on the matter before the state takes action because Congressional Rep. Chris Gibson represents the area. Gibson's office did not return an inquiry into whether he would support federal hearings. (Gibson has indicated he exploring a run for Governor in 2018.)
Concerns were raised in 2014 about the possibility of contaminated drinking water leading to increased cancer rates in Hoosick, a town of about 4,000. Emails obtained by The Times Union and Politico New York show that the state Department of Health resisted pressure from the Environmental Protection Agency to warn residents about the safety of their water for nearly a year. It wasn't until December 2015 that the EPA issued a warning to residents notifying them that their drinking water was testing well above acceptable levels of a chemical known as PFOA. The state declared it a disaster area and has since begun installing filters on local wells. Residents, meanwhile, are still scared that they face an increased risk of cancer.
Cuomo has lashed out at the EPA, criticizing the agency for not establishing the amount of PFOA safe to consume over the long-term. "Just pick it, you have the scientists, EPA," Cuomo said on March 14 during his first visit to Hoosick Falls since the water crisis began. "We want a national standard because this shouldn't be a question for anyone.
Cuomo came under considerable criticism for failing to visit the town for months after declaring its water unsafe to drink. Then, his Sunday morning visit was only announced to the press a few hours ahead and local officials were left in the dark.
"If this happened in Westchester there wouldn't have been any hesitation to hold hearings," said McLaughlin, who said he plans to press the Assembly to reschedule hearings immediately. "This is just shameful. I may just hold hearings myself. I don't know who would show, but it can't be ignored." McLaughlin said he hasn't been told directly the hearings are not happening. Heastie's office did not respond when Gotham Gazette asked if the speaker still supports holding hearings. In February, Heastie's spokesperson told Politico New York that the Assembly was planning April hearings.
McLaughlin's counterpart in the Senate, Marchione, is considerably less troubled by a lack of hearings. She told Susan Arbetter on the Capitol Pressroom radio program in February, "We will discuss that [hearings] because whether the state didn't move quick enough or whether they thought they moved fast enough, sometimes you have to hear from the other perspective why they moved slowly, when did they actually know?"
Marchione told Politico New York last week that she doesn't want hearings until the Department of Health completes blood testing of Hoosick Falls residents. Her message echoes that of Senate Majority Leader John Flanagan, who said in February he thought hearings should wait until after the problem is fixed. Fixing the problem is more important than figuring out who to blame," Flanagan told Politico New York.
Flanagan's office did not return request for comment on whether the majority leader still supports hearings.
McLaughlin said he is dubious of assertions that hearings should not be held while the problem is being solved. "The people of Hoosick Falls deserve clean water, but they also deserve the truth," McLaughlin said.
Advocates say New York could lead on what has become a national focus by setting new drinking water standards, and holding hearings to examine the events in Hoosick Falls to determine how to best prevent and respond to contamination in other areas of the state.
"There is no doubt government needs to be held accountable," said Liz Moran of Environmental Advocates of New York. Senator Marchione publicly called for hearings and now she says we don't need them. This is very high stakes for her constituents and they will hold her accountable."
In a March op-ed in The Times Union, Moran's group wrote that "Public hearings can also address the root causes behind such contamination: America's broken chemical policy of calling things safe until someone gets sick, and the lack of strong regulations and enough cops on the beat to keep people safe."
While Moran said she is disappointed by the lack of hearings, she noted that the state budget does include some items that deal with the overall issue of ensuring clean, reliable, and safe drinking water across the state.
"Water safety is definitely something that is in the spotlight because of Flint [Michigan]. It is much more on the minds of New Yorkers," Moran told Gotham Gazette, with an additional nod to Hoosick Falls. "There are lines in the budget to provide funding to detect water quality and a grant program to help repair aging water infrastructure. More can always be done but it's a positive step."