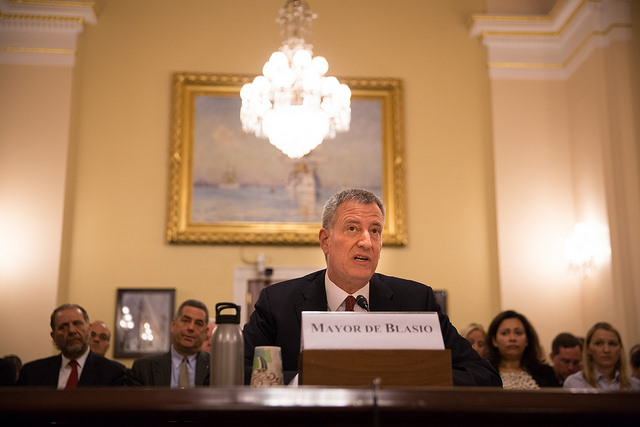 De Blasio (photo: Michael Appleton/Mayoral Photography Office)
---
Mayor Bill de Blasio and his allies are under investigation for using a common fundraising tactic employed in legislative races across the state. Risa Sugarman, the state Board of Elections enforcement counsel hand-picked by Gov. Andrew Cuomo, kick-started the investigation with a criminal referral to Manhattan District Attorney Cy Vance. Now, as controversy swirls around the mayor, the degree to which he and his team exploited state election law could be what the case hinges on, experts say.
Sugarman's memo, which was leaked to the New York Daily News and the New York Post, alleges that de Blasio's allies funnelled millions of dollars through county party committees to specific Democratic candidates in a 2014 bid to flip control of the state Senate. Sugarman's referral raises questions about de Blasio's team's practices, but also about why their use of the campaign finance system in such a way is under scrutiny when the practice appears routine.
"There is nothing novel about the 2014 Democratic Party campaign to elect Democratic candidates to the state Senate, other than your attempt to selectively criminalize it," Laurence Laufer, an attorney for de Blasio and others targeted by the investigation, wrote in response to Sugarman. Laufer's letter was made public over the weekend as de Blasio and his allies sought to respond to the news of the leaked memo and ongoing investigation.
Laufer continued, claiming: "Beyond the legal and regulatory issues implicated by your office's memorandum being improperly leaked to the press, your memorandum reflects either a shocking lack of understanding or a complete disregard of the most fundamental aspects of the state's election laws."
While making this claim, however, neither Laufer nor de Blasio has explained how the mayor's attempt to flip the Senate was legal. Laufer did not return a request for comment and when answering a series of questions from reporters on Monday at an unrelated news conference, de Blasio did not go into a detailed justification. Instead, the mayor said that others have done similarly while asserting "unequivocally" that he and his associates did not break any laws.
A look at the fundraising practices of candidates from both sides of the aisle involved in tight elections across the state generally reveals large donations from party campaign committees. State election law limits donations to candidates to $10,300, but the cap to state and county political committees is $103,000. Former Mayor Michael Bloomberg used his fortune to bolster the Senate Republican Majority by large donations to their party accounts, which made their way to individual candidates. Assembly Democrats routinely use the tactic and Senate Democrats and Republicans have done the same during recent special elections. Donors are usually aware that their large donations to party accounts will be quickly sent out to candidates in tight races.
The question for many becomes: What is different about this case?
Blair Horner, executive director of the New York Public Interest Research Group, said he believes the case, as raised by Sugarman, rests on the ability to show coordination by de Blasio's allies. He is not sure whether that will meet a legal test.
"The New York State campaign finance laws are such a disgrace already, but then they've created the ability to use the party committee to circumvent campaign limits. My understanding is the more explicit you are in how the money is to be spent the closer you get to trouble," Horner said. "It's going from implicit, where everyone knows this is how things work, to being explicit and writing instructions on checks. But in the end it will be up to prosecutors to decide whether they think it is criminal.
Sugarman's memo details that some checks being sent to county committees were labeled "per mayor" and alleges de Blasio's allies effectively took over party committees, ensuring the large donations they solicited would go into a party account and then quickly out to a candidate.
"Based on the evidence that these transfers were pre-arranged, reasonable cause exists to believe that all the contributions were made to the county committees simply as straw donors. Therefore, they should be considered contributions to the candidates and subjected to the candidate's contribution limits," reads the memo.
Sugarman cites election law that states "willfully" collecting and coordinating donations "for the purpose of evading contribution limits" is a Class E Felony.
"It is my understanding that what makes this different was that donations were specifically earmarked for certain campaigns. That there was explicit coordination," Richard Briffault, professor of law at Columbia, told Gotham Gazette. "How do you prove it? You have to get the right testimony to make the case."
On Monday, de Blasio told reporters that all of his fundraising activities are vetted by lawyers and he is confident he violated no laws. "It's outrageous and, again, I don't know what's motivating it," de Blasio said of Sugarman's accusations, which had to be approved by BOE commissioners. "I think Mr. Laufer's letter raised a number of good questions about what might be motivating it, but the facts that he lays out about the consistency in our state law and the fact that my predecessor and so many other people live by those exact same standards, I think it speaks for itself."
Sugarman's position was created in a 2014 deal between Gov. Andrew Cuomo and the state Legislature that saw the end of the Moreland Commission on Public Corruption. The idea behind it is to give more teeth to enforcing election law.
Since starting at the BOE in September, 2014, just around the time de Blasio's efforts to flip the Senate kicked into high gear, Sugarman has repeatedly butted heads with BOE commissioners who have expressed concerns that she has neglected routine enforcement - including reminders and fines for candidates that neglect their filings - and has refused to explain to them the standards by which she pursues investigations. Sugarman did not return a request for comment.
"I agree with Laufer's memo and his concerns about selective prosecution," Douglas Kellner, one of two Democratic BOE commissioners, told Gotham Gazette. "All four commissioners have been complaining Sugarman has not explained standards by which she refers criminal complaints or why she has abandoned the civil process of fining people who violate disclosure."
Gregory Peterson, one of two Republican BOE commissioners, echoed Kellner's concerns. "Every time we ask what her standards are she tells us it is her business," Peterson told Gotham Gazette. "Selective enforcement is a slippery slope where you have to wonder whose agenda are you riding on? This case may have been selective enforcement, but I think she was right on."
Despite their concerns about Sugarman's approach, both Kellner and Peterson indicated they believe her take on de Blasio's efforts to switch the Senate may be correct and warrant further examination.
"Without commenting on any particular case I can say there is nothing wrong with giving to a party committee. There is nothing wrong with transferring from a party committee to a candidate," Kellner told Gotham Gazette. "But you can't have an agreement to do all of the above."
Peterson said similarly. "You can't do indirectly what you can't do directly," said Peterson. When asked what makes the de Blasio case different from any of the many other instances of donors using party accounts to boost candidates, Peterson responded: "I think this one timing wise...it was done one, two, three, boom! A lot of times a union donates to a party account and it sits there for a while. In the mayor's case you have a note saying 'per the mayor' and the money goes in and it goes out just as quickly."
It will be up to investigators at DA Vance's office to decide whether the tactics of de Blasio and his allies amounts to a prosecutable offense. Vance, a Democrat like de Blasio, works closely with the mayor's administration. On Monday, as de Blasio repeatedly questioned Sugarman's motivation, he said defiantly, "we welcome a full airing of the facts. I want all the facts out there because I'm quite convinced the facts will show that everything was done legally and appropriately."
Regardless of whether the case comes to court a number of observers believe Sugarman's memo could lead to more scrutiny of the use of party accounts in general.
"She may be inadvertently opening an attack on all committees and be setting a precedent," said Horner. "How do you stop at just one?"
Still, Horner admits there is another possibility: "This may come down to the way people in Albany operate implicitly rather than explicitly. It may be possible for one to see the way things are done in Albany and out of ignorance act explicitly. Maybe you're just not supposed to say the magic words."