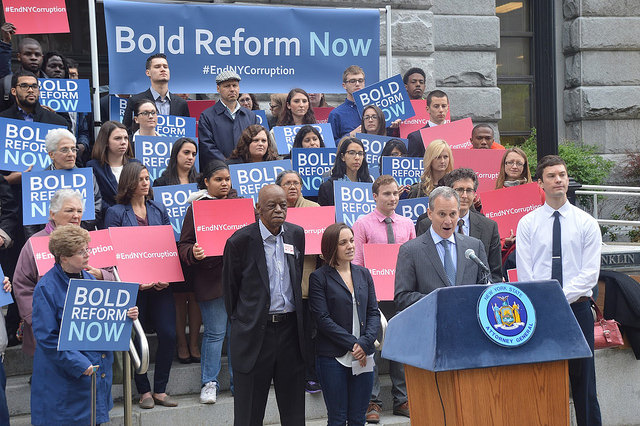 AG Schneiderman (photo via AG's office on flickr)
---
The office of New York State Attorney General Eric Schneiderman issued an opinion on Tuesday concluding that online voter registration is permitted by state law.
The opinion comes as a response to a request sent from Suffolk County to the Attorney General's office in February for advice on whether implementing online registration, including the use of electronically handwritten signatures, would be allowed under state election law.
Schneiderman's go-ahead to Suffolk means the county is free to expand online registration. "Thanks to this opinion from Attorney General Schneiderman," said Suffolk County Executive Steven Bellone, "we can explore avenues to make voter registration more modern and help increase participation in our democracy."
Currently, 31 states and Washington, D.C. offer online registration. New York is one of those states, however, voters can only register online through the Department of Motor Vehicles and must have a driver's license, learner's permit, or a non-driver ID card to register that way. The opinion from Schneiderman's office allows counties to offer widespread online registration.
Additionally, the DMV's voter registration system is not entirely paperless, as paper forms are still exchanged between the DMV and the State Board of Elections, meaning the administrative process is still paper-based, which runs the risk of losing forms or data entry errors from processing hand-written applications.
"We ought to modernize the election laws so that both registering initially and maintaining and updating the registration can be done online and automatically," Assemblymember Brian Kavanagh, a Manhattan Democrat who sponsors several voting reform bills, told Gotham Gazette during an interview earlier this month. "Both to give voters more control over the process and to minimize the extent to which there are errors in the rolls resulting from clerical errors from paper applications."
The conclusion from Schneiderman's office won't do much to eliminate clerical errors from paper applications, however, as the opinion stipulates that, while voters may electronically sign their registration form, the registration form must still be "mailed to the board of elections by the applicant or a third-party."
Still, Schneiderman hailed the opinion as one that opens the door to electronic signatures and expanded online voter registration drives. "At a time in New York where our citizens experience too many barriers to participation, I am gratified that this opinion invites a new era of truly online voter registration, an incredibly exciting step that will help make the state election process more accessible and simpler for all," Schneiderman said in a statement announcing the opinion.
The announcement was applauded by Citizens Union, a government reform group. Its executive director, Dick Dadey, said in a statement that accompanied the attorney general's notice, "We are thrilled that Attorney General Eric Schneiderman has issued an advisory opinion stating what Citizens Union has long held – that current state law permits the use of an electronic handwritten signature for the purposes of registering to vote."
According to Dadey, "The consequence of this opinion will hopefully increase ease of access to casting a vote and encourage many New Yorkers not only to register, which has been an outdated and cumbersome process for many, but also exercise their civic duty to vote. After many years of being able to pay their income taxes online, New Yorkers will be pleased to know that they now can register to vote online."
Assemblymember Kavanagh and state Senate Deputy Minority Leader Michael Gianaris, a Queens Democrat, have pushed for years for the passage of the Voter Empowerment Act, which would expand online registration, among other reforms, yet the political will to reform New York's outdated registration system has not been present in Albany.
The Voter Empowerment Act would expand online registration and require the state Board of Elections to make certain registration information available to voters online so they may update their information over the internet, which could improve the accuracy of New York voter rolls by reducing the number of outdated or duplicate registration records. It would also save the state and counties money by reducing costs involved with processing voter registration and maintaining an accurate list with the current error prone, paper-based registration system.
Kavanagh is hopeful that with the renewed focus on New York City's dysfunctional Board of Elections and Governor Andrew Cuomo's inclusion of proposals for early voting and automatic voter registration in his State of the State address, progress on the long list of voting reform bills in Albany may happen this year.
"I do think that what has happened leading up to the presidential [election] may be a spur for many real changes," Kavanagh said, "A lot of people heard these concerns - legislators, the administration, the Board, and the press - so I do hope that this will be the start of some changes."
The opinion from Schneiderman's office comes one week after his his office's voter complaint hotline received a record number of complaints due to numerous errors made by the city Board of Elections during and leading up to the presidential primaries.
According to Schneiderman, his office "received more than one thousand complaints" on election day, meaning about six and a half times more complaints were received that day alone than during the 2012 general election (150 complaints total in 2012).
Persistent problems with the BOE has led both City Comptroller Scott Stringer and Schneiderman to open investigations into an agency that Stringer has called "consistently disorganized, chaotic, and ineffective."
Mayor de Blasio has also offered the BOE an additional $20 million in "incentive funding," which the BOE may only accept on the condition that the agency signs a binding agreement to work with an outside consultant and elections experts to "identify and rectify systemic challenges within the organization."
Note: Gotham Gazette is an independent publication of Citizens Union Foundation, sister organization of Citizens Union.