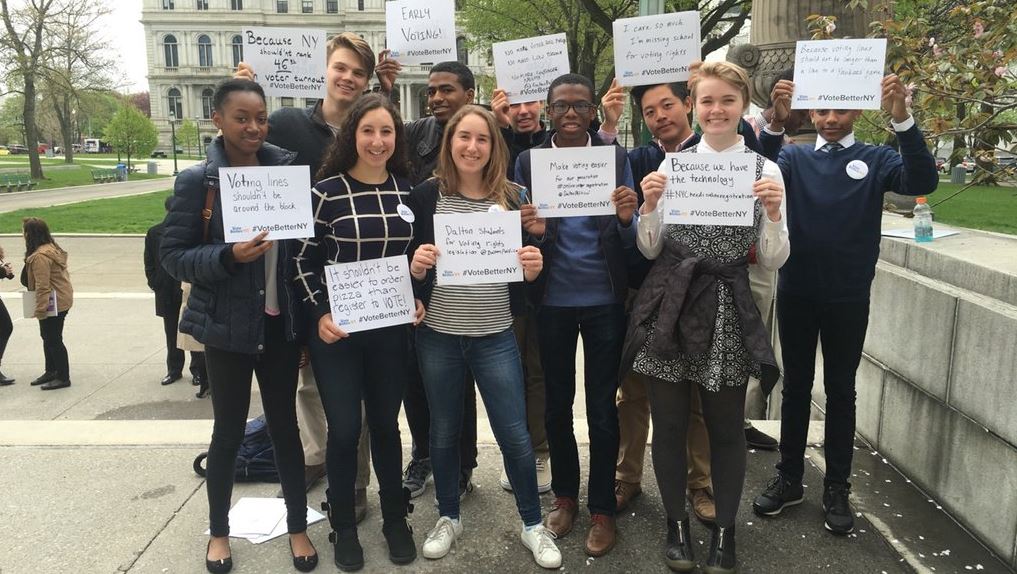 Students in Albany to lobby for voting and registration reform (#VoteBetterNY)
---
Before dawn on a cold and rainy May morning, about 175 New Yorkers gathered outside a building on Church Street, waiting to board a bus to Albany. Some had left their Staten Island and Queens homes as early as 4 a.m. to make departure on time, others had taken the day off work or school, all were there for the same reason: to meet with state lawmakers and convince them to modernize New York's antiquated election laws.
Four buses pulled into the state capital a few hours later and members of the Vote Better NY coalition lined up on the stairs of West Capitol Park, behind the New York State Capitol Building, for a rally calling for passage of legislation to enact early voting, automatic voter registration, and better ballot design. These reforms, advocates say, would help to increase New York's dismal voter turnout by making it far easier for New Yorkers to register to vote and to cast their ballots.
The May 3 trip to Albany, the rally, and the 74 meetings with legislators and the governor's office scheduled for the day were organized by NYC Votes, the non-partisan voter engagement campaign of the New York City Campaign Finance Board. Tuesday marked the third annual NYC Votes lobby day, wherein New York City residents head north to Albany by the busload to push for voting reform, and the delegation has nearly doubled in size since last year when about 100 people attended, up from about 50 the first year.
"We still vote like it's the 19th century and voters are sick and tired of election laws designed to benefit elected officials, rather than the voters," said Onida Coward Mayers, director of voter assistance at NYC Votes.
"You know how they say, 'there's an app for that'? Well, there's an act for that," Mayers said, referring to the Voter Empowerment Act, a voting reform bill package that would expand online registration, allow certain government agencies to automatically register citizens to vote, extend party change and registration deadlines, and permit pre-registration for 16- and 17-year-olds. "Voters in 37 other states have early voting," Mayers added, "Why not New York?"
The Vote Better NY coalition was joined for its rally by two state Assembly members and four state Senators, all of whom have either introduced or sponsored voting reform bills supported by the coalition, some of which have passed in the Democratic-controlled Assembly for years, only to die every time in the Republican-led Senate. The exclusively Democratic group of lawmakers present at the rally made their support for voting reform clear as ever, and repeatedly expressed exasperation at the lack of support for such reforms from their colleagues "across the aisle," creating a situation where those who profess their support for voting reform offload all of the blame for the lack of movement on the reforms onto those who do not support the legislation.
"We get it, we are sponsoring these bills, we have been trying to get [reform] through for years," said Senate Democratic Leader Andrea Stewart-Cousins. "The last time we were able to do something significant [on voting reform] was when Democrats had the [Senate] majority."
There has been record turnout in nearly every state that has voted in primary elections so far in the presidential race, Senator Michael Gianaris said, except New York. The Empire State has the second lowest turnout rate of any state so far this year, with just 19.7 percent of the voting eligible population casting a ballot. "All these other states, where they've enacted these reforms, have record turnout. The answers are simple, they're staring us in the face," Gianaris said.
"Why is it so hard to do something that should be so easy?" Gianaris asked, referring to getting these "common-sense" voting reforms passed. "Because there's a lot of people in that building who want fewer people to vote because it benefits them winning," Gianaris said, gesturing toward the collection of government buildings in the Empire State Plaza.
While it's true that many Senate Republicans either don't support or outright oppose many of the voting reform bills that have been introduced time and again in Albany, as Democratic Senator Brad Hoylman said when pressed to specify who was "standing in the way" of these reforms becoming law, "It's important that everyone here get the Senators and Assembly members on the record as to whether they oppose or support extending the franchise…We can go to each Senator, Republican and Democrat, and ask them to cosponsor these bills."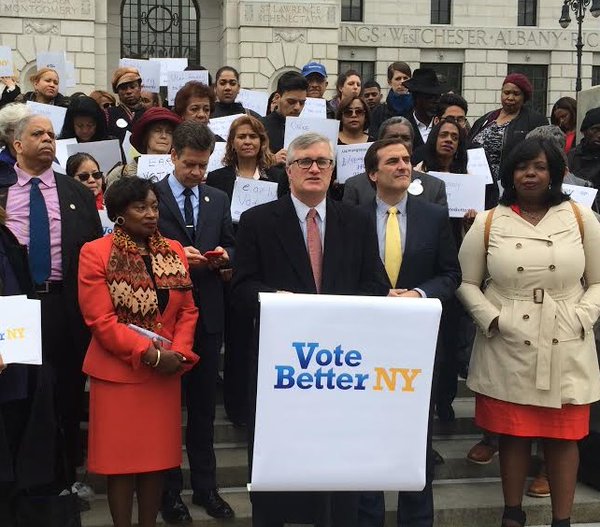 After the rally, members of the Vote Better NY coalition set out to change the minds of those not on board themselves, breaking off into groups of six or seven and heading into the labyrinth of the Legislative Office Building to meet with lawmakers. They were armed with messages of enfranchisement and efficiency, and checklists of legislators who have said they support early voting, the Voter Empowerment Act, and the Voter Friendly Ballot Act.
One group, made up of three members of the New York City Campaign Finance Board and three representatives from DYCD NYU Lutheran Family Health Centers, had their first meeting of the day with Senator Jeff Klein's office. The meeting apparently went well, though Gotham Gazette can't say for sure, as Dan Levin, assistant counsel to Klein, said their office "doesn't do meetings with reporters," and asked this reporter to wait outside, despite offers not to take any notes.
Members of the voting reform group expressed frustration with the fact that, though Klein's counsel said the Senator is supportive of the voting reform bills, as leader of the Independent Democratic Conference, Klein could do more to get Senate Republicans to support such reforms. The IDC and Senate Republicans have a power-sharing agreement that gives the five-member IDC more sway than mainline Democrats, who are led by Stewart-Cousins. Klein has not signed on as a sponsor of any Vote Better NY bills.
After the meeting with Levin, the group left Klein's office, heading toward a newly-booked meeting with Senator Andrew Lanza, a Staten Island Republican.
"They call this 'the million dollar staircase,'" one aide from Klein's office quipped as she walked past the group, "because they say it cost a million dollars." The inside of the connected government buildings that spanned the Empire State Plaza are more ornate than their gray exteriors with dark, thin windows, let on - white marble spans the majority of the interior, the "million dollar staircase" that actually ran over its million dollar budget, a part of a wall in the central hall with water cascading down it, a McDonald's, and a Dunkin Donuts all inside the building's winding halls.
After waiting just long enough for members of the group to become bored enough to flip through a copy of the New York Post lying on Lanza's waiting room table in search of the tabloid's Met Gala photos, the group's captain and the CFB's public affairs officer, Amanda Melillo, was told that Lanza would be free later on, and to come back any time. (When the group returned about an hour later, Melillo was told that the senator was busy and instructed to leave some material for Lanza to read).
The group wound back through the halls, stairs, elevators, and escalators of the disorienting Legislative Office Building and its connecting tunnels to their next meeting, with Senator Simcha Felder. The Brooklyn senator is perhaps the most important person determining the upper house's balance of power - he's elected as a Democrat but caucuses with Republicans, and has recently created a 32-member majority in the 63-seat chamber.
"Oh, I'm sorry, I was teaching him how to tap dance," said an aide who stopped striking the floor with her foot and moved to stand behind the main desk in Felder's waiting room upon the group's arrival.
Though the group was scheduled to meet with Felder himself in about ten minutes, with his tap dancing lesson cut short, Robert Farley, senior counsel in the New York State Senate, offered to meet with the group right away instead.
Gotham Gazette remained for this meeting, which lasted about 15 minutes. Throughout the discussion, Farley expressed skepticism, disapproval, or outright rejection of every voting reform put forth by the group.
Melillo and others spoke about the many issues New York City voters encountered during the April 19 primary, including the fact that some 126,000 Democratic voters in Brooklyn had been removed from the voter rolls, and that many New Yorkers had showed up to the polls on election day, only to be told that they were not registered to vote and must sign an affidavit ballot instead.
"A lot of people think they're registered and they're not," Farley said, generally dismissing the group's assertion that many of these people were registered to vote and were unable to cast a regular ballot. The bills at hand would, in part, make it easier to register to vote.
One member of the group, Rosa Velez, told Farley that she had worked as a poll worker on several occasions, including during New York's most recent primary, said she "had so many people cursing me out at the primary - it was so stressful, people would walk in and I would just hope their name was on the list."
"One woman who showed up to vote showed me on her phone that she was registered, but her name wasn't on the list," Velez added. "I told her she could fill out an affidavit, but she said, "no, f*** this, I've been voting for nine years, I want to vote the regular way."
Melillo and Daniel Cho, director of candidate services at the CFB, then brought up online voter registration, and the potential of online and automatic voter registration to increase the number of registered voters and reduce the number of clerical errors made with the current mostly pen-and-paper system.
"Every time you do reform, there's going to be problems," Farley responded. "I don't know how much doing another reform actually is going to change the problem, with people not doing their jobs right at the Board of Elections." Farley added that electronic voter registration has its problems as well, citing the potential for hacking or voter fraud.
"I'm a tech guy, I love technology," Farley said, gesturing un-ironically to the decade old desktop computers in his office, one of which was displaying bubbles bouncing around the screen. "But tech in and of itself can create more problems."
Resigned, the group brought up New York's closed primaries and early party change deadlines (New York is the only state where the deadline to change one's party does not even fall within the same calendar year as the primary). Farley also didn't believe open primaries or a later party change date would benefit New Yorkers, citing concerns of voters switching parties to game an election by voting against a candidate they didn't like.
When early voting was brought up, Farley said "We do have early voting, we have absentee voting," and dismissed assertions that absentee voting in New York requires an excuse. "The BOE never checks," he said.
Somewhat dismayed by Farley's lack of receptiveness to any of the voting reforms Vote Better NY was there to promote, the group headed to meet with Jacob Wilkinson, counsel to Senator David Valesky, a Syracuse-area Democrat. Wilkinson was more open to hearing what members of CFB and DYCD NYU Lutheran Family Health Centers had to say, taking a photo with the group and expressing support for early voting, though he shared some of Farley's reservations about open primaries. "The restrictions on voting are a little silly and backwards, except open primaries, that's a different story," Wilkinson said.
Before heading out, the Vote Better NY coalition delivered a petition for reform signed by more than 6,500 New Yorkers to Governor Andrew Cuomo, Assembly Speaker Carl Heastie, and Senate Majority Leader John Flanagan.
Melillo says Vote Better NY branched out in terms of the legislators they sought to meet with this year, including more upstate representatives like Valesky.
Eric Friedman, assistant executive director for public affairs at the CFB, was part of the group that met with staff to Flanagan, Cuomo, and Heastie. He said that Flanagan's staff had expressed reservations similar to those Farley had about passing voting reform - namely, concerns about the cost, whether they would be unfunded mandates, and questions about potential for voter fraud.
After meeting with lawmakers, those who had come along with the Vote Better NY coalition boarded their respective buses back to New York City around 4:30 in the afternoon, though the buses didn't take off till about twenty minutes later, when a man carrying several pizza boxes across West Capitol Park handed the food to Melillo and other NYC Votes members.
The voting reform advocates who went to Albany on Tuesday included members of good government groups like NYPIRG and the League of Women Voters, civic engagement groups like Dominicanos USA and Generation Citizen, students, fraternity and sorority chapters, engaged citizens, and other groups like the NAACP and the New York Immigration Coalition.
"At the end of the day," Friedman said on the bus ride back, "you want there to be the same concern for folks who are shut out of the process" as there is for the cost of funding and implementing voting reform bills. "Making sure the election system works for everyone shouldn't be a partisan issue," he said.
"The system that we have in place works for the people in power," Friedman continued, adding that sustained momentum is needed to make more modernized election laws a reality for New Yorkers.
It's not enough for lawmakers who say they support voting reform to pass "a one house bill," Friedman said, the question is, "are you going to make it a priority in that room, are you going to put it on the table?" referring to negotiating rooms.
The early voting bill active in the Assembly is sponsored by Assemblymember Brian Kavanagh, a Manhattan Democrat, and has seven Democratic co-sponsors. Early voting in the Senate is sponsored by Stewart-Cousins and co-sponsored by 16 other Democrats. No Republicans have signed on to either bill.
The Voter Empowerment Act active in the Assembly is sponsored by Kavanagh and co-sponsored by 17 other Democrats and one Independence Party member, Fred Thiele. The Voter Empowerment Act active in the Senate is sponsored by Gianaris and co-sponsored by 17 other Democrats. No Republicans have signed on to either bill.
The Voter Friendly Ballot Act active in the Assembly is sponsored by Kavanagh and co-sponsored by 20 Democrats. The Voter Friendly Ballot Act active in the Senate is sponsored by Tony Avella, a member of the IDC, and co-sponsored by three mainline Democrats. No Republicans have signed on to either bill.
With the most recent budget negotiated, lawmakers are now in the legislative session that runs until the middle of June. The entire state Legislature - 63 Senate and 150 Assembly seats - is up for election in the fall.
"The individual legislators need to stand up and support these bills as much as possible," Friedman concluded as the bus came to a stop outside the CFB's building on Church Street around 7 p.m.
Note: this article has been corrected to list the accurate sponsorship numbers of the early voting, voter empowerment, and voter friendly ballot acts.