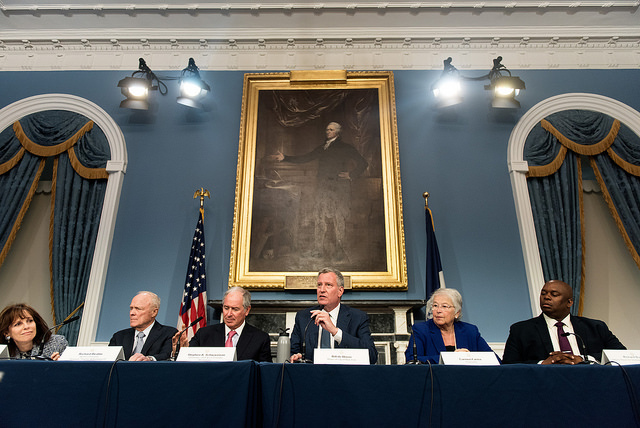 De Blasio at City Hall on Wednesday (photo: Demetrius Freeman/Mayor's Office)
---
Just one day after Mayor Bill de Blasio appeared at City Hall with a bevy of business leaders to push for extending mayoral control of New York City schools, the state Senate education committee held its second hearing on the issue right across the street. Administration officials, education professionals and advocates testified to make their case for and against mayoral control (mostly for) as state Senators demanded answers on a wide range of educational policies, while repeatedly noting the conspicuous absence of the mayor himself.
The debate around mayoral control has reignited as the June 30 deadline for extending it fast approaches. The Democrat-controlled Assembly gave the mayor a three-year extension on Tuesday and the ball is now in the Senate's court, where Republicans who have control of the chamber have been reluctant to extend it beyond one year, if at all. The mayor has spent the last few weeks pushing his administration's accomplishments to make his case for extending mayoral control for seven years. Having spent four hours at the first hearing in Albany on May 4 arguing for a seven-year extension, de Blasio declined to testify on Thursday. His absence was not taken lightly.
"We are missing the mayor, and he's the chief player and he's the person in charge and we would like him to have been here," said Senator Carl Marcellino, chair of the education committee, in his opening remarks. Without giving examples, he stressed that many questions from the May 4 hearing had been left unanswered and the mayor should have been there to answer them.
Instead, the administration was represented by schools Chancellor Carmen Fariña, who had testified by the mayor's side in Albany. Throughout her testimony, Fariña sought to establish the gains from mayoral control - increased graduation rates, fewer dropouts, the implementation of universal pre-kindergarten, increased arts education investment, the success of the Renewal Schools program, to name a few.
"Mayoral control also allows us to plan more fully and with more confidence for the future," Fariña said. "Without mayoral control it would be nearly impossible for a mayor to lay out a long-term detailed vision for our schools such as Equity and Excellence."
Marcellino, while insisting that Fariña's testimony was "fantastic," bookended it with another call out to the mayor. "This would've been a better situation if the mayor was here to defend his, and I don't mean defend in a negative way, but to defend his running of the city schools," Marcellino said. Other Senators made similar remarks throughout the hearing, including Senators Jose Peralta of Queens and Simcha Felder of Brooklyn.
While the stated agenda of the hearing was mayoral control, it was quickly apparent that it would not be limited solely to the system as a governing structure for education policy-making. Over the course of four-and-a-half hours, the hearing touched on numerous aspects of education policy and planning in the city - overcrowding, school closures, school safety, the number of psychologists per student, the Panel for Educational Policy, and the ever-touchy subject of charters schools.
As he often does, Senator Bill Perkins of Manhattan in particular railed against charter schools, stressing that they are an outcropping of the "dictatorial" mayoral control system. At one point during the hearing, Marcellino seemed to rebuke Perkins for deviating from the issue at hand and even offered to hold a separate hearing on charters. A similar scene had unfolded at the May 4 hearing. In this case, Farina was forced to carefully answer charter school-related questions that the de Blasio administration would rather avoid. After battles with charter school, the administration has moved toward a peaceful coexistence model, especially after new state laws forced their hand.
About 20 advocates, education professionals, and experts testified and most were in favor of mayoral control, albeit often with caveats. Some proposed shorter extensions while others proposed reforms to the system at various levels. Some emphasized that their support of mayoral control did not necessarily imply support for all of de Blasio's policies, or even some. Indeed, the current situation creates an often dissonant reality where some of those who were the strongest proponents of mayoral control under former Mayor Michael Bloomberg, who first won the power in 2002, are now twisting in knots as they criticize de Blasio's policies but do not go so far as to call for the end of mayoral control.
Others who testified did oppose mayoral control even while suggesting reforms if it is extended. "Any system of governance must have checks and balances," said Teresa Arboleda, chair of the Education Council Consortium's legislative committee, insisting on more local control and parent input in educational policy. "We cannot have a new school system every time there is a new mayor."
Some of the reforms proposed included:
Changes in composition to the Panel for Educational Policy to allow it more independence and insulate it against 'rubber-stamping' the mayor's decisions
Reforms in how Community Education Councils are constituted, making CECs more transparent and giving them increased authority
Expanding the Citywide Council on Special Education
Mandatory experience and qualifications for the schools chancellor
More clearly defined discipline policies
Equal treatment of charter schools as compared to district schools
More transparency in Department of Education contract procurement and policy making
Jacob Mnookin, founder and executive director of Coney Island Preparatory Charter School, supports an extension of the system, he said, but insisted that the mayor should stop letting his political agenda interfere with student education. The mayor has been a very vocal opponent of the charter school movement in the city. "All public school students deserve to be treated equally no matter what politics are at play," said Mnookin. "The mayor must address these inequalities present in the public school system of New York City."
The two most important people were not at Thursday's hearing, though: Mayor de Blasio and Senate Majority Leader John Flanagan. Flanagan, formerly chair of the education committee and a critic of de Blasio, had chastised the mayor's refusal to appear before the committee a second time in a Wednesday statement. Though he was not there, Flanagan had also criticized de Blasio after the May 4 hearing in Albany, saying he had not answered many of the questions posed to him in a satisfactory fashion, which surprised many who had witnessed it. Flanagan will negotiate extension of mayoral control with Assembly Speaker Carl Heastie, a de Blasio ally, and Gov. Andrew Cuomo, who is in a long-standing feud with the mayor. Cuomo did call for a three-year extension of mayoral control in his January budget.
Although there emerged plenty of ideas about how to change the system on Thursday, and ample criticism of its weaknesses, most people did not want to see a reversion to the old school board system. Not many could even articulate what would happen if mayoral control did indeed lapse. The final speaker of the day, Dennis Walcott, president and CEO of the Queens Library system, perhaps had the most informed perspective on that issue. Walcott served as Schools Chancellor before Farina and deputy mayor of education under Mayor Michael Bloomberg.
He stressed that the old Board of Education system was chaotic and plagued by "patronage, waste, dysfunction" and that mayoral control reversed that. "Mayoral control is about making the mayor, elected by the people of New York City, take responsibility for the education of our city and effectuate the best education possible for our children," he said.