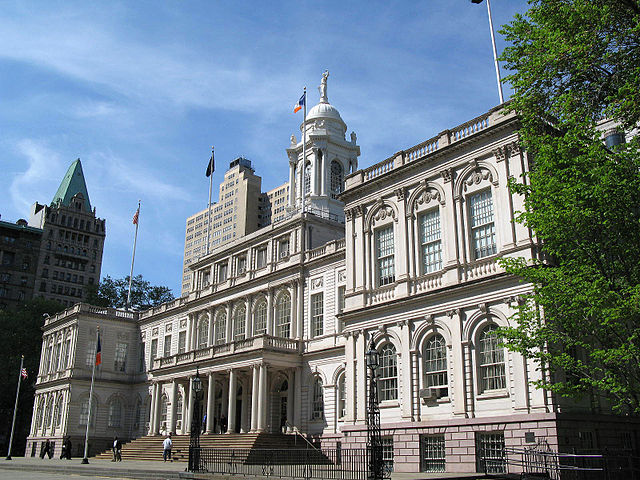 New York City Hall
---
What to watch for this week in New York politics:
This week we're continuing to look for developments in the investigations into Mayor Bill de Blasio, his administration and allies and into Governor Andrew Cuomo's economic development programs, his administration and allies.
Meanwhile, there are nine legislative session days left in Albany, if lawmakers use them all, including this week's Wednesday and Thursday meetings. Mayoral control of New York City schools must be dealt with - it is due to expire at the end of June. There are a variety of other high-profile issues that may see legislation, like changes to the state's laws around child sex abuse and daily fantasy sports betting, as well as government ethics reforms like limiting the LLC loophole or modifying pension forfeiture laws; but lawmakers may do very little and get out of town. All 213 seats in the Assembly (150) and Senate (63) are up for election this fall and legislators may be eager to devote their full attention to their home districts, campaign fundraising, and re-election efforts.
And as we hit June, it's also crunch time in city budget season, so we're following the final negotiations between Mayor de Blasio and the City Council. It has been a fairly quiet budget season, though the Council is pushing for several additions to funding before a final budget is adopted by the July 1 start of the new fiscal year. Those items include additional funding for arts programs, summer camps, and summer youth employment.
While it is a fairly quiet post-holiday week in terms of events, there are several hearings at the Council and more to be aware of - see our day-by-day rundown below.
***Do you have events or topics for us to include in an upcoming Week Ahead in New York Politics?
e-mail Gotham Gazette editor Ben Max: This email address is being protected from spambots. You need JavaScript enabled to view it.***
The run of the week in detail:
Monday - Memorial Day
Tuesday
Mayor de Blasio has no public events scheduled Tuesday. The same goes for Gov. Cuomo.
On Tuesday at 9 a.m. at Fordham University, schools Chancellor Carmen Fariña "will deliver brief remarks at a professional development for bilingual educators, hosted by the DOE's Division of English Language Learners and Student Support."
At the City Council on Tuesday: at 1 p.m., the Committee on Environmental Protection will hold an oversight hearing on facilitating solar energy production in the city.
At 1 p.m. Tuesday at the David Dinkins Municipal Building, there will be a Gun Violence Awareness Month press conference. Public Advocate Letitia James, Comptroller Scott Stringer, City Council Speaker Melissa Mark-Viverito, Council Members Jumaane Williams, Vanessa Gibson, and Laurie Cumbo; representatives from the de Blasio administration; and leading community activists will speak.
Wednesday
Both houses of the state Legislature are in session on Wednesday in Albany.
On Wednesday at 10 a.m. in Albany, the Senate Standing Committee on Banks will hold a hearing examining credit and capital access for Minority and Women Owned Businesses.
On Wednesday, The Fund for the City of New York will announce the recipients of the 2016 Sloan Public Service Awards, the leading independent honor for City employees given each year to those who have built long careers serving New Yorkers. This year's recipients—who have worked for the City for a combined 200 years—include longtime employees of the NYPD, MTA, Human Resources Administration, Department of Health and Hospitals, Department of Environmental Protection, and Department for the Aging.
On Wednesday evening, "Bronx Borough President Ruben Diaz Jr., together with Council Members Ritchie Torres and James Vacca, will co-host the borough's sixth annual LGBTQ & Allies Pride Awards Ceremony."
Thursday
Both houses of the state Legislature are in session on Thursday in Albany.
On Thursday City Council Member Andy King will hold a "Wear Orange/National Gun Violence Awareness Day" press conference at 7 a.m. in front of PS 111..."Dedicating themselves to reducing the deadly crisis of gun violence, more than 100 public school students will be dressed in orange -- the official color of National Gun Violence Awareness Month -- to speak out against gun violence." Then, at 8 a.m., Council Member King "and the Justice League NYC will kick off the "March4Ramarley" March...at 749 E. 229th St...The group will march 17 miles from the home of the slain Bronx teen Ramarley Graham, to 1 Police Plaza, Manhattan, calling on Mayor de Blasio and Commissioner Bratton to fire all the NYPD officers involved in the killing of Graham."
At 6:30 p.m. Thursday, New York State Senator Jesse Hamilton will highlight improvements the community has made over the last year and present his policy priorities for 2016 and beyond at his State of the District Address, to be delivered in conjunction with a Community Resource Fair.
At the City Council on Thursday:
9:30 a.m., the Subcommittee on Zoning and Franchises will meet.
10 a.m., the Committee on Women's Issues will hold a hearing on three bills that would require free feminine hygiene products be provided to inmates at the Department of Correction, supplied by the Department of Health and Mental Hygiene at temporary shelters, and supplied by DOHMH to all schools. [Read more about the bills and what to expect at the hearing: Council to Hear Bills on Providing Tampons at Prisons, Shelters & Schools]
11 a.m., the Subcommittee on Landmarks, Public Siting and Maritime Uses will meet.
Friday and the weekend
At the City Council on Friday at 10 a.m., the Committee on Recovery and Resiliency will hold an oversight hearing on the financing of the city's recovery from Hurricane Sandy.
***
Have events or topics for us to include in an upcoming Week Ahead in New York Politics? E-mail Gotham Gazette executive editor Ben Max any time: This email address is being protected from spambots. You need JavaScript enabled to view it. (please use "For Week Ahead" as email subject).
***
by Aaron Holmes and Ben Max
@GothamGazette