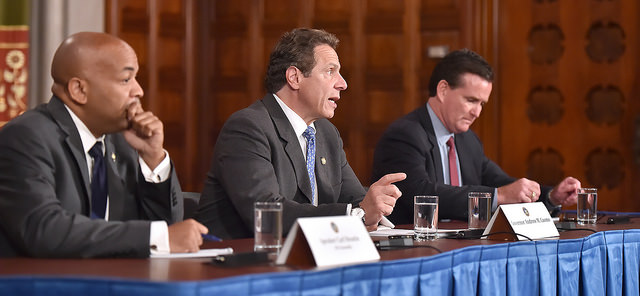 Heastie, Cuomo, Flanagan June 2015 (photo: Kevin P. Coughlin/Governor's Office)
---
Last week, the Senate came to standstill as the star of popular beer commercials came to the Capitol as a guest of Senate Republicans. Legislators of both parties fawned and snapped pictures with Jonathan Goldsmith, of Dos Equis fame. Senate Majority Leader John Flanagan's office proudly posted a picture of the two men together on Twitter; Democratic legislators quoted catchphrases of "the most interesting man in the world" on the Senate floor. While it's fairly customary for both houses of the Legislature to honor various heroes and celebrities, it was striking to see the house come to standstill with less than two weeks left in the legislative session and a myriad of major policy issues not being given a moment of public debate.
On Wednesday, the Legislature will return to Albany after a long Memorial Day weekend facing just nine remaining scheduled session days. Many legislators and advocates have abandoned hope for any significant, substantive policy victories. After a particularly contentious budget process that yielded major victories for Governor Andrew Cuomo on a path toward a $15 minimum wage and paid family leave, the leadership of both houses appear to be more concerned with the impending election season than hashing out deals on a variety of subjects. The spectre of U.S. Attorney Preet Bharara has also chilled legislators' appetites for deal-making. And yet there remain some policy matters that will likely be smashed together into a casserole of legislation that has come to be be known as "The Big Ugly."
The convictions of both former Assembly Speaker Sheldon Silver and former Senate Majority Leader Dean Skelos on multiple federal corruption charges led many legislators and advocates to assume that this year would see significant action on government ethics reform. Gov. Cuomo put forth an ambitious ethics agenda during his January State of the State speech.
New Senate Majority Leader John Flanagan refused to negotiate ethics reforms in the March budget deal and has since stonewalled on any reform issue other than legislation to strip pensions from state employees convicted of felonies. The Assembly has refused to move on the Senate version of that bill because labor unions are concerned their members would lose their pensions after offenses.
Despite a standoff on ethics, legislators don't appear worried that passing bills to allow fantasy sports gambling, online poker, mixed martial arts fighting, and easier access to liquor will hurt their chances at reelection this fall.
However, a new Siena Poll released Tuesday shows that 96 percent of voters say passing ethics reform legislation should be the top priority for legislators at session's end - with 81 percent calling it "very important."
Good government groups see the pension forfeiture measure as a token reform and have pressed for the closing of the "LLC loophole" that allows businesses to create multiple limited liability companies to donate virtually unlimited amounts of campaign cash; public financing of candidate campaigns; the end of lump sum appropriations in the budget; limits on political contributions by companies with business before the state; limits on legislators' outside income; and a renovation of Albany's ethics watchdog, the Joint Commission on Public Ethics (JCOPE).
Only one of those proposals, closing the LLC loophole, appears to have any life left this session. Meanwhile, top priorities for lawmakers appear to include legislation around the aforementioned topics like daily fantasy sports, but also regulations of for-hire vehicle services like Uber, combating the heroin epidemic and a couple of more serious issues - the governor has also mentioned an interest in a breast cancer screening program. High-profile legislation like the DREAM Act, which would make undocumented students eligible for state financial aid, and raising the age of criminal responsibility from 16 to 17 or 18, appear completely off the table.
There is, though, the issue of mayoral control of New York City schools, which will expire at the end of June unless it is renewed, and whether Cuomo and legislative leaders can reach a memorandum of understanding around how $2 billion in budget money targeted for affordable housing will be spent.
As lawmakers, lobbyists, and advocates hit the home stretch of legislative session, the following issues may be on the verge of some action:
Campaign Finance Loophole
Gov. Cuomo recently proposed eight bills, all of which would restrict each LLC to giving $5,000, for every combination of different elected offices, and make the people behind LLCs more transparent. The legislation would not limit the number of related LLCs that can donate, though, nor would it address the issue of labor unions and their local subsidiaries, which some compare to the issue of LLCs.
One bill would cover only the Governor's race - Cuomo said that bill was to "show that I'm willing to go first, and I'm willing to go it alone."
State Senator Liz Krueger, a Democrat from Manhattan, said that she welcomes the effort despite not thinking the legislation goes far enough and not believing Senate Republicans will pass anything. Action on the LLC loophole would likely force Krueger and her allies who are suing the State Board of Elections to end the loophole to have to start the process all over again. "It might interfere with my lawsuit and yet I welcome it," Krueger told Gotham Gazette. "Yes it will only limit LLCs to $5,000 and most of these real estate guys have tons of LLCs, but it's a start that I would welcome. However I don't have much faith the Senate will allow it."
Senator Daniel Squadron, also a New York City Democrat, has repeatedly tried to force his bill to close the loophole to a vote in the Senate only to have it bottled up in committee. Squadron issued a statement supporting the governor's menu of reforms. "However," wrote Squadron, "it's critical the Loophole be closed for the Legislature, especially given the central role the Loophole has played in ethics scandals in both houses. Anything else would be a cop-out by the Senate Republican Majority."
Flanagan quickly shot down Cuomo's efforts in a statement, rejecting the LLC loophole as a reform issue and insisting reform efforts should focus exclusively on reforms related to activities of Mayor Bill de Blasio, despite the fact that his predecessor, Skelos, was convicted on corruption charges that involved the influence of real estate groups that have flooded legislators' campaign coffers with donations through the loophole. De Blasio is being investigated for efforts he led to flip the Senate into Democratic hands in 2014 and is the subject of other controversies that Flanagan referenced.
"We need to bolster our money laundering laws, move aggressively against straw donors and unmask the identity of those groups or individuals who want to operate in the shadows. We should take action to stop non-profits who flout transparency and who donate unlimited sums to directly support a politician's agenda by regulating them through the Board of Elections, JCOPE or another appropriate agency with jurisdiction. We should clarify the laws which could potentially shield the so-called "agents of the City" and subject these secret agents to the same code of ethics and disclosure laws as the government officials they work for. And, we must provide more frequent and more timely disclosure, and insist on strict enforcement of the laws that are already on the books," reads Flanagan's statement.
Krueger said she is disappointed by what she sees as an attitude held by many legislators that there is nothing wrong with the status quo. "I can't believe my colleagues wake up in the morning and think things are really OK here because things really are not OK," said Krueger.
Heroin Opioids
Senate Republicans have made dealing with opioid and heroin addiction a priority for the year and Cuomo and legislators have held panels across the state in the last few weeks on how to address the problem. There will be another in Brooklyn on Wednesday.
"We will get a comprehensive plan done before session ends," Cuomo said at a related event on Long Island on Wednesday. "We are not going to leave Albany until this state has the best plan to deal with this. Period."
Cuomo is calling the crisis a health issue and said he agreed with a panel member who called on insurers to cover rehab for prescription pill addiction and said he would also like them to fund education efforts.
"Pharmaceutical companies have made a fortune selling these drugs," Cuomo said. "We should now go back to them and say, 'you have to do an education effort and tell people about the dangers of these drugs,' which they have not done. And I would make them pay for it at their cost."
Senate Republicans issued a report on May 17 proposing a "four pronged" approach to fighting heroin and opioid addiction. The report focuses on increasing awareness of the problem, expanding treatment through insurance coverage, providing better treatment programs, employment and diversion programs for recovering addicts, and giving law enforcement more leeway to fight drug trafficking.
"This report reinforces the notion that the scourge of heroin and opioid addiction does not affect one region of the state, or one race, or one ethnic group," said Sen. John Bonacic, a Republican from Mount Hope, in a statement accompanying the release of the report. "It's a global problem that affects everyone, and this report along with its recommendations, is a positive step towards the goal of one day ending this terrible epidemic."
It is unclear how Cuomo's task force will interact with the Senate findings, but a package deal on the crisis is expected to be reached before the end of session. Some of the criminal justice aspects could be contentious.
Alcohol Business
Gov. Cuomo is backing an overhaul of the state's liquor control laws that date back to the days of prohibition as one of his top priorities. Cuomo has sought to make New York's breweries and wine-making operations a draw for tourists and a boon for local agriculture. His omnibus bill introduced on May 18 would cut back restrictions on when alchohol and liquor can be served, lessen some burdens for the permitting process to serve alcohol, and reduce fees for wholesalers.
However, Democrats in the Assembly and Senate have expressed concerns that the bill goes too far and could create tension in New York City neighborhoods where bars are sited close to churches and residential areas. "I have a real concern that the governor's alcohol legislation will end up locating bars near churches," Krueger told Gotham Gazette. "It is an issue of space unique to New York City, and I'm not sure that has been taken into account."
Assemblymember Robin Schimminger, a Democrat from Buffalo, expressed similar concerns to Politico New York. "It looks as though this bill would allow ex-cons to get licenses to operate taverns adjacent to churches and sell shots and beers as early as 8 a.m. on Sunday mornings," said Schimminger. "Obviously, there are many issues with this package."
Schimminger told Politico he doubts the bill will pass this session as it stands.
Daily Fantasy Sports & Other Betting
Attorney General Eric Schneiderman had barely announced his suit against major fantasy sports operators FanDuel and DraftKings for violating the state's gambling laws before legislators rushed to promise to legalize the practice. The companies reached a settlement with Schneiderman in late March, promising to cease operations in the state to give the Legislature a chance to change the law.
Assemblymember Gary Pretlow, a Democrat from Mount Vernon, and Sen. Bonacic have led the charge to legalize in their respective houses to legalize daily fantasy sports betting. Bonacic's bill has moved forward in the Senate while Pretlow introduced his on Friday. There are differences in the bills, but both include legalization as well as a licensing fee and a tax. Both bills would tax companies 15 percent.
Bonacic is also sponsoring a bill to legalize online poker.
Some legislators are concerned that the allure of money - both revenue for the state and campaign contributions from major gambling interests - has effectively killed any debate about the impact of gambling on New Yorkers, especially as the state just recently allowed the construction of a number of casinos.
"It is telling that this is a priority at the end of session," Krueger said. "This is just another example of an industry with loads of money that is going to get what it wants without any real consideration of how what they are asking for will impact the state."
A number of Democrats say even without the question of morality they wonder when the legalization of so many ways to gamble in the state - from racetrack betting to video slots, casinos, online games, the state lottery, and more - will eventually lead to diminishing returns.
Housing
Senate Republicans and Gov. Cuomo have been pushing for a renewal of the 421-a property tax credit used toward the development of affordable housing that expired at the end of last year. Housing advocates insist that if any discussion of the issue comes up, rent regulation laws must be renegotiated as the two were tied together last year. The tax break expired after real estate and labor failed to come to a deal. The fate of the bill was put in their hands by Cuomo and legislative leaders after the governor insisted any deal had to include wage guarantees for labor - a position the governor still holds despite the fact that no deal has been reached and there are concerns about the development of affordable rental housing in New York City. With few days left in session many doubt anything will come to pass on 421-a or the rent laws.
However, one major housing issue remains that can't be legislated but should be taken up in a technical process by the governor and legislative leaders. Two billion dollars in funds was included in the state budget to be spent on the creation of affordable housing. While the cash was appropriated Cuomo and legislative leaders neglected to actually spell out how any of the cash would be spent. They are now expected to negotiate an memorandum of understanding to spell it all out. Legislators concerned with how the plan will be decided have said for weeks they expect negotiations with Cuomo's office to start soon but it is unclear where things currently stand.
A group of housing advocates especially focused on funding supportive housing, which includes social services, has launched a campaign to push Cuomo to finally cut a deal and release the funds. "Promises don't build housing," Mary Brosnahan, president and CEO of the Coalition for the Homeless, told The Daily News. "Tens of thousands of homeless New Yorkers await the governor to take immediate action and make good on his promise to build supportive housing. We need Gov. Cuomo's leadership to secure the required MOU."
Mayoral Control
It is assumed, despite Flanagan's repeated lashings of de Blasio and the fact that his conference is set on using the mayor as a boogeyman in upcoming Senate races, that there will be some sort of extension of mayoral control of New York City schools in order to keep the system alive. How long the extension will be is unclear - some legislators have begun to assume that Senate Republicans will demand another simple one-year extension as they did last year in order to punish de Blasio. Assembly Democrats recently passed a three-year extension, which is what the governor proposed in his budget.
'Playing Defense'
The budget deal or end-of-session "Big Ugly" are notorious for packaging major bills with a number of narrow, industry-tailored pieces of legislation that are not subject to appropriate scrutiny. Last year, the Legislature barely managed to tackle any substantive issues in the budget, but did approve a tax break for luxury yacht buyers that was supported by yacht retailers. One of the arguments for the bill, made by Assembly Speaker Carl Heastie at the time was that "Right now, no one purchases their yachts in the State of New York because Florida offers a similar program."
Krueger said that at this point in session she is past thinking about what good might get done and is focused on trying to catch bad legislation that may get forced through in a last-minute deal.
"I'm really playing defense now. I don't have much hope for this session," Krueger said. "I'm on the outlook for those really bad bills that tend to sneak out while no one is paying attention."