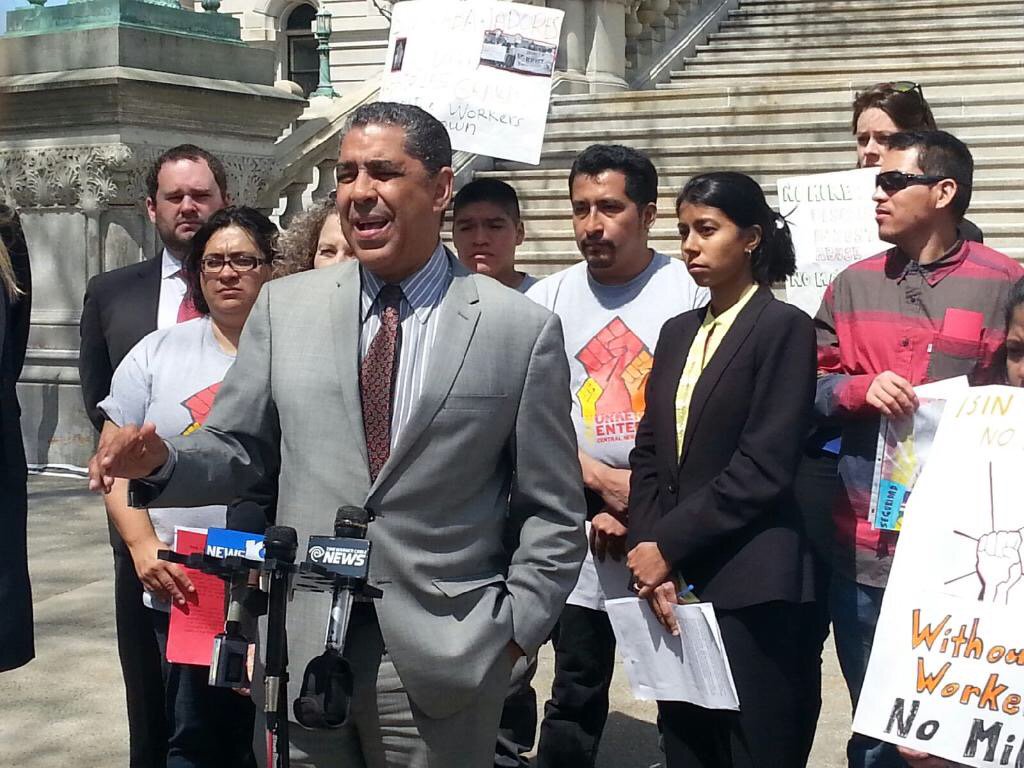 Sen. Espaillat (photo: @EspaillatNY)
---
To address the city's escalating affordability crisis, state Sen. Adriano Espaillat, Democratic candidate in the 13th Congressional District, is unveiling a proposal to increase the federal Child and Dependent Care Tax Credit.
The announcement comes as the heated Congressional primary enters its final weeks. Espaillat's campaign is announcing a series of policy papers in an attempt to separate itself in a race that has focused on political allegiances, polls, and fundraising. Other candidates vying to replace retiring Rep. Charles Rangel include Assemblymember Keith Wright, former Assemblymember Adam Clayton Powell, Assemblymemeber Guillermo Linares, and Clyde Williams, former political director of the Democratic National Committee. Espaillat unsuccessfully challenged Rangel in 2012 and 2014. This year's primary is set for June 28.
"I think there is a growing affordability crisis in the city and the state that has been framed around rent and the minimum wage, but not that fine-tuned to address issues young families face as far child care," Espaillat told Gotham Gazette. "There are big costs these families face to live in the city while trying to raise kids. Some parents won't go to work if they aren't sure their children are receiving proper care."
Espaillat cites a study by Democratic New York Senator Kirsten Gillibrand's office that shows child care costs for city residents rising $1,612 per family each year. The study further shows that the average New York City family spends up to $16,250 per year on child care for an infant, $11,648 for a toddler and $9,620 for a school-age child. Gillibrand, like Rangel, has endorsed Wright in the congressional race. Espaillat said he had not spoken to the senator about his plan.
Espaillat's plan would increase the CDCTC for families with children under four, allow families to claim 50 percent of child care costs up to $6,000 per child, and increase the maximum credit for families receiving federal, state, and city credits by 43 percent per child, making the maximum credit $8,775 per child.
Only families making under $30,000 a year with children under four years of age are eligible for the city tax credit. Families of all income levels with children up to the age of 13 are eligible for the state and federal credits, but the credits shrink depending on income. The state and city CDCTC are calculated as a percentage of the federal credit, so an increase to the federal plan would in turn boost state and local aid.
Espaillat's policy paper estimates that "A family receiving the maximum federal, state, and city credits would receive $6,143-just over one-third the average price of child care for an infant in New York City. But a family earning $50,000 with a three-year-old child would only receive $2,400. This is a massive burden on New York City's working- and middle-class families."
Espaillat said he believes his proposal is one that could attract bipartisan support and gain traction in Congress because people across the country struggle to pay for child care. "This cuts across state and party lines," Espaillat told Gotham Gazette. "This is like student loans; it has universal appeal whether you are a Democrat, Republican, or independent."