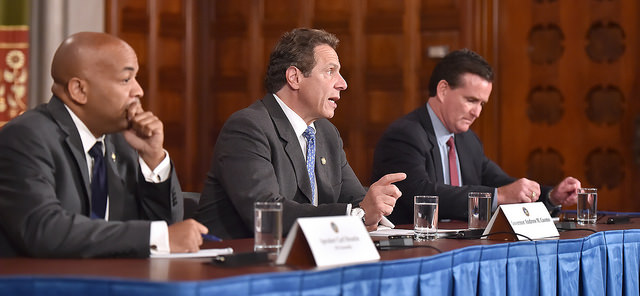 Heastie, Cuomo, Flanagan (l-r) (photo: Kevin P. Coughlin, The Governor's Office)
---
Gov. Andrew Cuomo and the state Legislature allocated $2 billion to spend on 100,000 units of affordable and supportive housing in this year's budget, which was agreed to on April 1. But they failed to include specifics -- details of how that money would be spent -- kicking those decisions down the road. Now, two months later, they have yet to sort out the details and many stakeholders are worried no deal is in sight as the major negotiating parties face off over incongruous priorities.
Cuomo, a Democrat, Republican Senate Majority Leader John Flanagan, and Democratic Assembly Speaker Carl Heastie must sign a Memorandum of Understanding (MOU) outlining how the housing money will be spent, and according to housing and homeless advocates, failure to do so by the quickly-approaching end of legislative session will mean the money remains in state coffers without benefitting homeless, low- and moderate-income New Yorkers.
"The money that is supposed to provide relief for the homeless would just sit there. It wouldn't go anywhere, it wouldn't materialize," said Assemblymember Andrew Hevesi, a Queens Democrat who said that advocates are right to be concerned that it won't be sorted out before the end of session. "There is a deadline for this. Make no mistake. It has to happen before June 16."
With only three session days left - Tuesday, Wednesday, and Thursday of this coming week - and leaders insistent they will leave town Thursday, advocates fear there may not be enough motivation and time for lawmakers to deal with the MOU and all the issues they've attached to it.
Four legislative sources tell Gotham Gazette that each house has tied the MOU to a number of thorny issues. They say Senate Republicans have connected the allocation of housing money to the renewal of 421-a. That controversial, lapsed property tax credit meant to spur affordable housing development has been the focus of a number of failed negotiations this year, and it appears getting to a deal on the credit remains a heavy lift. A spokesperson for Senate Republicans did not respond to a request for comment.
Meanwhile, Assembly Democrats insist that some of the cash go to the New York City Housing Authority (NYCHA), something that sources say rankles Cuomo as he sees it as directly benefiting Mayor Bill de Blasio, his erstwhile feuding partner. The city's public housing stock has $17 billion in capital needs and city officials have said the state continues to under-fund NYCHA, even failing to release some previously promised money. Neither Heastie's nor Cuomo's office returned requests for comment.
Assembly Housing Chair Keith Wright, a Manhattan Democrat, recently wrote in an op-ed that appeared in AM New York that he wants $100 million of housing funds to go to NYCHA for serious repairs. Rachel Fee, director of the New York Housing Conference, also called for that commitment in a NY Slant op-ed.
Sources say Cuomo has not appeared to be in a rush to hammer out the MOU. The governor made affordable housing and fighting homelessness major policy points during his January State of the State speech, around that time criticizing de Blasio's handling of rising homelessness in the city.
"Everything in housing is tied together: 421-a, NYCHA and [the MOU]," said Shelly Nortz, executive director of policy for Coalition for the Homeless. "I know there is no hope whatsoever it will get done after June 16," she added referring to the notion that once legislators leave Albany they are unlikely to come to any policy decisions.
A coalition called The Campaign for NY/NY Housing, which fights for supportive housing - homelessness relief with social services built in - and counts over 100 interested groups in its ranks, has recently turned up pressure on Cuomo and legislative leaders with a major lobbying campaign designed to get them to act.
"We are very concerned," said Laura Masuch, executive director of The Supportive Housing Network of New York. "We have 80,000 homeless in the state of New York and supportive housing is critical - especially for families with special needs. It takes a lot of time to open these units, so every day we wait is a day we don't get a family off the street."
Fee said that she is concerned the funds may be tied up for the long term if legislators fail to act this year.
"It's not clear why lawmakers feel no urgency to spend $2 billion in housing funds," said Fee. "My biggest fear is it will not get done this session and will get pushed to the end of the budget year [March]. This didn't have to happen in session at all. It could have been negotiated during any of the days that passed since the budget was enacted. We need affordable and supportive housing right now."
There is precedent for such a holdup. Cuomo and the Legislature drafted an MOU committing to spend bank settlement funds from JP Morgan Chase on housing in 2014, but it wasn't until the following year's budget that they actually detailed how the money would be spent. "History doesn't bode well for post-session MOUs getting done," said Masuch.
Budget watchdogs have long decried the use of MOUs in budgeting because they lack transparency. Good government groups have campaigned to end the process, especially after pots of unitemized allocations played roles in the convictions of former Assembly Speaker Sheldon Silver and Senate Majority Leader Dean Skelos. Assembly Republicans have called for a system that tracks spending of large amounts of cash created in the budget, but Cuomo and legislative leaders have scoffed at the idea. Now another drawback of failing to allocate budgeted cash appears clear: the principals may never get around to figuring out how to spend it.
Nortz, Coalition for the Homeless, said that she sees the project as belonging to Cuomo. It's a feeling shared by many advocates who campaigned to get Cuomo to invest in supportive housing last year. Cuomo also dedicated significant time in his January State of the State address to the housing money he was proposing.
A variety of rank-and-file legislators also put the onus on Cuomo because they feel that the specifics of the $2 billion plan wasn't given priority in budget negotiations and was left to an MOU only because budget negotiations basically collapsed.
Nortz said that if the MOU isn't signed before the end of session it will "raise real questions" about Cuomo's commitment to the homeless and to affordable housing. "If he wants it done it will get done. This is the governor who managed to get the Senate to pass marriage equality; this is the governor who got a $15 minimum wage when he didn't even believe in it a year before. We know what he can do when he wants to," said Nortz.
Masuch, of The Supportive Housing Network, said she was heartened to see Cuomo take ownership of homelessness as an issue in his State of the State address. "We were very pleased, he talked lots about homelessness and housing. That was great, and now we need him to push leadership to bring it home and make sure it is their priority."
Hevesi declined to place blame for the stalled negotiations. But he said he is more than disappointed to see the funding caught up in Albany's routine "Big Ugly" end-of-session negotiations, where legislators wait until the last minute to hash out a mishmash of interconnected deals.
"Every year 19,000 more people become homeless in New York than stop being homeless," said Hevesi. "We can't sustain that level of homelessness and we shouldn't be waiting for help while thousands of more families are being destroyed."