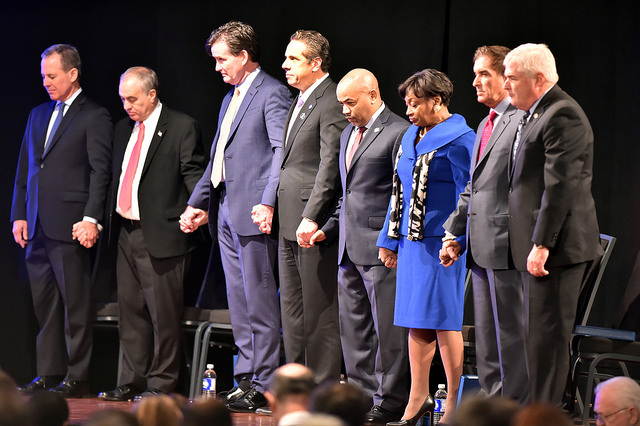 Albany leaders (photo: Kevin P. Coughlin, Governor's Office)
---
The pace has picked up dramatically in Albany, where lawmakers had avoided any major legislative decisions since passing the budget in April. With three days left in session, dozens upon dozens of bills are being introduced, amended, and passed at a fever pace. And while a couple of deals among the governor and legislative leaders have been announced on somewhat high-profile matters, thornier issues still remain unsettled and many bills are likely to only pass one house before lawmakers leave the capital.
On Monday, with session scheduled to end on Thursday, Gov. Andrew Cuomo wrote the Legislature an open letter setting a list of his priorities - included on that list was reaching a deal on a package of legislation to combat heroin addiction; increasing breast cancer screening; passing government ethics reform; combating the Supreme Court's Citizens United decision; improving safety at rail crossings; and updating the state's alcohol control laws.
In his letter Cuomo framed the situation in Albany as particularly tough because of the national political environment, failing to mention the federal investigation into state economic development programming that has dogged that his administration and the fallout from various legislative scandals, including the conviction on federal corruption charges of two recent legislative leaders. Cuomo praised the Legislature for the work it already did, calling this year's "one of the best budgets in modern history"
Cuomo wrote: "But with all we have done, we have more to do. As the old skeptic's adage goes, "That's great, but what have you done for me lately?" We can't rest on our laurels – we have much more to accomplish this session. Right now, we have a chance to complete an ambitious agenda that will conclude one of the most effective and successful legislative sessions to date while improving the lives of millions of New Yorkers."
Major issues absent from Cuomo's to-do list include renewing mayoral control of New York City schools, which is set to expire June 30; agreeing on how to spend $2 billion in state funds to create and preserve supportive and low-income housing; the push to raise the age of adult criminal responsibility; and a number of other priorities he touted in his State of the State Address in January.
By late Tuesday, Cuomo's office had announced deals with the Legislature on three of the six items he outlined in his letter: rail safety; heroin addiction; and amending the state's liquor laws.
The Senate showed some interest in moving on Cuomo's push on Citizens United and independent expenditures as Senate Majority Leader John Flanagan introduced a bill on the issue.
However, good government groups that gathered in Albany on Tuesday said they didn't have much hope there would be any major action on government ethics reform this year. They largely scoffed at Cuomo's targeting independent expenditures, saying that more money floods into New York's elections through things like the LLC loophole and political party committees. Cuomo has backed changes to the LLC loophole and putting limits on how much cash party committees can take in, but he has done little this session to advance bills related to the issues.
"We've pleaded, we've talked rationally, we have pleaded with legislators and the governor's office," Barbara Bartoletti of The League of Women Voters told reporters. She said it is time for New Yorkers to vote out incumbents who don't support ethics reform.
Meanwhile the houses of the Legislature have tried to come to deals on a bill that would allow for-hire vehicle services like Uber and Lyft to operate in New York State; a bill legalizing and regulating daily fantasy sports gambling; and one to allow online poker. All three may be stalling, though there is still time for negotiations.
The Republican-controlled Senate saw the introduction of two bills of particular interest to residents of New York City. One bill would extend mayoral control of New York City schools by three years, but would have enacted the education tax credit opposed by many Democrats. Senate Majority Leader John Flanagan had previously said he would only support a one-year extension of mayoral control while Cuomo and Democratic Assembly Speaker Carl Heastie have pressed for three.
Heastie rejected Flanagan's proposal, telling reporters: "The Senate has the right to put in whatever bills they want to. I'll be clear: Those proposals are a non-starter for us, so to me it was a waste of time to put those proposals in."
A second straight one-year extension of mayoral control without anything else attached may be the best Mayor Bill de Blasio and his allies like Heastie can do.
The Senate also introduced a bill that would revive the controversial 421-a tax break for developers to build affordable housing, a program seen as key to the building of new affordable housing units in New York City. Heastie rejected the bill out of hand, union members have protested the bill did not have high enough wage standards. The program has been the subject of governmental and non-governmental negotiations for many months and there is no clear resolution at hand.
The fate of $2 billion set aside in the budget for supportive and affordable housing appears tied to the fate of 421-a, as Gotham Gazette reported on Monday. Assemblymember Andrew Hevesi told Susan Arbetter on The Capitol Pressroom, "The money for supportive housing has been thrown into negotiations that have little to do with it or are tangentially related."