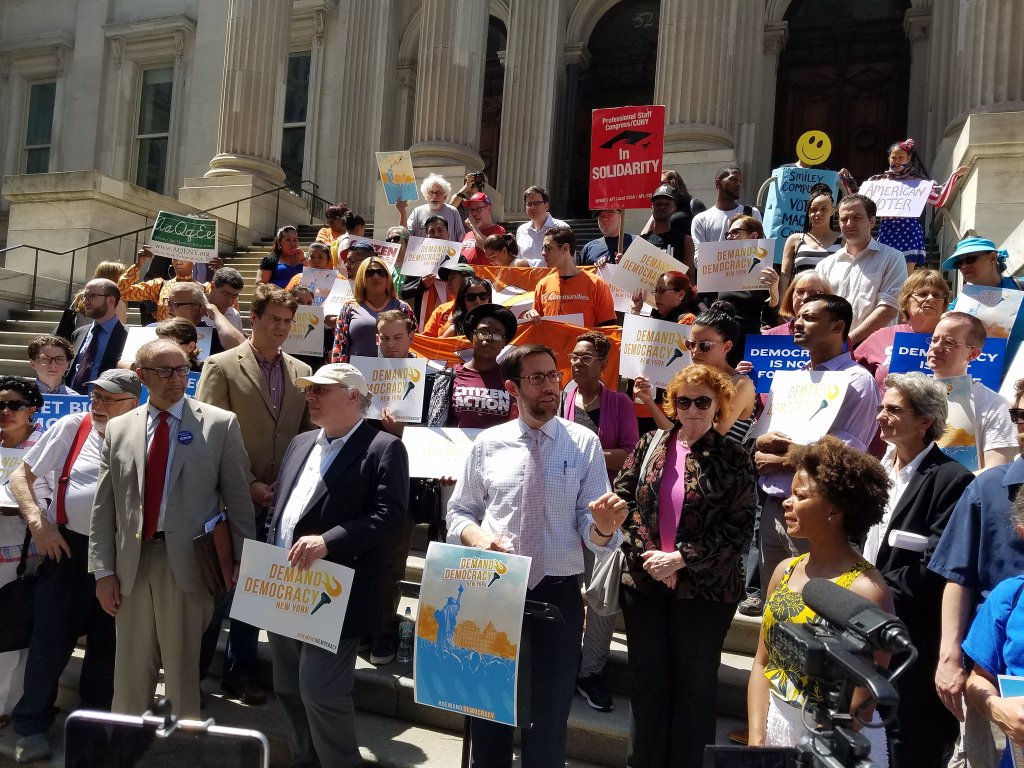 Sen. Squadron and "Demand Democracy" ralliers (photo: @DanielSquadron)
---
Amid increasing calls for New York to pass bold government ethics reform and minimize the role of money in elections, a bipartisan majority of state lawmakers has taken a symbolic but somewhat significant step in calling for an amendment to the U.S. Constitution overturning the Supreme Court's 2010 decision in the Citizens United case.
In Citizens United v. Federal Election Commission, the Supreme Court ruled that corporations and unions can be considered individuals as far as their political contributions are concerned and that restricting their ability to donate to candidates amounted to a violation of their First Amendment right of free speech. That decision opened the floodgates to unlimited amounts of money in elections, including through outside groups supportive of candidates that must not coordinate with official campaigns but can raise and spend unlimited sums. Nearly 80 percent of Americans agree that the decision needs to be overturned. As of Wednesday, so do 76 New York State Assembly members (of 150 seats) and 32 State Senators (of 63 seats), a bare majority in each house.
Lawmakers and advocates announced at a news conference at the Capitol Building in Albany on Wednesday that a majority of members had signed letters to Congress calling for an amendment. The declaration came barely a week after Governor Andrew Cuomo proposed legislation to blunt the effects of Citizens United. In his announcement, the governor called the decision of the Supreme Court's worst and said, "This decision ignited the equivalent of a campaign nuclear arms race and created a shadow industry in New York — maligning the integrity of the electoral process and drowning out the voice of the people. Citizens United must be reversed." This week, he said one of his six priorities for the remaining legislative session is moving forward with his legislation to combat Citizens United that further restricts coordination between candidates and supportive "independent" committees, known as Super PACs.
New York is the first state with a Republican-controlled chamber to call for an amendment, though only two Republicans supported it. (The last vote that gave the Senate effort a majority came from Democratic Sen. Todd Kaminsky, who was recently elected to the chamber, replacing Republican Dean Skelos, who was removed from office upon a felony corruption conviction.) New York now joins the ranks of 16 other states which have done so through resolutions and ballot initiatives. More than 700 municipalities across the country have also passed resolutions, including 21 in New York.
On Wednesday, Assemblymember James Brennan, who led the effort in his chamber, said in a statement, "When we think about the intent behind campaign finance laws, they are supposed to protect our democracy from corruption while preserving the integrity of our elections. Citizens United has done the opposite. By allowing corporations the same rights as individuals, campaigns across the country are being fueled by obscene amounts of money. This has to stop. I call on Congress to do the right thing and pass a constitutional amendment to right this wrong."
In the Senate, there were four letters with largely the same language. Twenty-four Democrats signed one letter. The five-member Independent Democratic Conference signed the same letter, albeit separately. Democratic Conference Leader Andrea Stewart-Cousins signed one independently. The Republicans, Sen. Phil Boyle and Sen. Kemp Hannon, signed their own version with slightly different language.
"There is motion now in Republican-controlled legislatures to support an amendment," said Jonah Minkoff-Zern, co-director of the Democracy Is For People campaign at Public Citizen, a nonprofit group that led a coalition of advocates calling on state lawmakers to support an amendment. "The state legislature also needs to follow through and pass state reform," he added.
Lawmakers more than agree. "It's great news that a bipartisan majority of State Senators and Assemblymembers support closing the corporate contribution floodgate Citizens United opened," said Senator Daniel Squadron, in an emailed statement. Squadron led his colleagues in the Democrats' letter. "It's critical that legislation also move forward to show New York's strong support for the voice of everyday Americans in the political process."
Squadron has been one of the leading proponents for closing New York's infamous "LLC loophole," which ostensibly allows wealthy individuals and corporations to give unlimited funds to political candidate campaigns through a variety of limited liability companies. Cuomo, a Democrat, has called for closing the loophole and Assembly Democrats have passed such a measure - but the Republican-controlled Senate has balked, defeating the efforts of Squadron and his allies. Good government groups have been calling for closure of the LLC loophole for years, along with a slew of other government ethics and campaign finance reforms in New York, most of which have gone nowhere.
Sen. Boyle, a Long Island Republican, echoed the call for reform in the final legislative package of the year, insisting that his Republican colleagues were equally concerned about the influence of big money on elections both at the state and national level. He said it was important that the same restrictions on campaign contributions apply to corporations, unions, and individuals, hitting one of the key sticking points for Republicans: that unions are treated similarly to corporations. Boyle recognizes that signing a letter to Congress is a symbolic move, but one that can have a strong impact. "I think it's going to energize the debate and hopefully draw the attentions of our federal legislators," he said in a phone interview. "As much pressure on Washington D.C. as we can exert, the better."
Sen. Stewart-Cousins was also encouraged by two Republicans signing on to the petition and called for additional action on legislative reform. "Addressing the negative impact that the Citizens United decision has had on our democracy is important," Stewart-Cousins said in a statement to Gotham Gazette, "but also we must take action to fix our own glaring campaign finance and ethics issues in New York State such as closing the LLC Loophole which also allows special interests to contribute endless amounts of money. The people of New York deserve an electoral system and government that they can trust."