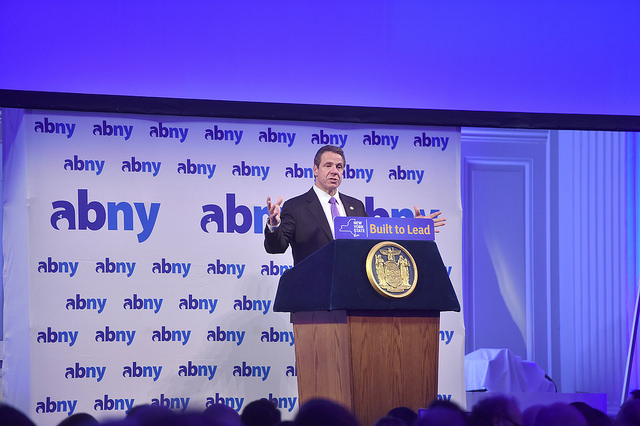 Gov. Cuomo (photo: Kevin P. Coughlin/Governor's Office)
---
While the 2016 legislative session may be finished, the battle over how the state will allocate $1.9 billion in funds earmarked for supportive and affordable housing is not. Neither is the feud between Gov. Andrew Cuomo and Mayor Bill de Blasio, which includes a front over the housing funds.
After the end-of-session deal-making among Cuomo and legislative leaders yielded an agreement to release only $150 million of the $1.9 billion pledged in this year's budget, housing advocates plan to protest in front of Cuomo's Manhattan office at 11 a.m. Tuesday. They're calling on the governor to work with Assembly Speaker Carl Heastie and Senate Majority Leader John Flanagan to agree on additional funding allocations for the entire sum. Advocates say they expect the last-minute protest, which de Blasio's office is supportive of, to draw 200 or more participants.
Developers say that without more certainty about how much state funding will be available and when, new supportive housing projects simply aren't going to move forward and that will compound the already multi-year waits for homeless and other populations that rely on the housing, which includes social services for people with mental illness, substance abuse problems, and other impediments.
"The New York Housing Conference urges State leaders to continue negotiating the terms of a statewide 5-year housing plan to allocate the full $2 billion of enacted housing dollars for programmatic use," reads the newsletter from The New York Housing Conference announcing the Tuesday rally. The statement goes on to detail the challenges developers face in planning housing projects if their funding is not in place. "Developing affordable housing is often a multi-year planning process and the industry depends on funding certainty and programmatic direction to shape projects that will meet community needs and policy goals of the anticipated statewide housing plan," it says.
Advocates for affordable and supportive housing came together in the last weeks of session to demand Cuomo and the Legislature sign a required memo of understanding, or MOU, agreeing how to allocate the $1.9 billion. A coalition of groups called The Campaign 4 NY/NY housing sent out a series of scathing press releases, held rallies, and pressured lawmakers, but by the last day of session Cuomo and the Legislature settled on releasing $150 million of the $1.9 billion.
The Cuomo administration touted $570 million being made available for supportive housing in an end-of-session press release, but it appears most of that funding was already available through service funding and tax credits secured in this year's budget. The administration points out that $600 million of the $1.9 billion is dedicated to supportive housing and that the housing plan is designed to stretch over five years, therefore making $150 million an appropriate amount to release for supportive housing during the first year of the program. Administration officials say the rest of the $570 million will go to funding the operational costs of the supportive units.
"Today's agreement includes the execution of a memorandum of understanding to make more than $570 million in state resources available to advance capital construction and operating on the first 1,200 units of supportive housing under the Governor's sweeping $20 billion Housing and Homelessness plan," reads the Cuomo administration's Friday statement. "The funding will be released to the Division of Housing and Community Renewal and is available immediately to be awarded in conjunction with other resources including state and federal tax credits to support construction costs for the new supportive housing units."
Advocates are not completely critical of the governor, but plan to push further, especially while the end of session lingers in the news. "We are happy some of the money was made available for supportive housing," said Rachel Fee, executive director of the New York Housing Conference. "It's an important issue but we really need leaders to come together to sort out the entire plan. I'm really hopeful there will be a deal before next year's budget because I think there is a lot of common ground on housing between the leaders."
Some of the most outspoken advocates from the NY/NY Campaign also use one of de Blasio's main political consultancies, BerlinRosen. A campaign spokesperson for de Blasio also represents affordable housing groups.
Advocates say the $150 million should jump-start the stalled affordable housing pipeline but they are anxious to get a look at the MOU lining out how even that money will be allocated. "It is really important we see what it says," said Shelly Nortz, deputy executive director for policy for The Coalition for the Homeless.
Gotham Gazette spoke to three individuals representing different firms that are involved in affordable and supportive housing development. Discussing the machinations of their industry on the condition of anonymity, they said that the $150 million in capital funding will get existing projects moving, but without future funding solidified and agreed to "there is no window into the future of what capital will be available."
They expect most firms to wait to see what kind of agreement the often unpredictable denizens of the state Capitol come up with before moving on new projects because both capital funding and social services funding are necessary to build and run supportive housing projects. Two of the individuals noted that a NY/NY city-state agreement was easily reached under Republican Governor George Pataki, with one noting that Cuomo once led the federal housing agency, something the governor regularly cites when discussing his expertise on housing issues.
They noted that developers want a return to the NY/NY partnership between the city and state that provided a reviewable document outlining what funds for capital and support services would be available and when.
Nortz issued a series of blistering press releases questioning Cuomo's commitment to housing and homelessness last week. "The Governor's pathetic offer to provide a tiny fraction of what he promised underscores the shallowness of his commitment to housing our homeless neighbors," wrote Nortz.
Melissa DeRosa, Cuomo's chief of staff, responded in kind, tweeting on Friday, "$570M for first year of 5 year pledge fulfilled. Learn to take yes for an answer or stop being credible."
Cuomo told The New York Times over the weekend that the MOU represented just an installment in a five-year plan.
The private battle over the housing funds between Cuomo and legislative leaders appears to stem from Senate Republicans' desire to renew the controversial 421-a tax credit for developers, which is supposed to yield some affordable housing. The measure lapsed at the start of this year after Cuomo put negotiations in the hands of labor and real estate, insisting certain wage requirements needed to be part of any deal. There have been stop-and-start negotiations over the renewal for many months, but they have not yielded a deal. Holding on to the housing funds could give Republicans the bargaining chip they need to get 421-a renewed next year, or even sooner.
Cuomo administration officials stress that they feel securing the $1.9 billion in the budget was the hard part and getting it out the door will be much easier.
However, the public battle over the MOU is more centered in the feud between Cuomo and de Blasio. The state and city have traditionally come together in agreement to fund supportive housing (the series of three NY/NY deals), but no deal has materialized under Cuomo and de Blasio. "In the past we had a long-term commitment to create supportive housing that gave investors the reassurance they needed," said Kristin Miller, director of CSH, an organization that helps find financing for supportive housing projects.
Last fall, de Blasio announced he would commit $3 billion over the next 15 years to create 15,000 units of supportive housing in New York City. Advocates saw it as a way of pressuring Cuomo to deliver his own commitment. De Blasio, his top officials and allies have repeatedly called on the governor to do so, and Cuomo appeared to answer that call during his January State of the State address.
Cuomo made homelessness and supportive housing a major part of that speech and the accompanying budget and policy book. Committing $20 billion over five years to create 100,000 new units of affordable housing and 6,000 units of supportive housing across the state, Cuomo also outlined a number of programs that appeared designed to take away de Blasio's ability to fund and control the construction of affordable housing while inserting more checks and balances over the city's shelter system. Some of that plan wound up being jettisoned in budget negotiations.
"The Governor promised 6,000 units and anything short of that is going to be met with disappointment," said Carla Rabinowitz of Community Access, who is organizing the Tuesday protest at Cuomo's office. "I know people who have been waiting three to ten years to get into supportive housing and now you're telling them they have to wait more because of politics? It isn't acceptable."