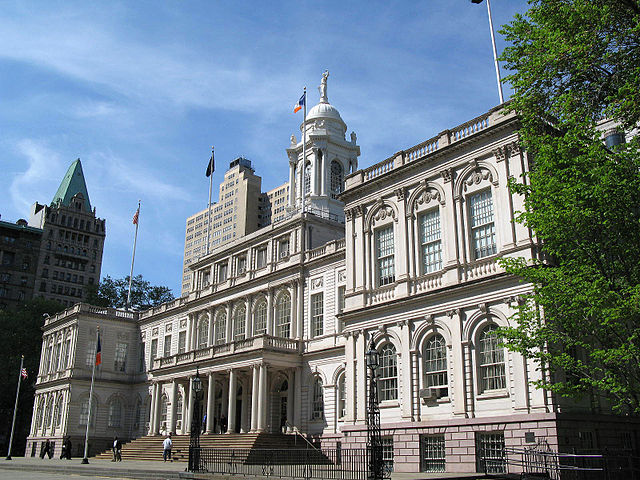 New York City Hall
---
What to watch for this week in New York politics:
Tuesday is New York's second election day of 2016. In April, it was the presidential primaries; now, the congressional primaries. All of New York's 27 seats in the House of Representatives are up for election this year, though not all have competitive primaries since many incumbents are not being challenged from within their party. There are several long-time incumbents being challenged, though, and a few open seats with competitive primaries. In New York City, most of the focus is on the race in the thirteenth congressional district, where a long list of Democrats is attempting to replace retiring Rep. Charles Rangel. In a crowded field, anything can happen, but the two frontrunners are seen as being state Sen. Adriano Espaillat, who lost primary challenges to Rangel in 2012 and 2014, and Assemblymember Keith Wright, who has been endorsed by Rangel. Clyde Williams, a former aide to President Bill Clinton, received the endorsement of The New York Times. [Read more about the NY13 race and much more in our preview of Tuesday's primary day here.]
This week before the July 4 holiday weekend will also see continued efforts by Gov. Andrew Cuomo to highlight accomplishments of the recently-completed legislative session in Albany. On Monday Cuomo will lead the first of three legs of a motorcycle ride to raise awareness about the importance of breast cancer screenings - details below.
Mayor Bill de Blasio starts his week celebrating the recent Obama administration announcement of Stonewall Inn as the first LGBT national monument in the afternoon.
De Blasio spent Friday and Saturday in Indianapolis at the annual U.S. Conference of Mayors. He then participated in Sunday's Pride Parade back on the city. Cuomo also marched, and the two even spent some rare time in close proximity after presidential candidate Hillary Clinton joined the parade for a little while and all three could be seen marching near each other.
Meanwhile, it's another busy week at the City Council and there are several other events to be aware of - see our day-by-day rundown below.
***Do you have events or topics for us to include in an upcoming Week Ahead in New York Politics?
e-mail Gotham Gazette editor Ben Max: This email address is being protected from spambots. You need JavaScript enabled to view it.***
The run of the week in detail:
Monday
"On Monday, June 27, 2016, Governor Andrew M. Cuomo will launch the first-ever statewide breast cancer motorcycle ride to raise awareness of the disease across New York State. The ride supports Governor Cuomo's comprehensive "Get Screened, No Excuses" campaign – the nation's most aggressive effort to eliminate the barriers that often prevent women from getting screened, such as difficulty scheduling mammograms or burdensome insurance hurdles. Beginning in Kings Park on Long Island, Governor Cuomo, Sandra Lee, and hundreds of participants will ride motorcycles across the state to raise awareness about breast cancer and support families fighting against the disease. Legendary musician Billy Joel will also join the first leg of the ride on June 27. The second and third legs of the ride will take place on Friday, July 8 and Wednesday, July 13."
At 11 a.m. Monday at City Hall, "Dozens of housing advocates and tenants will join with elected officials to announce a scathing new report that exposes statistical evidence of Airbnb's negative impact on affordable housing in NYC." This, according to an advisory from the "Share Better" coalition. Public Advocate Letitia James is among those who will speak.
At noon on Monday at the Stonewall Inn, "Mayor de Blasio will join Senior Advisor to the President Valerie Jarrett, Secretary of the Interior Sally Jewell, and other elected leaders, advocates and New Yorkers in designating Stonewall Inn the first LGBT national monument."
Also at noon Monday at CUNY's Graduate School of Journalism, Mayor's Office of Media and Entertainment (MOME) Commissioner Julie Menin and J-School Dean Sarah Bartlett will hold a press event to announce a $1 million grant from MOME to the CUNY J-School.
At 12:30 p.m. Monday, City Council Members Carlos Menchaca, Stephen Levin, and Julissa Ferreras-Copeland, and others will hold a press conference on the steps of City Hall in response to the Supreme Court's decision on President Obama's immigration plan and rising anti-immigrant sentiment. The press conference is scheduled immediately before a hearing of the Committee on Immigration, which will focus on two resolutions that call for federal action for Syrian refugees and Ecuadorian earthquake survivors.
At the City Council on Monday:
At 1 p.m., the Committee on Environmental Protection will meet to discuss several bills.
Also at 1 p.m., the Committee on Juvenile Justice will hold an oversight hearing examining the Department of Investigation's report on the Administration for Children's Services' (ACS) Close to Home Initiative.
Also at 1 p.m., the Committee on Immigration will meet to discuss two recently introduced resolutions. The first calls on the Secretary of the Department of Homeland Security "to designate Ecuador for Temporary Protected Status to provide temporary immigration relief." Another resolution calls on the President and the State Department "to resettle at least 10,000 Syrian refugees in the USA by the end of 2016 and to increase such number to 65,000 by the end of 2017."
At 6 p.m. Monday, the New York State Legislature will hold a meeting of the Senate Task Force on Lyme and Tick-Borne Diseases "to continue to focus on improved prevention, diagnosis, and treatment of these diseases to better protect the health of New York residents."
At 6 p.m. Monday, Public Advocate Letitia James will host another in her screenings of of "Making a Killing: Guns, Greed and the NRA," this one at John Jay College of Criminal Justice.
On Monday at 6:30 p.m., the Rent Guidelines Board will hold a public meeting to finalize and vote on proposed rent guidelines effective October 1, 2016 through September 30, 2017. The decision will determine rent changes, if any, for rent-stabilized tenants across New York City for one- and two-year leases. Last year, there was a first-ever "rent freeze" for one-year leases, with a small increase on two-year leases.
Tuesday
Congressional primary elections will take place Tuesday in New York. All seats in the U.S. House of Representatives are up for election this year, as are some U.S. Senate seats. To vote, you must be registered in a party holding a primary. Use the Board of Elections' locator to find your poll site.
On Tuesday, Mayor de Blasio will appear live on 1010 WINS at 7:30 a.m. and WCBS Newsradio 880 at 7:50 a.m. to discuss the Rent Guidelines Board vote.
Later, at 12:30 p.m., "the Mayor will participate in a tele-town hall with seniors to discuss the Rent Guidelines Board vote."
After, at 2 p.m., "the Mayor will hold public hearings for and sign six pieces of legislation – Intro. 871-A, in relation to ensuring equal access to single-occupant bathrooms for transgender and gender non-conforming New Yorkers; Intro. 1149-A, in relation to requiring ticket sellers to be licensed by the Department of Consumer Affairs; Intro. 868-A, in relation to issuing an annual report on the implementation of Next Generation 911; Intro. 851-B, in relation to protecting against the harassment of tenants who lease space for a commercial rather than residential nature; Intro. 775-A, in relation to creating timeframes for the landmark designation process; and Intro. 1223, in relation to reducing the use of carryout bags. The Mayor also will hold public hearings for Intros. 1122-A, 1123-A and 1128-A, in relation to increasing access to feminine hygiene products."
At the City Council on Tuesday:
At 10 a.m., the Committee on Health will meet.
Also at 10 a.m., the Committee on Oversight and Investigations will meet regarding the collection and evaluation of civilian complaints alleging police misconduct, in order to improve monitoring and discipline practices.
At 11 a.m. Tuesday, the New York State Commission on Legislative, Judicial and Executive Compensation will hold a public meeting to "determine procedure for considering legislative and executive compensation." At the New York City Bar, midtown.
At 6:30 p.m. Tuesday, City & State NY will host a reception to launch the "Manhattan: Borough Series" special issue of its print publication. Manhattan Borough President Gale Brewer will attend and participate in a live interview. Lucille's Bar & Grill.
Also Tuesday at 6:30 p.m., "Public Advocate James will host a "Talk to Tish" town hall about veterans issues in New York City. The town hall will feature a panel of experts and advocates, information and resources from service providers, and questions from the audience. Public Advocate James will be joined by Loree Sutton, Commissioner of the NYC Department of Veterans' Services; Craig Newmark, Founder of craigslist and veterans advocate; IAVA; and other veterans groups." At the Intrepid Air and Space Museum.
Wednesday
At 8 a.m. Wednesday, the New York Building Congress will hold a Construction Industry breakfast forum featuring Senate Majority Leader John Flanagan; The Metropolitan Club in Manhattan.
At the City Council on Wednesday:
At 10 a.m., the Committee on Youth Services will meet to conduct an oversight hearing on the Summer in the City educational program.
At 1 p.m., the Committee on Land Use will meet.
At 3 p.m. Wednesday, the New York City Bar Association will host a panel discussion on "The Role of Foreign Policy in the 2016 Presidential Election." Several speakers will participate, including Ed Cox, chair of the New York State Republican Committee, and David E. Sanger, Chief Washington Correspondent at The New York Times.
"The next public meeting of the New York City Voter Assistance Advisory Committee (VAAC) will be held at 5:30 PM on Wednesday, June 29, at the offices of the Campaign Finance Board."
At 6 p.m., the Panel for Education Policy will meet in Long Island City.
Thursday
At 2 p.m. Thursday, the Department of Consumer Affairs will host an Open House Training series on the city's Commuter Benefits Law. The training will ensure employers understand their responsibilities under the new Law, which took effect on January 1, 2016.
Friday and the weeked
It's July 4th weekend, have a good and safe weekend. We won't be publishing a "Week Ahead" for the week of July 4, but we'll be back with one on Sunday evening July 10 for the week of July 11.
***
Have events or topics for us to include in an upcoming Week Ahead in New York Politics? E-mail Gotham Gazette executive editor Ben Max any time: This email address is being protected from spambots. You need JavaScript enabled to view it. (please use "For Week Ahead" as email subject).
***
by Amanda Sherwin and Ben Max
@GothamGazette