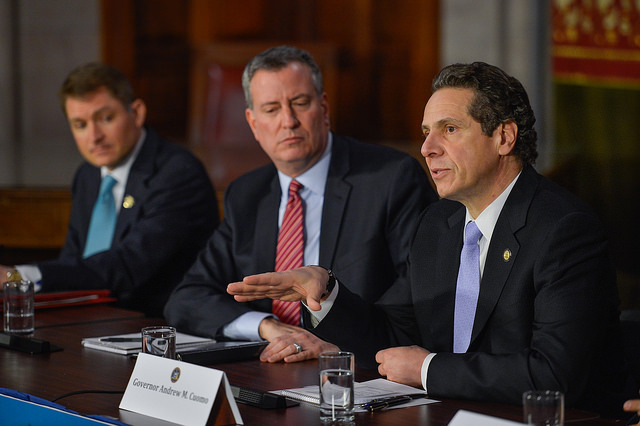 De Blasio and Cuomo in 2014; photo via The Governor's Office
---
Mayor Bill de Blasio has made it clear that he feels like he's often fighting for New York City's interests against both Gov. Andrew Cuomo and state Senate Republicans, with Assembly Democrats as his key allies. In his initial statement reacting to the recent end of the 2016 legislative session in Albany, de Blasio put a thank you to Assembly Speaker Carl Heastie and company at the forefront, never mentioned Cuomo, and gave his take on what he assessed as a mixed bag for the city.
For his part, Cuomo argues that the city made out quite well and, in harshly worded statements to the media, his aides say that the governor, raised in Queens, very much looks out for the city, but has little respect for the mayor. It can often be hard to separate the mayor from his agenda and the interests of the city, and in assessing the outcomes of the legislative session for New York City, it's clear that de Blasio's rivalries with Cuomo and Senate Republicans affected policy decisions.
Still, while de Blasio did see several disappointing results out of Albany this year, like another one-year extension of mayoral control of city schools, there was a lot for the city to celebrate, including wage and benefit legislation that the mayor and his fellow Democrats had wanted. The city appears to have made out much better in the state budget than in the post-budget portion of the session and final deals reached in mid-June.
There are long lists of outcomes that de Blasio and his allies are pleased with and not; but what the six-month session made abundantly clear is that state lawmakers, including the governor, are nowhere near ready to relinquish the substantial powers they wield over the city. The session was marked by important policy debates; political rivalries; and the news of an investigation into de Blasio, his aides and allies, that originated with the state Board of Elections' enforcement counsel. That counsel, Risa Sugarman, is a former Cuomo aide, leading to finger pointing and conspiracy theories from de Blasio - drama added to the already-fraught dynamics.
As de Blasio regroups over the summer and state legislators prepare for fall elections, a look back at the 2016 legislative session in Albany shows the following top ten takeaways for New York City:
1. Gov. Cuomo is still able to bend Senate Republicans to pass progressive legislation. Mayor de Blasio and his progressive allies may have been somewhat shocked when the state budget, passed at the beginning of April, included a staggered minimum wage increase that could eventually reach $15 throughout the state and a paid family leave program. Both policies won Cuomo national accolades and appeared to many to be his attempt to coopt de Blasio's position as the top progressive in the state. To get both things done Cuomo had to convince and cajole Senate Republicans to go along with two policies opposed by many in their base (he'd done this before, of course, with marriage equality and the SAFE Act). The minimum wage and paid family leave policies will have a major impact on New York City workers, especially those de Blasio has sought to lift up.
2. De Blasio is Cuomo's enemy and Senate Republicans' boogeyman. It was clear early in session that Senate Republicans saw de Blasio as a perfect foil, but it wasn't clear how much ammo they would actually have or far they would go to deny him success in Albany. Senate Majority Leader John Flanagan held fast in his stance on mayoral control of schools and in the end de Blasio was only granted a second straight one-year extension. After de Blasio's complaints on the subject, Cuomo shot back that the mayor was "lucky" to get one year. De Blasio had harsh words toward the governor at a recent press conference and Cuomo's press office has been highly critical of the mayor.
Meanwhile, Senate Republicans are outraged by revelations around de Blasio's 2014 efforts to flip the Senate to Democrats and plan to tie 2016 Democratic opponents to the mayor in most contested Senate races this summer and fall. Voters in contested districts are likely to hear a lot about the "corrupt, liberal" mayor who is looking to control the Senate and all of state government, to make the whole state like New York City. It's unlikely Cuomo will do much to help Senate Democrats, something de Blasio has been critical of in the past and in recent comments. Senate control has major implications for New York policy-making, of course, as de Blasio recently discussed in an interview with Harry Siegel of the Daily News, where he said that New York could be like California, if Cuomo was to push for that.
3. Mayoral control of schools will be an election-year issue for de Blasio. Winning a one-year extension of mayoral control means de Blasio will have to look to Albany for another extension next year - as he faces reelection. With his poll numbers dropping and corruption investigations swirling it becomes more likely he will face a primary challenge. Expect de Blasio's handling of schools to be a hot topic in Albany and in the mayoral race. De Blasio's critics continue to point to his opposition to charter schools and raise questions about his handling of the city's most troubled schools.
4. De Blasio owes Assembly Speaker Carl Heastie. The Democratic Assembly Speaker from the Bronx went to bat for de Blasio in the chamber's budget proposal - pushing a six-year extension of mayoral control of schools - and later appeared to hold up budget negotiations while fighting for renewal, until de Blasio relented to the compromise that was reached. In 2009 Heastie was the lead Assembly sponsor of a bill that would have crippled mayoral control, so it doesn't appear he was fighting for the renewal on principle. De Blasio will have to continue to nurture his relationship with Heastie as many other Democrat legislators express a similar refrain: "it isn't easy being the mayor's friend."
On a variety of issues it is clear that Heastie and his fellow Assembly Democrats from the city are the city's biggest advocates and the mayor's top allies. In reacting to the end of session, de Blasio released a statement saying, "With the leadership and commitment of Speaker Heastie and his Assembly colleagues, New York City secured a series of important State commitments that will improve lives across our five boroughs."
5. State leaders appear increasingly interested in curtailing the city's autonomy. In reaction to the city's plan to impose a five cent fee on paper and plastic bag shopping bags, the Senate moved legislation that would have banned any locality from instituting such a law. The Assembly was headed in that direction but Heastie cut a deal with City Council Speaker Melissa Mark-Viverito to delay implementation of the plan so that the Council could amend it to the Assembly's liking and explore other changes.
Cuomo has moved to limit the city's ability to implement its affordable housing plans; instituted greater oversight of city homeless shelters; decided to open new state police barracks near City Hall; and created a new agency in the budget that could allow him to take over major capital projects. Critics see the new agency as an end run around the MTA board.
6. The feud between Cuomo and de Blasio leaves affordable and supportive housing in an unpredictable state. Cuomo won $1.9 billion in funding for supportive and affordable housing in the state budget, but only $150 million of those funds were released in an agreement with legislative leaders by the end of session. Affordable and supportive housing advocates and providers say that without a long-term plan that details how the cash will be allocated in years to come it will be hard for builders to get funding for new construction.

Additionally, the 421-a tax abatement program meant to spur developers to build rental housing with mandated affordable housing included was not renewed. De Blasio continues to insist that a proposal he put forth should be adopted, while Cuomo says the building trades unions must be included in negotiating a deal. The mayor's affordable housing plans are at risk without a new 421-a program.
7. The Assembly went to bat for the MTA. The governor's executive budget proposal would have put off funding the MTA's capital plan until the MTA ran out of current funding streams. The Assembly fought and won $2.9 billion in funding for the capital plan this year. It will be the first of four annual appropriations that will end up totalling $7.3 billion.
8. Major New York City-based infrastructure projects are on the move. It appears that major infrastructure projects, both inside and outside of New York City, will be key to Gov. Cuomo's legacy. In the city, the state is moving ahead with improving JFK Airport, redeveloping LaGuardia Airport and Penn Station, expanding the Javits Convention Center, and building new MetroNorth stations in the Bronx.
9. Education funding debates continue, with more money headed to New York City. While many in New York City, including de Blasio, continue to call on the state to meet its obligations under the Campaign for Fiscal Equity court ruling, according to Gov. Cuomo's office, "The FY 2017 Budget provides $24.8 billion in School Aid, the highest amount in history and a 6.5 percent increase over last year." Much of it is headed to New York City, home to more than 40 percent of the state's population. As part of the mayoral control extension deal, though, the city is now required to make its individual school funding formulas more available publicly.
10. Top city priorities left out. Less on de Blasio's agenda, but more on those of city-based state legislators, who are overwhelmingly Democratic, are issues like criminal justice reform and the DREAM Act, which saw no movement this year.
Criminal justice issues were not a priority for Cuomo or Senate Republicans. While Cuomo's January State of the State address included mentions of the campaign to raise the age of adult criminal responsibility and efforts to encode into state law a special prosecutor in the case of police shootings of unarmed civilians, neither appeared to ever become a major priority for Cuomo, who focused on minimum wage and paid family leave at the start of session and a variety of other issues after the budget, while also dealing with the developing federal investigation into his economic development programs. Both criminal justice reform initiatives, among others, are largely popular in the Assembly and New York City, but not in the Senate.
The DREAM Act, another priority of New York City Democrats, won't pass as long as Senate Republicans hold the chamber - or until Cuomo forces it through: Advocates for legislation to give undocumented students access to tuition assistance haven't given up their fight but they know Senate Republicans have touted their opposition to the bill successfully during the last few election cycles. They also know that Cuomo can move mountains when he wants to - the governor had included the DREAM Act in his budget bills, but has not campaigned on the issue since his 2014 reelection bid.
Ben Max contributed writing.