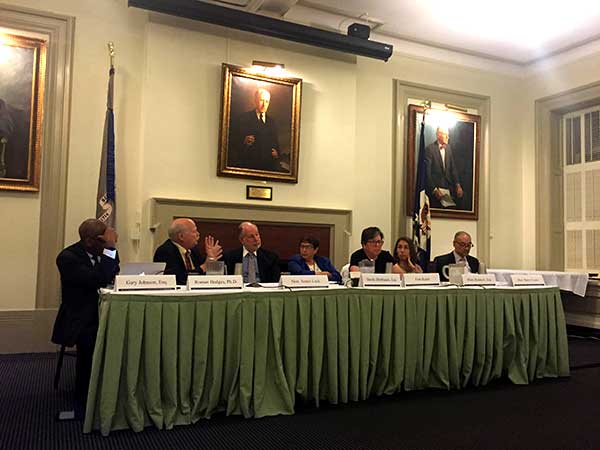 The state pay commission (photo by Meg O'Connor)
---
A commission tasked with examining the compensation of state lawmakers and executive branch officials met for the fifth time Tuesday, and all seven commissioners agreed that heads of state agencies deserve a significant raise. However, the meeting was adjourned without the commissioners examining the salaries of statewide elected officials, and nothing was agreed upon during the brief and heated discussion of pay for Assembly members and state Senators.
The commission's recommendations are due in a little over four months, on Nov. 15, and Tuesday's meeting was nearly called to an end without addressing legislators' pay at all, save for a remark by one commissioner. The commission agreed to discuss the controversial issue of Assembly member and Senator pay, which has gone unchanged since 1999, during the next meeting, on July 26. Tuesday's public meeting was an open discussion among commissioners that did not allow for any public testimony, and there will be no additional public hearings before the deadline.
The Compensation Commission set a tentative window for the top-earning agency commissioners' annual salaries at somewhere between $175,000 and $200,000. These salaries have gone unchanged for the past 18 years - top-earning commissioners, like the head of the Department of Transportation, currently earn about $136,000 annually.
There was no vote on the matter, though, as the commission still needs to determine the exact number they will recommend, which they are likely to do when they meet at the end of July. Conversations about whether or not to phase in the salary increase are also ongoing.
As newly required by law, every four years - beginning June 2015 - the New York State Commission on Legislative, Judicial, and Executive Compensation is established to examine the compensation of state judges, legislators, statewide elected officials, and certain state officers. The commission is made up of seven commissioners - three appointed by the Governor, one by the Senate Majority Leader, one by the Assembly Speaker, and two by the Chief Judge of the Court of Appeals. The commission must make its recommendations before November 15, 2016. The commission's recommendations will automatically become law and go into effect on January 1, 2017, unless the Legislature specifically votes against the increases.
Tuesday's meeting mainly examined compensation for members of the executive branch. Yet the salaries of the Governor and other statewide elected officials (which also have not been raised since 1999) went unaddressed during this meeting, and has not been thoroughly examined during past meetings or hearings. The commissioners seem generally confused as to whether they have the authority to recommend salary changes for the Governor and other statewide elected officials, like the Comptroller and the Attorney General, and questioned that while speaking amongst themselves before the meeting began.
The commission released its recommendations for the judiciary in December 2015, which included salary increases for judges phased in over a four-year period.
The compensation of state legislators, members of the Assembly and the Senate, who have not received a raise to their base salary of $79,500 since 1999, will be addressed at the next meeting. The subject was briefly raised, but the conversation turned tense and the meeting was adjourned shortly thereafter with little, if any, progress made on the issue.
The salaries in the executive branch dominated Tuesday's discussion, with commissioners agreeing to set a "tentative window" for the salary of the so-called "A-level" commissioners (meaning those who currently have the highest compensation). The commission eventually landed on the $175,000-$200,000 window, and agreed to adjust the compensation of the lower-earning top agency officials proportional to the adjustment for top-earning commissioners.
"This shouldn't simply be an inflation adjustment," said commissioner Roman B. Hedges, former professor of political science and former deputy secretary of the state Assembly Committee on Ways and Means. The inflation adjustment for top-earning commissioners would be an increase of about 43 percent (to about $193,000) as their salaries have not been adjusted for almost two decades. "We should be thinking about how we can make this a compensation" that the commissioners deserve and that can attract the best people to public service, Hedges added.
Sheila Birnbaum, chair of the pay commission and co-head of the Global Products Liability and Mass Torts practice at Quinn Emanuel Urquhart & Sullivan, suggested that the increase should raise the salaries of top-earning commissioners to somewhere "not as high as [comparable] New York City commissioners, but maybe at least somewhere between" that and the inflation adjustment. Many top-earning New York City commissioners earn about $220,000 annually.
"There's a certain symbol in the $200,000 number," Hedges said, "It's still below what the judges are making, it's still below what the city commissioners are making, and it's more than inflation…we want to make sure that our executive agencies are staffed with people who can handle the breadth" of managing complex agencies.
"I understand the spirit of Hedge's suggestion…but by my calculation that would be something like 47 percent," said commissioner Gary Johnson, executive legal counsel at Medgar Evers College and former director of the Governor's Office of Employee Relations. Johnson added that that sort of an increase might be politically unsavory.
"That will be incredibly difficult to sell," said commissioner Fran Reiter, a former executive deputy director for State Operations under Governor Andrew Cuomo.
"I don't have problem with the 200 number," said commissioner Barry Cozier, senior counsel in the litigation practice of LeClairRyan, "but I think, because we do have political considerations involved, and yes as pure percentage it's a substantial increase," perhaps "as with the judges, we should consider whether it should be a phase in over the years."
"I personally feel that we should not be looking at a number under $195 for the A group," Cozier added.
Reiter said she was "not comfortable" with that number, and called on the commission to be "realistic," suggesting a range of $175,000-$180,000. "What we do here is ultimately going to be judged by the Legislature, who can negate what we do…and since we haven't even begun to talk about what will be the most controversial issues that we face…we may very well come up with a number [for commissioners] that the Legislature is not going to be acceptive of if we don't do the same for them," Reiter cautioned.
The commissioners then agreed to "come up with a number for the A-level commissioners that would then be proportionally applied to the other commissioners," in Johnson's words, and decided to address whether the pay increase should be phased in over time or given all at once at the next meeting.
In the few minutes the "most controversial" issue of legislative compensation was discussed, the conversation quickly became heated. Legislators earn $79,500 and haven't had a raise in 17 years, but can earn unlimited outside income because the position is considered part-time. State lawmakers' outside jobs have been the subject of heightened controversy in recent years, especially as former Assembly Speaker Sheldon Silver was convicted on several federal corruption charges last year after trading official favors to pocket nearly $4 million in legal fees. Government reform advocates and Governor Cuomo have proposed significant limits on legislators' outside pay while calling for their base salaries to increase dramatically in an attempt to limit corruption in state government.
On Tuesday, two commissioners (Reiter, appointed by Cuomo, and James Lack, a former state Senator appointed to the Commission by Senate Majority Leader John Flanagan) repeatedly cut each other off to shout at one another over the relevance of state lawmakers being classified as part-time or full-time.
The argument broke out when Reiter criticized lawmakers for not making the case to the commission that their work should be considered full-time: "No one, among the three [lawmakers] we've heard from, came here and said to us, 'You know, the work we do is not just when we're in Albany, we go back to our districts and here are the kinds of things we do, and that would have been a valid argument-"
"Oh, Fran, cut it out!" Lack interrupted, describing the work he and his colleagues did for their constituents when the Legislature was not in session and lawmakers returned to their districts. "Who cares" that three "junior" state legislators "didn't bother to distinguish between full- and part-time," Lack said, adding that while he was a legislator, "no one went around distinguishing between part-time and full-time."
Reiter responded that the "reluctance of the state Legislature to make its own case pisses me off." (Government reform advocates have repeatedly expressed that the commission should be as independent as possible and should not allow those whose salaries they are tasked with determining sway their opinion). "Sorry if you don't get that," Reiter added.
"Oh, I get it," Lack responded. "I certainly get why they don't want to come and see you."
Tensions will likely remain high when the commission returns to discuss legislative pay on July 26. The meeting was adjourned almost immediately after the heated disagreement between Reiter and Lack. "We all knew that when we got to talking about the Legislature it'd get a little more heated - but we don't have to get the heat this high!" said Birnbaum.
Leaders from government reform groups have testified at two of the commission's prior public hearings, and agreed that the current salaries for state legislators are insufficient, but urged the commission to take into account the "stunning series of seemingly unending scandals" coming out of Albany, as Blair Horner, executive director of the New York Public Interest Research Group, put it.
Both the commission and advocates agree that, having not received a salary increase since 1999, legislators ought to receive one, and that doing so could help attract strong candidates to public service. Yet, advocates also warned that the actual amount that legislators earn is more than their base salary, since lawmakers can also earn leadership stipends, per diems, and outside income given the "part-time" nature of the job.
"The Commission's recommendation should look at the base salary of legislators as part of a complete review of legislative compensation, including outside income and leadership stipends," said Dick Dadey, executive director of Citizens Union, a government reform group, during a March 10 hearing. The Commission should also consider "the additional and often outrageous presence of money within New York's political system, such as elected officials' personal use of campaign funds, loopholes in campaign finance law, and the power and secrecy surrounding discretionary funding."
Speaking amongst themselves before the meeting began, the commissioners seemed unclear as to whether or not they had the authority to recommend reforms to the way legislators are compensated.
"I'm not sure if lulus are part of the conversation," said Hedges, referring to leadership stipends.
"I think that's an important thing to confirm," Reiter responded.
This is supposed to be a "basic salary change…that's what the senators told me - now that's just their interpretation of what it is that they passed," Lack said of legislators and their legislation creating the commission.
The law passed last year did not grant the commission authority to make changes on reforms like limiting outside employment of elected officials, according to Horner. If the Legislature does not convene and specifically vote against the commission's recommendations, the new salary levels will go into effect on Jan. 1, 2017. This will be for the new class of legislators chosen through November's elections, many of whom will be the same individuals who currently hold the posts. There are no term limits in the state Legislature.
During next November's general election, in 2017, voters will decide whether to call a Constitutional Convention. If called, the convention would convene in April, 2019, and could address whether the job of a state lawmaker should be changed to full-time, among many other issues that may be on the table.
Assembly Speaker Carl Heastie has previously said that the compensation commission was not called to decide whether the Legislature should be full time. "I think what the commission in our minds was set up was, 'what is the requisite pay and what is the pay scale?,'" Heastie said. "Those are the definitions. Other considerations around income are not what they're charged to do."