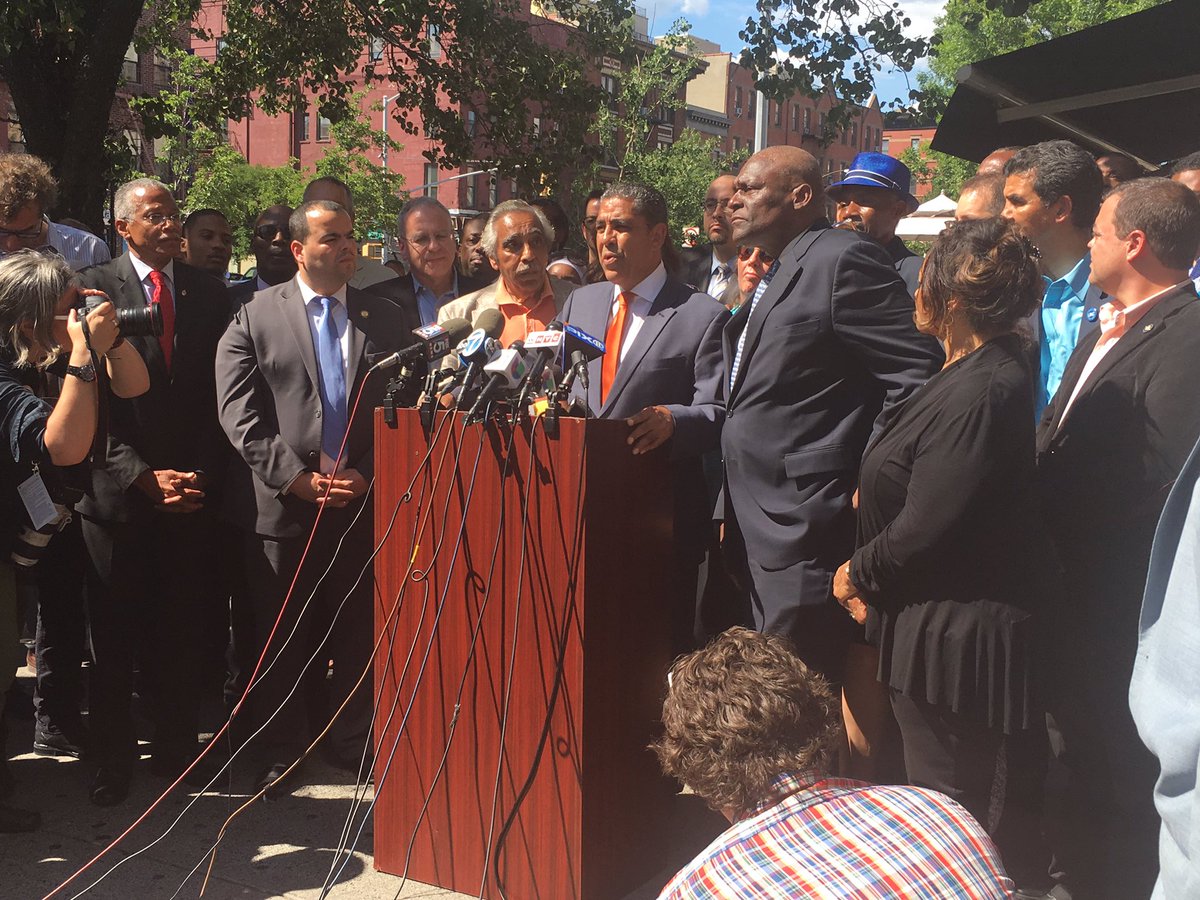 Espaillat & co at unity press conference (photo via @EspaillatNY)
---
After 46 years and 23 terms, voters in the 13th Congressional District in Harlem have chosen someone other than Rep. Charles Rangel to represent them. The retiring 86-year-old, a legendary figure in Harlem's political scene, appeared to want to extend his legacy by keeping the seat he had held for decades in the hands of an experienced politician of his choosing, but changing community demographics, a 2012 redistricting, and a crowded 2016 Democratic primary field seem to have thwarted his efforts.
State Senator Adriano Espaillat, who lost to Rangel in the 2012 and 2014 Democratic primaries, appears to have edged out a 1,200-vote win over his closest challenger and Rangel's prefered successor, Assemblymember Keith Wright. After initially refusing to concede, calling for every vote to be counted, and demanding a federal investigation into voter suppression, Wright declared Espaillat the winner on Thursday. Rangel, Espaillat, and Wright held a unity meeting and press conference, with Espaillat saying he expected to have Rangel as a mentor.
Espaillat would be the first Dominican and the first formerly undocumented member of Congress. His win gives a boon to Hispanic political power, in New York City and elsewhere, while also showing a decline the strength of black political power in Harlem and nearby. In this heavily Democratic district, the winner of the party primary is a lock to win the November general.
The outcome has other implications, too, especially around the state Legislature, with a game of musical chairs appearing to commence.
While every vote in the NY-13 race is indeed counted, Espaillat's apparent congressional victory lends clarity to the race for his state Senate seat and raises questions about Wright's political future.
Wright, who chairs the powerful Assembly housing committee, pledged in early June not to seek reelection to his Assembly seat should he lose and challenged Espaillat to promise not to run for his Senate seat should his bid fall short. Espaillat's camp dismissed the pledge as "desperate." State legislative primaries are in September.
Contenders have lined up for both seats. Micah Lasher, a former chief of staff to Attorney General Eric Schneiderman, launched a campaign last month with the caveat that he would drop out if Espaillat lost his congressional bid and sought reelection to the Senate. With Espaillat's victory Lasher now seems locked in for a primary battle against former City Council Member Robert Jackson, who challenged Espaillat in 2014. Jackson endorsed Wright in the congressional primary and attended Thursday's press conference.
So far that race has featured Jackson attacking Lasher for his previous work for education reform group StudentsFirstNY, a pro-charter school group that has campaigned against Senate Democrats. Lasher's camp has in turn pointed out that Lasher has personally supported Democratic candidates. Lasher has been consolidating support among many elected Democrats, though the race will gain even more clarity now that Espaillat's future is clear.
Less clear is the future of Wright's Assembly seat. Wright endorsed City Council Member Inez Dickens to replace him (she was also at Thursday's press conference), but with his loss many Harlem insiders wonder if Wright could renege on his promise. Wright may decide, though, to run for the Council seat Dickens is said to be leaving. There is plenty of chatter about Wright positioning himself to challenge Espaillat in two years, especially if he can work to ensure that there are fewer other black candidates in the running.
On Wednesday, Wright's campaign invited reporters to an event featuring Wright and Rev. Al Sharpton, who had held a fiery rally condemning Wright's opponents last weekend. Wright didn't appear at the event and Sharpton struck a conciliatory tone, asking the district to come together to support Espaillat - which is what happened on Thursday.
"We need to have a climate of coming together, and not of acrimony and rancor that pits communities against communities inside the district," Sharpton told reporters. Espaillat's statement on Wednesday echoed Sharpton's pleas for unity. "To those who voted for one of my worthy opponents - I pledge to work my heart out to represent you, knowing that our district is not a Latino or black or Asian district. It's a district that belongs to all of us, and we simply cannot succeed unless all of us are moving forward together," Espaillat said.
According to The Observer, Charlie King, Wright's top advisor, who did attend the event on Wednesday, appeared to dismiss the possibility of Wright positioning himself for a future congressional run. "I either see him in Congress, or I see him hanging out with me in the private sector, having fun and going to the beach," he said. "I would anticipate that whoever wins this race will likely hold the seat for years to come."
What Wright does about his Assembly seat is the next shoe to drop as the Lasher-Jackson Senate race heats up. Dickens was an active supporter of Wright's congressional campaign and appears keen to move to the Assembly. She will be term-limited out of the Council at the end of 2017. There are no term limits for state legislators, Wright has served in the Assembly since 1992. Neither Wright's nor Dickens' representatives responded to requests for comment for this story.
The practice of trading City Council and state legislative seats is fairly common and easily achievable due to the facts that almost all races in New York City are decided during the Democratic primary and city and state elections do not occur in the same years. Current Council Member Inez Barron ran for her husband Charles Barron's Council seat after he was term-limited out of office - he then successfully ran for her Assembly seat the following year.
The practice has an extremely high success rate because the Democratic County Committees have major sway in who runs and gets political and financial backing. Wright is the head of the Manhattan Democrats and would likely be able to maneuver himself into an easily winnable race should he choose to do so.
If he does indeed decline to seek re-election, his replacement will be chosen in September's primary (agian, by virtue of the fact that there is virtually no Republican presence in Upper Manhattan). If Dickens were to win the seat, she would leave the Council and Wright could then run in the special election to replace her.