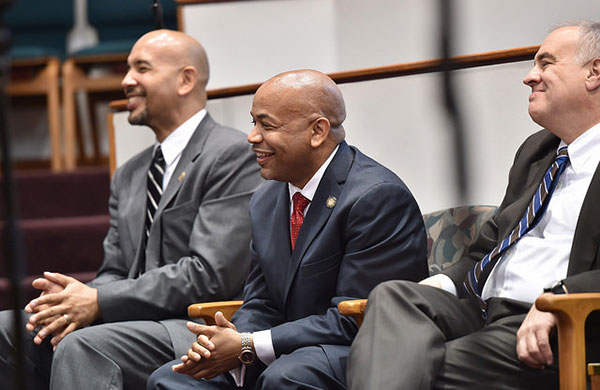 photo via The Governor's Office
---
Earlier this year, Assembly Speaker Carl Heastie announced he would implement a series of recommendations -- proposed by the Assembly Workgroup on Legislative Process, Operations and Public Participation -- designed to increase transparency, efficiency and participation in the chamber. Some of those changes were voted on as rules reforms, others were made as pledges. But many of them that deal with technology, like a revamp of the Assembly's website, posting more information about bills and committee hearings online and broadcasting hearings, were not implemented during the legislative session.
Assembly Democrats say staffers will begin implementing those technological improvements between now and the next session that begins in January. "It was difficult for the staff to work on these things while in session but now that legislative work is wrapped up they will begin to put many of these things in place," Assemblymember Brian Kavanagh a Manhattan Democrat and co-chair of the 12-member workgroup that came up with the recommendations, told Gotham Gazette. "Now that we are in the off session we will be looking to get as many of these things in place as soon as possible."
He stressed, however, that there is no "item-by-item deadline" to implement the reforms. Heastie's office did not return requests for comment.
Assembly Republicans have criticized Kavanagh and his taskforce for taking nearly a year to recommend a series of "common sense" changes that don't actually reform the power structure of the Assembly. They say the Assembly Democrats didn't seek input on rules changes and have not kept them updated on implementation.
"They worked a whole year supposedly and came up with things that aren't particularly brave, that don't change the power dynamic and (don't) give members the ability to move their own legislation," said Assembly Minority Leader Brian Kolb, a Republican from Canandaigua, to Gotham Gazette.
Some of the technology-focused changes the Assembly pledged to implement include making the functionality of the legislature's bill-tracking system available to the public; creating a web portal that includes all information related to bills, including committee actions and evaluations by outside groups; the creation of a C-Span like legislative television channel; making the content of the legislative library searchable online and modernizing the Assembly's phone system to include digital voicemail boxes.
"The recommendations put forth by the work group are thoughtful and comprehensive," Assembly Majority Leader Joseph Morelle said in a statement in March when the reforms were released. "These measures build on the steps that we have taken recently to introduce technology into our operations. While these new changes will take some time to put into operation, this investment will increase efficiencies as well as provide greater transparency and accountability."
The workgroup came together in the wake of the indictment of former Assembly Speaker Sheldon Silver on multiple federal corruption charges last year. Heastie, in his bid to replace Silver, promised to appoint a group that would look at changing how the Assembly operates.
Many good government groups had the expectation that the workgroup's proposals would help empower individual members while decreasing the speaker's ability to control all legislation, something they saw as playing into the charges against Silver, who had long resisted calls for basic technological changes to increase transparency. The Senate Republican Majority made these changes long ago.
Those advocacy groups welcomed the workgroup's eventual recommendations but saw them as failing to deal with the issues that lead to Silver's indictment. "Watching this process is like watching paint dry," said Blair Horner, executive director of the New York Public Interest Research Group. "They've done some good things but they haven't tackled anything to do with reforming the flaws in the system. It fits in with the overall Albany reaction to recent scandals, which has been to do nothing. Little has happened in the Assembly or in the Senate since Silver's indictment that would really change anything. The name of the game has been public relations."
John Kaehny, executive director of Reinvent Albany, said he has faith that the Assembly will make good on promised changes in a timely fashion. "Speaker Heastie has every reason to get this right to show he is a good manager and sincere leader," Kaehny said. "He is under intense scrutiny by the press and watchdog groups and will lose a great deal of credibility if he can't manage to get these fairly modest improvements done on-time."
As much as Assemblymember Kavanagh would like things implemented quickly, he also wants to make sure any changes are worthwhile. "We need to do it right," he said, "and make sure we create a high functioning system."