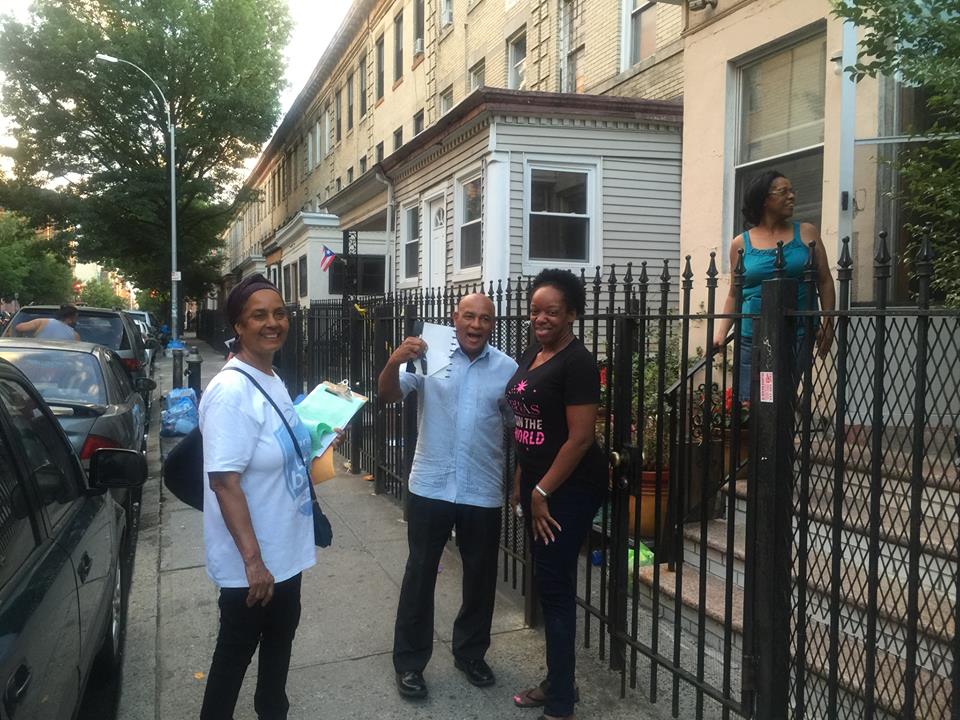 Hector Ramirez petitioning in the Bronx (photo via Facebook)
---
Bronx Assemblymember Victor Pichardo will no longer be facing former Assemblymember Nelson Castro, a onetime federal informant who helped dig up dirt on fellow electeds in an attempt to reduce charges he was facing for election-related perjury, in the upcoming Democratic primary.
Instead, Pichardo will again be opposed by Bronx activist Hector Ramirez, who is facing a 242-count indictment for voter fraud in relation to his activities in his last race against Pichardo.
According to the Bronx District Attorney's office Ramirez has a date in court before Bronx Supreme Court Justice Steven Barrett on September 13, the day of the Democratic primary.
While Castro has dropped his plans to run, Ramirez presents a stiffer challenge to the incumbent as the former districts leader's name has appeared on ballots in the Bronx for over 20 years and he recently challenged Pichardo in the special election to replace Castro in 2013 and during the Democratic primary in 2014.
Ramirez's entrance into the race is another chapter for the 86th Assembly District, which has been rocked by scandal and infighting for years. Castro served two terms in the Assembly while also working as an informant before abruptly resigning in April 2013. Ramirez announced his candidacy in a press release on Tuesday night touting that he had filed three times the required signatures to get on the ballot.
Pichardo's camp is expected to challenge Ramirez's petitions, with the possibility of knocking him off the ballot.
Castro told Gotham Gazette that he decided to bow out of the race after collecting 2,300 signatures petitioning because it was difficult to raise money. He said he now expects to back Ramirez. "I decided to stay out, but I think I will be endorsing Hector Ramirez," Castro said. Asked if the indictment against Ramirez concerns him at all, Castro replied: "I haven't endorsed yet. He's not guilty until proven guilty in a court of law."
Ramirez, who has clashed with county Democrats, is positioning himself as a man of the people running against Pichardo, who he has labeled the establishment candidate and an outsider. "[T]he first step in having our voice and concerns heard in Albany is allowing the people of the district to exercise their constitutional right of electing whomever they want fighting for them in Albany, not a poppet [sic] imposed by politicians," Ramirez said in the statement.
Pichardo reacted to Ramirez's announcement by requesting the Department of Justice monitor the contest. "This announcement is yet another example of both Hector Ramirez's contempt for the law and his lack of respect for the voters of the 86th Assembly district," Pichardo said in a statement.
In 2014, dozens of witnesses told the Bronx DA office that Ramirez and his staffers duped them into handing over their absentee ballots - some of which Ramirez's staff then filed as votes for their candidate. After the first tally Ramirez led Pichardo by 11 votes out of over 3,500 ballots cast. A hand recount put Pichardo ahead by only two votes.
At the time, Ramirez accused Pichardo of election fraud because Pichardo's mother was active as a poll worker in the district. Further, Ramirez and other candidates complained that levers were missing on voting machines making it impossible to cast a ballot for Ramirez. The Board of Elections said that anyone who encountered a problem was offered a paper ballot.
Assemblymember Marcos Crespo, chair of the Bronx County Democrats, said he believes Pichardo will defeat any challenge because "Victor brings integrity to the job." He said, "The Bronx deserves better than this continual parade of candidates with clouds around them."
Crespo added that he thinks candidates should wait to run until "their legal issues are behind them."
Ramirez was not immediately made available for an interview for this story.
Castro said he feels Pichardo and Ramirez have something to settle. "It's a matter of principle. Hector won those elections but apparently after they counted paper ballots Pichardo won by two votes. I decided to stay out to let them duke it out. They have something there to work out."