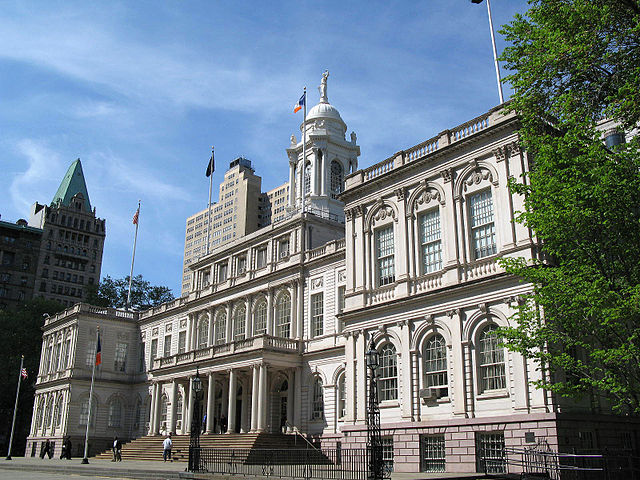 New York City Hall
---
What to watch for this week in New York politics:
This week and next will be dominated by the race for President. The Republican National Convention takes place this week - Monday through Thursday - in Cleveland, followed by the Democratic National convention next week - June 25-28 - in Philadelphia.
Read our comprehensive preview of the two conventions, with a distinct focus on the many New York angles, including the fact that the presumptive presidential nominees of the two major parties both call New York home.
Before he attends the Democratic convention, Mayor Bill de Blasio is on a family vacation this week in Italy. He returns to New York on Sunday, July 24.
There is nothing scheduled at the City Council this week, and as of Sunday, no hearings on the Council calendar until mid-August. This past week, the Council held several committees hearings and its one full-body Stated Meeting of July (there are two Stateds each month other than July and August, when there are one each.)
All that being said, there are political events happening in New York City this week - see our day-by-day rundown below.
***Do you have events or topics for us to include in an upcoming Week Ahead in New York Politics?
e-mail Gotham Gazette editor Ben Max: This email address is being protected from spambots. You need JavaScript enabled to view it.***
The run of the week in detail:
Monday
According to City & State NY, on Monday "Assembly Speaker Carl Heastie and Assemblyman Joe Morelle host the 29th Annual Speaker's Cup golf tournament, Saratoga National Golf Club."
Monday at 10 a.m. in the Bronx, City Council Member Vanessa Gibson will announce capital allocations for NYCHA developments in District 16 for the new fiscal year that began July 1. The allocation includes funding for security cameras, playground renovation, and programmatic funding for other improvements.
According to City & State NY, at 10 a.m. "The New York City Taxi and Limousine Commission hold a public meeting" in Manhattan.
At 11 a.m. Monday in Rockaway Park, City Council Member Eric Ulrich will host a press conference "denouncing Mayor Bill de Blasio's handling of the Build it Back program and recommending changes that will make it more accountable to taxpayers and residents."
According to City & State NY, at 11 a.m. "New York City Department of Probation Commissioner Ana Bermudez, Brady Koch, chief program officer of Food Bank For New York City, DOP clients and professionals from the food industry hold and participate in 5th annual "Health & Harmony Day," South Bronx Neon."
Also at 11 a.m. Monday on the steps of City Hall, Brooklyn Borough President Eric Adams, Council member Andy Kings and student track members from around the city will hold a press conference to honor Brooklyn native Justin Gatlin, who is set to compete in his third Olympic Games on the U.S. track team. Three "up-and-coming" student athletes from the city will be honored.
At 5 p.m. Monday, City Council Speaker Melissa Mark-Viverito will host a "Melissa Meet Up" at La Isla Garden in the Bronx. The Speaker's monthly meet up is a chance for New Yorkers to ask questions and present concerns to Mark-Viverito one-on-one.
According to City & State NY, at 6:30 p.m. "Assemblywoman Rodneyse Bichotte speaks at Straight Talk Forum on Race, Community, and Law Enforcement, Mount Zion Church of God 7th Day," in Brooklyn.
The Republican National Convention kicks off on Monday in Cleveland. Read all about it.
Tuesday
At 8 a.m. Tuesday, City and State will host "On Diversity," a forum bringing together leading professionals to discuss "women in government, creating an inclusive company culture, and MWBE opportunities in contracting." The forum will feature a one-on-one interview with Congressional Rep. Hakeem Jeffries as well as panelists Letitia James, Public Advocate, Melissa Mark-Viverito, City Council Speaker, and Carra Wallace, Chief Diversity Officer at the New York City Comptroller's Office.
The Republican National Convention continues Tuesday in Cleveland.
Wednesday
At 8:30 a.m. Wednesday, the Association for a Better New York will hold a breakfast with John Miller, Deputy Commissioner of Intelligence & Counter-terrorism of the NYPD. Miller will discuss current trends in terrorism and the NYPD's assessment of and response to New York City's overall security.
Also Wednesday at 8:30 a.m., "Crain's Business of Garbage," a program focused on the multibillion-dollar commercial and residential waste disposal industry, hosted by Crain's New York Business at John Jay College. Kathryn Garcia, Commissioner of the NYC Department of Sanitation, will be among the panelists who will speak about the practical and political challenges encountered when dealing with the city's waste collection and disposal.
At 11:30 a.m. Wednesday, the Long Island Power Authority (LIPA) Board of Trustees will hold a meeting to consider the development of a wind farm to produce renewable energy off the coast of Long Island. In a press release from Thursday, July 14, Governor Cuomo stated, "I strongly encourage the Trustees to once again demonstrate New York's leadership on climate change and help achieve the state's ambitious goal of supplying 50 percent of our electricity from renewable energy by 2030. Investing in New York's clean energy economy strengthens our communities by providing access to clean, affordable power and good quality green jobs. Next week marks another opportunity for this state to lead the nation in creating a stronger, more resilient energy system and protecting the environment for future generations."
Also at 11:30 a.m. Wednesday outside Brooklyn Borough Hall, Riders Alliance members will host a campaign launch rally for "Turnaround: Fixing NYC's Buses." The new initiative is geared toward implementing "an ambitious set of recommendations to upgrade and modernize bus service in New York City."
At 3 p.m. Wednesday the New York City Department of Health and Mental Hygiene (DOHMH) and the CUNY Center for Community and Ethnic Media will hold a joint press briefing to present the most recent updates on the Zika virus and preventative measures being taken in New York City. "The briefing will also present a Vital Signs Report on Immigrant Health examining access to preventive and primary healthcare among immigrants in New York City."
At 6 p.m. Wednesday at the Duggal Greenhouse, the Brooklyn Chamber of Commerce and its Real Estate & Development Committee will present the 2016 Building Brooklyn Awards, "an annual event that celebrates recently completed construction and renovation projects that enrich Brooklyn's neighborhoods and economy." New York Economic Development Corporation (NYCEDC) President Maria Torres-Springer and Toby Moskovits and Michael Lichtenstein of Heritage Equity Partners will be honored at the event.
Also on Wednesday at 6 p.m. in Morningside Heights, Manhattan Borough President Gale Brewer will host the first of two community conversations centered around "how systemic racism impacts our neighborhoods and is experienced in our communities."
The Republican National Convention continues Wednesday in Cleveland.
Thursday
On Thursday at 6 p.m. in East Harlem, Manhattan Borough President Gale Brewer will host the second of two community conversations centered around "how systemic racism impacts our neighborhoods and is experienced in our communities." Brewer is expected to schedule more of these conversations around Manhattan in the coming months.
At 6:30 p.m. on Thursday, the Museum of the City of New York will present "FAST | Reimagining Traffic in New York City". Former NYC Traffic Commissioner Samuel Schwartz will share insights on "how we can speed traffic, improve our transit system, and make the city safer and healthier for all."
The Republican National Convention is scheduled to conclude Thursday night in Cleveland with the nomination acceptance speech of Donald Trump.
Friday and the weekend
Nothing on the calendar as of now. Prepare for the Democratic National Convention with our preview here.
***
Have events or topics for us to include in an upcoming Week Ahead in New York Politics? E-mail Gotham Gazette executive editor Ben Max any time: This email address is being protected from spambots. You need JavaScript enabled to view it. (please use "For Week Ahead" as email subject).
***
by Amanda Sherwin and Ben Max
@GothamGazette