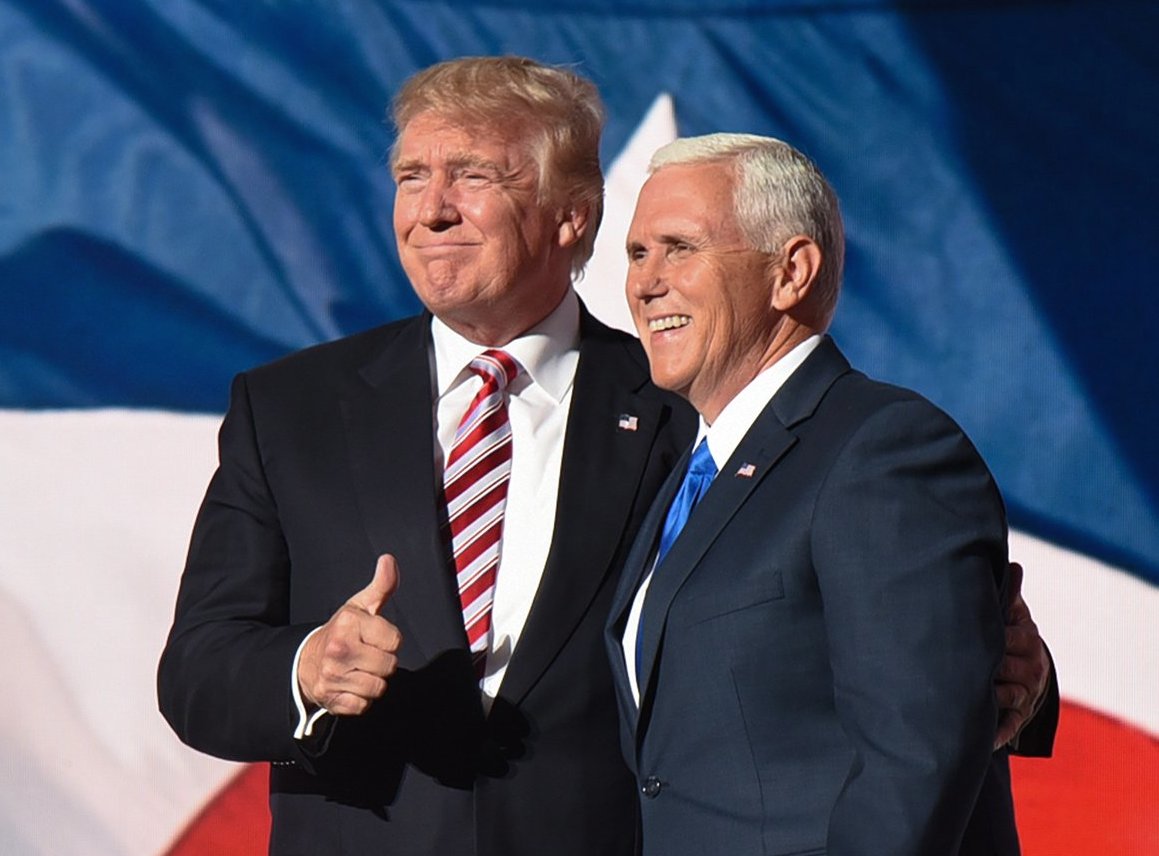 Donald Trump & Mike Pence (photo via @GOP)
---
Donald Trump's nomination for President at the Republican National Convention in Cleveland was the culmination of a primary campaign that overturned precedent and defied expectations of the political class. Now, as he shifts his attention the general election, Trump has set his sights on another lofty goal, one which has been out of reach for Republicans for over two decades: winning New York, his home state.
Recent polls, voter enrollment data, and primary turnout patterns indicate that defeating presumptive Democratic nominee Hillary Clinton in New York would require near-unanimous support from both Republican and independent voters—a feat that Trump does not seem poised to accomplish.
Trump's campaign announced in May that it will focus on 15 states in the general election, including traditional swing states like Ohio, Michigan, and Virginia, as well as Democratic strongholds like California and New York. Since then, Clinton has maintained a comfortable double-digit lead in New York polls, with the most recent from Quinnipiac University released on Tuesday giving her a 47 to 35 percent advantage - a slightly smaller margin than the prior poll, however. Election-modeling publication FiveThirtyEight gives Clinton a 97.1 percent chance of winning here.
But Trump and other members of his party seem undeterred by polling trends, instead touting his overwhelming win in the New York primary in April as evidence that the state is in play for the general election. Trump is clearly not to be underestimated, they say, and there are months until Election Day.
"If we carry New York by the margin we should, we will have changed American history...If you can break the city then you have the state," former House Speaker Newt Gingrich said on Monday at a breakfast for the New York Republican delegation in Cleveland. Along with his primary success across the country, including in New York, Trump's New York pedigree and presence in the city's public life for decades appear to be giving him and his supporters added confidence.
"The win in New York really helped set the momentum," Rep. Chris Collins, a Republican who represents the 27th Congressional District in Western New York and was the first member of Congress to endorse Trump, told State of Politics. "New York is in play."
Collins refers to Trump's decisive victory in the New York Republican primary, in which he received 60 percent of the vote and won every county but Manhattan, Trump's home turf, which went to Ohio Governor John Kasich. This was a slightly larger percentage than Clinton - who also calls New York home - won in the Democratic primary, where she earned 58 percent of the vote while facing just one opponent (there were four Republicans on the ballot: Trump, Kasich, Ted Cruz and Ben Carson, who had dropped out before the vote).
Winning a vast majority of New York Republicans, however, will not be enough to secure a Trump victory here. Even though he won a higher percentage, Trump won half as many raw votes in the primary as Clinton, securing 525,000 to her 1 million. Had he secured 100 percent of Republican primary voters, Trump would still have trailed Clinton in New York primary votes.
As of April 1, there were 5.8 million Democrats and 2.7 million Republicans enrolled across the state, according to the New York Board of Elections, with New York City voters comprising 3.1 million of the Democrats and 460,000 Republicans. There are another 2.5 million "unaffiliated" registered voters, otherwise known as independents, and another 705,000 voters registered with smaller parties, like the Green Party or the Independence Party.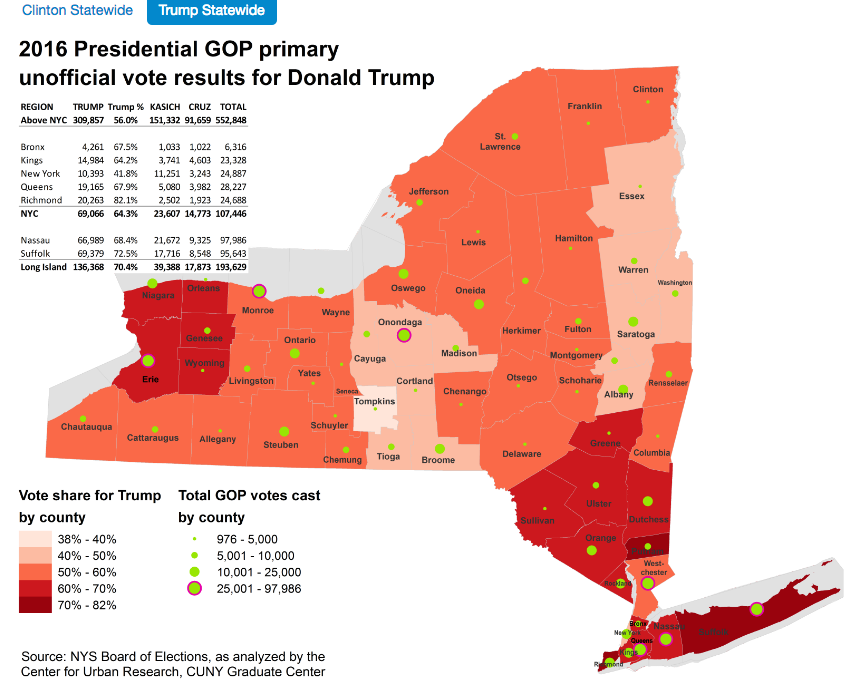 A total of 2.9 million New Yorkers voted in the presidential primaries this year (2 million Democrats and 922,000 Republicans). For a glimpse of the increase to anticipate in November, the last time there was a non-incumbent presidential election, in 2008, 7.6 million New Yorkers voted in the general election (4.8 million voted Democrat and 2.8 million voted Republican).
The Democratic enrollment advantage is expected to continue to favor Clinton this year as voter turnout surges for the general election, though Trump supporters are planning to attract many voters not registered as Republican. According to Steven Romalewski, mapping service director for the Center for Urban Research at the CUNY Graduate Center, the last time there were both Democratic and Republican primaries in New York, in 2008, the number of Republican voters jumped from 670,000 to 2.75 million between the primary and general elections, while Democratic voters lept from 1.9 million to 4.8 million voters.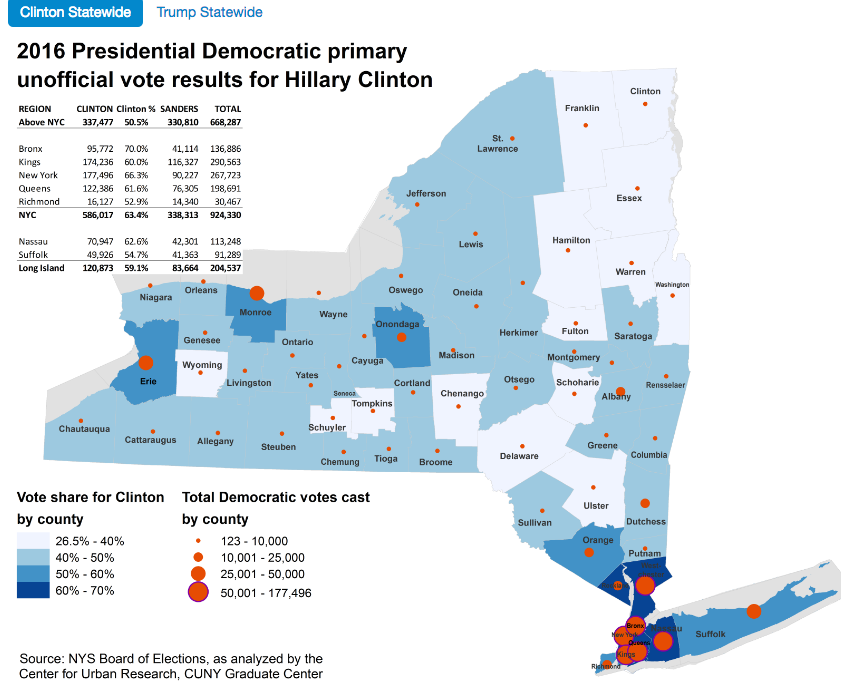 Romalewski said the increase in voters between the primary and general election was especially prominent within the New York City area. This does not bode well for Trump, who, according to the Quinnipiac poll, leads among upstate voters 48 to 36 percent, but is behind among New York City voters 63 to 20 percent. Trump and Clinton are neck-and-neck among suburban voters.
"If the turnout surges even by half the amount [it surged in 2008] from the primary to the general on the
Democratic side, it's going to be really hard from a number of perspectives for the GOP side to overcome this," Romalewski said in a phone interview with Gotham Gazette.
To win New York, Trump will likely need at least 2 million more voters than the 2.75 million Republican Senator John McCain received here in 2008—a total that Romalewski said would require winning all Republican-registered voters as well as nearly all independent voters. As of April 1, there were about 2.5 million unaffiliated, or independent, registered voters in New York, and new voters will be able to register until Oct. 14.
Trump and Clinton could, however, face a radically different electoral map than McCain, in part because of the unpredictable nature of this year's election.
"It's especially hard this year to look back for similar situations in presidential campaigns and kind of use those examples to predict or expect what might happen this time," Romalewski said. "On the other hand, when you look at the math, it seems highly unlikely that the Republican candidate will be able to pull it out."
To predict election outcomes, FiveThirtyEight uses an algorithm that weighs polling trends and demographic data. Its New York forecast begins with a strong Clinton lead indicated by polls which is then slightly widened when demographic data is taken into account. The website now predicts that Clinton will win about 54 percent of the vote in New York and that Trump will win 37.5 percent.
Currently, Trump's progress to unite the bulk of non-Democratic New Yorkers has wavered according to polls. Trump performs poorly with independents in New York, as evidenced by Tuesday's Quinnipiac Poll revealing a 41 to 35 percent advantage for Clinton among independents (most respondents said they did not know enough about Libertarian nominee Gary Johnson or Green Party nominee Jill Stein to support or oppose them).
Further, Trump has not yet won unequivocal support from Republicans—nearly 10 percent of Republican New Yorkers do not support him; five of the state's 10 Republican U.S. Congressional Representatives have endorsed his bid for presidency. By contrast, all 18 Democratic Representatives and both Democratic Senators from New York have endorsed Clinton.
The last time a Republican presidential candidate won in New York was 1984, when incumbent President Ronald Reagan defeated Walter Mondale -- Reagan won every state but Mondale's home state of Minnesota that year.