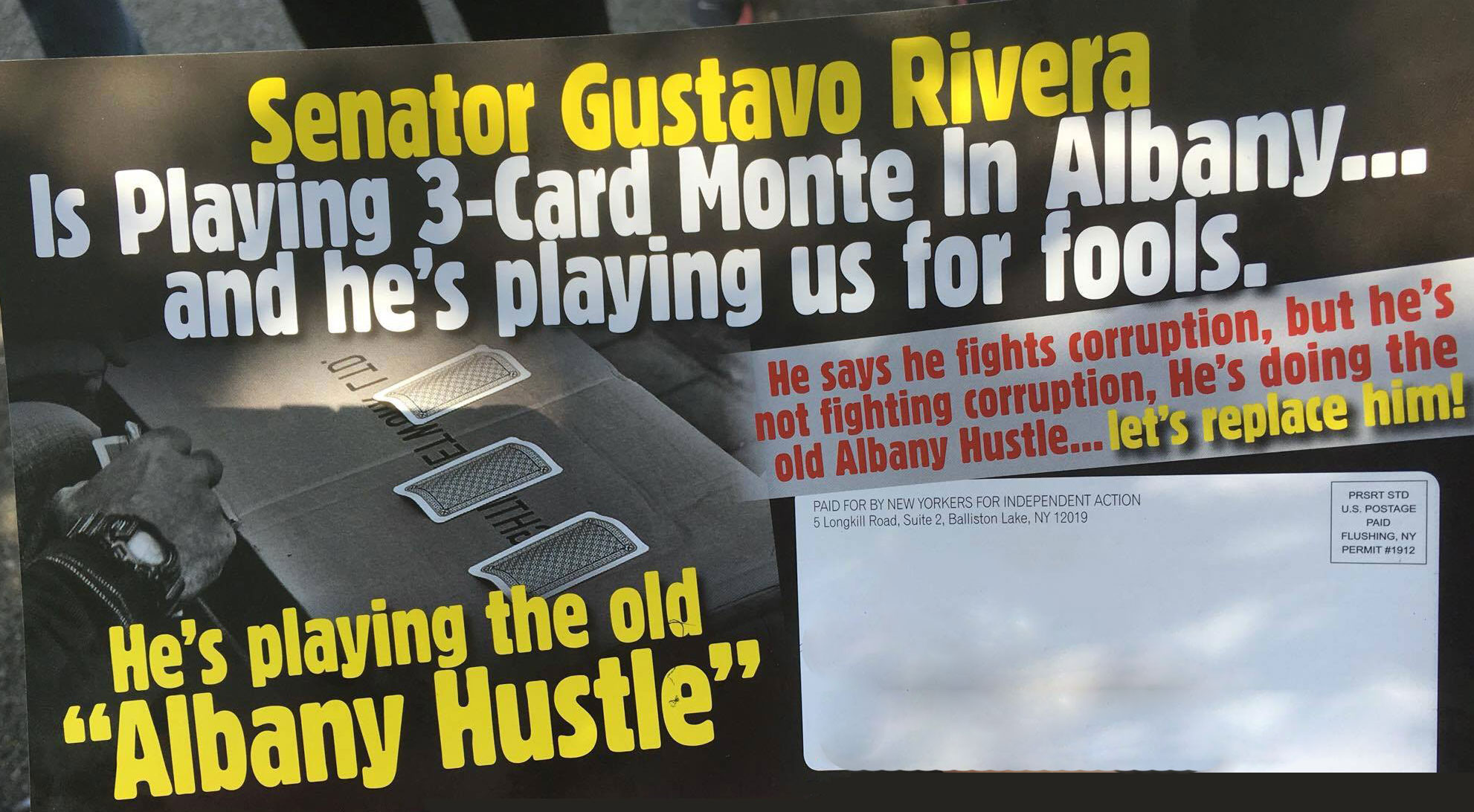 ---
A super PAC has started to blanket the 33rd Senate District in the Bronx with mailers attacking incumbent Democratic state Senator Gustavo Rivera and praising his challenger, Democratic City Council Member Fernando Cabrera. A flyer sent to voters last week praises Cabrera for standing up for family values and for knowing that "single women, mothers and our wives need protection."
Flyers sent this week accuse Rivera of "Playing Us For Fools" and excerpts heavily from the June 21 New York Times editorial, "The Old Albany Hustle," which criticized Gov. Andrew Cuomo and legislative leaders for failing to enact any meaningful ethics reforms this year.
Rivera has advocated for the very ethics reforms the editorial accuses the governor and majority leaders of avoiding and Rivera is part of the Democratic minority in the Senate that has no power at the negotiating table. Cabrera and Rivera will face off for the second consecutive cycle during the September 13 primary.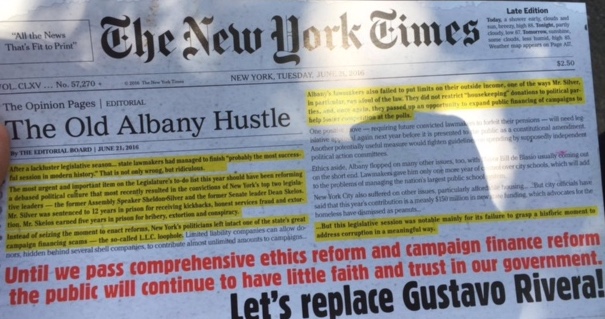 "I think it's ridiculous and laughable on its face," Rivera told Gotham Gazette. "But it is a deceiving piece. The New York Times article does not have my name in it, but it is an editorial I agree with 100 percent. We should have done more on ethics. Ethics reform is the reason I came to the Senate, it is the reason I ran against a corrupt senator. I've been fighting for reform since the second I got to Albany."
New Yorkers For Independent Action, the PAC paying for the mailers, is advocating for the education tax credit that would see the state give tax rebates to individuals and companies who donate to private, religious, and charter schools. Teachers unions say the measure basically acts as a backdoor to vouchers and will be taken advantage of by companies and the wealthy; while proponents say it boosts educational choice.
Cabrera lost his primary challenge to Rivera two years ago by 20 points and according to a number of sources he promised members of the Bronx Democratic Committee not to run again and to work with Rivera. However, many Democrats see the financial backing of NYIA as the impetus for the repeat challenge.
The PAC has reported taking in $2.7 million since its creation and has spent over $1 million on polls and research on different races. The New York Daily News reported earlier this month that the PAC is targeting Rivera as well as Assembly Democratic incumbents Pamela Harris of Brooklyn, Phil Ramos of Suffolk County, and Latrice Harris of Brooklyn.
Major donors include Wal-Mart heiress Alice Walton, who gave $450,000, and Peter Grauer of Bloomberg L.P., who gave $75,000. The PAC also has major support from Catholic activists.
Cabrera has proven a controversial figure in the City Council for his support of Ugandan anti-gay laws and his association with anti-gay group The Family Research Council. Cabrera's run is not insignificant in a year when Senate Democrats are banking on the presidential election to help them seize the majority from Senate Republicans. Rivera, who would have otherwise spent the summer campaigning for other Democrats, is now forced into a costly primary.
Cabrera reported raising $72,015 in his July filing with the state campaign finance board and spending $47,549 -- he now has $24,315 to spend. Many of his donations came from the real estate industry. Rivera reported raising $139,486, while spending $79,299; he has $114,012 to spend. Rivera took a significant number of contributions from beer distributors.
Rivera said he expects to see mailers every week from the PAC until the September primary. "He wouldn't have been able to afford this kind of campaign on his own," Rivera said of Cabrera, questioning whether Cabrera knew of the PAC's involvement in advance. Cabrera's office did not return requests for comment for this story.
"Knowing you are going to have this kind of money behind you gives you a pretty good reason to run," Rivera said.